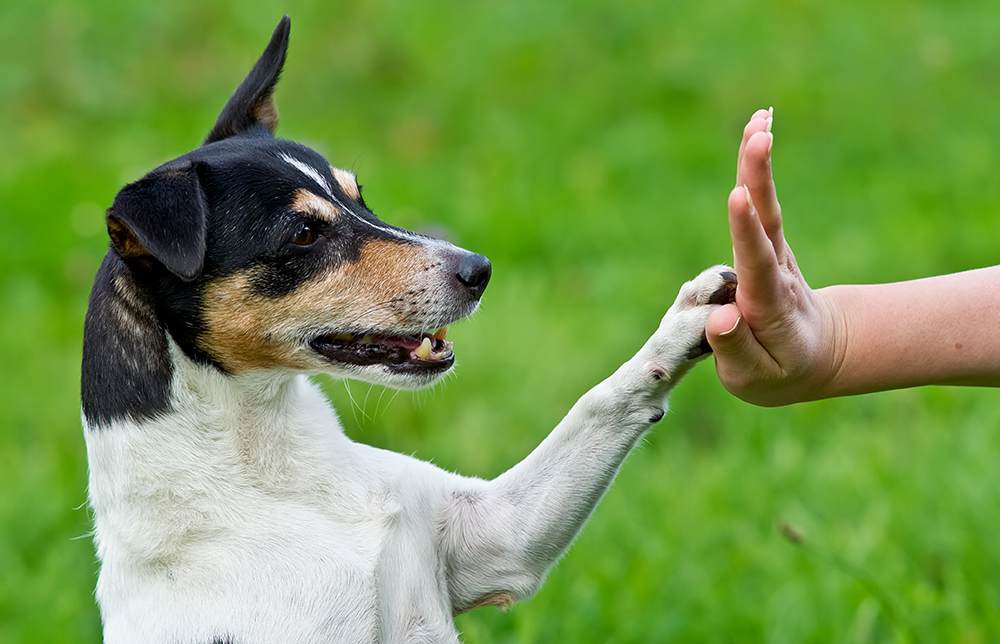 Find out what 'event markers' are and how modern dog trainers use them to help their dogs learn faster and more efficiently
What does a dog trainer's event marker do?
An event marker identifies, or marks, for the dog, the behavior that the trainer likes and hopes the dog will repeat.
[wp_ad_camp_5]For example, if you use an event marker when teaching your dog to sit, you can 'mark' the exact moment that his bottom meets the ground so that he is very clear that that is what you want him to do.
You can also be selective about what types of 'sit' you mark.
So for example you can teach your dog to sit very rapidly, by only 'marking' the fastest of his sits.
How does the event marker work
The event marker encourages the dog to repeat marked behaviors by its association with a reward or reinforcer.
After a fairly short period of repeatedly associating the event marker with a pleasurable experience, the event marker itself has similar effects on the dog as the pleasurable experience with which it is associated.
When the dog hears the 'marker' he knows that he will almost immediately be rewarded.
The event marker provides information and a good feeling to the dog.  When he hears it he knows what you like, and knowing that the mark will be followed by reinforcement makes him feel good.  This reinforces the marked behavior and encourages him to repeat it.
What does an dog training event marker look like?
An event marker needs to be a signal that the dog recognizes.
[wp_ad_camp_2]It doesn't have to be something you can see or get hold of.
It can, for example, be a sound you make with your voice.
A basic event marker in animal training is usually an audible signal such as a buzzer, a bell, a whistle, a click or a spoken word.
It could also be a visual signal such as a gesture or a flashing light. These can be especially useful for deaf dogs.
Verbal event markers
A spoken word is a common choice as an event marker.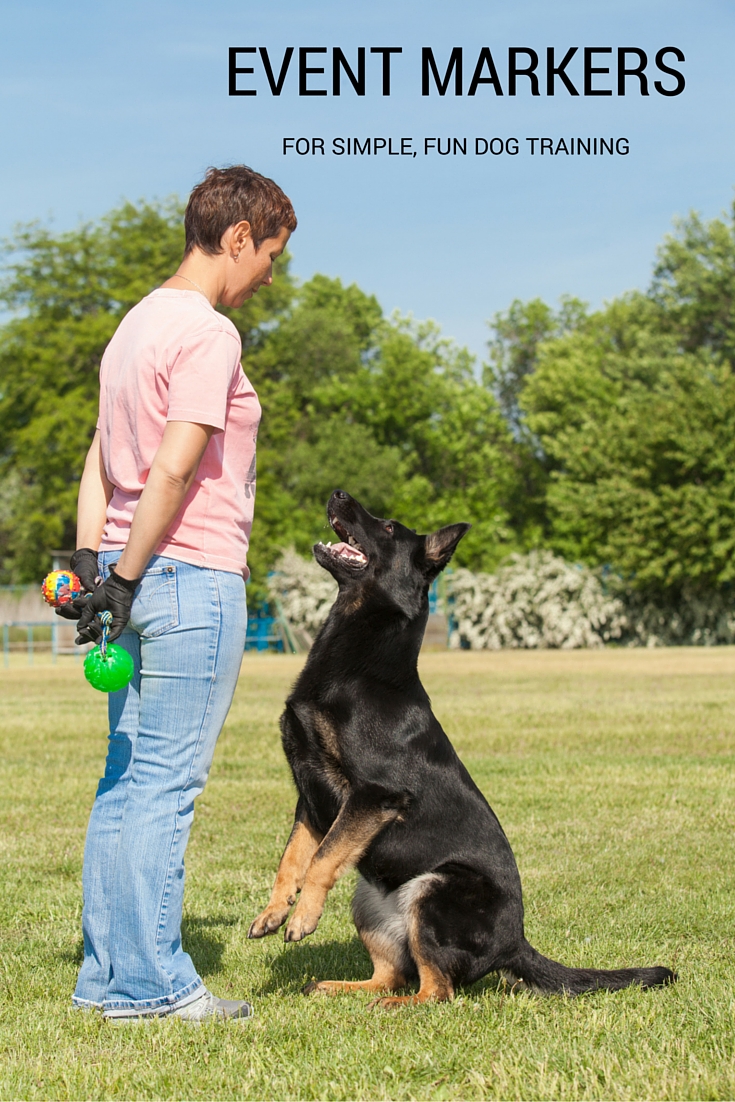 A lot of dog trainers use the word YES.
There are some drawbacks to a verbal event marker.
It is harder to be very precise and consistent with a verbal event marker than it is with a mechanical event marker such as a whistle or click.
It is not possible for example to say yes or "good" in an identical way each and every time.
There are advantages to a verbal event marker though.  It doesn't occupy your hands in the same way that a clicker does.  Whether or not this matters will depend on what kind of training you are doing.
Practical use of event markers in dog training
The use of an event marker is now a standard technique used in modern dog training
In practice there are times when you will benefit from a verbal event marker, and times when a mechanical one would be best.
For this reason it is best to buy an item, such as a clicker, to use as an event marker, as you are almost bound to need one at some point
Choosing an event marker for your puppy
The best event markers are very distinctive, very consistent, cheap, and easy to carry around. Their 'signal' is easily conveyed to the dog, whatever position he is in, and no matter what he is doing.
Choose a short crisp word as a verbal event marker.  YES or GOOD are popular choices.
The most commonly used mechanical event marker in dog training, is a clicker, which is short, snappy, instantly recognisable by the dog, and fulfils all the other criteria for a good marker.
Do I have to use an event marker?
No you certainly do not have to use an event marker.  Many, many dogs have been trained without event markers so they are not essential
There are however, some advantages to training with an event marker, and once you have got used to using one, you are unlikely to want to go back to training without one
Why use an event marker for dog training?
Often, when we are training, a dog will exhibit several behaviors in a row.
He may sit down and then get up again very quickly
He may take hold of an object and drop it again, within a second or two.
When we want to reward a specific thing like the sit or the hold, this quick change in his action makes life difficult.
[wp_ad_camp_4]
Without an event marker, we can often end up rewarding the very thing we want to discourage.
For example, it is very easy to inadvertently reward 'getting up' when we want a dog to 'sit', simply because he is already getting up again as we reach out to him with the treat. Especially in the beginning stages of training when he only sits very briefly.
The benefits of training with an event marker
Event markers help your dog to avoid confusion, this means a happier and more confident dog.  After all, no-one likes making mistakes
It also means faster training times as fewer mistakes and more precision enables the dog to learn more quickly
Event markers are also essential for certain types of training, where precision, and complexity are involved. If you don't want to use an event marker you won't for example be able to 'shape' new behaviors very effectively.
How do we use an event marker?
We use the event marker to give a signal that 'marks' the behaviour that we want.
We follow the event marker with a reward such as a little piece of food, and the dog then knows exactly what he is being rewarded for. Even if what he did was quite brief, subtle, or difficult to detect.
For example, when we are trying to teach a whining dog to 'be quiet' he may stop whining only very briefly to begin with. We mark this brief pause in his whining with our event marker and give him a reward.
By the time we deliver the reward into his mouth, he may have started whining again. Despite this, if we mark the pause in the whining accurately, the whining will diminish, and the pauses will become longer.
Charging the event marker
Before we begin dog training with a verbal event marker or a clicker, we need to make sure that the marker is able to generate pleasurable feelings for the dog through this process of association with something he really enjoys, like food.
We need to ensure that the click of the clicker has a 'feel good factor' for the dog. And we do this by repeatedly clicking the clicker, and immediately following the click with a nice tasty treat.
Clicker dog trainers call this process 'Charging the clicker'
In fact, we are not changing the clicker at all, just the dog's response to it.
Maintaining the power of the marker
Unfortunately, the conditioning process which associates the signal given out by the event marker, and the pleasurable feelings it generates, are not very persistent.
If you cease following your event marker with food or some other immediate reward, it will rapidly lose its power.
It is important therefore to follow each event marked, with a reward. Every time you mark or click, you must reward (treat). You will often see this written like this C&T.
This pairing of the two is important. Whilst the rule can be broken occasionally, it is best to make sure that you get into a habit of following every single click with a treat.
The bridging effect
It doesn't matter if you cannot treat the dog instantly every single time you click.
Even if it takes you a few seconds to reach the dog after using your event marker, you should still give him his reward.
In fact this ability of the click to maintain its power across occasional gaps in time is one of the benefits of an event marker.
This bridging effect allows us to reinforce behavior, even when we cannot get to the dog immediately.
Puppy training and beyond
Event markers are most commonly used in early training with puppies, for achieving precision, and to establish new behaviors.
[wp_ad_camp_1]In addition to their uses in training basic obedience skills, they can be used to teach dogs to carry out unnatural behaviors such as operating switches, or picking up the TV remote.
Perhaps the greatest benefit of event markers is that they offer us opportunities to train through the fascinating process called 'shaping'.
We'll look at that another day!
Summary
An event marker is a powerful tool, and one that every trainer can benefit from at some point in time. In essence, it makes things a lot easier for your dog to understand.
Modern dog trainers now train dogs and puppies using positive reinforcement and the use of an event marker is an integral part of positive reinforcement dog training
Do you use an event marker when training your dog? Is it a word? Or a tool like the clicker? Why not share your thoughts in the box below:
[wp_ad_camp_3]