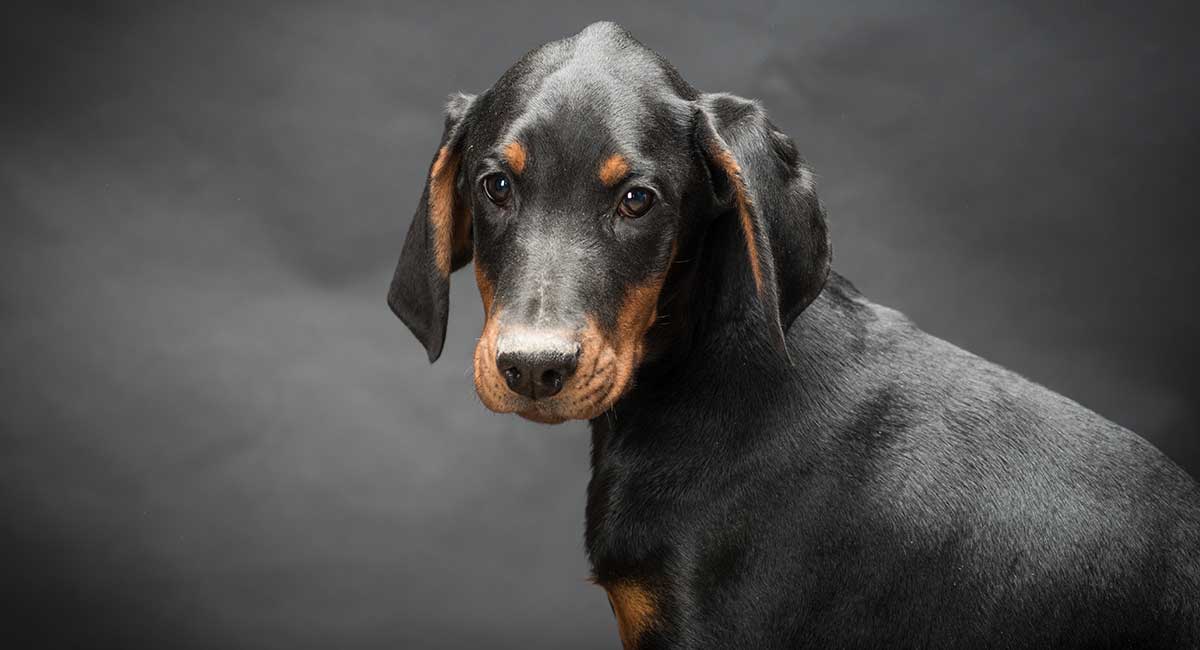 Doberman Pinscher temperament: What do you need to know about the personality of this powerful and energetic dog?
Dogs of this medium breed are often used for guard or rescue work. They have a sleek, muscular body and low grooming needs.
But how will they get along with you and your family? Do they make good pets?
Doberman Pinschers are affectionate and loyal, but you often see dogs like them on TV and movies being aggressive.
Is this a good picture of what they're actually like?
Read on, and let's learn more about whether the Doberman Pinscher might be the right match for you!
The Typical Doberman Pinscher Temperament
Doberman Pinschers are often used for protection, and there's good reason for that.
This breed is known for its energy, intelligence, and loyalty. They are fearless, watchful, and obedient.
The Doberman's history tells us a bit about how their temperament came to be what it is.
In the mid-1800s, Karl Friedrich Louis Dobermann of Apolda, Germany combined several breeds to create what became "Dobermann's Pinschers."
Historians believe that the breeds Dobermann used to create his new breed included the German Pinscher, the Rottweiler, the Weimaraner, Manchester Terrier, and Beauceron.
Inherited Traits
Later, crosses may have been made with the Black and Tan Manchester Terrier and the black English Greyhound to improve the dog's appearance.
These breeds, along with the German Shepherd, contributed to the Doberman's ruggedness, intelligence, and soundness.
The Pinscher probably added some terrier-like qualities and quickness. Whereas the Weimar Pointer gave the Pinscher its well rounded hunting abilities.
The Doberman also owes the Rottweiler a debt. Early Dobermans resembled Rottweilers, and also absorbed their bravery and guarding ability.
Dobermann, a tax collector, designed these dogs from the start as working dogs. His Pinschers accompanied him on his rounds and keep him safe.
So, their protective nature has always been an integral part of the breed.
This does make Doberman Pinschers potentially great additions to the right family. They love their masters and make close associations with their families.
Dobermans of sound temperament are trustworthy, especially when treated well.
Some Dobermans, however, can be shy or fearful, and even vicious. When purchasing one, it important to find a good breeder who is producing Dobermans without these kinds of faults.
If you become the owner of a Doberman, it is important to socialize your dog properly and handle him intelligently, too. Training is important with these dogs!
Are Doberman Pinschers Easy to Train?
The Doberman Pinscher temperament is very amenable to training.
Members of this breed learn quickly, respond well, and are very intelligent. They are known for their obedience.
That's why they are often preferred for search and rescue activities, therapy, guiding, and other types of human assistance work.
Training must be done early, though, to turn Doberman Pinschers into good companions.
Because they are strong and intelligent, they can get destructive and unmanageable if you don't socialize and train them properly from puppyhood.
They do well with agility training and rallying as well as at conformation competitions They're also adept at tracking and herding. If your Doberman is not actually working, these types of activities may assist in their mental and physical well-being.
These dogs, compared to other breeds, are among the most energetic out there. They are athletes.
As such, Dobermans require plenty of running space as well as exercise time with their owners.
So yes, they are easy to train. The Doberman temperament ensures that.
They want to please you, and they are responsive to commands.
But you will need to make sure you can provide them with the stimulation and training that they need to be happy, healthy, and productive.
Some trainers may suggest that you avoid guard dog training – Dobermans have natural instincts in this regard and may get overly aggressive if trained for it.
Dobermans react well to positive reinforcement and a patient hand.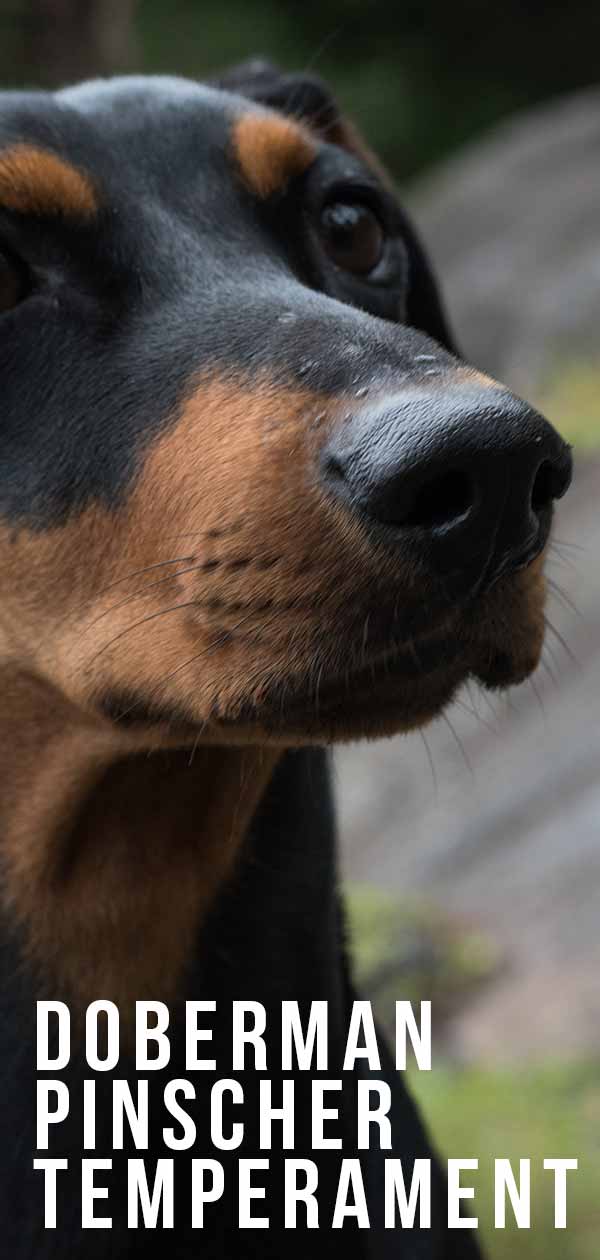 Are Doberman Pinschers Friendly?
When you think of Doberman Pinschers, you probably imagine them guarding some shady compound, in chains, barking at the good guys and chasing them over a wall.
So the general view of Dobermans is not necessarily that they are sweet fluffy little lap dogs!
People tend to think or them as sharp, tough, and intimidating.
But the Doberman Pinscher temperament does actually include plenty of affection. They are loyal to their masters and trusting with children, if raised with them.
Many Doberman Pinschers are very people oriented. Some do seem to bond mostly with one person, though.
So yes, Dobermans are stable and friendly and outgoing.
They are even a bit sensitive! Some people say they can sense mood, illness, and stress, and respond with kindness. This is one of the qualities that makes them good therapy dogs.
Still, their quick reflexes and guarding nature means that they need good socialization training early on.
Are Doberman Pinschers Aggressive?
Doberman Pinschers are known for their focus and their energy. They are pretty fearless pups!
Additionally, they are generally quite wary, exhibiting watchfulness and even neediness. They like being at a human's side.
In certain circumstances, and without good training, this can become aggression.
Not all aggression is bad, especially for a working Doberman whose job is guarding a house, a family, or something else.
Some aggressive traits, such as growling, barking, and showing teeth without actually attacking, shows that Dobermans are doing their job. They are warning others.
Managed properly, a Doberman's behavior is not a problem. But you should know that a Doberman Pinscher is not a good pet for everyone.
Dobermans are a demanding breed. They require consistent, positive discipline and plenty of attention so that they don't develop problem behaviors.
Any discipline should be appropriate and not too severe.
Dobermans are not a good choice for families with babies and young children.
They are formidable dogs. Even well-socialized and trained Dobermans are powerful dogs. They can do harm just by defending themselves from a perceived threat.
Do Dobermans bite?
Well, any animal that has a mouth and teeth can bite.
The bite risk in an individual Doberman is not necessarily higher than other breeds.
But multiple studies do list Doberman Pinschers as one of the 25 or 26 more bite-prone breeds.
A study from 2000 called Doberman Pinschers one of the 25 breeds that were involved in fatal attacks on humans.
However, the study concluded that breeds that aren't necessarily considered aggressive dogs may still bite and cause fatalities at a higher rate than the 25 listed.
It also decided that fatal attacks are a small proportion of dog bite injuries, and shouldn't be used to create prejudiced policies against certain breeds of dogs.
The study did not conclude that some breeds are more dangerous than others.
Other studies show that Dobermans are over-represented in incidences of biting recorded in different breeds of dogs.
In addition, a survey of vets from 1996 ranked Dobermans as a moderately aggressive breed – but less so than Cocker Spaniels, German Shepherds, Corgis, and Rottweilers.
However, breeders do seem to be trying to breed a certain sharpness out of the Doberman Pinscher. It may be easier to own one today than it used to be.
Just be careful when finding and vetting a breeder!
Do Doberman Pinschers Like Other Dogs?
Interestingly, scientists believe that dogs experience several types of aggression. Aggression towards humans and dogs may not necessarily be correlated.
Dobermans can be good with other dogs, both in the home and when meeting them in the park or on the street.
This is especially true if the dogs are raised together.
However, experts do not recommend keeping two or more male Dobermans together in one living space.
For Dobermans to have safe and friendly relationships with other dogs, they need good socialization skills!
Natural Instincts
One thing to know about the Doberman is that this breed matures slowly. Your Doberman dog is likely to remain puppyish longer than many other dogs.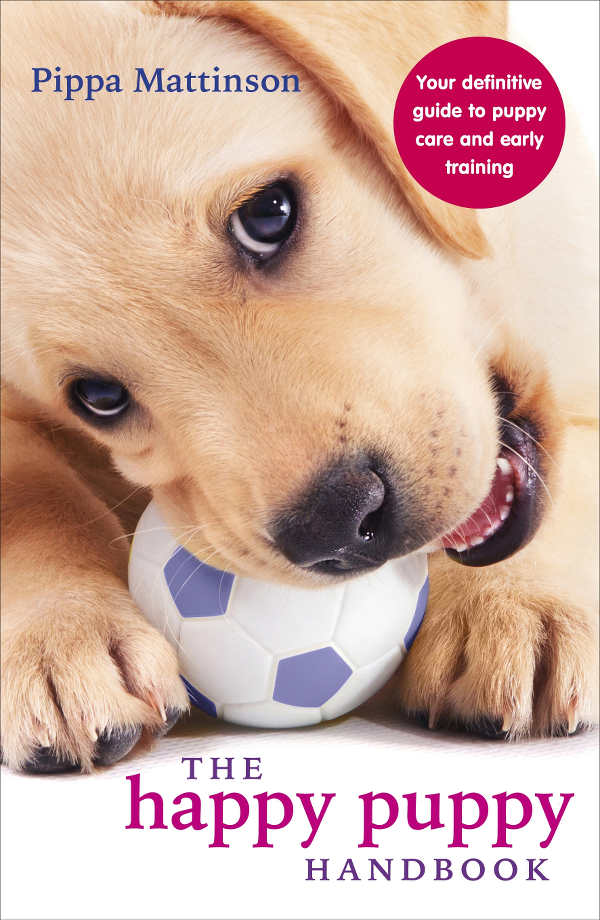 Beyond that, Dobermans are protective by nature. After all, they were bred to keep the taxman safe from harm!
They have a guarding instinct which has been bred into them, that you should know about.
They are also naturally friendly and loyal dogs. Their instinct is to bond with an owner.
Are Doberman Pinschers Good Family Pets?
For the right family, the Doberman Pinscher temperament can make for a great pet!
This would be an energetic family, that has lots of attention and time for a pet.
It would also be a family without toddlers or babies that could scare or be scared by a dog. This family could offer loving, consistent discipline with a firm but not severe hand.
Doberman Pinschers sometimes get a bad rap in the media because of their protective nature. Nevertheless, there are some guarding and protective instincts in their natural behavior.
Their popularity as a pet shows that people still love them. Do you? Let us know in the comments!
References and Resources
Brueggemena, J. T. The Doberman – A Candid Look at Doberman Temperament. Doberman Pinscher Club of America.
The Gentle Doberman, Composition of the Doberman Temperament.
Mt. Anthony Vet, Doberman Pinscher.
American Medical Veterinary Association, Special Report.
Jensen, P. (2007). The Behavioural Biology of Dogs. CABI.
Blachshaw, J. (1999). Meaningful temperament assessment for aggression in dogs – can it be done? Proceedings of the Eighth National Conference on Urban Animal Management.
Sacks, J. J. et al (2000). Breeds of dogs involved in fatal human attacks in the United States between 1979 and 1998. Journal of the American Veterinary Medical Association.
Stafford, K. J. (1995). Opinions of veterinarians regarding aggression in different breeds of dogs. New Zealand Veterinary Journal, 44(4).