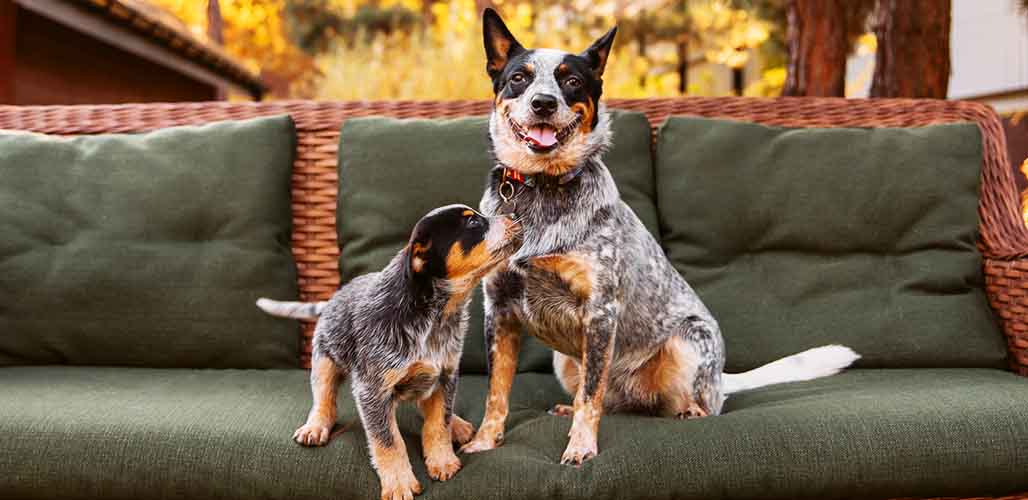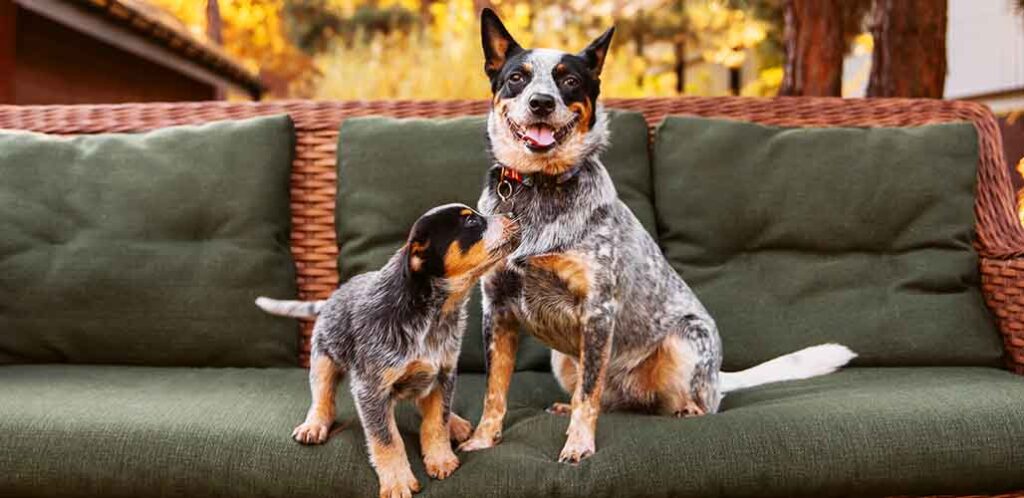 Do older dogs teach puppies? I always hear people saying their second dog is easier than their first – which got me wondering whether the training of the first dog played a part! And, after some research, I learned that it's true. All dogs learn from observing other dogs – at all stages of life. Puppies, especially, need to learn from older dogs, and older dogs do indeed teach puppies. This can make things easier for you as an owner. But, it's also vital for young pups, which is why they can't leave their moms until at least 8 weeks old. In this guide, I'll take a closer look at how adult dogs teach younger dogs, the most common behaviors they'll learn, and how the relationship can go both ways.
Contents
Puppies Follow Older Dogs Around and Mimic Them
If you've ever brought a puppy home to a house with other dogs, you may have noticed that your puppy follows the older dog(s) around. This is a natural behavior that usually occurs in combination with younger dogs copying older dogs in everything they do.
According to Psychology Today, allelomimetic behaviors are "group-coordinated behaviors that depend upon an inborn inclination for dogs to want to be with other dogs, to follow their lead, and do the same thing." Puppies adopt these behaviors naturally and carry them all the way into adulthood… and beyond. All dogs are capable of teaching and learning from each other!
Do Older Dogs Teach Puppies?
Yes! Allelomimetic behaviors essentially mean that older dogs train puppies that you bring home. At least, they make training puppies a lot easier. For example, when you call your adult dog, and he or she comes, the puppy will come, too because it is following your other dog's lead. Eventually, your puppy will just come when you call them, all by themselves.
Puppies are also less likely to have "accidents" when there is an older dog in the house because the dogs will do their business together in the appropriate place.
This learning process doesn't just start in their new home. Puppies should not be separated from their mothers and littermates until they are at least 8-weeks old because they have so much to learn from their families. Some breeders won't let puppies go home until they are 12- or 14-weeks old – though you'll need to make sure your breeder is socializing your pup properly if this is the case.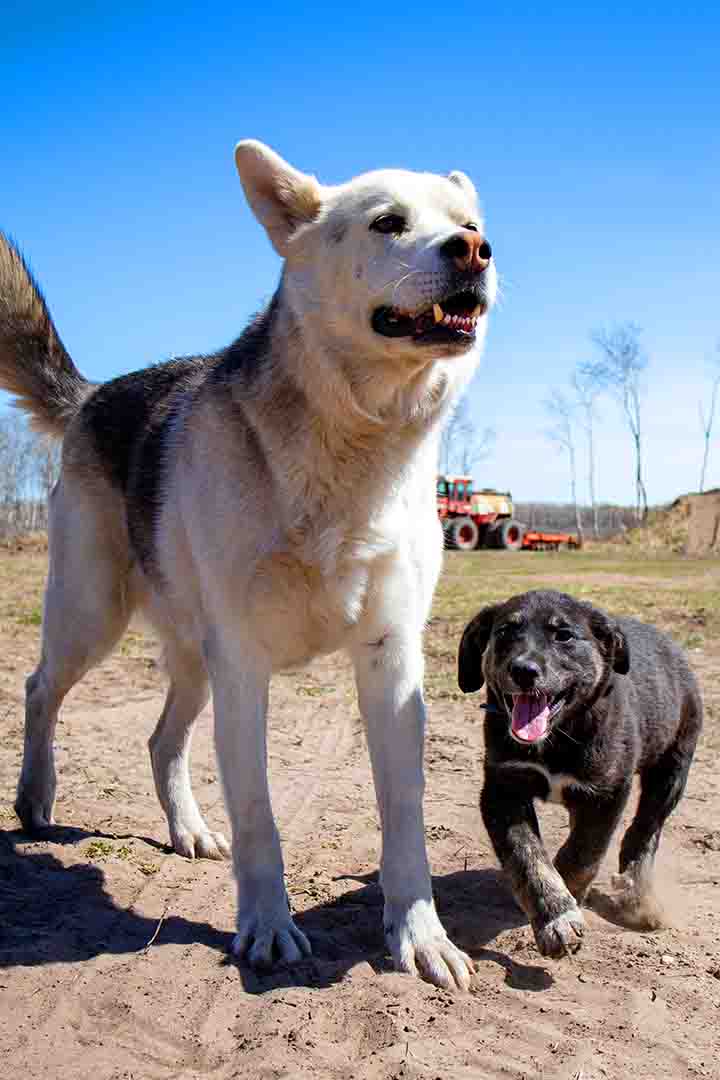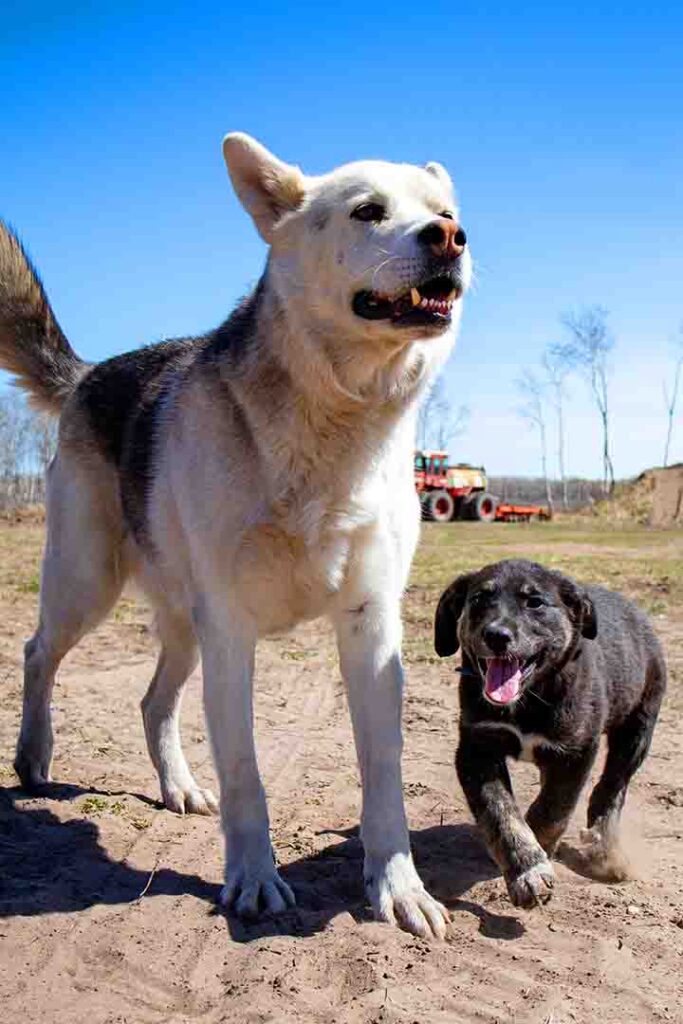 Older Dogs Can Calm Puppies Down
Everyone knows that puppies can be a handful, but not everyone knows that older dogs can calm puppies down. Dogs are pack animals, and they look to each other for social cues. If your new puppy is nervous about its new surroundings, for instance, it may feel better if there is another, calmer dog around.
Any dog owner will also tell you that training a puppy to go up and down stairs is one of the most challenging parts of having a puppy in the house. Puppies are terrified of stairs because they are so unfamiliar, but having an older dog around can help them face their fears.
Do Older Dogs Teach Puppies Not to Bite?
Yes. If a puppy plays too roughly with an older dog, it will yelp, growl, or snarl and stop playing. Through this process, the puppy will learn not to bite – even when it is playing with you. Puppies start learning to play nicely with their mothers and littermates, but older dogs at home can reinforce positive habits.
Fortunately, you can, too. If your puppy bites you, mimic dog behavior by walking away and stopping the game. Your pup will soon learn that biting that hard ends the fun, and they must be more gentle to continue getting a reward.
Will a Puppy Learn Bad Behavior from an Older Dog?
Be careful, because puppies can learn bad behavior from older dogs, too! For example, think about when a siren goes through the neighborhood and all the dogs on the block start barking. This is a relatively harmless behavior, but others can be more sinister.
Your puppy could dig out from under the fence or display aggressive behavior if they learn from the wrong dog. So, you need to choose your puppy's playmates carefully. Additionally, you should never introduce a puppy to a dog with known behavioral issues.
If your older dog has some problems, do your best to work them out before adding a new puppy to your home. Otherwise, you might end up with 2 dogs with the same problem.
Will a New Puppy Help an Older Dog?
Puppies and older dogs can help each other. Your older dog can teach your puppy how to behave, and your puppy can introduce new energy into the home and provide companionship. Just make sure that your older dog is healthy enough to make the adjustment, and try to evaluate each dog's temperament to make sure they will be suitable for each other.
You should also double-check your schedule to ensure you have enough time for both dogs. Puppies take a lot of work, and you can't count on your senior dog to do it all for you. Remember – having an older dog in the house does not replace one-on-one training… or puppy preschool if that's something you're interested in.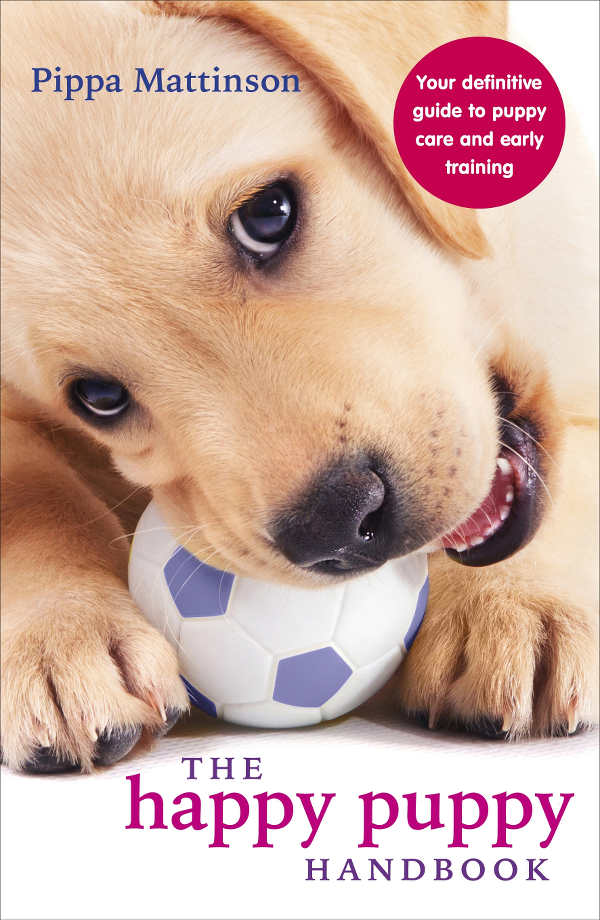 Old Dogs Make Great Teachers
Dogs learn a lot from each other, and puppies are great students. Their most important period of learning happens with their mothers and littermates, but for dogs, learning from other dogs is a lifelong process. Due to allelomimetic behaviors, older dogs teach puppies plenty of behaviors.
Having an older dog in your house can help you train your puppy, but you still need to dedicate plenty of time and energy to one-on-one training. Also, choose your puppy's companions carefully because younger dogs can pick up bad habits from older dogs, too.
Can Older Dogs Teach Puppies? The Bottom Line?
Ultimately, older dogs can teach puppies to come when they're called, use the bathroom outside, and go up and down the stairs. Older dogs can also help you socialize your puppy, so they don't bite or play too hard.
Having an older dog and a puppy at the same time can be a delight, but it is not appropriate for every household. Get to know your puppy before introducing them to your older dog, and make sure your dog is ready to be a mentor. If all goes well, many generations of dogs can train each other, and you will always have a well-behaved pup in the house.
More Help with Your New Puppy
Why doesn't my puppy bark?
References