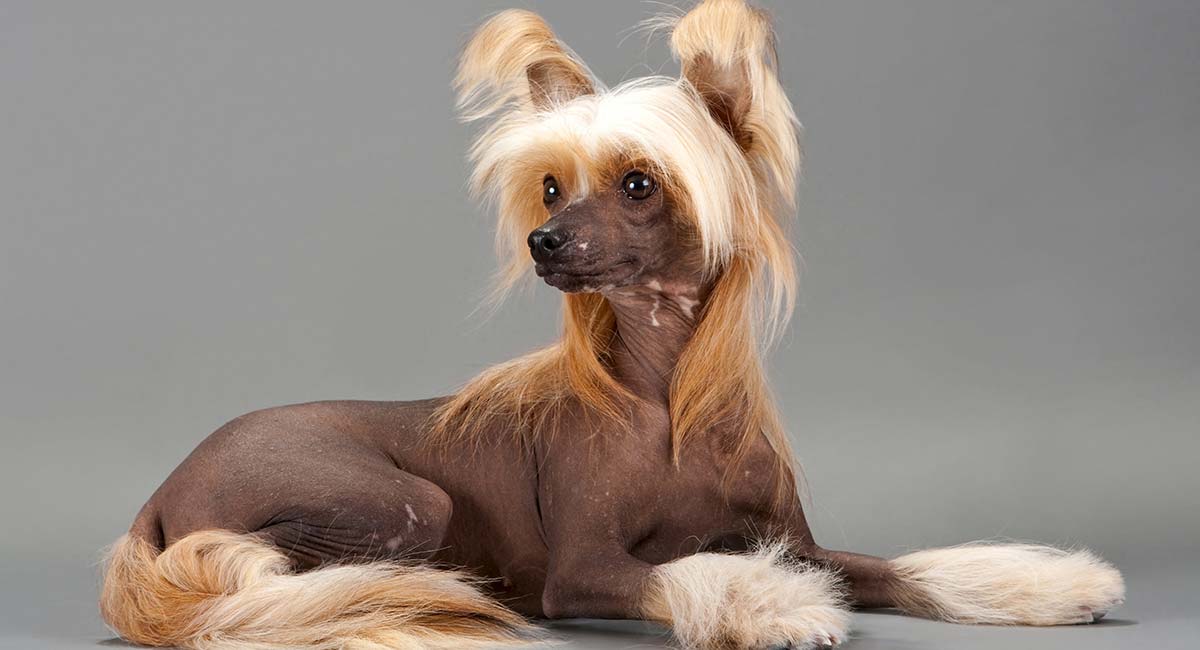 The Chinese crested is slight in size and sometimes lacking in hair. But they are always full of personality.
These dogs weight between 8 and 12 pounds and stand between 11 and 13 inches tall. You might be familiar with the Hairless Chinese Crested. But there is a Chinese Crested Powderpuff variety too!
What's In This Guide
Chinese Crested FAQs
Our readers' most popular and frequently asked questions about the Chinese Crested.
Breed At A Glance
Popularity: 79th on AKC's Breed Popularity list
Purpose: Originally used to control vermin on ships, this is now a companion breed
Weight: 8 – 12 pounds
Temperament: Friendly and people-loving, this breed loves company
Chinese Crested Breed Review: Contents
History and original purpose of the Chinese Crested
As her name suggests, the Chinese crested dog was first developed in China.
Its exact origins are unknown. But some think that the Chinese crested is a miniature version of hairless dogs, which were imported from Africa during ancient times.
Once the Chinese bred the hairless dogs down to size, traders took the dogs with them on ships to control the vermin population during their voyages.
Once the traders and the dogs made port, the dogs were sometimes part of their barters. This allowed the Chinese crested breed to make its way around the world, with the exception of North America.
Late Arrival
The Chinese crested reached American soil in the late 1800s. But, the American Kennel Club did not recognize the breed as a member of its toy group registry until 1991.
You won't find too many Chinese Cresteds being used as rat catchers anymore. But they are still extremely popular as pets, specifically lap-warming, snuggling dogs.
Fun facts about Chinese Crested
You might have heard of the Chinese Crested thanks to two burlesque dancers called Gypsy Rose Lee and June Havoc. June brought a Crested back to the United States for her sister Gypsy.
In fact, most dogs of this breed can trace their lineage back to their dog Fu Manchu. You can read more about them here.
Chinese Cresteds have appeared all over our cinema and television screens. From Ugly Betty to 102 Dalmatians, this breed seems to love the camera!
Chinese Crested appearance
This is a toy breed, which is canine terminology for "tiny."
Height and Weight
According to the American Kennel Club (AKC), a Chinese crested will weigh a mere eight to 12 pounds and will only reach 11 to 13 inches tall at the withers.
Chinese Crested Coat
Both variations of this breed are known for the signature "crest" of hair on their head, neck and ears, as well as their fuzzy-looking "socks" and lovely flowing "plumes" of a tail.
So, if you get a hairless Chinese crested, then you obviously won't have too much to worry about when it comes to grooming a coat. Or lots of shedding for that matter, since the aforementioned hair is all that's on their bodies.
But, their hairlessness, though intentional, is actually an inherited disorder called ectodermal dysplasia.
According to a 2012 study, the FOX13 gene in Chinese crested (and Mexican hairless and Peruvian hairless) dogs is responsible for the presence of ectodermal dysplasia in the aforementioned hairless breeds.
Chinese crested powderpuff dogs do not have the FOX13 gene, interestingly enough.
Chinese Crested Coat Colors
Here are the coat and/or skin colors that the AKC recognizes for registerable Chinese cresteds:
Apricot
Black
Black, white and tan
Blue
Chocolate
Cream
Palomino
Pink and chocolate (hairless)
Pink and slate (hairless)
Slate (hairless)
White
A Chinese crested may also be spotted or have white markings. In fact, the spotted or mottled skin is quite common.
Chinese Crested temperament
Generally speaking, both the hairless and the powder puff are friendly and loving dogs.
But, since this is a toy-sized dog (more on that in the next section), a small child may not be very careful when handling the dog and could accidentally hurt her.
So, if you're really set on a Chinese crested and you have small children, supervise play time between your two- and four-legged babies.
Other than that, you shouldn't have to worry too much about a this dog being grumpy around or unsure of new people.
They are typically outgoing dogs. But, you should properly socialize any Chinese crested with new people and animals prior to letting them loose with strangers.
Training and exercising your Chinese Crested
She is usually easy to train, thanks to her intelligent and inquisitive nature, and she will most likely enjoy playing games with you and participating in obedience competitions.
Though this dog is known for her willingness and eagerness to learn, she can be a little bit on the sensitive side.
So she will not respond well to loud vocal cues or any other type of harsh training aids; if she feels threatened by you, then she may lose her trust in you completely.
Proper socialization is imperative. Make sure your dog is familiar with dogs, animals and people.
Chinese Crested Exercise Requirements
If you're looking for a pup who likes to spend equal parts at play and cuddling with you, then a Chinese crested could be just the pooch for you.
They enjoy brief bursts of play and activity, and can even be taught some tricks.
There probably aren't many things that are more adorable than a small dog with crazy hair standing on her hind legs while balancing a treat on her nose.
Or, she could just sit there being her cute self.
Just make sure you're careful with how rambunctious play time is with a Chinese crested; toy dogs are a little bit more fragile than their larger counterparts.
Chinese Crested health and care
As a pure dog breed that is commonly hairless, the Chinese crested has her fair share of health problems to contend with.
Some health conditions that frequently afflict many dogs, regardless of their breed and especially as they age, are hip and elbow dysplasia, vision and/or hearing loss, allergies, and obesity.
In terms of their genetics, Chinese crested dogs are also particularly prone to the following ailments:
Follicular cysts
According to the VCA Animal Hospital, follicular cysts, which are sometimes referred to as epidermoid cysts, are "dilated hair follicles containing fluid or dark-colored cheesy material."
In the case of the Chinese crested, they are typically caused by follicular inactivity. In other words, this is a failure to grow, lose and regrow hair as normal. Sunburn can also cause follicular cysts.
The cysts are usually benign and therefore are more of a cosmetic issue than anything, but they can develop a smelly secondary infection that will require veterinary attention.
Acne
Yes, dogs can get pimples just like people.
Hairless Chinese crested dogs are susceptible to acne for two reasons. Firstly, because they do not have hair to block dirt and other particles from making their way to the skin. Secondly because they may already be prone to oily skin in the first place.
But, if you spot a few pimples on your Chinese crested (or on yourself, for that matter), it's best to leave them alone, no matter how tempting it may be to pop them.
In the case of both man and dog, opening pimples is a good way to invite infection.
Seborrhea
This is a skin disease that causes your dog's skin to have a very greasy feel to it and/or scaling, cracking or inflammation. Primary seborrhea is inherited.
Secondary seborrhea is usually caused by some other skin conditions, such as allergies or even acne that has become infected.
If a Chinese crested develops seborrhea, you may need to treat her with medicated shampoos to help balance her skin's oils.
It wouldn't hurt to also feed her a diet that is rich in healthy fats to help promote good skin health from within.
Ear infections
As dogs with long fur on their ears are often want to, Chinese crested dogs may have nasty bacteria lurking in their ears that are usually the cause of painful ear infections.
Cleaning a Chinese Crested's ears often may help to prevent frequent ear infections.
Here is an article that explains how to safely and effectively clean your dog's ears.
Hereditary deafness
According to a 2003 study, Chinese crested dogs may carry a gene that causes pigment-associated congenital sensorineural deafness. The same is true for other pigmented breeds with lots of white on them (and pink skin).
In other words, it is not uncommon for white or partially white Chinese cresteds to be born partially or fully deaf.
Genetic testing may be able to pinpoint this gene in Chinese crested dogs before they are used in a breeding program to prevent the passage of this condition.
Progressive retinal atrophy
Eye and vision issues are unfortunately quite common in Chinese crested dogs.
According to a 2006 study, progressive retinal atrophy (also known as progressive rod-cone degeneration) appears to be an inherited condition in Chinese cresteds.
We know this because a form of the prcd (disease-causing) gene mutation was found in the breed representatives who participated in the study.
It causes gradual vision loss to the point of blindness. Fortunately, genetic testing is available to identify the mutation in breeding stock.
Primary lens luxation
This is another blinding eye condition that is often found in terriers and shar-peis, but is also common in Chinese crested dogs.
According to a 2007 study, the lens in the eye (typically both eyes, although one eye may be affected shortly before the other) is basically displaced such that it puts pressure on and damages the structures in the rear of the eyeball.
Surgical treatment once the disease has progressed will cause extreme farsightedness.
Without treatment, the dog will lose her eyesight if not her entire eye. Oftentimes, the vet will opt to remove both of the dog's lenses as soon as one shows signs of luxation.
Canine multiple system degeneration (CMSD)
This inherited brain stem disorder has been found in this breed and in Kerry blue terriers, and it is always deadly.
In a 2005 study, 11 Chinese crested puppies began to show signs of CMSD between three and six months of age. These dogs exhibited head tremors mostly while trying to eat.
The head tremors progressed to a strange lurching forward when trying to walk, which caused a lot of falling.
By a year to a year and a half of age, all but one of the dogs had to be euthanized due to their inability to walk. Unfortunately, they could only sink forward and remain that way to not fall.
We cannot stress enough the importance of genetic testing to avoid distressing cases like this.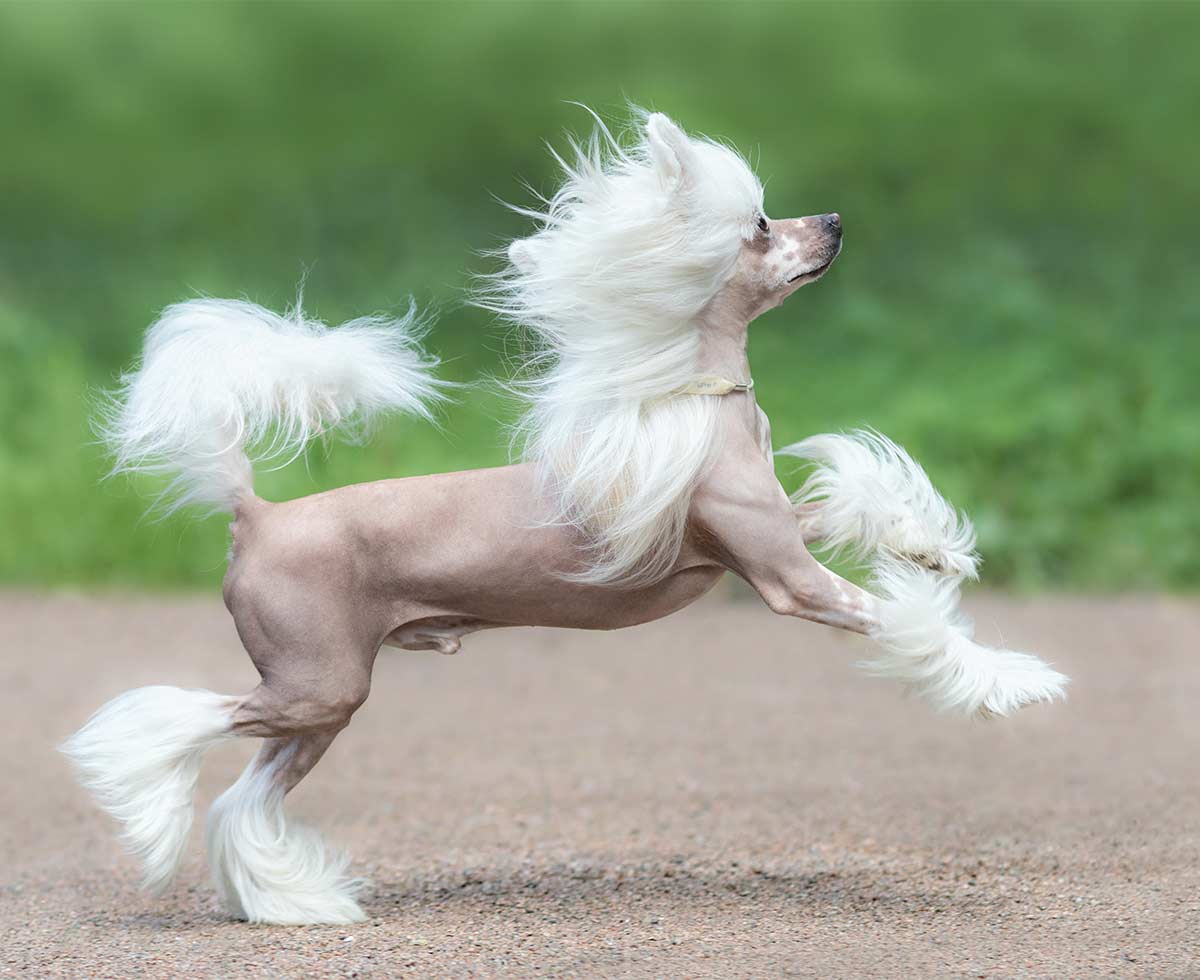 Dental issues
According to a 2010 study, there seems to be a correlation between hereditary hairlessness in dogs and teeth abnormalities.
It's likely that you'll deal with some dental health problems with a hairless Chinese crested. Whereas owners of Chinese crested powderpuff dogs will not.
Possible problems for the hairless variety of this breed include overcrowding, oddly shaped teeth, teeth that protrude out of the mouth, oddly angled teeth and missing teeth.
Some dental disorders can be corrected with surgery at a young age.
Chinese Crested Life Expectancy
As toy dogs, this breed typically lives longer than other dogs. They commonly live to be between 13 and 18 years old.
Hairless Dog Care
Hairless Chinese crested dogs may not need much grooming, but they may need a bath from time to time. Be sure to use a mild shampoo as it is less likely to irritate or unbalance their delicate skin.
Hairless dogs do not have a fur coat to protect their skin from the elements. For this reason, you will need to be extra vigilant about applying sunscreen when going outdoors and providing them.
It's highly recommended to also dress them in warm dog clothes if their taken out for visiting or live in colder temperatures. This is a breed that thrives in warm temperatures, though, so keep that in mind.
The hairless variety is also prone to such skin conditions as dry skin, skin allergies and other forms of dermatitis. So be prepared to handle any of those conditions.
It'll help your pooch if you keep her away from abrasive materials (e.g., give her a soft place to sleep).
Chinese Crested PowderPuff Care
On the flip side, the Chinese Crested powderpuff variety will have a short undercoat with a long, ultra-soft, somewhat thin outer coat.
The good news is that it won't shed much at all, and you don't have to worry about applying sunscreen because her skin is protected.
However, with a fluffy coat comes the need for daily brushing to keep it from tangling.
She should also have a few dog sweaters or vests for cold weather because her coat is more aesthetically pleasing than it is insulating.
Do Chinese Cresteds make good family pets
Absolutely. This dog was practically born to snuggle and play with a doting family.
They're usually good with kids, but as we've mentioned already, it's a good idea to supervise young children while they are handling a crested to ensure that they do not accidentally injure her little body.
But other than that, this breed will love alternating her time between sleeping and snuggling with you (and your babies) and running amok or playing games.
She's not as active of a dog as, say, a husky, but she's definitely not as lazy as, say, a pug.
So really, this dog's energy-to-lazy ratio is akin to how Goldilocks liked her porridge—not too hot and not too cold, but just right.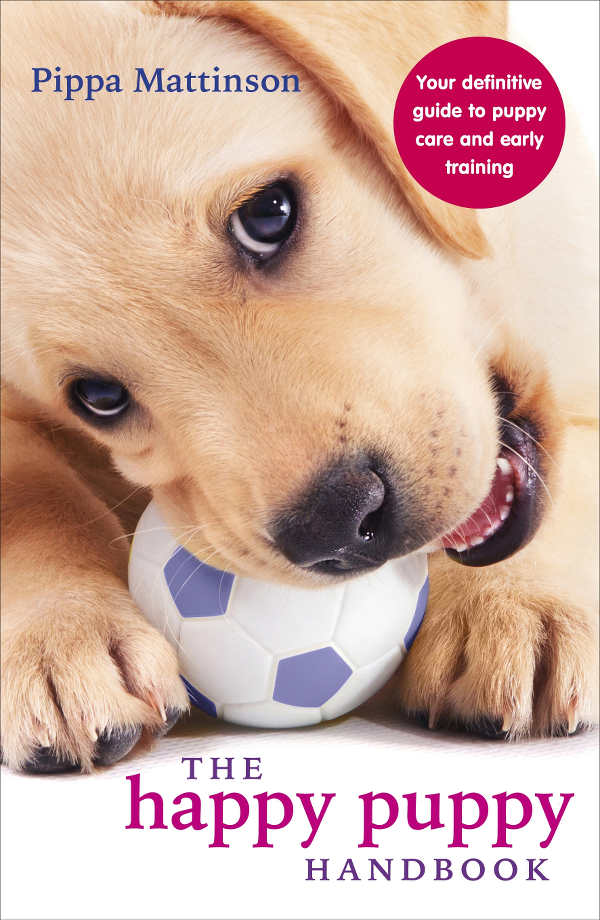 Rescuing a Chinese Crested
If you don't wish to or cannot afford to purchase a dog from a breeder, then you may be able to find one at an animal shelter or breed specific rescue. You can find a list of rescue centers here.
You'll be less likely to get a puppy this way, unless perhaps a litter was confiscated from a bad living situation. But that doesn't mean that you won't find your best friend.
Many dogs that have been retired from showing or breeding wind up for sale or adoption. So by going the adoption route, you'll be able to help one of these cuties live out the rest of their lives in much-deserved comfort.
The only thing that you may need to be leery of when adopting a dog from a shelter or rescue is her health history. It may be unknown, especially if the dog was confiscated.
But, it's also likely that an owner-surrendered dog will have at least some health records, of which can alert you to what may go into keeping your new dog healthy.
Finding Chinese Crested puppies
No matter where you are in the world, there are a couple of things to bear in mind when you're looking for a puppy.
You must find a reputable breeder if you're set on buying a new puppy. Don't be afraid to ask questions. Any breeder worth their salt should be happy to field any questions you have about their pups.
They should also be able to provide you with health testing information, not only about the pups but Mom and Dad too. Take a look at where the dogs are kept to make sure you are happy with their conditions.
Avoid pet shops and puppy mills at all costs. Many such establishments have very poor reputations when it comes to animal welfare and husbandry practices.
Finally, make sure you have a look through our Puppy Search Guide.
Raising Chinese Crested puppies
Caring for vulnerable puppies is a big responsibility. There are some great guides to help you with all aspects of puppy care and training.
You'll find our Puppy Training Guides here.
Similar Breeds
Here are some other toy dog breeds you might want to consider. Remember all toy breeds come certain health risks. A lot of which are inherited.
Pros And Cons of the Chinese Crested
Cons
These dogs are prone to a number of health issues involving their skin, its lack of protection, and their propensity toward allergies and dermatitis.
As well as skin issues, a hairless crested may also develop dental problems.
Pros
You won't have to worry about much, if any shedding.
These dogs make great family dogs because their temperament is a nice balance of energy and calm.
They are very smart and can be taught tricks, and are excellent at obedience trials.
You won't find a much "louder"-looking dog than this. With their eye-catching appearance, a Crested is sure to garner lots of attention wherever she goes.
Chinese Crested Breed Rescues
USA
UK
Canada
Australia
References And Resources
Gough A, Thomas A, O'Neill D. 2018 Breed Predispositions to Disease In Dogs and Cats. Wiley Blackwell
O'Neill et al. 2013. Longevity and Mortality of Dogs Owned In England. The Veterinary Journal
Schalamon et al. 2006. Analysis of Dog Bites In Children Who Are Younger Than 17 Years. Pediatrics
Duffy D et al. Breed differences in canine aggression. Applied Animal Behavior Science 2008
Strain G. Deafness prevalence and pigmentation and gender associations in dog breeds at risk. The Veterinary Journal 2004
Packer et al. 2015. Impact of Facial Conformation On Canine Health. PlosOne
Adams VJ, et al. 2010. Results of a Survey of UK Purebred Dogs. Journal of Small Animal Practice.
Leeb, T., 2012, "Animal Models of Ectodermal Dysplasia," Head & Face Medicine
Lewis, J., et al., 2010, "Dental Abnormalities Associated with X-Linked Hypohidrotic Ectodermal Dysplasia in Dogs," Orthodontics & Craniofacial Research
Moriello, K., et al., "Seborrhea in Dogs," Merck Veterinary Journal
O'brien, D., et al., 2005, "Genetic Mapping of Canine Multiple System Degeneration and Ectodermal Dysplasia Loci," Journal of Heredity
Rest, J. "Cysts," VCA Animal Hospitals
Sargan, D., et al., 2007, "Mapping the Mutation Causing Lens Luxation in Several Terrier Breeds," Journal of Heredity
Strain, G.M., 2003, "Deafness Prevalence and Pigmentation and Gender Associations in Dog Breeds at Risk," The Veterinary Journal
Zangerl, B., et al., 2006, "Identical Mutation in a Novel Retinal Gene Causes Progressive Rod–Cone Degeneration in Dogs and Retinitis Pigmentosa in Humans," Genomics