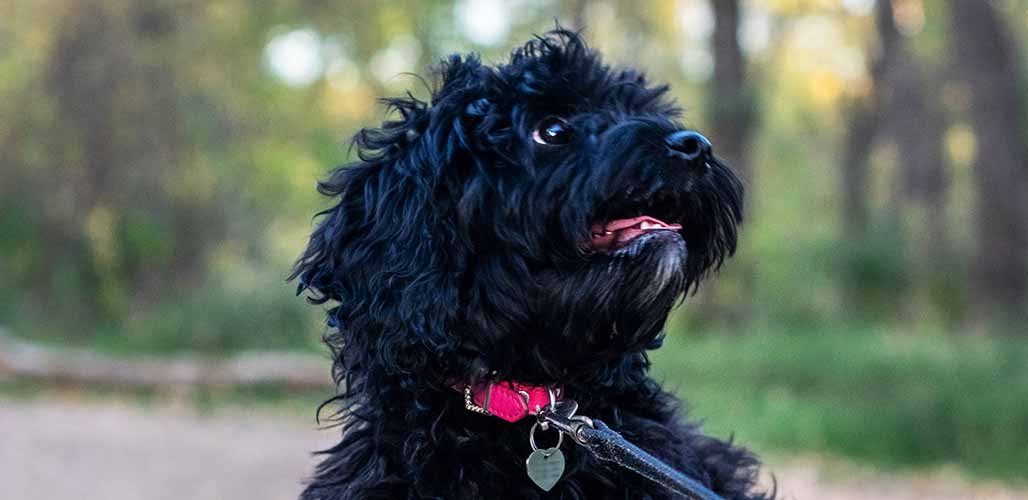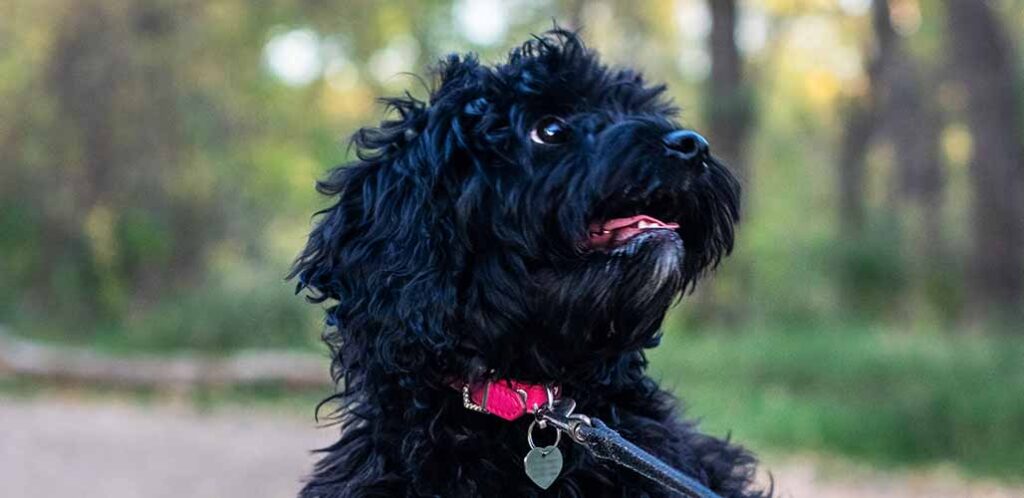 The adorable black Cavapoo is my total favorite mixed breed. This cross between the Cavalier King Charles Spaniel and Poodle is affectionate, friendly and understandably a popular pet. Black puppies are sadly overlooked by some prospective puppy parents. But, today I'll share why this color is actually the best choice for many families and how to start your search for a puppy.
Contents
What is a Black Cavapoo?
The Labradoodle is generally recognized as the first "Doodle" designer mixed breed dog. But, Cavapoos and other Poodle mixes soon followed. The Cavapoo is a cross between the Cavalier King Charles Spaniel and the Poodle, usually a Miniature or Toy Poodle. A Cavalier-Standard Poodle mix is possible but not common. The history of this mix extends back into these purebred dogs!
The Cavalier King Charles Spaniel might look like the aristocratic lapdogs in old paintings, but it is actually a recent dog breed created to look like those old-fashioned spaniels. Breed experts say today's Cavalier is a mix of several breeds that were combined to create a toy spaniel with a soft appearance and gentle temperament.
The Poodle's history goes back further than the Cavalier's. This breed originated hundreds of years ago in Germany, as a working water retriever dog. These original Poodles were roughly the size of today's Standard Poodle. Breeders sized it down to create the other 2 Poodle varieties: Miniature and Toy.
The modern Cavapoo still shows plenty of traits from both of these parent breeds. So, let's take a closer look at what you can expect from a puppy today.
Black Cavapoo Appearance
Like all mixed breed dogs, Cavapoo appearances will vary depending on the traits they inherit from their parents. But, the majority of Cavapoos are small dogs with wavy or curly fur. A full grown Cavapoo will weigh between 10-20 pounds and stand around 10-15 inches tall. Males are usually larger than females, and Cavapoos with a Toy Poodle parent can be even smaller than this average!
Cavapoos are real teddy bear dogs. Most Cavapoos will have wavy or curly coats with a soft, fleece-like texture. Some may have more curl than others, especially when backcrossed to a Poodle. Cavapoo coats need regular grooming to prevent mats and tangles. They'll have round eyes and a black button nose that will blend right in with their black fur. But, there are a few different options you'll see when searching for this fur color:
Solid black
Mismarked (black with small amounts of white on chest and paws
Parti (at least 50% white with black markings)
Tricolor (black, white and tan)
Black and tan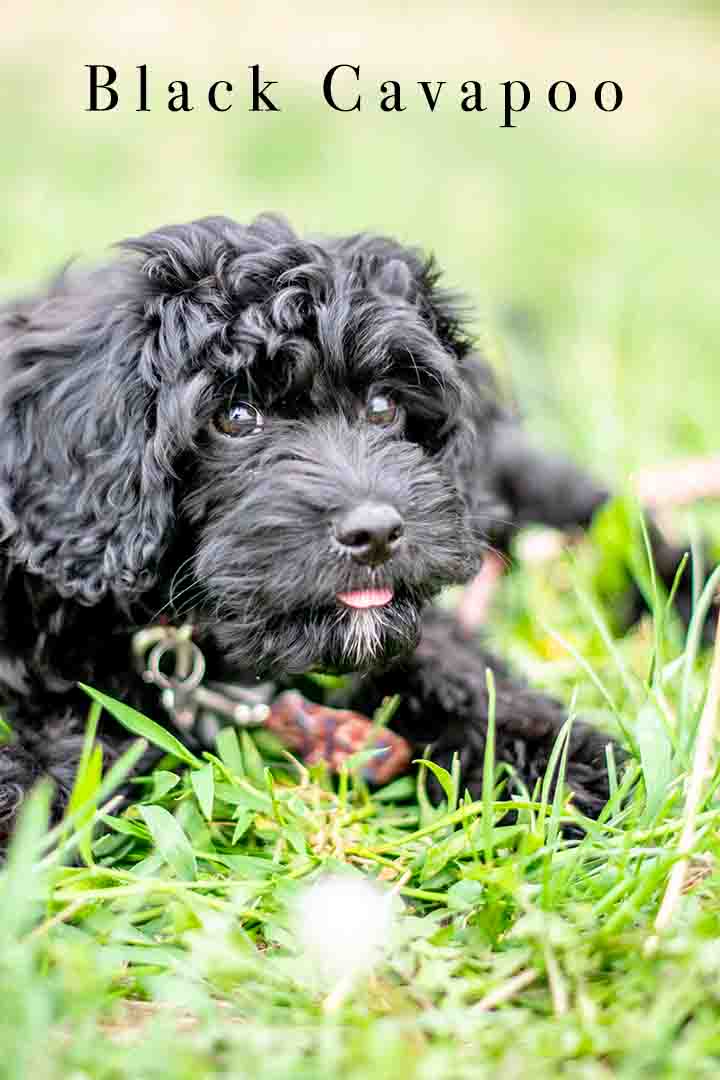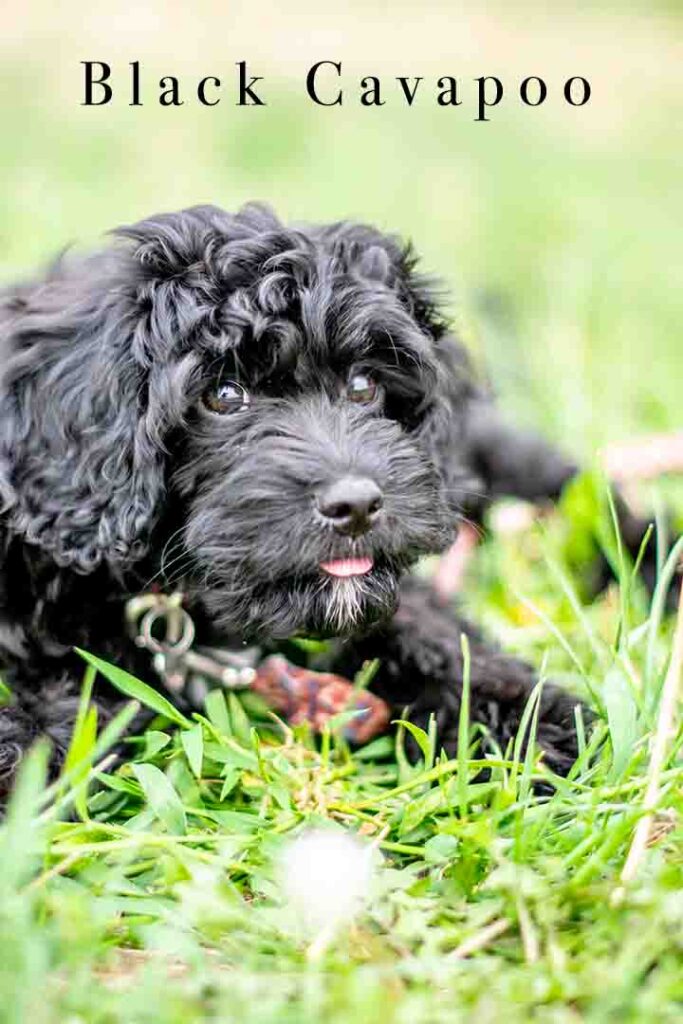 Are Black Cavapoos Rare?
Cavapoos can come in any shades passed down by their parents, not just black. Black is a dominant shade amongst most dog breeds. So it makes sense to think you'll easily find a black Cavapoo puppy. But, other factors can influence the rarity of coat colors.
Black is a much less popular color for Cavapoos than shades like red and apricot. And, studies have shown that small dogs in shelters were more likely to be euthanized if they were partially or wholly black. Sadly, this lower popularity can cause breeders to avoid breeding black puppies. So, if black fur is a top priority, be patient in your search.
Some Poodles can also pass on the progressive graying gene. Puppies with this will have black coats initially, but their fur will prematurely fade to gray over the course of several months. So, some Cavapoo puppies that appear black might not stay exactly the same as they reach adulthood.
Black Cavapoo Temperament and Personality
One of the reasons that I, and many other people, love the Cavapoo mix so much is its wonderful personality! This mix is gentle and affectionate, making it an excellent companion animal for seniors or families with young children.
Cavapoos of all colors are friendly, playful, and cheerful. They are intelligent and eager to please, which makes them very trainable. Positive reward training tends to work best. It builds on the strong bond between a Cavapoo and their owner.
The downside of a Cavapoo's people-oriented nature is that some may suffer from separation anxiety if they become very attached to their owners. Socialization and positive reinforcement training techniques will ensure that your Cavapoo is well behaved. But, make sure you also spend time ensuring they're happy being left alone.
Black Cavapoo Health and Care
Like all mixed breed dogs, the Cavapoo can inherit genetic health conditions from both parent breeds. Outcrossing improves genetic diversity. So, a mixed breed Cavapoo can be healthier than a purebred Cavalier or Poodle. But your Cavapoo's ancestors should be healthy too. In the Cavalier and the Poodle, some common health problems can be very serious.
Cavaliers can inherit degenerative mitral valve disease. This is a condition that can lead to heart failure and death. One UK study found that cardiac disease is the most common health disorder in Cavaliers. The other major Cavalier health issue is caused by head shape. Their skull is too small for the brain, a problem called Chiari-like malformation. This leads to a painful condition called syringomyelia (fluid in the spinal cord).
Standard Poodles have some significant, hereditary autoimmune diseases. But these are less common in Miniature and Toy Poodles, which are primarily used in Cavapoo breeding. Smaller Poodles are prone to a joint problem called patellar luxation and the eye disease Progressive Retinal Atrophy. Miniature Poodles can also inherit Miniature Poodle osteochondrodysplasia, a crippling form of dwarfism.
The best way to ensure your black Cavapoo is as healthy as possible is to work with a responsible breeder who performs health testing and shares all results with you.
Finding a Black Cavapoo Puppy
It's important to get your black Cavapoo from a reputable breeder who health tests their breeding stock. Puppy mill Cavapoos can have significant health problems. Similarly, buying a Cavapoo puppy from a pet store or online ad can increase the chances of costly chronic health problems in your dog. So, choose your new best friend with care. Sadly, these places tend to jump on trends, like Doodle mixes, so be vigilant to avoid them.
Since black is not the most popular Cavapoo coat color, be patient when searching for a puppy. It's a great idea to reach out to breeders and let them know you're searching for a black Cavapoo. They may be able to prioritize you if this coat color appears in a future litter.
Cavapoos are a popular mix, particularly with older people and families. Puppy price can vary depending on your location, demand for puppies, and much more. But, black Cavapoos can cost less than other shades, since they're not as sought after. On average, a black Cavapoo will range between $900 to $1800.
Other Cavapoo Coat Colors
The Cavalier breed standard outlines 4 coat color varieties: Blenheim (chestnut and white), tricolor (black, white, tan), ruby, and black and tan. Poodles come in a wider range of coat colors. The breed standard calls for a solid coat that can be many different colors. This includes apricot, cream, black, brown, silver, and white. Many Poodle breeders will also offer "unofficial" patterned coats like parti as well.
A Cavapoo mix can inherit any of these colors. So, if you're having trouble finding a black Cavapoo puppy, or if you're interested in other shades, there are plenty you can choose from!
Do You Have a Black Cavapoo At Home?
Black Cavapoo dogs are cute, cuddly, and affectionate! They're a great pet in homes with kids, other pets, or even to an individual with lots of time to give. Is black your favorite shade for this popular mix?
Learn More About The Cute Cavapoo
References