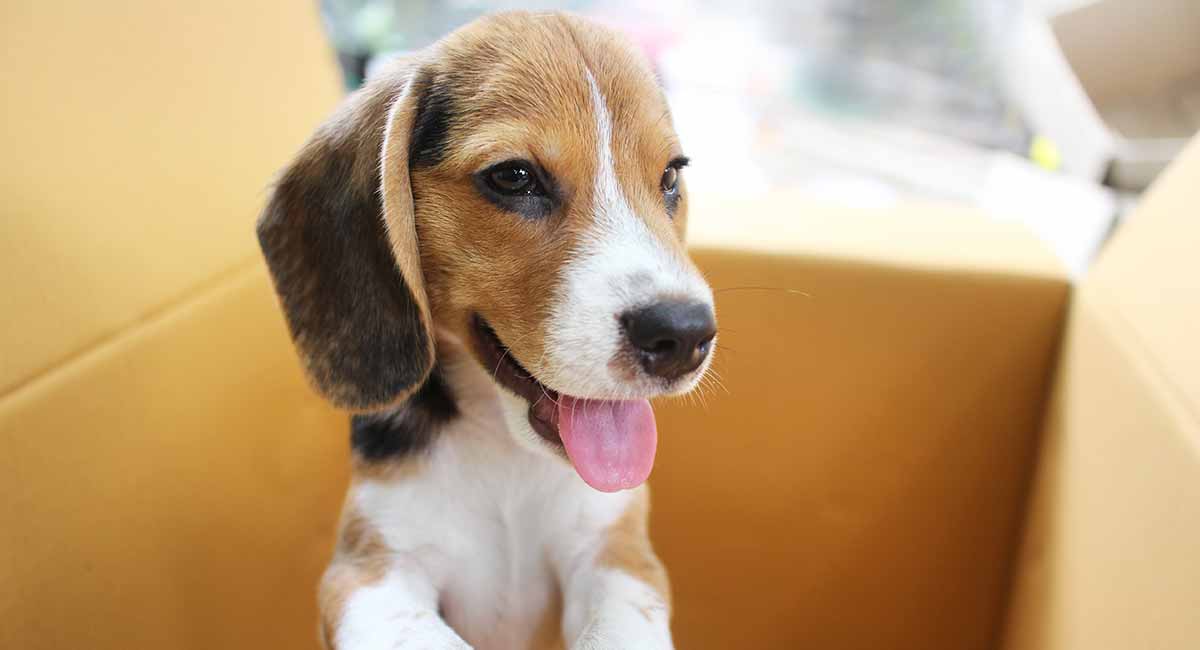 With their happy-go-lucky approach to life and wagging tail, the Beagle temperament is one which never fails to charm.
This breed has a reputation for being friendly, easygoing, and clever so it's not surprising that it has been America's favorite hound for years.
In fact, according to the American Kennel Club, they rank sixth in popularity for all dog breeds.
These exceptional sturdily built scent hounds were originally bred to hunt in packs, and are closely associated with fox hunting.
So, is the Beagle the ultimate companion or does his hunting history mean the breed has behavioral problems?
Read on to find out more about Beagle temperament.
The Typical Beagle Temperament
By and large, the Beagle is known for being a wonderful family dog. The Beagle temperament is often described as loyal, playful, and good-natured.
However, as with any dog, it takes early socialization and training to bring out the best in the breed.
Dogs have natural instincts that are never forgotten no matter how much we think they are domesticated.
In the case of the Beagle, it means they possess a strong inclination to chase and hunt prey. In addition, their curious nature makes them wanderers and explorers.
If they catch a scent, these dogs are more inclined to follow their nose than your orders. So, you can call all you like, but the stubborn Beagle can be prone to selective hearing whenever it suits!
Are Beagles easy to Train?
If you're bringing a Beagle puppy into your life then be prepared to invest some serious time and effort into training.
The breed is known to be difficult to potty train, so crate training is recommended, as dogs are unlikely to soil where they sleep.
A combination of stubbornness and a tendency to get distracted can make training a Beagle quite challenging. On the plus side, they're highly food motivated and will respond best to positive reinforcement methods with treats as rewards.
The biggest obstacle to surmount is their natural instinct to chase and hunt.
Recall training is essential for the Beagle. Choose one word that will be the recall command and use it only when the Beagle is coming to you so that he understands the link between the word and the action.
Start this training where there are as few distractions as possible and always reward your dog for coming to you.
Are Beagles Friendly?
Beagles are generally very sweet-natured dogs. They love being around people and are very affectionate, loyal, and loving.
They are also very playful and known for being good with children.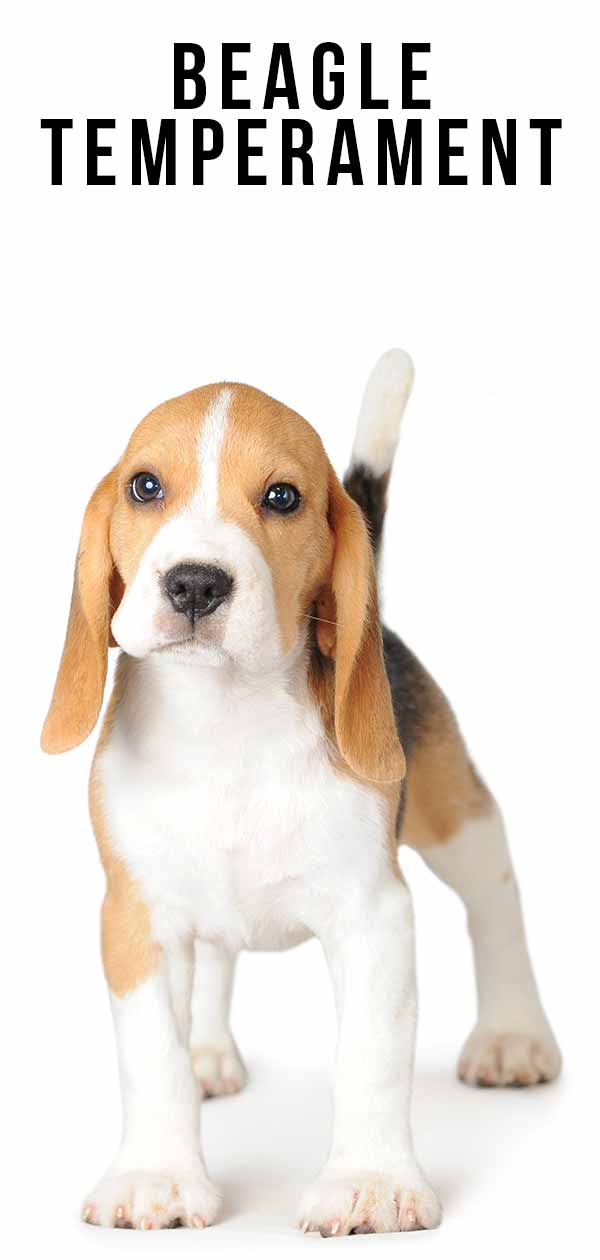 However, this is a very excitable and energetic breed who can be too rambunctious for young children.
Older kids and Beagles are sure to become fast friends, happily playing fetch and chasing each other around for hours on end.
The breed needs to be around people so it can pose a problem if they don't get enough attention or are left alone too much. Loud nuisance barking and other destructive behaviors can ensue.
This study found social isolation may be as much or more damaging to their well-being as a lack of physical space.
Beagles are too friendly to be much good as watchdogs. However, their loud barking may alert you to intruders, but as these dogs are so friendly, they're just as likely to greet strangers as old pals.
Are Beagles Aggressive?
Despite a reputation for being friendly and laidback, any dog has the potential to become aggressive under certain circumstances.
Beagles aren't known for being aggressive towards people or other dogs, but if they become afraid, that can change things.
Building confidence in your puppy through early socialization that introduces him to a wide variety of people, places, and other animals, is this best way to avoid raising a fearful dog.
Some Beagles can become possessive of their food, a comfy chair, or a favorite toy.
Triggering the instinct to guard can lead to growling and baring teeth if feeling threatened.
Are Beagles Energetic?
Beagles have energy to burn and this means they require a lot of exercise to keep them from becoming disruptive.
These clever and curious dogs want companionship with people or other canines. Leaving them out in the yard to amuse themselves is likely to result in a lot of digging and possibly even attempts at escape.
If you do leave a Beagle in your yard, it needs to have a sturdy fence that's at least five feet high. Otherwise, this tenacious pooch is sure to find a way out.
They need to be walked once or twice a day at a brisk pace. Keep in mind that the stride length for a puppy is different from that of an adult Beagle.
Additionally, they also require regular intensive play sessions with you.
Chasing a toy or playing fetch with a ball, will not only provide cardiovascular exercise, but it's also an excellent way to bond with each other.
If you're letting your Beagle off the leash make sure it's in an enclosed area.
Since the Beagle is not a big dog, some people mistakenly think they don't require a lot of exercise.
The average size of the breed ranges from 13 to 15 inches – roughly the same as a Cocker Spaniel.
However, Beagles are a much more energetic breed.
If you live in an apartment, be prepared to spend a lot of time at the dog park. Regular exercise is essential in keeping this breed from becoming noisy and destructive.
It's also critical for keeping this food-loving hound from becoming overweight.
Do Beagles Like Other Dogs?
Although the origins of this ancient breed are shrouded in mystery, we know that the Beagle was bred to live and work in packs.
For this reason, they generally get along very well with other dogs as it's in their nature to be part of a group.
When it comes to cats, it really depends on the individual dog. Some Beagles will see a cat as prey and give chase, while others will get along just fine.
This is more likely the case if the two were raised together.
If you have two or more Beagles the pack mentality is more likely to kick in and adding a cat to the mix could be disastrous—at least for the cat.
Small pets like guinea pigs and rabbits are unlikely to fare well under any circumstances. Once the Beagle catches their scent, the dog's strong prey drive will kick in and they'll want to get at them.
Keeping small pets out of their reach really isn't much of a solution because your scent hound will still be able to smell them.
It will only annoy the Beagle, causing them to bay and howl, which will stress out the much smaller animal and probably bother the neighbors.
If you only have one dog and there's no one at home throughout the day, you may want to consider doggy day care.
This will keep your Beagle in the company of other animals and eliminate the possibility of separation anxiety.
What it Means to be a Scent Hound
To understand the Beagle temperament it's important to understand their history.
In 16th century England, small hounds would use their powerful sense of smell to hunt rabbits and other small prey.
They were known as foot hounds because the hunter would follow behind on foot.
Like Bloodhounds and Basset Hounds, Beagles were bred over generations to be scent hounds. This means that they track their prey by ground-scenting.
Their scent is so keen that they're used by the U.S. Customs and Border Protection in detecting prohibited food items from entering the country.
In 1984, the Beagle Brigade was established by the U.S. Department of Agriculture (USDA).
Their profound sense of smell, combined with their high food drive, and gentle Beagle temperament, make them an excellent choice for this role.
Natural Instincts
Today the Beagle's natural instinct to hunt and chase is still intact. The Beagle temperament is both curious and tenacious.
A new and interesting smell will be something they need to explore.
Though small, these dogs can move quickly, and there's a good chance they can outrun you if they catch a scent. Their prey instinct can also mean trouble if you have other small pets in the home.
Work on your Beagle's recall regularly, to make sure they'll always come back to you when you're exercising them off the leash.
This brave breed may possess an instinct to guard. Their acute nose will detect any new smells and they're sure to alert you with their distinctive loud bark if anyone comes near your property.
The only thing that Beagles might love more than their family, it's their food. For this reason, some of these dogs can become quite possessive in guarding their food bowl.
This guarding behavior may also extend to anything they perceive as being valuable—from a chewed bone to a smelly slipper.
Are Beagles Good Family Pets?
Playful, friendly and full of fun, the Beagle is a family favorite and can make a wonderful companion.
However, this energetic dog will need to be exercised regularly. Families with older children and a fenced backyard where they can play together are a terrific match.
These dogs are pack animals and can suffer from separation anxiety if they're left alone too much.
However, a lonely Beagle is a noisy and destructive Beagle. Training and socialization is a big commitment because this is a very independent and stubborn dog.
You'll need an abundance of patience and treats.
But, since the Beagle is prone to obesity, you'll need to keep a watchful eye on the calories.
Although they have a decent lifespan of 10 to 15 years, they are at risk of a number for health conditions.
If you're buying a Beagle puppy your breeder should have proof that they've tested their stock for hyperthyroidism, epilepsy, eye disorders, hip dysplasia, and patella luxation.
If you're interested in Beagles, check out this article to see how much you can get one for!
All in all, the Beagle packs a lot of dog into a small and adorable package.
Do you have a Beagle? Tell us about their temperament in the comments below.
Want to learn more about the Beagle? We've got 20 fun Beagle facts here!
References and Resources
Most Popular Dog Breeds – American Kennel Club
U.S. Customs and Border Protection
Hetts, S., et al., "Influence of housing conditions on beagle behavior," 1992
Kutsumi A., et al., "Importance of puppy training for future behavior of the dog," Journal of Veterinary Medical Science, 2013
Park, HJ, et al., "Association of Obesity with Serum Leptin, Adiponectin, and Serotonin and Gut Microflora in Beagle Dogs," Journal of Veterinary Internal Medicine, 2014
Nagaoka, D., et al., "Re‐induction of obese body weight occurs more rapidly and at lower caloric intake in beagles," Journal of Animal Physiology and Animal Nutrition, 2010
Richardson, DC, "The Role of Nutrition in Canine Hip Dysplasia," Veterinary Clinics of North America: Small Animal Practice, 1992
Faragó T., et al., "'The bone is mine': affective and referential aspects of dog growls," Animal Behavior, 2010
Haley, PJ, et al., "Thyroid Neoplasms in a Colony of Beagle Dogs," Veterinary Pathology, 1989
Gredal, H., et al., "Progressive myoclonus epilepsy in a beagle," Journal of Small Animal Practice, 2006
Ekins, MB, et al., "Oval lipid corneal opacities in beagles. II. Natural history over four years and study of tear function," 1980