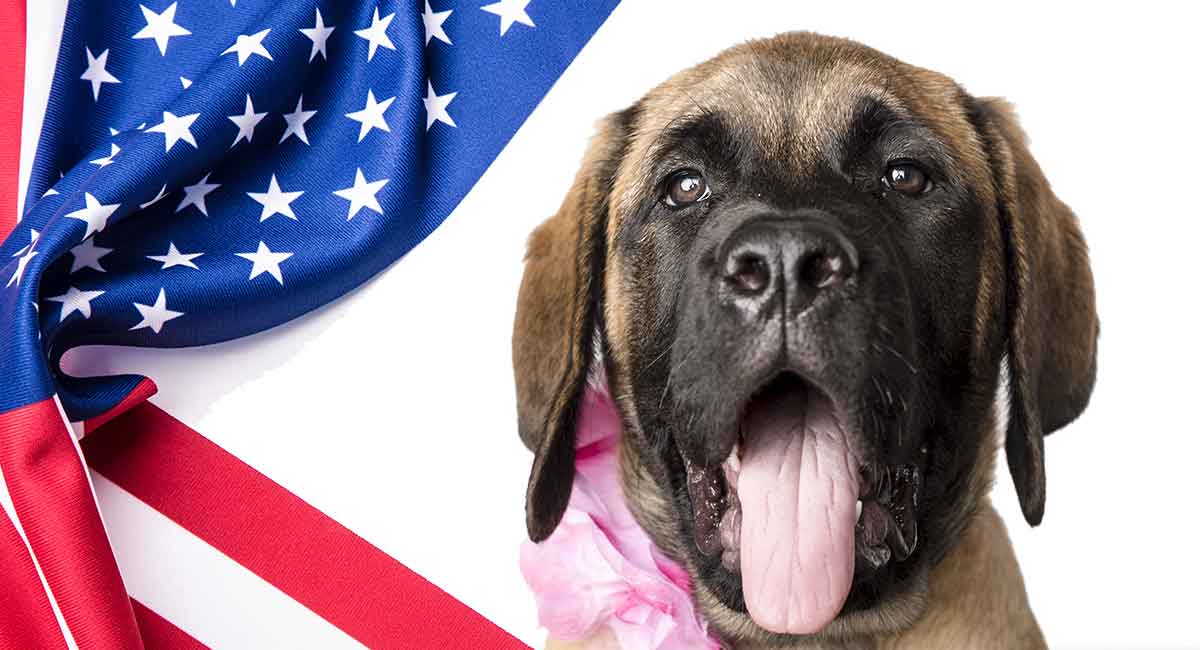 The American Mastiff is a massive, yet wonderfully gentle and lovable purebred dog breed with an impressively ancient lineage.
If you're new to learning about Mastiffs, it's easy to get confused by all the different types of purebred Mastiff.
In this article, we focus on the American Mastiff, a relatively new Mastiff breed.
Where Does the American Mastiff Come From?
The American Mastiff got its start in Piketon, Ohio, in the United States. The original breeder still runs Flying W Farms, where the first American Mastiff dogs were born and bred.
The earliest American Mastiff dogs arose from a pairing between an English Mastiff and an Anatolian Mastiff.
The Anatolian Mastiff, which is sometimes also called the Anatolian Shepherd or the Turkish Mastiff, is an ancient livestock herding and guarding dog.
The American Mastiff breed was first registered with the Continental Kennel Club (CKC) in 2000.
Since then, only puppies born from a pairing between two CKC-registered American Mastiff parent dogs are considered purebred American Mastiff dogs.
Today, other kennels also breed purebred American Mastiff dogs. Legitimate American Mastiff kennels all use purebred parent dogs acquired from Flying W Farms.
Fun Facts About the American Mastiff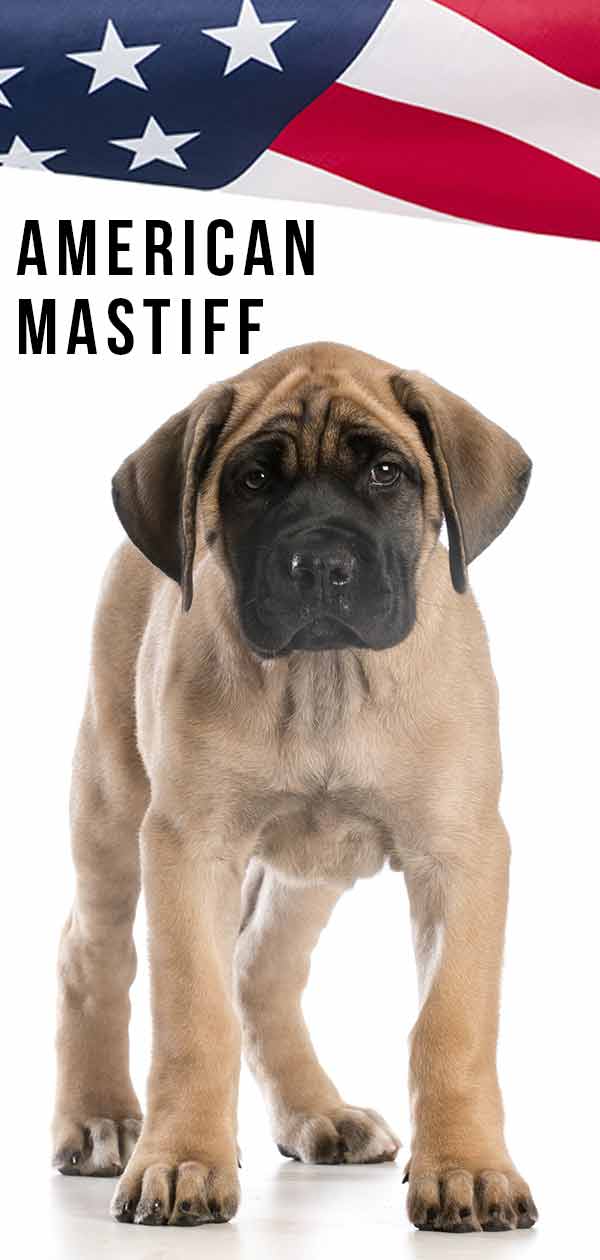 Here are some fun facts gathered by American Mastiff breeders and owners!
The American Mastiff is often called the AM Mastiff or the AmMas for short.
American Mastiffs, unlike their English cousins, have remarkably dry mouths!
Breeders say these dogs typically do not produce drool unless you offer a really delectable treat or they smell something irresistible.
American Mastiffs are enthusiastic and messy drinkers.
American Mastiff Appearance
The American Mastiff is tall, stocky, powerful, broad-chested, wide-shouldered, and has strong, sturdy legs.
Expect your adult dog to weigh between 140 to 200+ lbs. A fully grown adult American Mastiff will stand 28 to 36 inches tall.
In addition, this dog's coat color can range from cream to fawn to apricot to a brindle pattern.
The coat texture of the American Mastiff is short, dense, and double-coated and their eye color can range from light amber to darker brown.
For the American Mastiff, the breed standard indicates that their muzzle should be a darker color than the surrounding coat.
Also, their nose should be dark—referred to as the "black mask."
American Mastiff Temperament
The American Mastiff is a relatively young, modern purebred dog. They are excellent with children—gentle, protective, and patient—as specified in the breed standard.
These dogs were bred to be "inside dogs" and family companions. Owners and breeders often describe American Mastiffs as wanting to spend time with their people.
The well-bred, well-trained, well-socialized American Mastiff is deeply devoted to their human family and especially attentive to the youngest family members.
This dog is generally reserved with strangers, which means your American Mastiff could make a useful watchdog—but not a good guard dog.
Breeders caution against choosing an American Mastiff if you need a guard dog due to this breed's sensitive nature and a deep need to be around people.
Training Your American Mastiff
It can be a true delight to share your home and life with a well-trained, well-socialized, and well-behaved American Mastiff.
However, there are some things to keep in mind. Your American Mastiff puppy won't realize their own strength or size. And this won't change as they grow up.
Therefore, training is absolutely essential if you are bringing an AM puppy into your home and you have small children.
This dog may be as gentle and patient as can be, but one wag of that huge, broad tail send a small child flying across the room.
Crate training can be an invaluable tool for potty training and obedience training.
Your American Mastiff must be trained to walk politely on a leash and socialized from day one.
Otherwise, your dog could take you for a sprint the moment if they spot a squirrel!
You may wonder how the American Mastiff will behave when you have visitors to your home. Here's another area where early and ongoing positive training and socialization is vital.
The sensitive, intelligent nature of the American Mastiff means your dog will look to you for your cues in the company of others they don't know.
You should teach your puppy the difference between a new friend and a potential danger.
Just looking at an American Mastiff, you might think this massive dog will need all kinds of daily exercise.
But this dog is actually a medium to low energy breed that will fare very well with a twice-daily brisk walk.
In fact, until your AM puppy is fully grown and your veterinarian has verified that all joints have finished their growth, be careful not to over-exercise your dog.
This brings us to potential health concerns.
American Mastiff Life Expectancy and Health Concerns
This American Mastiff has a life expectancy of 11 to 13 years.
Although, the official American Mastiff breed standard states that this dog's overall life expectancy is 10 to 12 years.
Over-exercising injuries from puppyhood can lead to health issues that persist throughout life.
After your vet gives the okay, you can take your dog on more vigorous walks or hikes or even for a refreshing swim.
But do not let your American Mastiff jump up and down on furniture or run. This will help ensure their joints are protected.
While the American Mastiff is not classified as a true brachycephalic (flat-faced) dog breed, the official breed standard does indicate a "somewhat brachycephalic" skull type.
Talk with your dog's veterinarian about whether to take special precautions required for brachycephalic breeds.
They can be vulnerable to overheating, respiratory, eye, and dental health issues.
Because the American Mastiff is still so young as a breed, only limited data are available regarding breed health.
In this case, looking at the history of each parent dog breed is often the best way to assess potential health issues.
For the American Mastiff, that means the English Mastiff and the Anatolian (Turkish) Mastiff.
The English Mastiff
The English Mastiff is considered a true brachycephalic (flat-faced) dog breed.
This means the English Mastiff has the shortened muzzle that can cause tooth crowding, eye tearing and infection, respiratory difficulties, chewing difficulties, and other issues.
The Canine Health Information Center also recommends the following health tests for all Mastiff dogs, including
hip and elbow dysplasia
eye and cardiac tests
autoimmune thyroiditis (optional)
cystinuria (optional)
The typical life expectancy for an English Mastiff is 10 to 12 years.
The Anatolian (Turkish) Mastiff
Sometimes also called the Anatolian Shepherd, the Turkish Mastiff does not have a brachycephalic muzzle.
However, like other giant dog breeds, the CHIC recommends testing for hip and elbow dysplasia.
Additional Grooming and Care Requirements
The breed standard indicates that the American Mastiff will shed moderately year-round.
However, the breed has a fairly self-maintaining coat outside of weekly brushing and the occasional bath.
Does the American Mastiff Make a Good Family Dog?
According to the American Mastiff Breeders Council, CKC-registered American Mastiff dog breeders are committed to placing puppies in loving homes.
These dogs should be welcome to live indoors with their family and participate in all aspects of family life.
Breeders recommend permitting your American Mastiff to sleep near you in a dog bed right from puppyhood.
This breed has a strong need to be near "their" people as often as possible.
For the same reason, however, breeders caution against letting your loving and clingy AmMas puppy share your bed.
Otherwise, as your puppy grows up, there may no longer be any room for you anymore!
Rescuing an American Mastiff
When you choose to rescue a dog, you will most likely be adding an adult dog to your family rather than a puppy.
This can have advantages including being able to skip the teething and housebreaking life stages!
Also, rehoming fees are typically much more reasonable than the price tag to purchase a purebred dog from a breeder.
Finding An American Mastiff puppy
At the time of writing, there are only 11 registered American Mastiff Breeders Council (AMBC) breeders.
Raising An American Mastiff Puppy
Crate training can be especially important for a giant breed dog like the American Mastiff.
You might also want to read up on puppy development stages!
American Mastiff Products and Accessories
As you no doubt already suspect, sharing life with a giant breed dog like the American Mastiff also means supersizing everything your new pup will need!
This will include collars and leashes, beds and blankets, toys and treats, food and water dishes, brushes and grooming tools, and so much more.
If you have not yet made the commitment to an American Mastiff, it's worth evaluating your home and vehicle to determine whether they're big enough.
It's important to make sure a potentially 200+ pound dog will fit!
Pros and Cons of Getting An American Mastiff
Cons
Raising a giant breed dog can be more expensive.
You will need to have space for a huge dog bed, a huge dog crate, etc.
Giant breed dogs can easily topple small children without meaning to cause harm.
The bigger the dog, the shorter the average life expectancy.
A larger dog can mean more shed dog hair to clean up!
The lightly brachycephalic muzzle shape may bring some health issues.
Pros
This breed is gentle and patient with kids and affectionate towards their people.
You will have an excellent watchdog (but not a guard dog).
Daily unconditional canine love will be a guarantee.
You can get by with moderate daily activity and your dog will be perfectly content.
You don't have any elaborate grooming duties with this dog.
The AmMas is easy to train with positive training methods.
Similar Breeds
Some of the other more established Mastiff dog breeds you may also want to consider are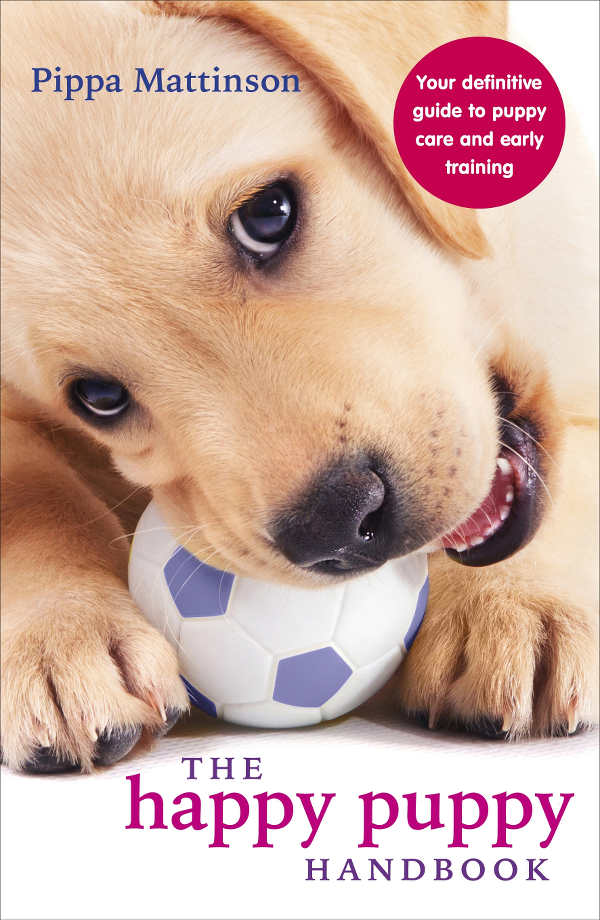 American Mastiff Rescues
Do you know of an American Mastiff or all-Mastiff breed rescue organization or shelter we haven't mentioned here?
Please add your information in the comments for other readers to benefit from!
NOTE: Only rescue organizations that do not specify "English Mastiff dogs only" are listed in the country directories below.
United States
The Mastiff Club of America Rescue Foundation – Parent breed club providing regional rescue contact information
Mastiffs to Mutts Rescue Charity – Serves the Mid-Atlantic United States
Great Plains Mastiff Rescue Foundation – Serves the Great Plains and the Central United States
Mastiff Rescue Oregon Charity – Serves the state of Oregon and the Pacific Northwest United States
Great Lakes Mastiff Rescue – Serves the Colorado and Great Lakes regions
Friends of Rescued Mastiffs (FORM) – Serves the greater United States
Midwest Mastiff Rescue Charity – Serves Indiana, Illinois, Missouri and Indiana in the United States
Mastiffs R Us – Serves the Midwest United States
Redwood Empire Mastiff Club – Serves the West Coat and continental United States and also offers a comprehensive database of additional rescue organizations that serve giant breeds and Mastiffs
Australia
Canada
Is An American Mastiff Right For Me?
We hope you have enjoyed learning more about American Mastiffs.
Do you think this sizable dog the right pup for you? Please share your thoughts in the comments section!
References and Further Reading
İnanç ME et al. 2018. Genomewide association of male reproductive traits in Aksaray Malakli dogs. Reproduction in Domestic Animals. DOI: 10.1111/rda.13302
Packer R et al. 2015. Impact of Facial Conformation on Canine Health: Brachycephalic Obstructive Airway Syndrome. PLoS One Journal. DOI: 10.1371/journal.pone.0137496