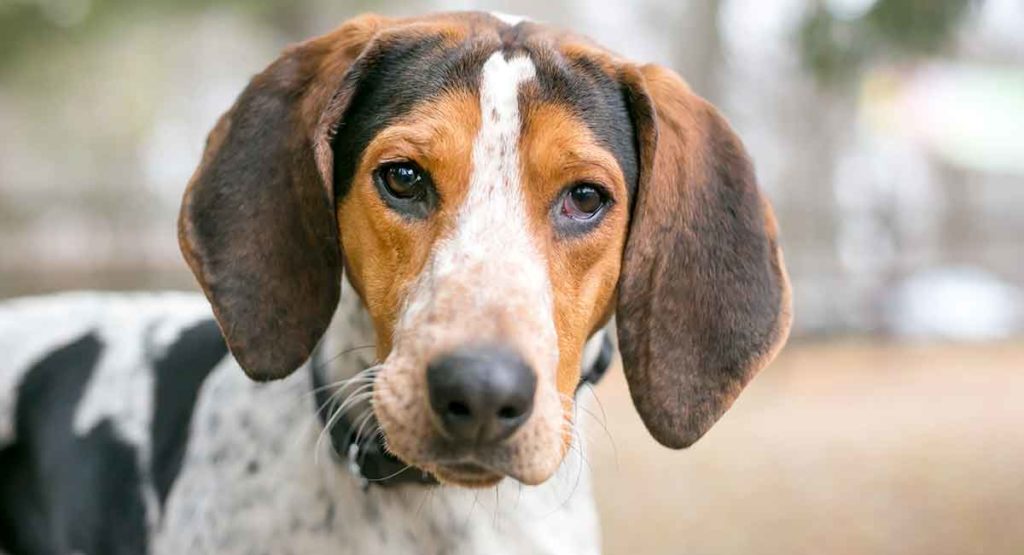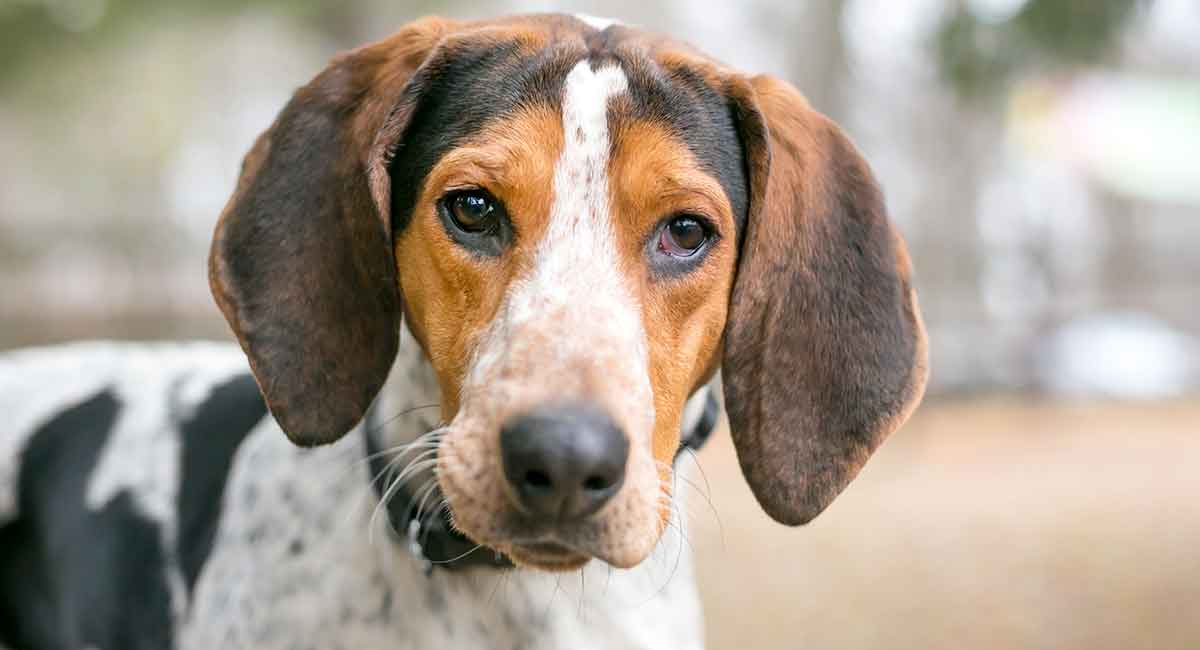 The American English Coonhound is known for its hunting abilities and mellow temperament.
While many dog owners utilize this pooch because of their tracking abilities, they are also kept as family dogs.
But, just like with every dog, the American English Coonhound is not perfect. They are prone to a couple of health problems and have high exercise requirements.
To help you decide whether or not this breed is right for you, we've included everything you might need to know in this breed guide.
Where Does the American English Coonhound Come From?
This breed can be traced back to the colonization of the United States.
Many European settlers during the 17th and 18th century brought Foxhounds with them to America to help them hunt.
The descendants of these dogs would become the American English Coonhound we know today.
However, they had quite a way to go before they got there.
First, this breed was refined by Robert Brooke, Thomas Walker, and George Washington, causing them to become their own distinct breed.
The terrain in America was much rougher than the dog was originally bred for. So, the breed was specially bred to adapt them to these new conditions.
This breed also experienced difficulty tracking raccoons up trees due to the terrain difficulties. Because of this, breeders introduced Bloodhound genes to improve their scenting capabilities.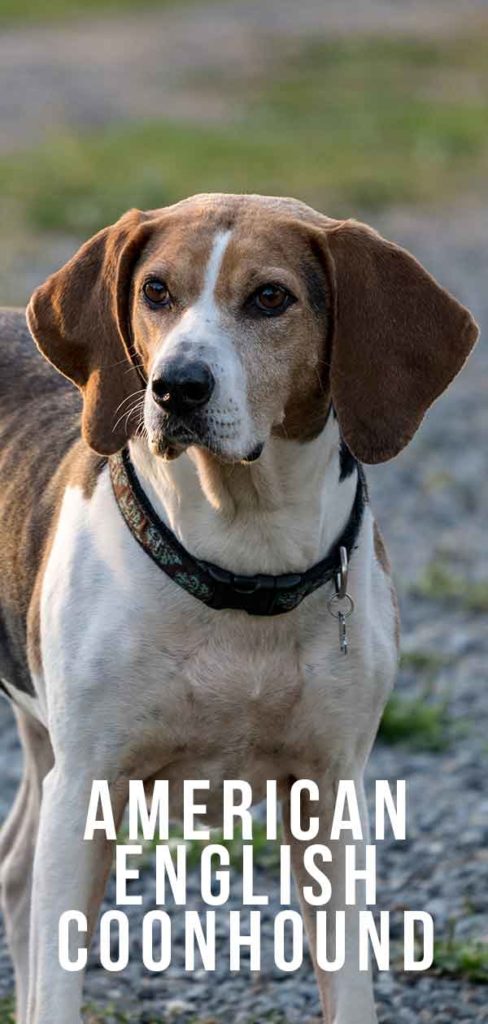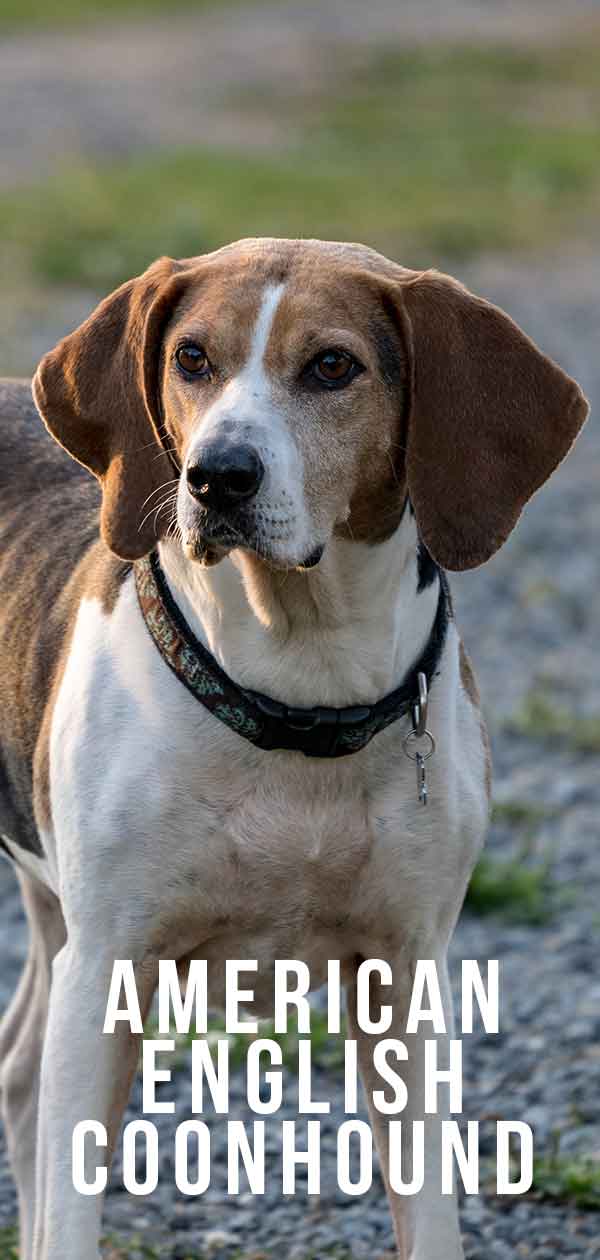 Unlike other coonhounds, the American English Coonhound was used to hunt both raccoons and foxes.
The American English Coonhound was accepted into the American Kennel Club' Foundation Stock Service in 1995.
In 2011, it was moved to the hound class, allowing it to compete in the National Dog Show.
They are categorized as a hot-trailing hound. This label means they are bred to catch their query as opposed to just tracking it down.
Fun Facts About The American English Coonhound
Today, some coonhounds hunt only raccoons, while others also hunt foxes.
George Washington had a large part in developing this breed. He was one of the first people in America to own one.
This dog has a unique ability: it can climb trees. This allows it to track raccoons where other dogs cannot.
The American English Coonhound is popularly known as the fastest type of coonhound.
They win most coon dog trials, also known as a hunting competition.
This dog is also known as a Redtick Coonhound thanks to their unique coat pattern.
American English Coonhound Appearance
This dog weighs from 45-65 pounds and stands anywhere from 23-26 inches tall. Females are usually smaller than males, though this is not always the case.
These dogs were bred for endurance and speed. They are muscular and lean. They have a broad chest and well-defined muscles.
Their ears are low and floppy, sitting low on their skull and draping past their chin.
The most common coat color for this canine is red and white ticking.
This is why they are also known as the "Redtick Coonhound."
But there are also other colorations that are possible, such as blue and white ticking, and tri-colored.
While not all American English Coonhounds have the ticking markings, this is the hallmark trait of the breed.
This breed's coat is usually rough and protective.
American English Coonhound Temperament
This dog is known for its laidback, friendly nature. They are very social and tend to make excellent family dogs.
They are very pack-centered, which makes them good with both children and other dogs.
However, they do have high prey drive.
This means they will often chase other animals, including cats and even small dogs.
Due to their friendliness, they do not make good guard dogs. However, their loud howl can make them excellent watchdogs if they are trained correctly.
These dogs are known as some of the most intense howlers. They tend to howl quite a bit.
But they can be trained to remain quiet and calm indoors.
These dogs will not be skittish or aggressive. They can be stubborn and strong-willed, though.
They are also known to be quite the nesters, making it nearly impossible to keep them off of furniture and blankets.
Training Your American English Coonhound
The American English Coonhound is usually loyal and eager to please. They are generally extremely trainable.
We recommend starting with crate training and potty training. These dogs can be very loud when crated, so you should begin as early as possible.
You should socialize your dog early and often, especially with smaller animals and cats.
While these dogs are prey driven, they can be taught to get along with other animals if they are socialized with them at a young age.
Because they are bred for endurance, these dogs have an extremely high exercise need. They should be walked often for at least an hour a day.
All exercising should be done on a leash. If an American English Coonhound gets on a scent, it is nearly impossible to get them to respond to your commands.
Because they tend to run off while following a scent, these dogs are more prone to be attacked by predators such as wolves and bears.
A leash is necessary to keep you and your dog safe.
American English Coonhound Health
These dogs are usually pretty healthy. They were bred to be working dogs, and therefore do not suffer from many conformational health problems.
They are prone to a few diseases that you should be aware of, however.
Firstly, some studies have shown that these dogs are more likely to develop Pulmonary Histoplasmosis than other dogs.
This is a chronic, non-contagious fungal infection that is caused by soil-dwelling fungi.
It is unknown whether these dogs are genetically dispositioned to become infected with this fungus, or if their environment and likelihood to be exposed to it are higher than other breeds.
Whatever the case is, you should keep an eye on your dog for symptoms, including fever, depression, loss of appetite, and weight loss.
Depending on where the fungus takes root, different symptoms can develop. For example, if the lungs are infected, coughing can also occur.
Inherited Conditions
Like many larger breeds, the American English Coonhound is also prone to hip and elbow dysplasia.
This disorder is also known as knee and elbow dislocation. Many larger dogs are prone to this disorder.
It has been shown to be genetically linked. Ethical breeders will test their dogs for a predisposition before breeding them to ensure that their puppies do not receive the same genetic flaws.
These dogs are also prone to persistent pupillary membranes. This disorder occurs when the eye does not develop properly on the inside.
This causes vision problems. The level of vision loss that occurs depends on the severity of the disorder.
Do American English Coonhounds Make Good Family Dogs?
These dogs make great family pets.
They are good with children and are known to be loyal to their owners.
However, they do have some difficulty in homes with small animals and cats due to their prey drive.
But, if properly socialized at a young age, they can live in a house with these little animals as well.
Their high exercise requirements can also be a handful for some people. If you are not very active, we recommend choosing a different dog instead.
Rescuing an American English Coonhound
Depending on your area, it is not very uncommon to find one of these dogs at a shelter.
They are most common in the southern United States and should be easy to find if you live in that area.
Because these dogs are very friendly, they should warm up to your home quite quickly.
They are generally good with most strangers and children.
However, when adopting an adult dog, you should keep in mind that you do not know if they have been socialized with small animals or not.
If you have cats or other pets, this can be cause for concern.
Finding an American English Coonhound Puppy
If you decide to adopt a puppy, there are a few things you should keep in mind.
We recommend adopting a puppy from an ethical breeder. These breeders will avoid breeding sick dogs together and those with genetic dispositions.
Many also take the time to socialize their puppies and ensure that they are healthy before offering them for adoption.
In the end, this leads to you adopting a healthier, happier puppy.
On the other hand, puppy mills and pet stores often do not take the precautions.
Their dogs are not tested for health disorders under most circumstances, and their puppies are often sickly and unsocialized.
For more information on choosing a puppy, we recommend taking a look at our puppy search guide.
Raising an American English Coonhound Puppy
You should begin an exercise and training schedule with these dogs early. They will benefit from the consistent physical and mental stimulation.
Socialization should also begin early and should take place often.
While these dogs are very friendly with people, they need to be socialized with smaller dogs and cats to prevent them from chasing and possibly injuring them.
You should clean their ears regularly due to their floppiness. This will prevent a build-up of earwax and ear infections.
Remember that these dogs have very sensitive noses and will track an animal if they catch their scent.
You should be very careful when outside with your dog. A leash is necessary.
You should also be careful to feed your puppy correctly. This will prevent stomach upset, obesity, and other digestive problems.
American English Coonhound Products and Accessories
The essential accessory to get from your American English Coonhound is a good leash.
We also recommend purchasing an ID tag encase your canine does get away from you.
Dog ear cleaner is also necessary due to these dog's large, floppy ears. While you don't have to have one to clean your dog's ears, it does make it much more comfortable.
Toys will help your American English Coonhound stay active and meet their exercise requirements. Due to their high prey drive, we particularly recommend squeaky toys.
Pros and Cons of Getting an American English Coonhound
These dogs can be boisterous and have high exercise requirements.
They might chase small animals due to their high prey drive. And, this instinct can also cause them to run away accidentally.
However, they are very friendly dogs that are great with children.
They are decently healthy and have low maintenance needs.
Similar Breeds
Hounds such as Beagles and the American Foxhound are similar to this breed. Many of these dogs will also have prey instincts and high exercise needs.
Other coonhounds, like the Plott Hound, are going to be particularly similar to this dog. Many will only differ in appearance or size.
You might want to consider a Coonhound mix.
American English Coonhound Rescues
There are a few rescues that specialize in this breed. If you want to be added to this list, comment below!
Is an American English Coonhound Right for Me?
If you want a great family dog and don't mind a little howling, then this dog is perfect for you.
References and Resources
Von Recum, Andreas. "Hunting with Hounds in North America," Pelican Publishing.
Olson, Erik. "Landscape predictors of wolf attacks on bear-hunting dogs in Wisconsin, USA," Wildlife Research. 2015.
Burk, Ronald. "The Radiographic Appearance of Pulmonary Histoplasmosis in the Dog and Cat: A Review of 37 Case Histories," Veterinary Radiology. 1978.
Zhang, Zhiwu. "Estimation of heritabilities, genetic correlations, and breeding values of four traits that collectively define hip dysplasia in dogs," American Journal of Veterinary Research. 2009.
Clark, Ross. "Medical, Genetic, & Behavioral Risk Factors of Coonhounds," Xlibris Corporation. 2015.