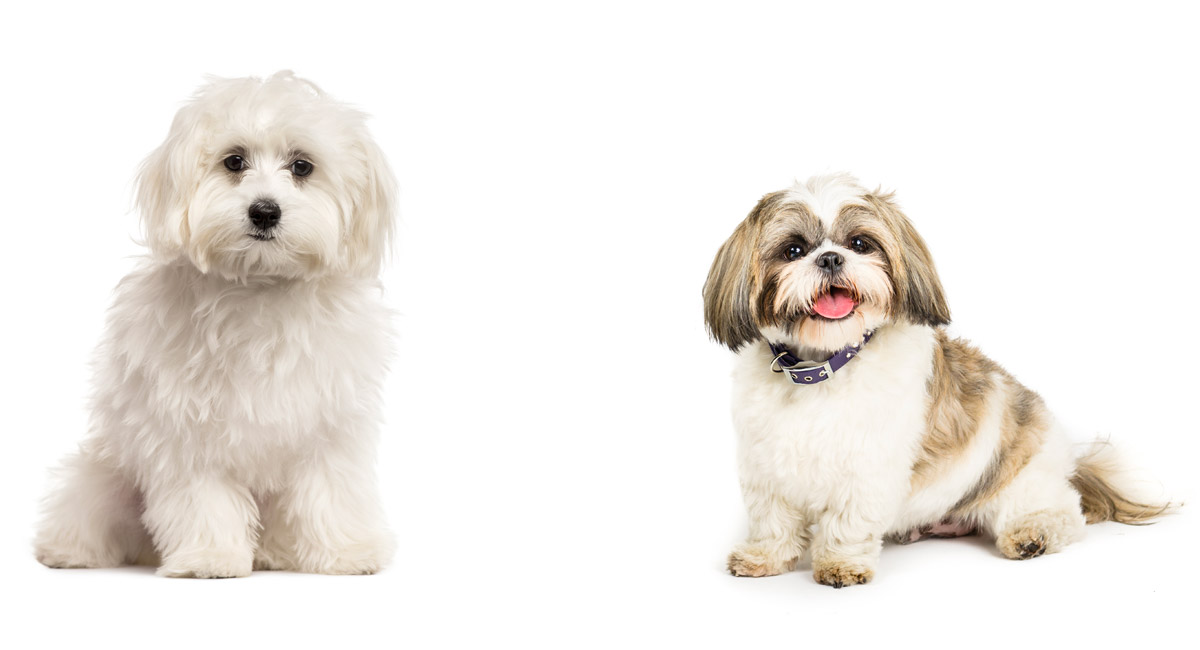 Welcome to our complete guide to the Zuchon, helping you decide if this adorable Shih Tzu Bichon mix is the right dog for you!
Cute, fluffy and extremely cuddly, it's easy to see why they are also known as the teddy bear Zuchon!
But there is much to consider regarding this relatively new breed of dog.
The Zuchon is a first-generation mix. Breeders, owners, and dog lovers alike often have divided opinions regarding designer dogs.
So, before we look further at the Bichon Frise and Shih Tzu mix, let's look at the controversy surrounding mixed breeding.
Purebreds versus Designer Dogs
Many dog enthusiasts prefer a purebred as they are bred to meet specific standards, making it easier to predict certain physical and behavioral traits.
In other words, potential owners know what they are getting regarding size, temperament and the dog's care and exercise requirements.
However, pure breeding stems from a restricted gene pool and is a cause for concern. The reason is that many undesirable traits or health issues are the direct results of inbreeding practices.
Designer dogs, also known as hybrids, are offspring who have been created deliberately by the cross-breeding of two purebred dogs.
Health
The breeding of these hybrids is for specific reasons, such as looks, certain physical and behavioral traits, or to be suitable pets for those with allergies.
Advocates of designer dogs claim that they get the best qualities and characteristics from the two parent breeds, so should be considered healthier and more intelligent.
Because of these claims, designer dogs often command higher prices than their purebred counterparts.
Their portmanteau names, such as Zuchon or Labradoodle, only increase the interest in these mixed breeds, making them more marketable.
However, the cross-breeding of two purebred dogs does not diminish the risk of health problems and can even introduce or intensify certain conditions.
There is no guaranteed outcome for a designer dog compared to purebreds. Often the offspring are more like one breed parent than the other, or there is the risk that a puppy could inherit the worst traits from both parents.
It is always a gamble when buying any puppy, and early socialization and correct training is just as necessary as good breeding.
At the end of the day, it is the responsibility of breeders to prioritize the care and welfare of the animal.
The Zuchon – Bichon Frise Shih Tzu Mix
The Zuchon is a designer dog that is a Bichon Shih Tzu mix.
Other names this breed is known by include the Shichon, Tzu Frise, Bichon Tzu and Rag Doll, as well as the cute nickname "teddy bear Zuchon."
It was developed in the USA during the 1990s and has become increasingly popular due to its adorable looks and docile temperament.
But because this Zuchon dog breed hasn't been around for too long, we still don't know much about it.
To have some idea of the Zuchon's qualities and traits, we need to look at the two parent breeds — the Shih Tzu and Bichon Frise.
History of the Shih Tzu
The Shih Tzu is from China and considered one of the oldest dog breeds in the world.
The breed's origins, though, are a mystery.
One thought is that Tibetan monks developed the breed and sent them as gifts to royalty in China as treasured and pampered companion dogs.
Their name translates in Mandarin as "little lion," although there is nothing fierce about these little dogs!
The breed was unknown outside of China until the 1930s, when they were imported to England, eventually making their way to the USA after World War Two.
They were recognized by the American Kennel Club in 1969.
History of the Bichon Frise
The Bichon Frise originated in the Mediterranean and is an ancestor of the Barbet (Water Spaniel), which is where the name Barbichon evolves.
The Barbichon group of dogs developed into four subsets: Bolognese, Havanese, Maltese and Tenerife.
The Bichon Frise originated from the Bichon Tenerife. They were popular with sailors who would use them for bartering.
In the 1300s, Italian sailors discovered these dogs in Tenerife, taking them back to mainland Europe.
They were popular with the nobility and royalty of Italy, Spain and France as companion dogs.
Fall and rise in popularity
By the late 1800s, their popularity had started to diminish, and they become street dogs, performing tricks at fairs and in the circus.
However, after World War One, the Bichon regained its popularity, and a breed standard was created in France in 1933 along with the name Bichon Frise, meaning "curly dog."
They were recognized by the French Kennel Club in 1956 and by the American Kennel Club in 1971.
What is the Zuchon like?
The Zuchon is considered a docile and friendly dog who loves being with humans.
You have probably seen pictures of this delightful Bichon Shih Tzu mix resembling a child's toy and have your heart set on buying one of the cutest dogs on the planet!
But the looks of a teddy bear Zuchon cannot be guaranteed, which is why we need to look closer at the traits and characteristics of the parent breeds.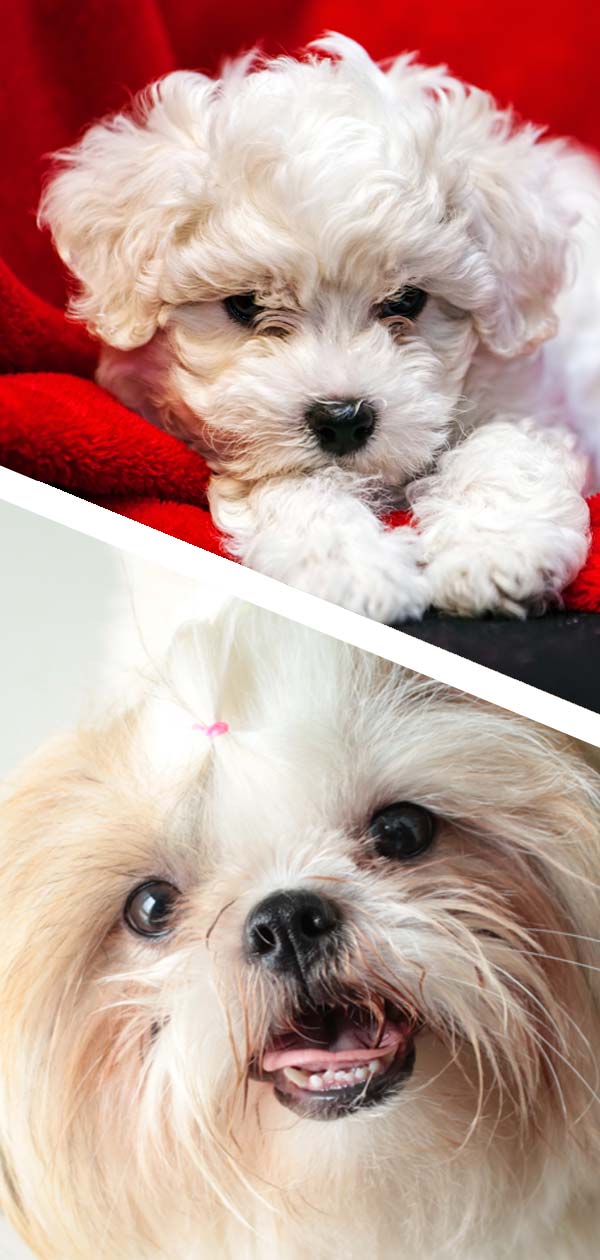 Average size, weight and height of the Zuchon
To estimate how big or how small Zuchon adults might be, we need to look at the sizes of the Bichon Frise and the Shih Tzu.
The Shih Tzu is a Toy Dog so it is quite small.
It measures 9 to 10 inches at the shoulder and weighs between 9 to 16 pounds.
The Bichon Frise is in the non-sporting group and a little bigger, standing between 9.5 to 11.5 inches at the shoulder and weighing between 12 to 18 pounds.
As both the parent breeds are small, it is predictable that your Bichon Shih Tzu mix will be a little dog.
Coat Color and Defining Characteristics of the Zuchon
As with all hybrids, the appearance and coat colors of individual Zuchon dogs can vary, with some looking more like the Shih Tzu and others resembling the Bichon.
The Shih Tzu coat is long and flowing and can be an array of colors including white, black, red and brindle.
Often the coat is white-based and paired with another color, or it can be a three-color mix.
Puppies often change color as they mature.
The Bichon Frise has a curled double coat that sheds very little. It is white but may have shades of buff, cream or apricot.
The Zuchon coat depends on which parent they more resemble, and can be either be long and flowy or short and curly in different colors.
Character and Temperament of the Zuchon
The Shih Tzu is an affectionate, sweet-natured and playful dog who loves humans and will follow its owner from room to room.
They adore children and get along with other pets. Due to their small size, though, they are not suitable to have with toddlers.
The Shih Tzu makes an excellent watchdog, and although they are barkers, their yapping is not as bad as other Toy breeds.
Quiet and Noisy – which will yours be?
The Bichon is cheerful, energetic, loving and affectionate with a curious and mischievous streak. They are quiet dogs who bark very little.
They make ideal family pets as they love children and are good with other animals, although toddlers require supervision.
The Zuchon, like his parents, makes a lovable companion and lap dog who loves people and gets on with other pets and children.
Socialization and Training of the Zuchon
The Shih Tzu does have a stubborn streak, so training and socialization should start early. They thrive on positive reinforcement methods, using food and praise as rewards.
The highly intelligent Bichon Frise is eager and willing to learn, so is quite an easy dog to train. Many can learn to do tricks as well.
Potty training a Zuchon
Both the Shih Tzu and Bichon are challenging to house train. This is not uncommon with very small dogs, because they have small bladders!
But it is important to be patient when potty training your new friend.
Due to their love of human companionship, it is best not to leave either of these two breeds alone for extended periods. Isolation can lead to them suffering from separation anxiety.
The Bichon Shih Tzu mix will have a combination of their parent's traits.
As both breeds are difficult to housetrain and dislike being left alone for any length of time, your Zuchon is likely to have the same issues.
Exercise Requirements of the Zuchon
Both the Shih Tzu and Bichon Frise only require a moderate amount of exercise. Two walks a day for about fifteen or twenty minutes plus a little playtime is ample for these small dogs.
However, the Bichon Frise does love a run, so he should be able to do this once a week. They also excel at dog agility.
The Zuchon, as a small dog, will have the same exercise requirements as its parent breeds.
Grooming and Care Requirements of the Zuchon
The Shih Tzu's long coat requires brushing at least once a day, as it can matt easily. Because they don't shed, their hair can grow very long. And may need a regular trip to the groomer for trimming.
The Bichon's curly coat grows continuously so also needs regular brushing and monthly clipping.
Both breeds should be bathed once a month but no more, as they can get dry skin.
You can be confident that your Zuchon, whether his coat is long or short, will require daily brushing. It may be a low shedder but will need a regular haircut.
Good grooming includes trimming your dog's nails, dental hygiene and keeping the ears clean.
Zuchon Health
Hybrid breeds may be genetically healthier than their purebred parents, but that doesn't mean your Bichon Shih Tzu mix isn't immune to any conditions.
Considering the health issues of the parent breeds is essential.
Shih Tzu Health Issues
The Shih Tzu is generally a healthy dog, but because he has a flat face and a short nose he is prone to breathing conditions and cannot tolerate heat.
Typical of small dogs, they are also susceptible to hip dysplasia and patellar luxation as well as dental and eye issues.
Bichon Frise Health Issues
The Bichon Frise has few health issues but does have a predisposition for allergies, whether they are food, fleas, or airborne allergens.
Patellar luxation, hip dysplasia and eye issues are also common in this breed along with gum disease. Regular dental care is essential.
Zuchon Health Issues
Both breeds are prone to orthopaedic and eye issues.
When looking for a puppy it is essential that you ask Zuchon breeders about health tests that the parents have undergone.
Also, check the length of the muzzle on Zuchon puppies, as those with short noses are likely to experience breathing issues, inherited from the Shih Tzu parent.
Life Expectancy
The Shih Tzu has a life span of between 10 to 16 years.
The Bichon Frise has a life expectancy of between 12 to 15 years.
Your Zuchon should fall within this range, so he is a long-term commitment!
Finding Zuchon Puppies
It is vital that you visit Zuchon breeders that have a good reputation.
Request a tour of their breeding premises to ensure that it is a healthy environment.
Have a list of detailed questions you want to ask.
A breeder who cares about their dogs should also ask you questions to ensure their puppies are going to the right home.
Spend time with both parent breeds and the puppies, observing their health, activity levels and behavior.
Enquire about health checks and vaccinations.
Be wary of any breeders that promise you that a Zuchon full grown adult will be a certain size or color.  Or who predict what it's personality will be like.
With hybrids, there are no predictable outcomes.
Zuchon Price
Zuchon puppies cost between $350 to $1250.
Is a Zuchon the Right Type of Dog for Me?
Zuchon puppies are undeniably cute!
Like its parent breeds, this Bichon Shih Tzu mix loves humans and is suitable for singles, seniors and families.
The Zuchon will probably not be happy being left alone for extended periods. This is not an ideal dog for those who are busy and out all the time.
He gets along with other pets and its exercise requirements are moderate so he is suitable for apartment living.
If you have the time for a sweet-natured dog who loves cuddles, then the Zuchon could be the right breed for you!
Are you thinking of buying a Zuchon? Or do you already have a Bichon Shih Tzu mix? Please share your stories with other readers.
Extra Reading/References
Brachycephalic airway obstructive syndrome in dogs: 90 cases (1991–2008)
Responses of dogs with food allergies to single-ingredient dietary provocation
Genetic Variability in East Asian Dogs Using Microsatellite Loci Analysis