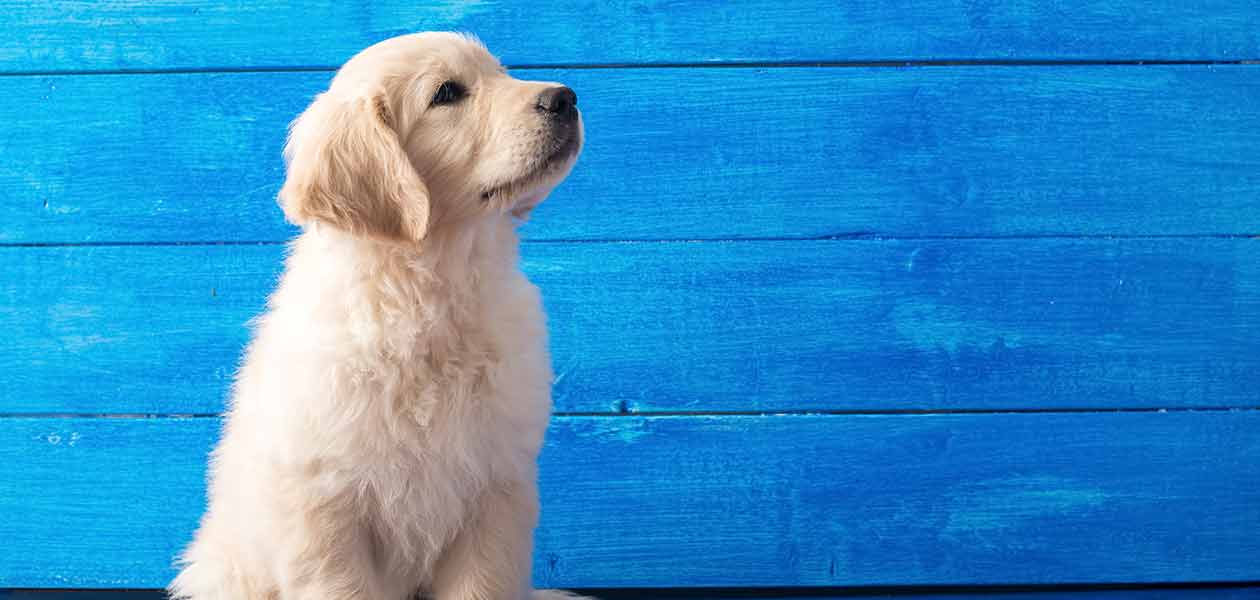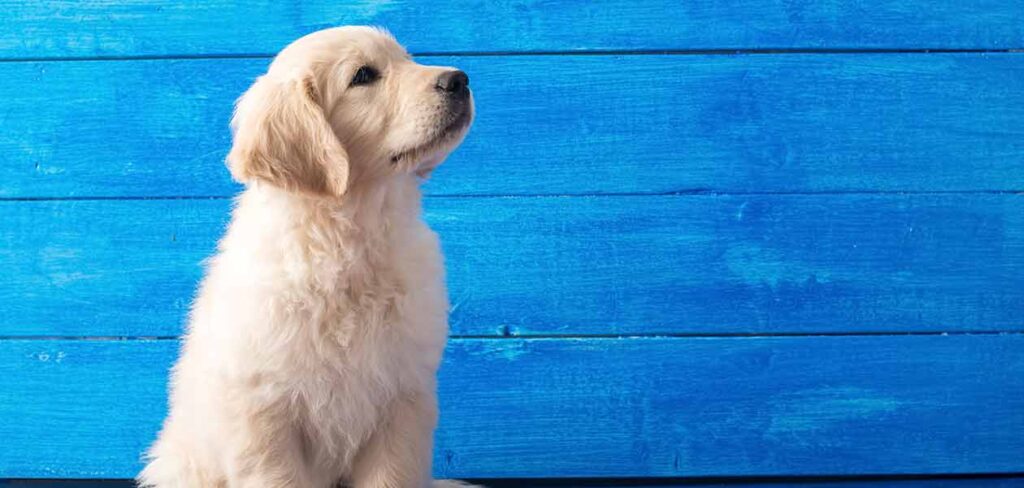 White Golden Retriever dogs are playful, affectionate, loyal and confident. These active dogs have broad faces, droopy ears, and long white fluffy fur coats. A purebred white Golden Retriever puppy will be as active, energetic and intelligent as any other shade of Golden Retriever.
Golden Retriever colors can range from the palest white to a deep red-gold. Today we'll look at where to buy or adopt a white Golden Retriever puppy, and how well they fit into families, working and show homes. We'll compare American and English white Golden Retrievers, and let you know whether one of these cute dogs is the perfect new puppy companion.
Contents
The white Golden Retriever can make a brilliant companion pet, but they are unlikely to be from working lines as these dogs tend to have a darker coat. They are also not always welcome in the show ring. Today we'll look at why this is, and the pros and cons of the white coated Golden Retriever.
What is a White Golden Retriever?
If you have never seen this dog before, a white Golden Retriever is a dog that can definitely turn your head. In fact, because of the strikingly pale coat color of a white Golden Retriever, some people even (quite fairly) assume this is a brand-new dog breed!
But even a white haired Golden Retriever is still a part of the larger breed family of Golden Retriever dogs. This applies both to English Golden Retrievers and to American Golden Retrievers, a distinction we will talk about in more depth in this article.
Golden Retriever Coat Colors
As with so many purebred dog breeds today, there is a range of acceptable coat colors according to the official dog breed standards in different countries. This color range can differ depending on the breed line.
For example, the spectrum of acceptable Golden Retriever coat colors is different in the American breed standard, set out by the American Kennel Club, versus in the English breed standard, set out by the United Kennel Club.
White English Golden Retrievers
If you're planning to show your Golden Retriever, coat color can matter. You need to choose a color that is acceptable by your country's breed-specific show color standards. But, if you are not planning to show your dog, a specific coat color – white, cream, golden, or otherwise – is less important.
What all this means in layman's terms is that a Golden Retriever may be a pure white Golden Retriever or a dark red-gold Golden Retriever or some other color. But, all of these dogs are still Golden Retriever dogs regardless of their individual coat color differences.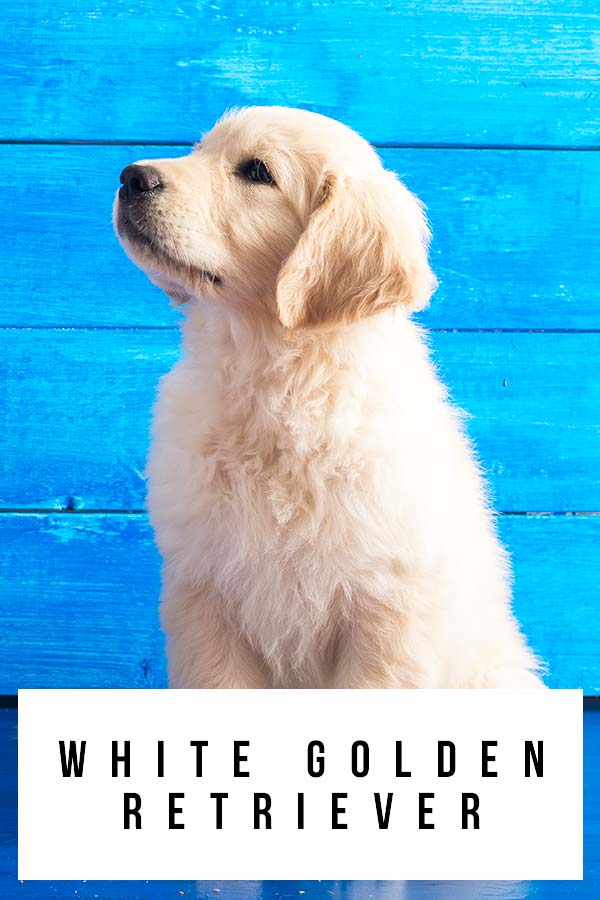 English White Golden Retriever vs American White Golden Retriever
It is already confusing enough to have to sort out the difference between a regular Golden Retriever and a white Golden Retriever dog. Let alone the additional nuances by nationality!
If you are not steeped in Golden Retriever show standards (and most of us are not!), the overall appearance differences might seem subtle. One of the most obvious differences is coat color. The English Golden Retriever breed standard accepts a lighter color spectrum than the American breed standard.
Cream vs White Golden Retriever Dogs
It can be challenging to try and visualize the diversity in the Golden Retriever coat color spectrum. Interestingly, according to both the UK's Kennel Club and the American Kennel Club Golden Retriever breed standard, pure white Golden Retrievers are not acceptable in the show ring.
White American Golden Retrievers and White English Golden Retrievers are considered a fault. But, cream colored and darker Golden Retriever coat colors are acceptable. The reasons for this distinction are not detailed in the breed standards. But it is important to be aware of this color restriction if you plan to show your Golden Retriever in the future!
White Golden Retriever Appearance
Just like Goldens of other colors, medium length fur is the norm, but shorter haired white Goldens can be found. To reiterate, a white cream Golden Retriever, a dark Golden Retriever and an all white Golden Retriever each still belong to the same dog breed. Coat color typically does not impact the size, height or weight of a Golden Retriever. But there's one exception.
This is whether the Golden Retriever in question hails from the American or English breed line. There are some subtle differences in appearance between these two lines.
How Big Are White Golden Retrievers?
The American Golden Retriever stands 21.5 to 24 inches high (paw to shoulder). Males stand on average 0.5 inches taller than females. Females weigh 55 to 65 pounds and males weigh 65 to 75 pounds.
Across the Atlantic, the English Golden Retriever can stand a likely shorter at 20 to 24 inches high (paw to shoulder). Males stand on average 2 inches taller than females. Females weigh 55 to 65 pounds and males will weigh 65 to 75 pounds.
In general appearance, the American Golden Retriever can look bulkier than its English counterpart. This is typically due to preferred coat clip styles as well as subtle differences in tail carriage, eye and ear placement, slope of the back and muzzle shape.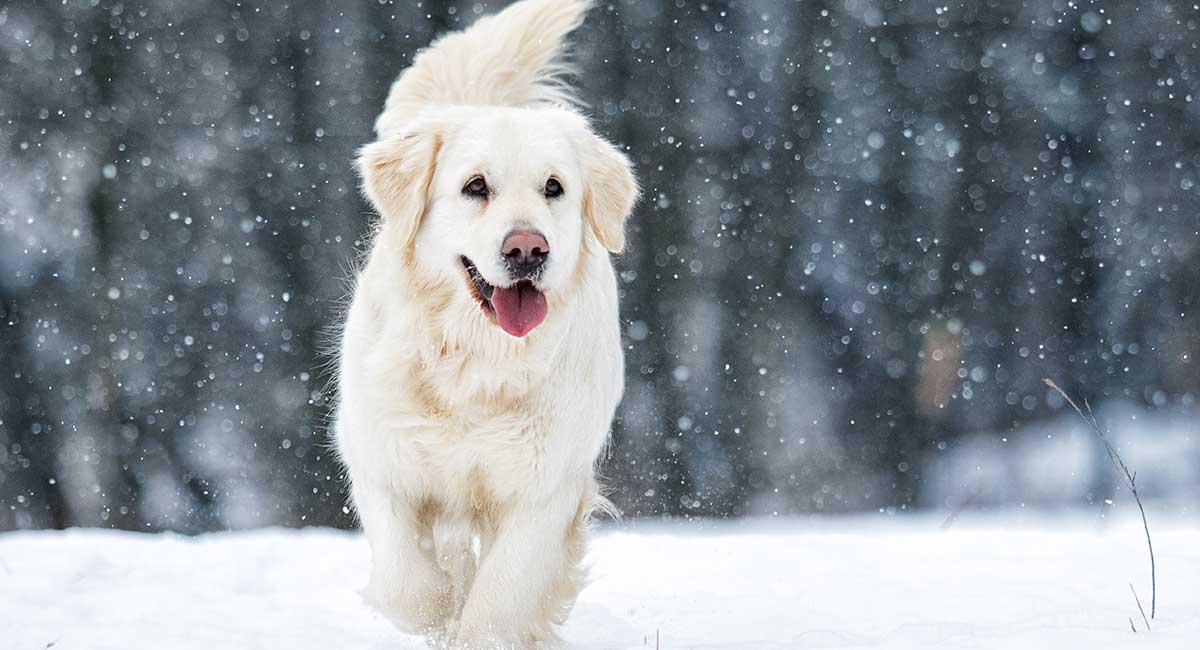 Coat Type and Grooming Needs
The full range of Golden Retriever coat colors spans the gamut from an all white Golden Retriever to a white cream Golden Retriever to a much darker coated Golden Retriever. Otherwise, the Golden Retriever coat is thick and double layer.
The top layer is a water-repellant thick and coarse layer and the lower layer is a thick, shorter insulating layer. Both layers must be shed out periodically to help the coat function the way it should to keep this dog healthy, dry, safe and warm.
Do White English Golden Retrievers Shed Less?
One common misunderstanding between the American and English Golden Retriever breed lines is that the English breed line sheds less than the American breed line. This myth first arose because the English breed line dogs can have a sparser coat than its American counterparts.
Unfortunately, the amount of hair doesn't affect how much a Golden Retriever will shed, which is basically all the time and a lot! In fact, both the American and the English Golden Retriever breed lines will shed year-round. As well, both breed lines will "blow their coat" (shed profusely) twice per year at the changing of the seasons.
White Golden Retriever Temperament
Much anecdotal evidence exists that white Golden Retriever dogs have a more calm and laid-back personality than darker-coated Golden Retrievers. But, there is no hard science that backs up this claim. Coat color details aside, the Golden Retriever breed is known as one of the friendliest dog breeds overall.
This breed – regardless of specific coat color – is a top pick for service dog and therapy dog work and is one of the most popular family dogs in existence.
White Golden Retrievers will also be intelligent, affectionate, and loving. They are known to be great with other pets and small children. But, they need plenty of socialization as puppies to guarantee the best personality possible.
Golden Retriever Training and Socialization
Golden Retrievers in general rarely meet a stranger, whether canine or human. They don't make good guard dogs for precisely this reason. They are simply too friendly to readily figure out who is a friend and who is not!
But because Golden Retrievers are fairly sizable and quite powerful, they do need plenty of socialization and training beginning in puppyhood to help them adjust to family and community life.
Socialization should include play time with other dogs, supervised time with other family pets (as applicable), supervised play time with young children and supervised meet-and-greets with at-home visitors and new people outside of the home.
Golden retrievers of all coat colors respond best to positive training and reinforcement methods. Since Golden Retrievers love to eat, treat-based training is always a popular strategy.
White Golden Retriever Exercise Needs
White Golden Retrievers, just like any other shade, need plenty of exercise each day. They are energetic dogs that love the opportunity to run and play. So, they can suit active families very well. This breed will enjoy hiking with you, walking, swimming, and dog sports like agility and obedience.
Training can offer some exercise and mental stimulation. But, Goldens also need some time outside to run about. As relatively big dogs with moderate exercise needs, they may not be best suited to live in small apartments.
Health Issues in White Golden Retriever Dogs
As well as getting enough exercise and training, all shades of Golden Retriever need the right type and amount of food. Choosing a healthy Golden Retriever dog food and healthy treats can keep training motivation high and also guard against weight gain, which is a known health issue in this breed.
Golden Retrievers are known to suffer from health problems like hip dysplasia and muscular dystrophy. But, a bigger concern is cancer.
White Golden Retriever Cancer
As we've been discussing the similarities and differences between the English and the American Golden Retriever breed lines, it may seem like telling the two breed lines apart requires a very keen eye for subtle distinctions! But there is one area where the differences become painfully obvious, and that is canine cancer.
According to the Golden Retriever Foundation, 57 percent of female American Golden Retrievers and 66 percent of male American Golden Retrievers will pass away from cancer. According to the Kennel Club's breed health survey, 38.8 percent of English Golden Retrievers will pass away from cancer.
Health Testing
The Canine Health Information Center (CHIC) states that Golden Retrievers should be health tested for hip dysplasia, elbow dysplasia, eye issues and cardiac issues.
At this time, there is no official health testing requirement (or recommendation) for canine cancer in either the American or English Golden Retriever breed.
As explained in a 2006 Golden Retriever Club of America article by Ronda Hovan, to date there is also no known evidence that links Golden Retriever coat color to cancer rates. So, a white Golden Retriever will not be less healthy than any other shade of the breed.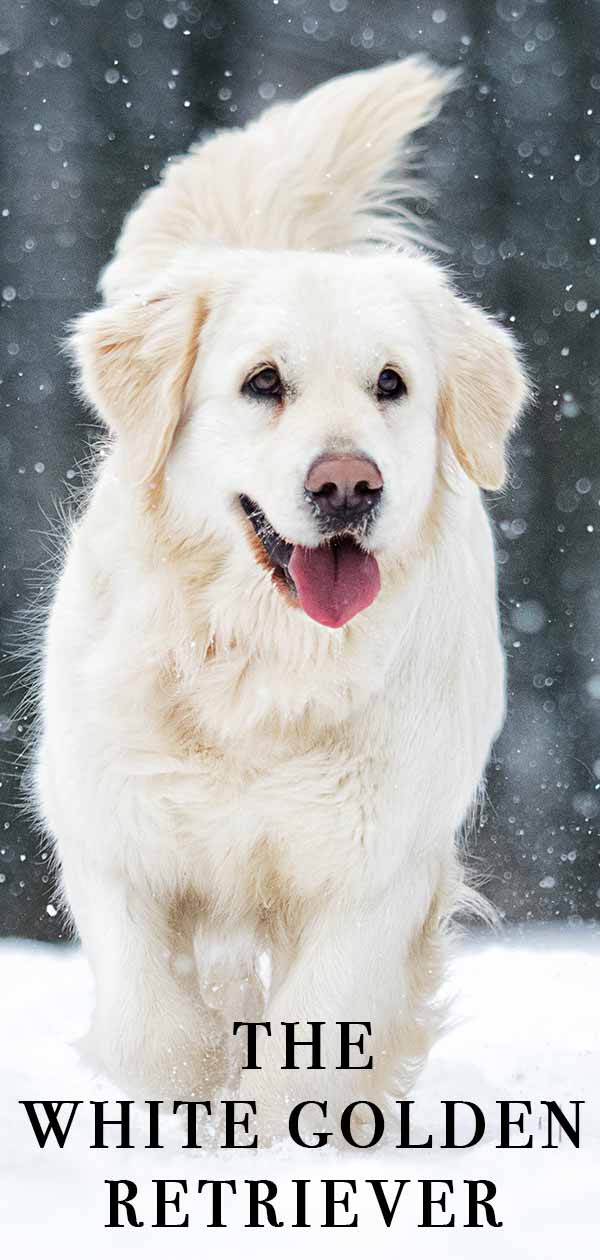 How Long Do White Golden Retrievers Live?
American Golden Retrievers have an average lifespan of 10 to 11 years. In contrast, English Golden Retrievers have an average lifespan of 12 years and 3 months.
These breed line differences are significant, to the point where the Morris Animal Foundation has now commissioned a Golden Retriever Lifetime Study to gather data aimed at reducing cancer incidence in the American Golden Retriever breed.
Finding White Golden Retriever Puppies
Because of the widespread misinformation about Golden Retrievers of different coat colors, you will need to research prospective white Golden Retriever breeders in some detail to be sure you are selecting a reputable breeder to work with. A reputable breeder will always place the health of their litters ahead of producing Golden Retrievers with any specific coat color!
Here, it is very important to remember that a white Golden Retriever is still a Golden Retriever underneath that unique white or light cream coat. Even the whitest Golden Retriever will still have hints of cream or gold running through the coat – if these are not visible during puppyhood, they will appear as your pup grows up.
Beware of any breeder who is advertising that their white Golden Retriever puppies are "rare," "imported," "platinum" or other language that indicates the puppies are very hard to come by. These breeders often put profit over the health and quality of life of their puppies.
How to Find a Good Breeder
Instead, look for a breeder of American or English white Golden Retriever puppies that emphasizes a health-first approach to breeding and offers an initial health guarantee as well as a take-back guarantee if your new puppy does not work out for any reason.
Your chosen breeder should also readily volunteer to show you the results of all required and recommended parent dog health testing. And they must be willing to let you meet and spend time with both parent dogs before you commit to taking a puppy.
As long as you choose a reputable breeder, the white Golden Retriever price you will pay should reflect the breeder's own costs. These can be quite a bit more than the average dog owner realizes. They will also reflect the lineage of each parent dog.
The white Golden Retriever puppies price set by any given breeder may also reflect gender, birth order, "show" quality versus "pet" quality puppies, markings, size and other factors.
If you are not sure why the cost is what it is, it is fine to ask the breeder for more information.
White Golden Retriever Price
Reputable breeders should be happy to explain their pricing to a promising puppy owner. For general purposes, Golden Retriever puppies can cost anywhere from $500 to $2,500+.
White Golden Retriever puppies price at the time of the writing of this article is around $1,500+.
Choosing White Golden Retriever Puppies
When you finally come face to face with a litter of white Golden Retriever puppies, be prepared for overwhelming cuteness. However, you are about to embark upon a relationship – and a commitment – that may span the next decade or more of your life.
So it is worth taking things step by step and paying close attention to qualities that can indicate a superior pet puppy. Look for a puppy that has bright eyes and clear ears, nose and tail area.
You want to pick a puppy that is curious, active and unafraid. Your puppy should also be amenable to being held and eager to play and socialize with you and with littermates.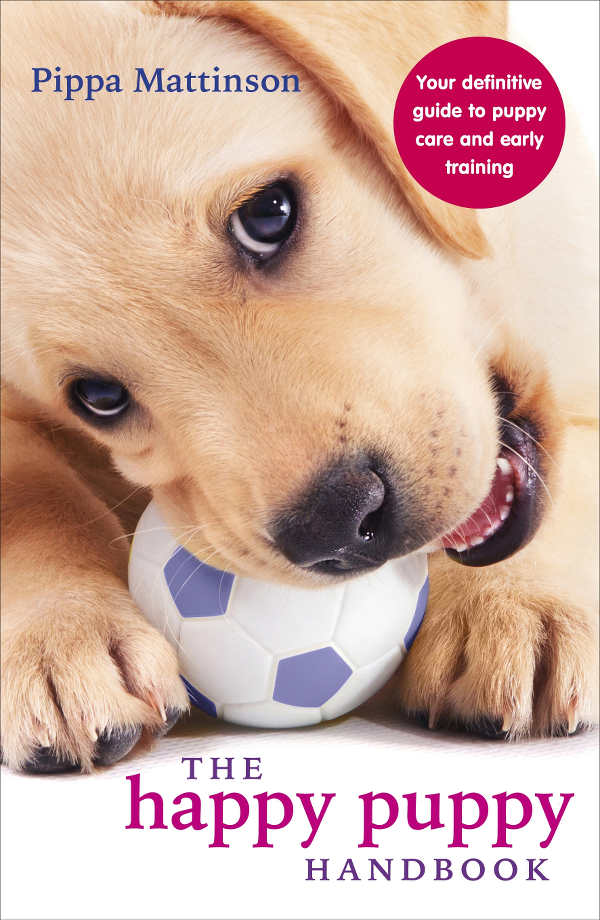 White Golden Retriever Rescue
If you are having trouble finding a white Golden Retriever breeder, another option is to look into adoption. Golden Retrievers are a popular breed. So, there are quite a few breed-specific rescue centers around. Take a look at these to see if you can find a dog with a pale white coat.
Rescue dogs are cheaper than puppies from breeders, but are often older. So, it will take more work to train and socialize them well if this hasn't already been done.
Rescue centers will ask you lots of questions to make sure the dog is right for your home. And, make sure to go with plenty of your own questions.
Let us know in the comments if you've found a white Golden Retriever in a rescue center!
Should I Get a White Golden Retriever?
White Golden Retrievers are simply Golden Retrievers with very pale coats. In all other respects, they are just like looking after any other Golden Retriever. So, make sure you know all you can about the breed as a whole before committing to one of these puppies.
Golden Retrievers shed a lot, so won't suit people with bad allergies. They are a friendly, affectionate, and intelligent breed. So, they can suit families with kids and other pets, especially if trained and socialized well.
Goldens require plenty of exercise, and new owners must be vigilant in finding the healthiest puppy to ensure their white Golden Retriever grows up to live a healthy life. These dogs can suffer from a number of health issues. But, they can be with you until their teenage years.
Similar Breeds
If you love the Golden Retriever temperament, but aren't sure that this breed is right for you, there are plenty of others to consider.
Here are some similar breeds that can also be found in white.
White Golden Retriever
We hope you have found the information in this article to be helpful and informative as you consider whether a white Golden Retriever puppy or adult rescue might be your next canine companion!
Do you have a white Golden Retriever at home? Was their coat color a deliberate choice, or a quirk of fate?
Do you think they're different to other Golden Retrievers in any way?
Tell us all about them in the comments box!
Related Articles
References and Resources