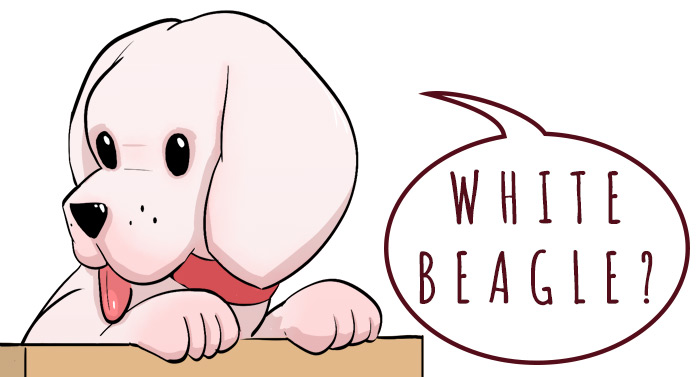 A pure white Beagle doesn't meet the criteria of the official breed standard. This color is very rare. There are a couple of genetic anomalies which can cause white Beagles. Some colored Beagles also appear white as puppies, and may be sold as white Beagles by breeders. Understanding the inheritance of pale coat colors in Beagles is a good way to avoid being misled about white Beagle puppies.
Contents
The Beagle is one of the United States' favorite dog breeds. These happy little hounds make friends easily, and suit people with a love of the great outdoors. Their looks are almost as iconic as their personality. Whilst the breed standard accepts any hound color, Beagles are best known in tricolor coats in black, tan and white. Despite being less common, lots of other colors are permitted but white isn't one of them.
Types Of White Beagles
A true all-white Beagle doesn't meet the breed standard. But, any of the following Beagles might look white, or be described as white:
lemon and white puppies, which have yet to become fully pigmented
lemon and white adult dogs, with very low amounts of pigment
piebald dogs with predominantly white coats
dogs with hereditary albinism
and Beagle-mix dogs which have had the genes for a white coat introduced by outcrossing with another breed.
Lemon And White Beagles
Lemon and white Beagles have white coats with patches of cream, buff, or even pale yellow (hence their name). The lemon and white coloring is caused by a gene called the chinchilla gene, also known as Ch. The Ch gene modifies the appearance of tan and red fur so that it's color becomes far more muted.
Lemon and white Beagle puppies appear entirely white when they are born. The pigment in their colored patches materializes as they grow up.
Some adult lemon and white Beagles still have very little pigment in their colored patches, and seem little more than off-white. Some senior lemon Beagles also start to fade again as they get older, and return to a ghost-like appearance.
A breeder with yellow and white puppies for sale might describe them as white. A generous interpretation of this is that their puppies' lemon parents stayed very pale throughout their lives. And they're under the impression the puppies are going to do the same.
A more cynical interpretation is that they're trying to make their litter sound more special than it really is, to increase their value.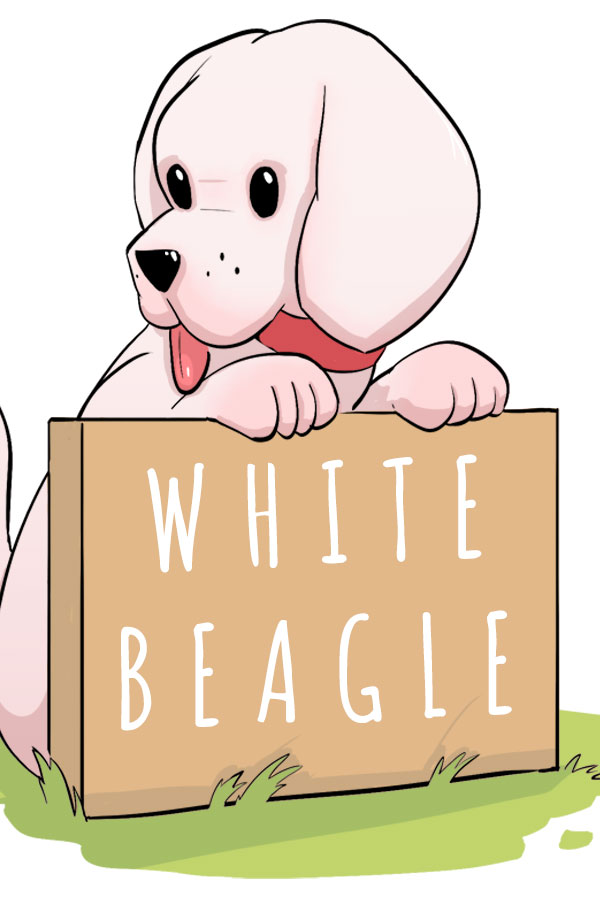 Piebald White Beagles
Piebald white Beagles have tricolor or bicolor coats which are predominantly white. They still have some pigmented areas, but they are small. These Beagles are sometimes called "patch Beagles".
All Beagles with white in their coats have the piebald white spotting gene, also known as Sp. The Sp gene causes patches of white in dogs' coats, but the amount of white is not always uniform.
Patch Beagles simply have very large white patches. Patch Beagles are even more likely to look like white Beagles at first glance if their patches are lemon, buff, or cream.
Albino Beagles
Albinism is a genetic mutation which completely inhibits pigment formation in a dog's eyes and coat. It is most commonly associated with Dobermans, but it has also been recorded in Pekingese, Shih Tzus and Beagles.
The gene responsible is called the SLC45a2 gene, but breeders more commonly call it the Z gene, or Z factor. It's very rarely expressed in Beagles. But it is also recessive, which means dogs can carry the gene silently for many generations, until two carriers are mated.
Albino Beagles have no pigment anywhere in their fur, skin or eyes. Their fur is white, or off-white, the skin on their nose and paw pads is pink, and their eyes are very pale blue, or even pinkish.
Beagle Mixes
The final way to breed dogs which have lots of Beagle characteristics and a white coat is by introducing genes for a white coat from another breed.
Breeds such as Bull Terriers often carry a lot of white in their coat. Breeders have speculated that this is because they carry a gene known as the extreme white spotting gene, or Sw.
Introducing the Sw gene into a population of Beagles in one generation, then selecting very white individuals for breeding in subsequent generations can create dogs with lots of Beagle characteristics, and a mostly or entirely white coat.
White Beagle Health
All purebred dogs are susceptible to an increased risk of some hereditary diseases. Beagles are especially noted for being prone to
hip dysplasia
diseases of the teeth and gums
distichiasis (eyelashes which grow in the wrong direction and irritate the surface of the eye)
and thyroid disease.
Lemon and white Beagle health is comparable to that of the average Beagle. But in patch Beagles, large areas of white spotting have also been linked to congenital deafness.
And albino dogs, since they don't produce any melanin, are more vulnerable to tissue damage by UV rays from the sun. This can affect their eyes, and lead to blindness. In humans, the same albinism mutation has also been linked to an increased risk of skin cancer.
Finally, the health and lifespan of Beagle-mix dogs will also be influenced by the other breed in the mix. It is likely to include an increased risk of congenital deafness again.
White Beagle Temperament
Your dog's personality is the product of lots of factors, including his breed, the specific traits of his parents, the way you raise him, and his experiences in the world. So, every white Beagle is different, regardless of how he got his coat.
Typically, Beagles are affectionate and energetic. They love the company of humans and other dogs, and they live for playtime.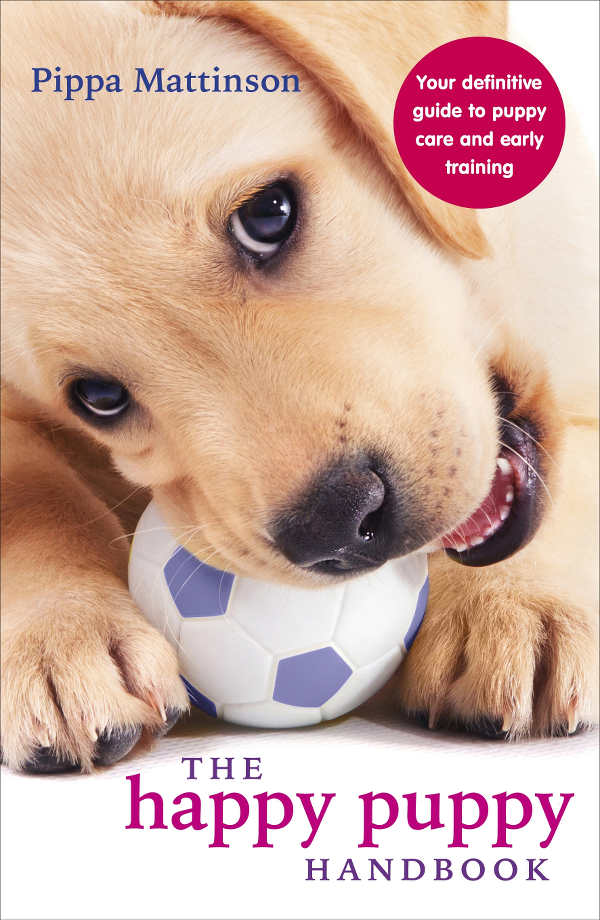 Owing to their working background, during which they spent long days out on hunts, they have lively minds, and bags of stamina.
You'll need to commit a lot of time to training, exercising, and playing with your Beagle before he'll be ready to relax at the end of the day. Beagles are also very vocal communicators. This is essential for working effectively in a pack on a hunt.
White Beagles of all types will share lots of these characteristics, but patch Beagles might behave differently if they experience hearing loss. And mix breed dogs may have some of traits from their other parent breed.
White Beagle Grooming
Beagles have short, coarse, and hard wearing coats. They're neither very prolific shedders, nor exceptionally low shedding.
Of course, white Beagles will show dust and dirt quicker than dogs with black or brown coats! But they are easy to keep clean and tidy with brushing and the occasional bath.
Beagles with albinism will need extra daily care to protect them from sun exposure. This can include goggles to protect their eyes, and sunblock to protect their nose leather.