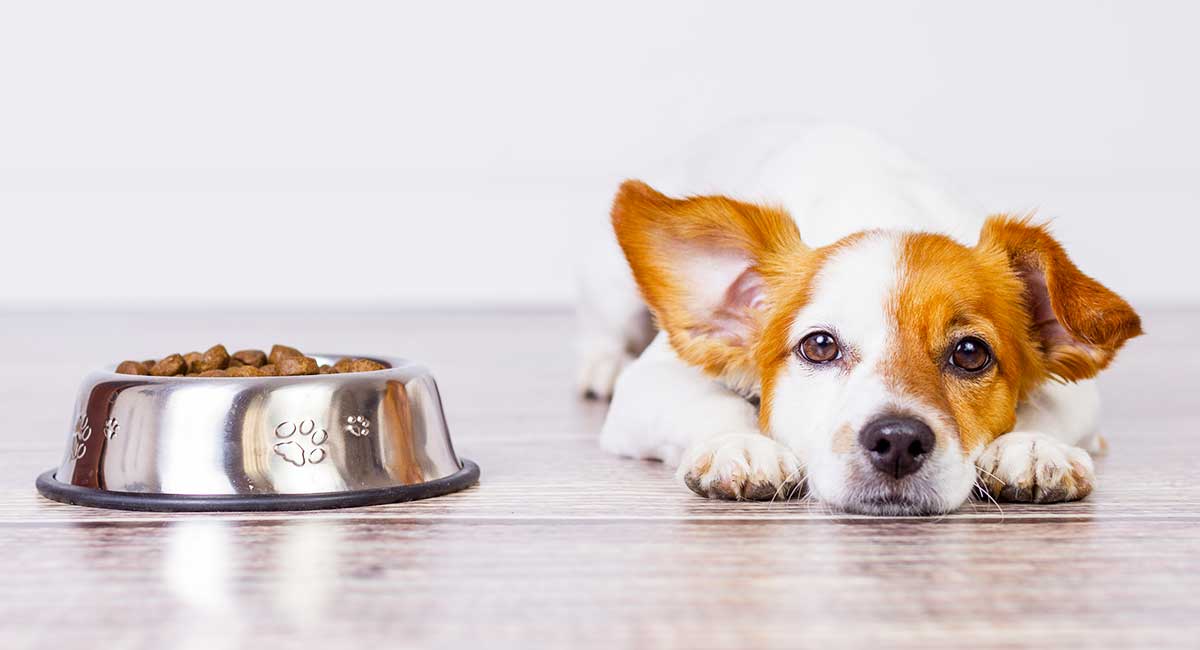 What causes lack of appetite in dogs?
Dogs always seem to be hungry and devour anything that comes their way, often eating like they haven't eaten in weeks!
There are times, though, when your pup may turn their nose up at their food, showing a loss of appetite. But should you be worried?
Reasons why dogs refuse to eat vary from pup to pup, and it may be that your pet is merely having an "off day."
Like us, dogs sometimes don't feel hungry, or they have had a stressful day causing them to show a lack of interest in food.
That said, if your dog doesn't eat after a couple of days, it can indicate that something is not right, which could be anything from depression to a severe illness or simply a change in feed.
Anorexia in Dogs
Loss of appetite in dogs is called anorexia, but that does not mean your dog has a distorted view of their body.
It should not be confused with the human eating disorder of anorexia nervosa.
Pseudo anorexia is when a dog is hungry and wants to eat but is unable to do so because they have difficulty chewing, swallowing or some other cause.
True anorexia is a complete loss of appetite for around three days or more.
If untreated, it can lead to malnourishment and dehydration so is extremely serious.
Anorexia and Dehydration
When your pup doesn't eat, you must note his water intake as well.
A dog who's refusing food and water needs to see a vet immediately – dehydration in dogs can be very dangerous.
If your dog has lost their appetite but is drinking water and acting normally, you can wait a day or two.
It may be nothing more than a change in the weather. However, if it lasts longer than 48 hours, you should consider other reasons for their disinterest in food.
What Causes Lack of Appetite in Dogs
Here we look at some of the common reasons why a dog might lose their appetite.
1. Upset Stomach
Dogs are scavengers and will steal food at any given opportunity, whether it is off the table or out of the trash can.
They eat anything and everything (including dog poop!) which may result in them ingesting something they shouldn't.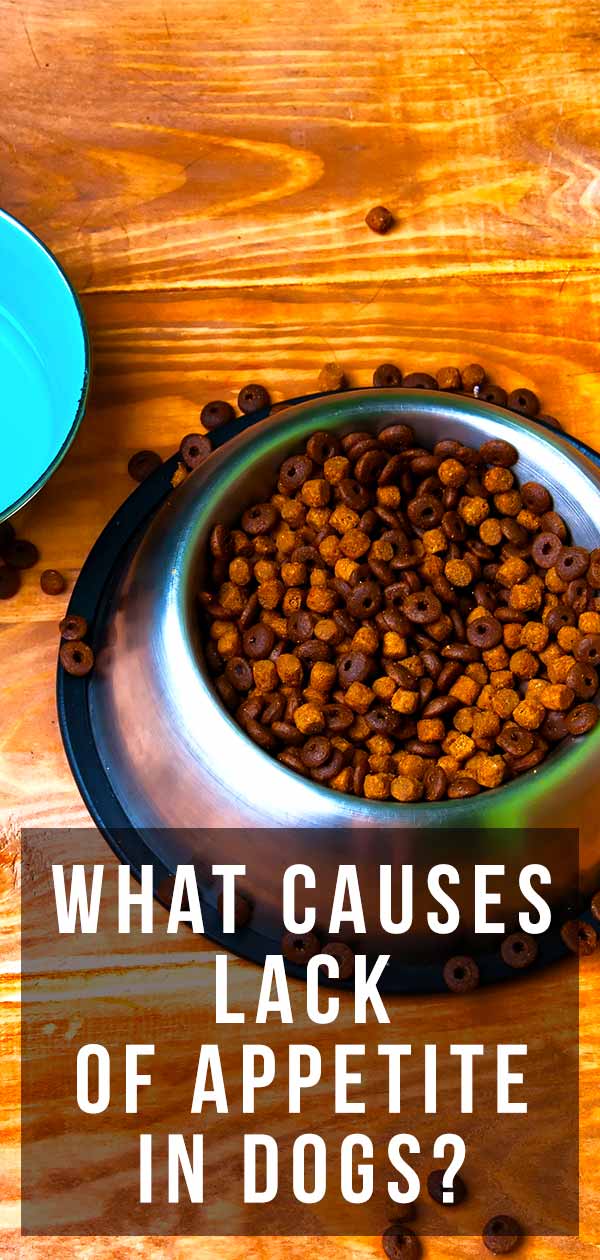 If your dog refuses to eat, they may have a gastrointestinal illness.
Other signs to look out for include diarrhea, vomiting, dehydration, pain and fatigue.
Your pup will not want to eat until the offending item has passed through their stomach. If he doesn't improve after 24 hours, take him to the vet.
2. Illness
Appetite loss is often a sign of illness in dogs, particularly if your dog displays other symptoms.
Refusing to eat can signify cancer, kidney failure or liver disease, as well as an infection, so contact your vet immediately.
3. Side Effect Of Vaccinations
Today's vaccines are incredibly safe and effective and are vital for guaranteeing the health of our pets.
Some dogs, though, may experience mild side effects after having vaccinations, including loss of appetite.
If your pup is still disinterested in their food after 24 hours, contact your vet.
4. Dental Disease
If you had a toothache, there is no doubt you would not be interested in eating, and it is no different for dogs.
A problem in your pup's mouth can make eating painful. The cause may be a broken or loose tooth, gum disease, foreign body or possibly even an oral tumor.
Immediate veterinary treatment is required. However, prevention is better than cure, so clean your dog's teeth regularly.
5. Injury
Injury can affect a dog's appetite and may be a result of the pain they are in or an adverse reaction to the medication they are taking.
Your pup may also show depressive-like behavior which can affect their interest in food.
Consult your vet who can advise you.
6. Stress
When we experience stress, we often don't want to eat, and it is the same for dogs.
Dogs dislike any changes in their environment and may lose interest in food for a few days.
Reasons vary but can include being left with a pet sitter in unfamiliar surroundings, a new addition to the family such as a baby or a pet, moving home or travelling.
Some dogs suffer from motion sickness, while others become nervous in a new location.
7. Pickiness Or Behavior Issues
Some dogs are picky about their food and may show disinterest if their diet has changed, or in a stressful situation like eating next to an aggressive dog.
Also, if you feed too many treats or table scraps, your dog might find their kibble boring.
They may choose not to eat in the hope of receiving something more exciting instead.
What To Do If Your Dog Doesn't Want To Eat
How to get your dog to eat depends on the cause of the problem and what your vet advises.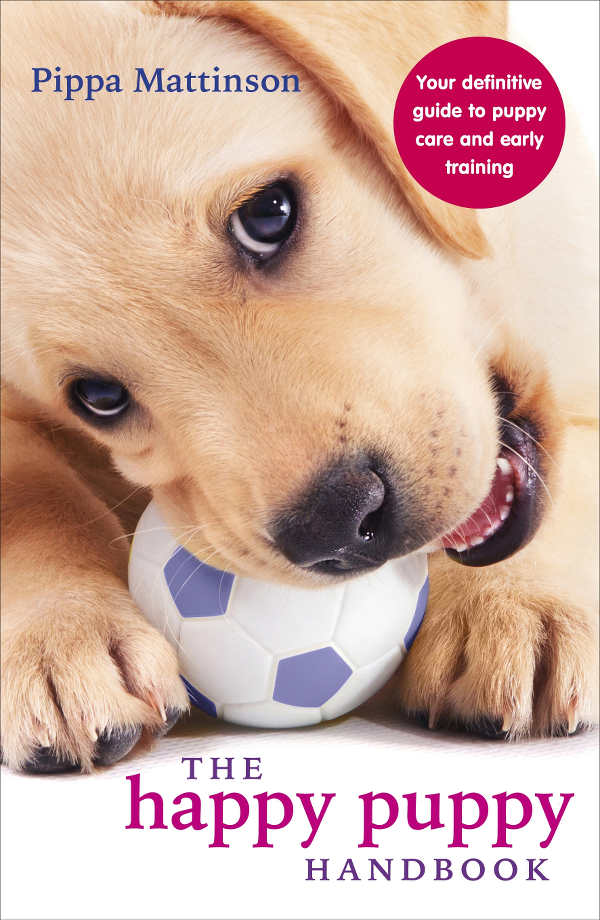 If appetite loss is due to illness, your vet will give your dog a thorough physical examination and ask about their history. They might do diagnostic tests as well.
The vet may suggest a prescription diet to meet your pet's nutritional requirements while addressing the underlying condition or disease.
It is possible your dog has intravenous fluids with electrolytes, be syringe fed or given appetite boosting drugs.
When disinterest in food is caused by pickiness or discomfort at feeding time, there are several ways you can encourage your pup to eat, which include:
Stop giving table scraps.
Cut down on treats.
Make feeding time fun by providing a toy food dispenser.
Walk your dog before feeding time.
Change your dog's feeding situation by feeding him alone if stressed by other animals or dogs.
Change to a different type of food such as canned food instead of dry food.
Warm food a little before feeding.
What Causes Lack of Appetite in Dogs?
Being aware of the cause for your dog not wanting to eat can help solve the problem.
You must know your dog's feeding habits, paying attention to any changes in their appetite. Refusing to eat any food is a far greater concern than just refusing certain foods.
Because anorexia in dogs often signifies illness and disease, you should take your dog to the vet as soon as possible.
Did your dog baffle you by going off their food? What did your discover to be the cause?
Share your stories with other dog owners in the comments box below!