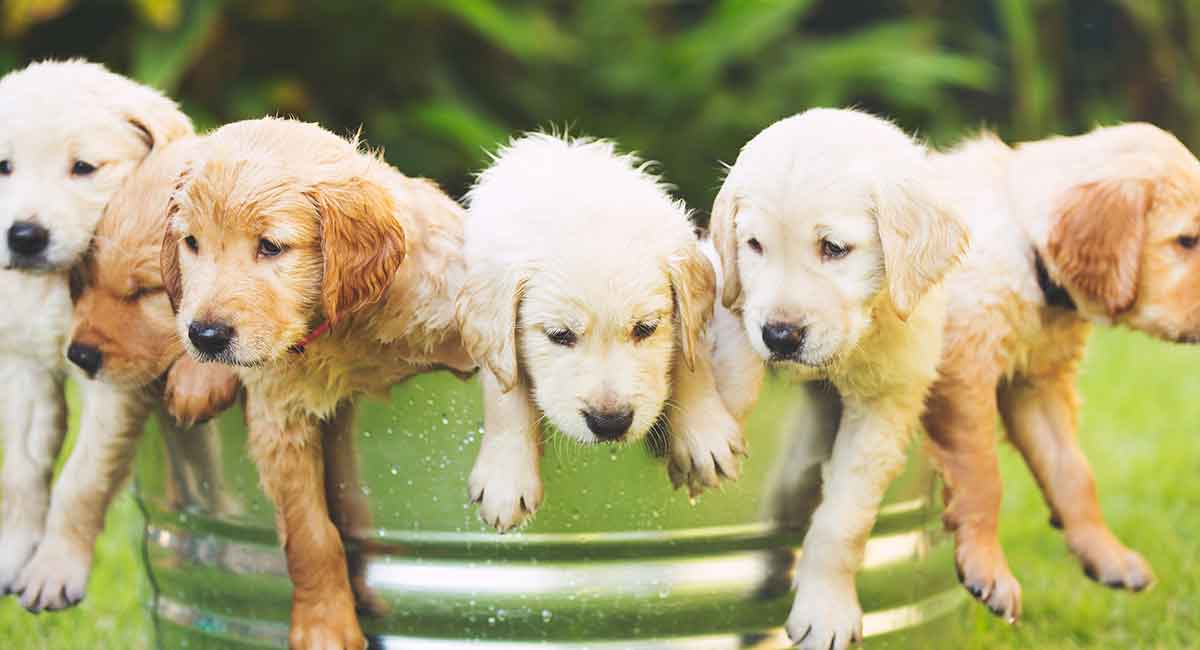 There are three types of Golden Retrievers that make popular pets and working, sporting companions. The types of Golden Retrievers include the Canadian Golden Retriever, American Golden Retriever and English Golden Retriever varieties. All types of Golden Retrievers are loving, affectionate, playful and friendly. But some will be more trainable, have a higher prey drive and even a different coat color to others. Today we show you have the types of Golden Retrievers compare, how to identify your Golden Retriever's type and work out which is the best fit for your family and lifestyle.
Contents
Different types of Golden Retriever still fall under the same breed. So, first things first, let's find out more about this popular dog!
Common Factors To The Types of Golden Retrievers
Golden Retrievers are the third most popular AKC registered breed in America, closely following Labrador Retrievers and German Shepherds. These lovable dogs weigh between 55 and 75 pounds when fully grown. Their main purpose is as a working gundog, but they also make popular family pets for many.
Goldens are intelligent, friendly and loving, especially when socialized well from a young age. This makes them a great choice for families with kids. But it also makes them a popular candidate for working dog roles, such as assistance dogs, search and rescue dogs, and even bomb detectors!
No matter what type of Golden Retriever, these dogs need plenty of exercise and regular grooming to control shedding.
Types of Golden Retrievers in History
The Golden Retriever breed as we know it first started to be standardized in Scotland. Lord Tweedmouth began this process in his search for a retrieving breed that was just as good in water as it was on land. He bred his yellow Tweed Water Spaniel, called Nous, with other Retrievers to achieve this.
In the early 1900s another lord, Lord Harcourt, started to breed and show his Golden Retrievers in Kennel Club shows. Harcourt was a standout figure in bringing the Golden Retriever into the limelight, and it is often said he is responsible for the name of the breed.
Golden Retrievers were first registered by AKC in 1925 and recognized by the CKC in 1927. A little later in 1938 the Golden Retriever Club of America was founded.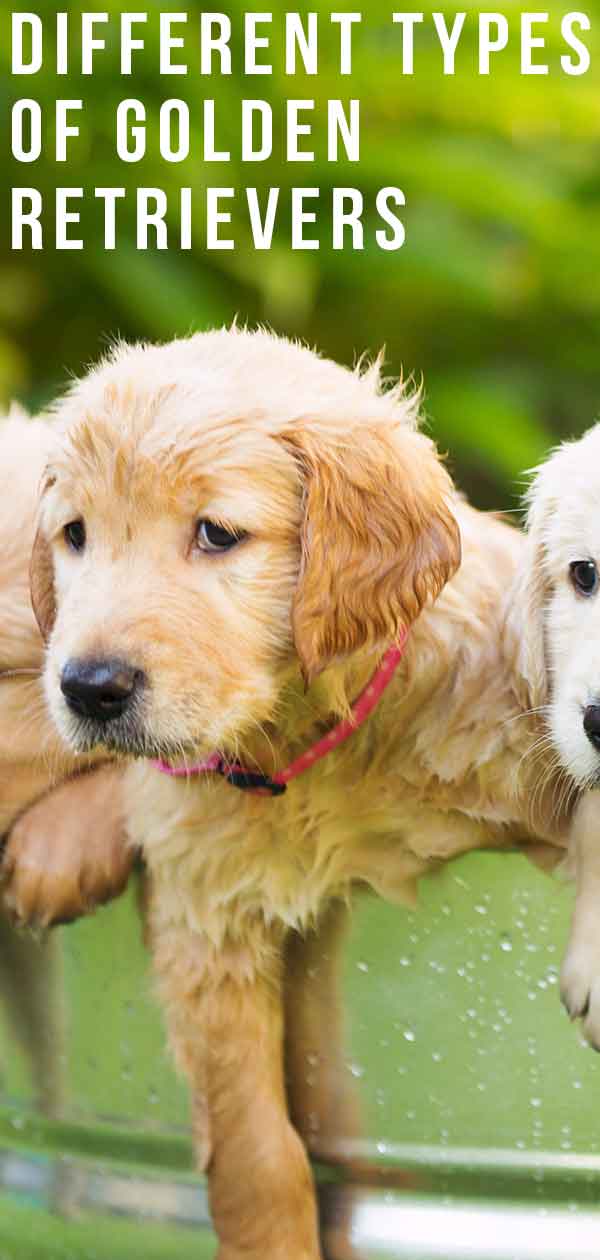 How Many Types of Golden Retrievers Are There?
We've briefly mentioned that most people recognize 3 types of Golden Retriever. These are:
American type
Canadian type
English type.
Although all types of Golden Retrievers descend from those first developed in 19th Century Scotland, there are now some subtle differences between them.
The differences between these 3 types of Golden Retrievers are mainly to do with appearance. They are quite subtle, so it can be hard to distinguish them if you don't know what to look for!
When Did The Types of Golden Retrievers Separate?
Until the 1930s and 40s, most Golden Retrievers across the world looked similar. It wasn't until after the Second World War that different 'types' started to emerge in the US, UK, and Canada.
This was reflected by changes in the breed standards in each country too. Let's start by finding out more about the American type of Golden Retriever.
American Golden Retriever
The American type of Golden Retriever is often lighter in weight than its English cousins. It is usually described as less angular in its features. American Goldens have profuse, straight coats.
The American type of Golden Retriever is also influenced by the American breed standard. This favours a mid-golden shade and considers coats that are too light or too dark undesirable.
But, there is still a wide range of desirable and accepted shades of gold. Lighter feathering is allowed, and the standard states that lighter shading should not be confused with white markings.
Canadian Golden Retriever
The Golden Retriever Club of America notes that the Canadian types of Golden Retriever still show influence from American lines and early UK imports.
All shades of gold are allowed by the Canadian breed standard. It doesn't specifically discuss lighter cream shades, but seems to generally accept them, unlike the American standard that classes them as less desirable.
The Canadian breed standard does specify that open or soft coats are undesirable. The favor dense, water repellent coats with a 'good' undercoat.
English Golden Retriever
The Golden Retriever Club of America suggests that the term 'English Golden Retriever' has come to represent any overseas Goldens. This includes those from New Zealand, the UK as a whole, Australia, and Europe.
Generally this type of Golden Retriever is a heavier dog. It may have a flatter rump, and broader features. This includes a wider, deeper muzzle.
It often also has a wavier coat than American and Canadian varieties. Unlike American and Canadian breed standards, the British breed standard allows cream as an acceptable color. This may be why many people see the English type as being generally lighter in color.
How Accurate are the Types of Golden Retrievers?
The differences in the various types of Golden Retrievers listed above are very subtle. And it's important to remember that there is variation even among these types. Just because the 'English type' is often seen as a lighter colored, heavier dog doesn't mean there won't be lightweight, dark golden individuals.
You may find individuals from the 'American type' that have broader features, and dogs from the 'Canadian type' that have thinner, softer coats.
It's important to remember there is variation in every dog breed. Many breed clubs acknowledge that, despite the breed standard, the Golden Retriever was first and foremost a gundog. The features that make this breed a great working companion are often held in higher regard than its coat color and physical appearance.
Shared Characteristics Between Types of Golden Retrievers
Despite differences between them, the 3 types of Golden Retrievers share some characteristics. All Goldens will have similar temperaments. They are friendly, intelligent, affectionate dogs that love to spend time with their families.
This breed does well in pretty much every type of family, as long as they have the chance to exercise and run about every day. Because of their intelligence, they will also need plenty of mental stimulation.
As all different 'types' of Golden Retrievers descend from the same origins and bloodlines in Scotland, they are also unfortunately prone to the same health problems.
Golden Retriever Health
You can read more about these problems in our main guide to the Golden Retriever breed, but here are some main conditions that Goldens are more prone to.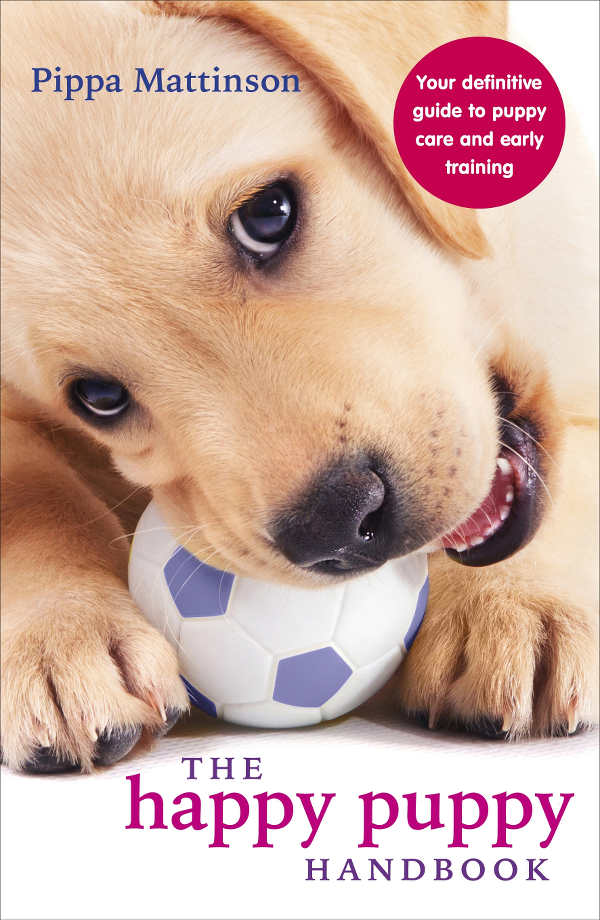 Cancer
Hip dysplasia
Elbow dysplasia
Progressive Retinal Atrophy
Choosing a reputable breeder who tests for health problems like this can help to ensure that your Golden puppy is as healthy as possible.
Which Type of Golden Retrievers is Best for Me?
The differences between the 3 different types of Golden Retrievers are very subtle, and predominantly affect appearance.
So, unless you really care about how your Golden Retriever looks, it won't really make a difference which type is best for you.
All types share the same loving personality. But, if you are planning to show your Golden Retriever, you will need to pay attention to the breed standards in your area.
Different Types of Golden Retrievers
Make sure to tell us in the comments which type of Golden Retriever is your favorite.
Do you think the differences matter, or would you rather choose a Golden based on their working abilities?
Find Out More About The Types of Golden Retrievers
References and Resources