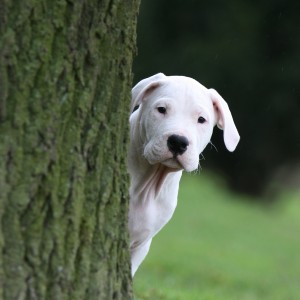 Once you have decided to purchase a puppy, you will need to know where to look in order to find a healthy and good tempered family pet.
Most people have heard of puppy farms and know that they are to be avoided.
But such places are not always what you might imagine.
Plenty of dog owners have purchased from a puppy farm inadvertently.
Not all puppy farms keep dogs in squalor,  so how do you recognise a puppy farm when you meet one?
Puppy farms
A puppy farm is a place where fertile bitches are kept with the sole purpose of producing puppies for sale.
These bitches are not pets, nor are they show dogs,  nor are they working dogs.
A puppy farm bitch will live in kennels, with several other bitches kennelled alongside her.
But not all kennels will be puppy farms.   Which makes things rather confusing!
A meaningful bond
Puppy farm bitches are not necessarily ill-treated in any kind of obvious way.
They may be in good health and well fed.
What defines them is that their primary purpose is the production of puppies,  and they lack any meaningful relationship or bond with a human being.
Several different breeds
One indicator of a puppy farm is a variety or range of different dog breeds for no apparent reason.  Puppy farms often keep bitches of three or more different breeds.  Often from completely different groups of dog.
If the breeder you are visiting has puppies from the hound group,  and the toy group,  or from the gundog group and the pastoral group for example,  be a little suspicious.
It is normal for working gundog breeders to have more than one breed of gundog on the premises.  They may have Labradors, Springers and Cockers, for example.
And their dogs will probably be living much of the time in kennels,  but this does not make them puppy farmers.
A gundog breeder will have a strong bond with all his bitches who will be trained, worked and loved.
If this 'so-called' gundog breeder is also breeding Pugs  and Newfoundlands however, this should set puppy farm alarm bells ringing.
Why you should not buy from a puppy farm
Puppies that come from puppy farms often have problems.
They are less likely to have been bred from health tested parents,  though the existence of health certificates, for hips and eyes for example,  does not necessarily mean that the puppy is not a farmed puppy.
Puppy farmers will do whatever it takes to sell puppies,  and if this means basic health tests,  then they may well carry these out.
Looking for profits
However, bear in mind that the objective of the puppy farm is profit and both health tests and veterinary treatment are expensive.
Good quality puppy care is time consuming and in any business, time is money.  They will cut corners where possible.
As a result, puppy farmed pups are more likely to be sickly.
They are less likely to have been socialised and more likely to suffer from behavioural problems.
Because the puppy farmer's motives are primarily commercial,  other aspects of the dogs' lives may be neglected.
A sad life
Bitches that are used for puppy farming lead rather sad lives.  They are not given proper opportunity to form loving relationships with human beings and often suffer mentally through lack of stimulation and exercise.
By refusing to buy a puppy farmed dog you are helping to stamp out the practice of keeping bitches in  this unhappy way.
What about KC registration?
Pedigree registration with the Kennel Club is not a protection against puppy farming.
Just because a puppy is registered with the Kennel Club it does not  mean that the puppy is not a puppy farm puppy.
Many puppy farms do register their pups with the Kennel Club.
Puppies in pet stores
Don't be tempted to buy a puppy from a pet supermarket or any other kind of store, or from a market or at a show or fair.
Most pet stores and venues of this nature are supplied by puppy farms.
Reputable breeders do not provide puppies in this way,  and no reputable dog breeder would ever sell puppies through pet shops.
Stolen puppies are also often passed on at markets and shows. You wouldn't want to take a pup home only to find that it is already microchipped, and you need to return it to it's rightful owner.
Puppies from the newspaper or online
You may see puppies advertised in your local newspaper or online.
Proceed with some caution.  Nice puppies can sometimes be found in advertisements,  but there are risks.
Sometimes reputable breeders have to advertise their puppies.  This may be because they have been let down by some buyers.  Or because they are looking for specialised homes (eg working gundogs) for their puppies. In which case their puppies will usually be advertised on specialist websites  like 'The Gundog Club'.
Good breeders do not normally advertise puppies on big online puppy classifieds websites that cover all the different breeds of dog.
Adverts on these sites are more likely to be from people that have just bred a litter from their pet, or from puppy farmers.
Well-bred puppies
But many, if not most, well-bred puppies are booked in advance or sold by word of mouth. So, in order to get hold of one,  you must first find a good breeder.
Finding a reputable breeder is by far the best way to find the puppy of your dreams.  For several reasons,  the first and foremost of which is the health and temperament of your puppy.
The reputable breeder
A reputable breeder will be very knowledgeable about her breed.
She will be aware of the diseases that are prevalent in the breed and will have tested her breeding stock where tests are available.
She will be focused on breeding puppies that will be healthy and make great companions.  She is also likely to be a great support to her new puppy buyers and will take back the puppy if at any time disaster strikes your family and you can no longer keep him.
Reputable breeders have a massive amount at stake when they sell you a puppy.  Their reputation is on the line with every puppy they sell.
Finding a litter
Finding a good breeder does not necessarily mean that your search for a puppy is over.   You still need to find a litter of puppies.
Most good breeders will only have a few litters each year.  However, many reputable breeders will also own at least one 'stud dog' who will be mated possibly many times a year,  with good quality bitches.
A good breeder will 'vet' the bitches that their dog is mated too,  often ensuring that they are health tested, and of good temperament.  The breeder will be able to put you in contact with the owners of these bitches.
This gets you off to a great start with your search for a puppy.
Proceed Carefully
It is important that you do not take any chances when purchasing a puppy.
Avoid puppy farms, pet shops, and markets, and be cautious about puppies that are advertised on 'puppies for sale' websites or in local newspapers.
You need to find yourself a reputable breeder, and we'll be helping you with this in another article in this series.  Finding a breeder may not lead straight to a litter.  But from there you will find a bitch is pregnant or about to be mated, and be able to book your puppy in advance.
It's quite a long process but searching for you future friend should be a lot of fun!
Ready to continue the puppy search process? Then check out our next article, Puppy Search Nine: A healthy future?