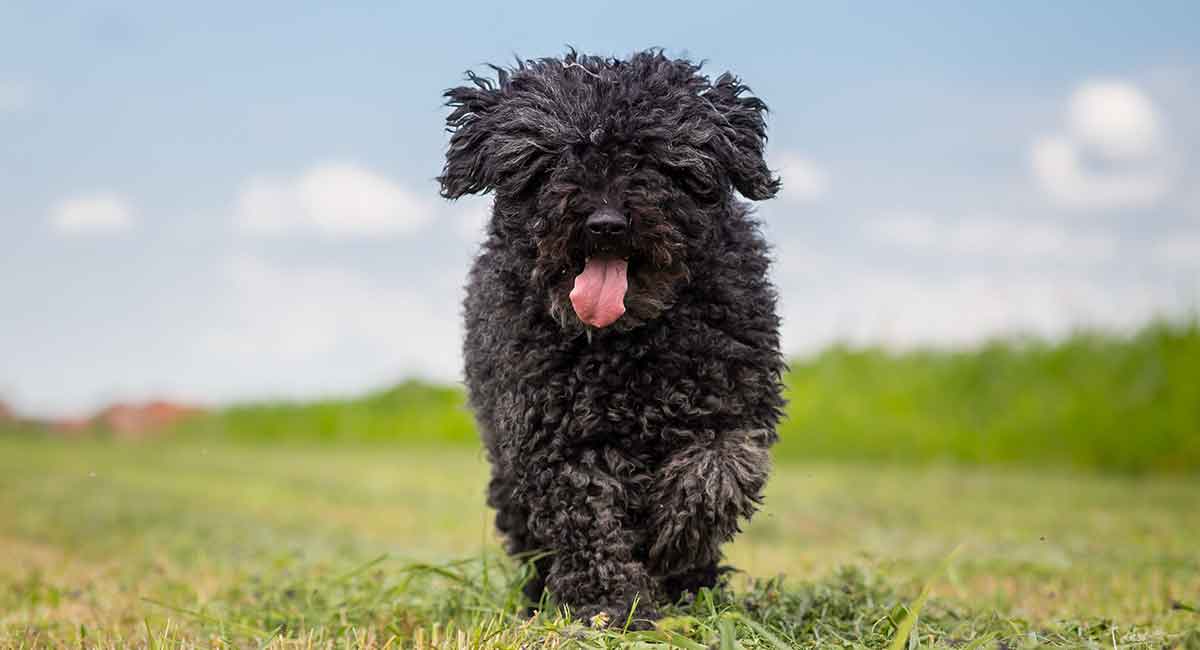 The Puli dog breed is a head-turner, there is no doubt about it.
But while many people have seen one here or there, far fewer people know this dog breed's actual name, the Hungarian Puli.
Or exactly how to pronounce it ("pooh-lee", if you were wondering!).
In 2017, a Puli dressed up as a mop for Covington, Kentucky's annual Paw-rade, and her brilliant costume went viral, delighting viewers across the globe.
Where Does The Puli Breed Come From?
The Hungarian Puli comes from (no surprise here) Hungary.
In Hungary, these dogs are so beloved that their owners claim they are not dogs.
To a Puli owner, their dog is a person with fur.
This is something most dog owners already know, of course.
The plural of Puli, is Pulik ("pooh-lick").
These dogs are playful, smart, sensitive, and incredibly hardworking.
As adult dogs, they can also have doggie dreadlocks (called cords in the show ring).
Which officially makes them one of the coolest dog breeds on the planet.
The Puli Dog History
Despite the Puli's appearance this dog is one of the hardest working breeds you will ever meet.
In fact, those carefully groomed cords can serve a vital protective purpose.
Keeping the pup warm and dry while working outside year-round in what is often a harsh, cold, wet mountain climate.
The Puli is an ancient dog breed, which historians have traced all the way back to the 9th century!
It is thought that their ancestors may date back as far as 4,500 B.C.
Their history begins with the partnership between nomadic Hungarian shepherds and their dogs.
A shepherd would have a small group of Pulik that would work together with their shepherd.
Working as a team to herd and protect the livestock from predators and natural dangers.
What Does The Puli Hungarian Sheepdog Look Like?
The Puli Hungarian sheepdog sure doesn't look like a working dog breed when you first meet one that is sporting a full long adult corded coat!
These dogs look like they belong on the red carpet or in the show ring.
The protection and waterproofing the coat cords provide evolved to help this breed stay warm and dry while working outdoors in the Hungarian mountains.
Now that many of these dogs are considered a pet as well as a working dog, owners sometimes opt for a short haircut.
This is to reduce coat maintenance as well as to guard against overheating in warmer climates.
What Is The Average Hungarian Puli Dog Weight And Height?
The dog with a fully-corded adult coat can look quite a bit bigger than this dog actually is underneath all that hair!
They typically weigh 25 to 35 pounds at maturity and will stand 16 to 17 inches tall (paw to shoulder).
Males tend to just slightly outweigh females and may stand an inch taller.
Puli Dog Coat Color
The most common coat color is pure black.
However, silver, white, brown, cream, and rust coat colors are also possible.
A purebred will always have a solid single-color coat.
Do Puli Dogs Shed?
Puli dogs with fully corded adult coats are said to not shed at all.
In truth, shed hair is typically incorporated into the existing cords, so you just don't see it.
How Do You Groom A Puli Dog?
For the first 6 to 10 months of his life, your Puli puppy's coat will be relatively like that of other pups.
For this time period, you will simply need to groom and brush your puppy's coat to remove any trapped dirt, debris, or shed hair.
However, at some point in late puppyhood, the adult coat will start to grow in.
This may look unlike anything you have ever seen before on a dog.
It can look like your dog is just turning into one big matted furball, which is exactly what is happening!
At this point, the undercoat and the outer coat are both beginning to grow in, often at different rates.
The under coat is soft and fine, and the outer coat is coarse and wiry.
It is the intermingling of the two layers that starts the cording process.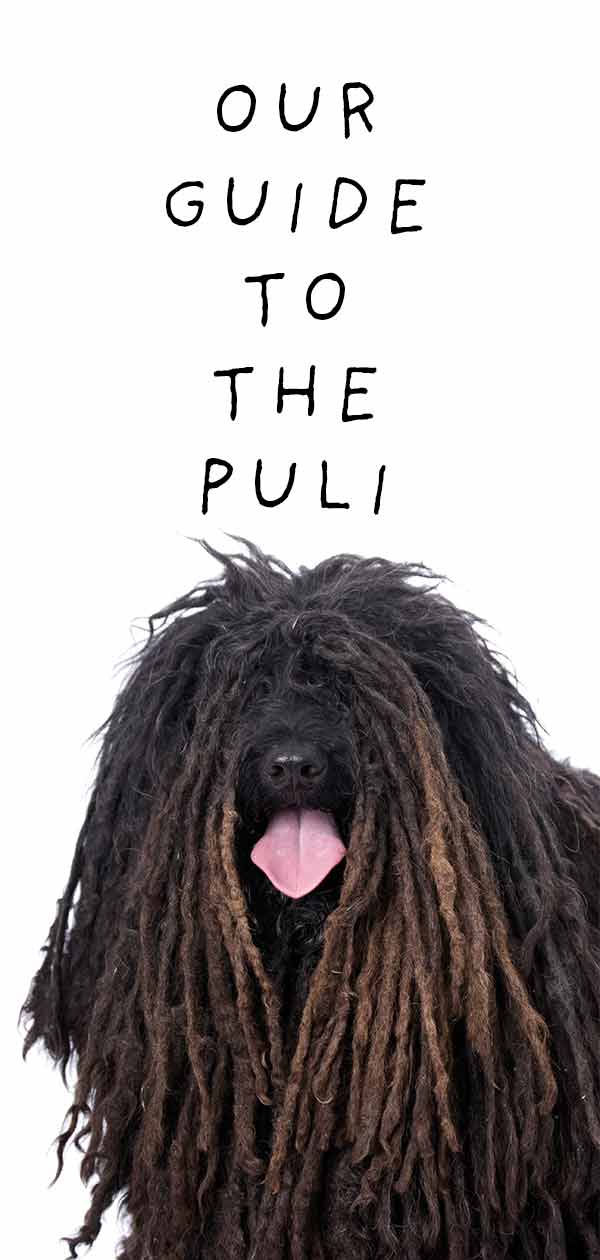 Cording
From here, your Puli dog will rely on you to assist with separating the mats into thinner cords that can continue to grow and develop.
You do this by using your fingers or shears to cut the mats into thinner cords.
This initial process can be easier if your pup has inherited a coat that is even in undercoat and upper coat growth.
And if the coat is less shiny and more textured.
However, every dog's coat is different, and some dogs will naturally have thicker cords while others are thinner.
The grooming process from here forward is all about managing the growth and health of the cords.
After the initial six- to nine-month cord development period, the cords will have set.
Your duties from here will simply be to keep them clean and trimmed at the ends.
Is There An Easier Way?
If working towards a fully corded coat sounds too daunting to you, you could also opt to forgo the cording process.
Just keep your dog in a short haircut or a long, brushed style.
In either of these two cases, you will need to do at least a weekly brushing, and your dog's coat will look very fluffy.
If you want to show your dog, however, you will need to develop the corded coat to be eligible.
Other Care
You will also need to clean your Puli's ears, clip his nails, and brush his teeth regularly.
Cleaning your dog's ears will be especially vital.
The cords can drape down over the ear canals and prevent circulation of air.
Trapped dirt and debris can easily develop into an ear infection.
So your dog will rely on you to keep her ear canals clean and clear.
Hungarian Puli Dog Temperament And Personality
This dog has a wonderful personality and temperament for families with older children.
Through generations of livestock herding and guarding work, this breed has developed into an excellent watchdog.
This dog is a great choice as a working dog, of course.
It is an equally great choice if you are interested in getting involved in obedience, agility, rally, herding, etc.
As a family pet, the Puli will need regular daily exercise and lots of enriching play (both solo and interactive).
This will help him stay healthy, happy, and away from the household furnishings.
Puli Dog Life Expectancy
The Puli dog can live 10 to 15 years.
Their life expectancy can vary based on genetics.
It can also be greatly influenced by diet, activity and exercise, enrichment, and access to preventative veterinary care.
Puli Dog Breed Health Issues
Like most purebreds, the Puli has certain genetic health issues that tend to be more common to this breed.
However, pre-screening tests are now becoming available for many known genetically transmitted canine health issues.
These tests can help breeders avoid passing heritable but preventable health conditions along to future generations.
The Canine Health Information Center recommends that breeders test their dogs for the following known genetic health issues:
Hip dysplasia
Elbow dysplasia
Patellar luxation
Degenerative myelopathy
Eye issues
Cardiac issues (recommended)
Congenital deafness (recommended)
Before you choose to work with a Puli breeder, be sure to ask for verification that parent dogs have been cleared of each of these known health issues so that they won't be passed down to your puppy!
Puli Exercise
The Puli is a naturally agile and athletic small/medium dog breed.
At first glance it can seem like there is nothing to worry about when you see your pup jumping up and down off furniture.
Or running full-tilt after a squirrel in the yard.
However, when these dogs are still growing (for the first 12 months of life).
Try to prevent too-vigorous running or jumping until your dog has finished growing and the growth plates have fused permanently.
It is best to talk with your pup's veterinarian before beginning any ongoing training for agility or other canine work.
Your vet can examine your puppy and X-ray the growth plates as needed.
This can determine when you are in the clear to start more vigorous physical activity with your pup.
Puli Dog Training And Socialization
After centuries of solo herding and guarding dog work, the Puli has also evolved to have a naturally high drive and energy level along with a natural independent streak.
Luckily, these dogs are also very smart and are known to be quick learners who really want to please "their" people.
But this is not a dog that will tolerate anything but the most positive training methods.
These dogs are simply too intelligent and sensitive to cope with any type of negative reinforcement (punishment) in training.
Because of the Puli's natural guarding and herding instincts, you will want to begin socializing your puppy as early as possible.
The socialization process should include exposure to new people of all ages, other animals, and new situations.
Is The Puli Dog A Good Family Dog?
The Puli can be a great family dog for an active family that has plenty of time to spend with their pup.
This dog is a naturally great guard dog for families and individuals.
However, breeders and owners advise against selecting a Puli dog if you have very young children.
This breed tends to be sensitive and may not tolerate rough and inexperienced handling well.
Similarly, his herding and guarding instincts make this a dog that fares best as an only-dog in a family with no other pets (of any species).
How Do I Pick Out A Hungarian Puli Puppy?
There are two common paths to finding a Hungarian Puli puppy.
You could check with local rescue groups and animal shelters.
You could also seek out a breeder of Puli puppies.
Breeder
For the latter path, be sure the breeder is responsible and can show proof that
the breeding stock has been screened and cleared of all heritable health conditions
the puppies have had all required vaccinations
you will receive an initial guarantee of health
you get a take-back guarantee if your new puppy doesn't work out for any reason
Beyond this, look for a Puli puppy with bright eyes and ears, clear skin, and healthy coat.
They should be alert, friendly, willing to be held, eager to play, and well-socialized with littermates and people.
Should I Get A Puli Dog?
This question is truly one that has no right or wrong answer.
Only the answer that is the best one for your situation.
Is a Puli the right dog breed for you?
We hope this article will help you decide!
Let us know what you decide in the comments below.
Sources