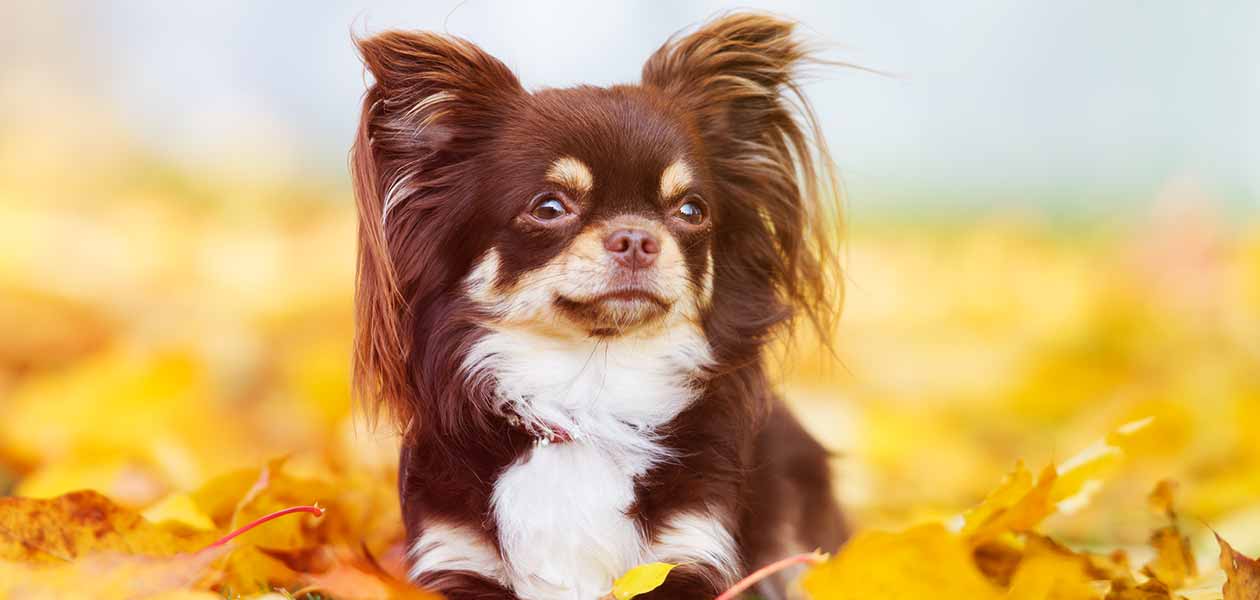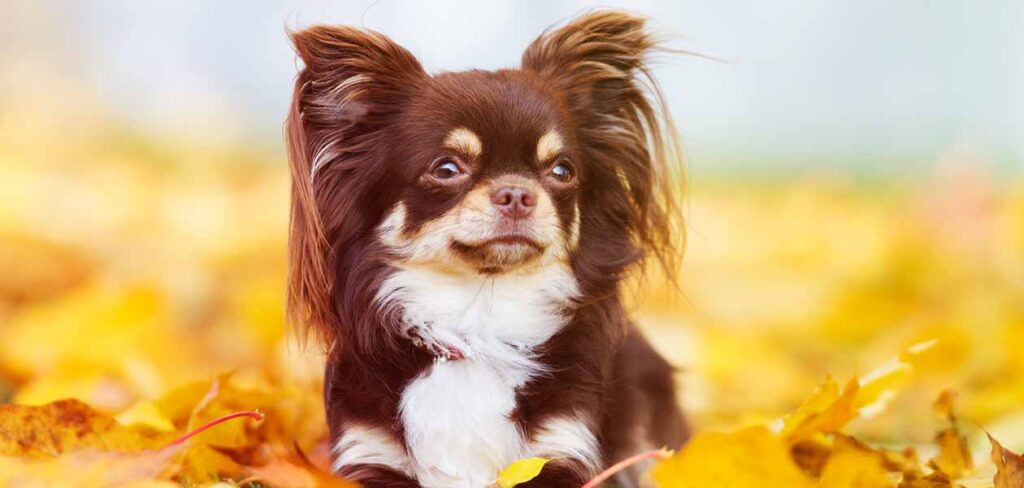 Long haired Chihuahua dogs have sleek fur all over their bodies, especially around the ears, necks, tails and legs. This tiny ancient toy dog breed is lively, loving and very loyal. And despite looking like lap dogs, these perfect apartment pets also make great watch dogs too. Due to their small size they aren't ideally suited to homes with children, but they can make lovely family pets and first dogs for adult owners. Today we'll help you decide whether your lifestyle, activity level and social life are a good fit for a long haired Chihuahua puppy.
Contents
We're going to look at the typical long haired Chihuahua dog's personality, temperament and behaviors. As well as their feeding, health and care needs. Long haired Chihuahua grooming and general care needs are slightly different from a regular Chihuahua. But, other than their fur, they are the same as any other Chi. They will still be a small dog that grows up to 15 inches and weighs between 3 and 6 pounds as an adult. Let's find out more about whether or not the long haired Chi is right for your family.
Long Haired Chihuahua vs Short Haired Chihuahua
Long haired Chihuahuas may be tiny, but they are hugely popular! Their longer, fluffier coats give them a distinctive look that distinguishes them from short-haired Chihuahuas. These coats are especially fluffy around their necks, ears, legs, and tails.
This is the main difference between long haired and short haired Chihuahuas. But, it does mean that long haired Chis have some more complex grooming and care needs. But for now, let's look more specifically at long haired Chihuahuas, and how they differ from their short haired counterparts.
Long Haired Chihuahua Appearance
The long haired Chihuahua breed will look quite a bit like a normal Chihuahua. But, they have a lot more fur! Chihuahuas are very small dogs. They can grow up to 15 inches tall, and will generally weigh between 3 and 6 pounds as an adult.
This tiny breed has triangular ears and round eyes. A long haired Chi should have soft fur, that can be wavy or straight. But fur color can vary.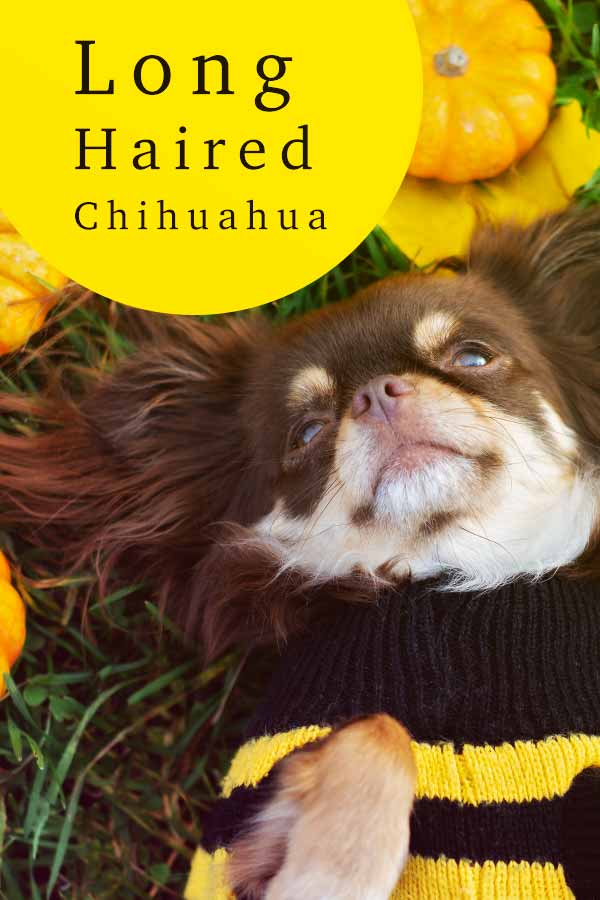 Coat Colors in Long Haired Chihuahua Dogs
Chihuahuas can come in any fur color, so your long-haired Chi can look quite different from another dog of the same breed! Some of the colors you might find a Chihuahua puppy in are:
Black
White
Fawn
Cream
Chocolate
And more! They could even be a combination of the above colors, as markings are common on this breed!
Long Haired Toy Chihuahua
Even though Chihuahuas are already small dogs, some people prefer them to be even smaller! Long haired teacup Chihuahuas aren't a separate breed. They are just smaller dogs in the same breed.
The size of these smaller pups, unfortunately, comes with additional health issues, such as increased risk of heart disease. It is important to do lots of research and consider these risks before you decide to get a long haired teacup Chihuahua puppy. Let's go back to looking at our standard sized long haired Chihuahua.
Long Haired Chihuahua Temperament
These may be small dogs, but they have big personalities! They're an incredibly loyal breed and also very intelligent. But they can be a little stubborn!
So, it is important to be consistent when you train your dog. Consistency and dedication to training will help you control the 'terrier' temperament they're known for! Unfortunately, the breed is rumored to be aggressive, so many may avoid adopting a long haired Chihuahua. But are all Chihuahuas aggressive?
Aggression and Socialization
Although Chihuahuas are often seen as an aggressive breed, this isn't guaranteed. Plus, there are steps you can take to minimize this trait. Socialization from a young age is one of the most important ways to minimize aggression in adult dogs. Another step you can take is to meet your dog's parents, to judge how friendly they are.
Obviously, these steps are only possible if you get your long haired Chihuahua when it is a puppy. But not all adult Chihuahuas are aggressive. And if you're looking to get a rescue dog, the organisations will often be able to tell you a little about their dogs' personalities.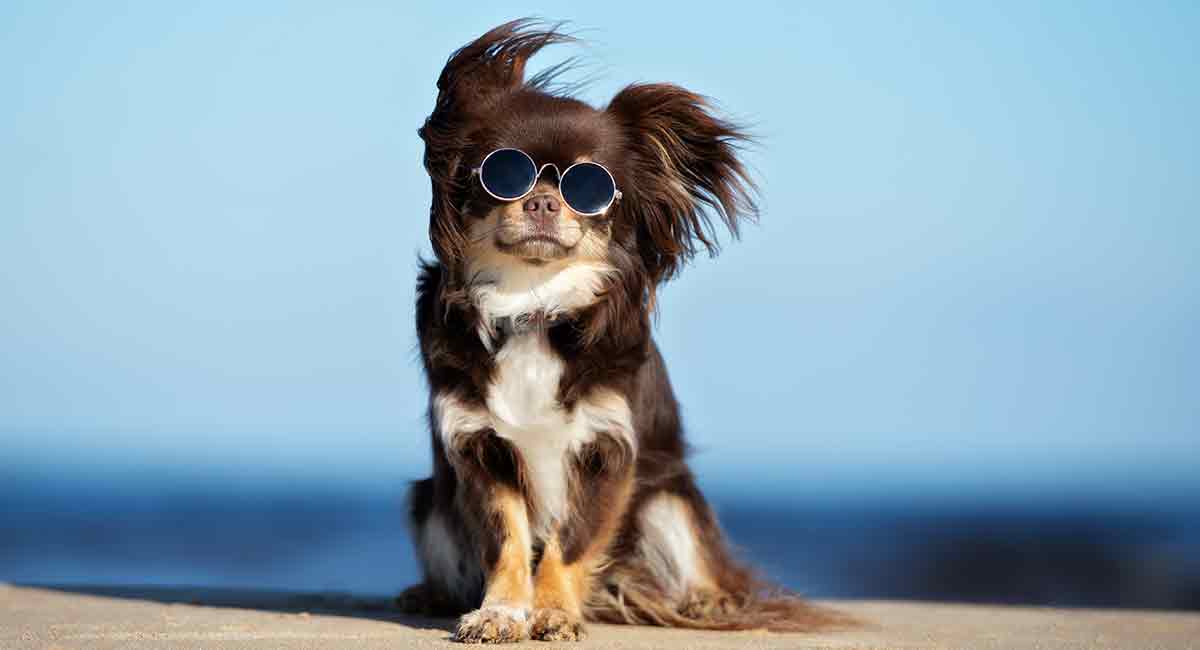 Long Haired Chihuahua Health
It is not just long haired teacup Chihuahuas that have health concerns. Health is an important issue for any breed – this includes long coat Chihuahuas. Let's look at some of the major issues long haired Chihuahuas can be prone to, and if there are any steps we can take to reduce the risks.
Heart Problems
Chihuahuas in general can be prone to heart conditions. Some that you should watch out for include mitral valve disease and patent ductus arteriosus. Keeping your Chihuahua at a healthy weight and attending regular veterinary checks can help to reduce the chance of these problems.
Hydrocephalus
These little dogs are also prone to a condition called hydrocephalus. This involves a buildup of fluid in the brain, causing an enlargement of the head and potentially brain damage.
Patellar Luxation
Long haired Chihuahuas, as small dogs, have a higher risk of canine patellar luxation.
This is a problem to do with your dog's knee joint. It occurs when the kneecap dislocates, or moves away from its normal position.
Dental Problems
It is important to also keep a close watch on your dog's dental hygiene.
You can achieve better dental health for your long haired Chihuahua by brushing its teeth, or occasionally using vet-recommended dental chews.
Keeping a Healthy Long Haired Chihuahua
Some health conditions can be tested for. So, when looking for a puppy, make sure you go to a breeder that health tests the dogs they breed from.
The predispositions to health issues like these emphasize the importance of finding a good breeder and a Chihuahua with healthy parentage. A good way to keep on top of any issues that do arise is to have regular check-ups with your vet.
Long Haired Chihuahua General Care
We've looked a bit at the general care that a long coat Chihuahua will need in terms of its overall health. But, there is also a level of care needed to maintain its beautiful coat. So, let's take a quick look at what you should expect.
Shedding and Grooming
Chihuahuas are moderate shedders. Even those with short coats. So, you can expect to have to clean up fur around your house.
Long haired Chis will also need help keeping their coat clean and knot-free. You should brush your long haired Chihuahua's coat at least once a week to ensure no tangles develop. On top of this, make sure you regularly check his ears and teeth to keep them both clean!
Chihuahuas are small dogs, so this grooming process isn't likely to take long each week. But, it does mean these little pups are more high-maintenance than their short-haired counterparts.
Long Haired Chihuahua Puppies
Hereditary health issues in long haired Chihuahuas make it even more important to be thorough when finding a long coat Chihuahua puppy.
Choosing the best long haired Chihuahua breeders can be tricky! There are steps you can take to make sure the puppy you're getting is as healthy as possible – both for your benefit, and your new pup's!
You can ask to see the parent dogs.
You should ask whether the parents have been health tested.
Have a good knowledge of the health problems long coat Chihuahua puppies may be prone to.
You should also ask whether the puppies are being socialized.
This is important with this particular breed because early socialization will reduce the risk of aggression both towards people, and towards other dogs!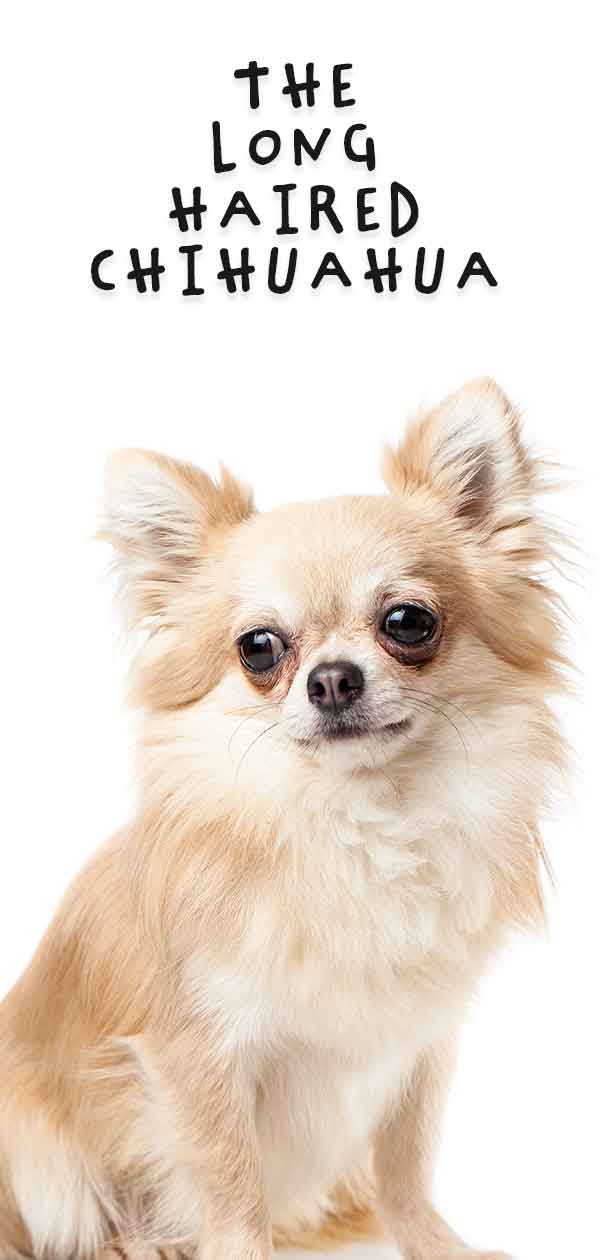 Long Haired Chihuahua Puppy Price
What is the average long haired Chihuahua price? Well, the cost of these puppies can vary quite a lot! Depending on the breeder, they are advertised at anywhere from $500 to $1200.
It is important to remember that it isn't just the initial cost. You will also have to take into account food bills and vet fees. And if you're not looking to get this dog as a puppy, you can also consider rescue dogs!
Is a Long Haired Chihuahua Right For Me?
This is a great breed to add as a new member of your family!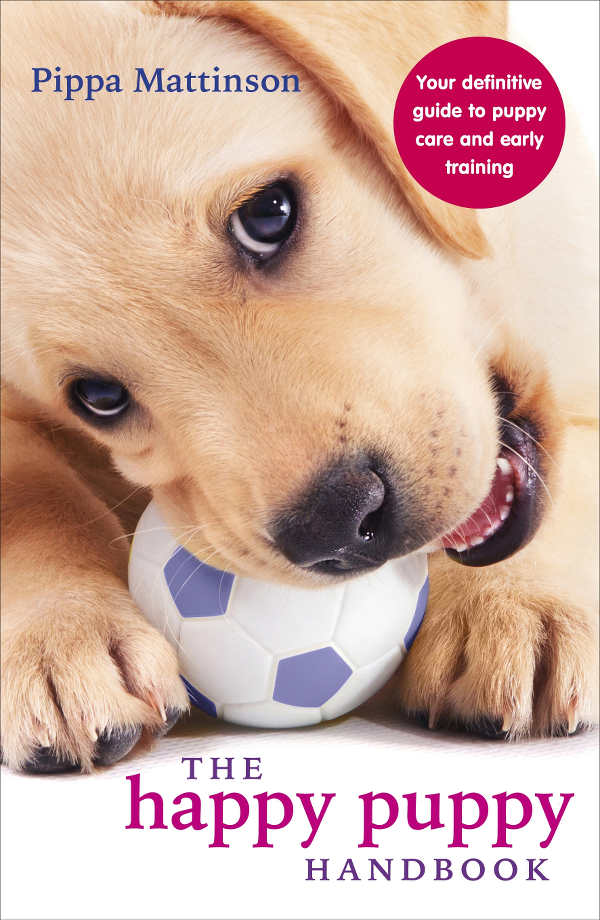 But it's important to remember the health issues that can be inherent in this little breed.
With proper socialization, regular vet checks, and a healthy lifestyle can help these pups flourish.
But, they will need more general care than a short-coated Chihuahua. It depends on how much time you are willing and able to dedicate to your new companion.
Similar Breeds
Perhaps you aren't sure if the Chihuahua breed is right for you. But don't worry! There are plenty of other small breeds that you might want to consider instead.
Some of them have long hair too! Take a look at a few of our guides below for more inspiration.
Do You Have a Long Haired Chihuahua?
Are you looking to get one of these as your next dog?
Let us know the best thing you've found about having a long haired Chihuahua as a pet!
And how do you think it compares to the shorter haired version?
References and Resources