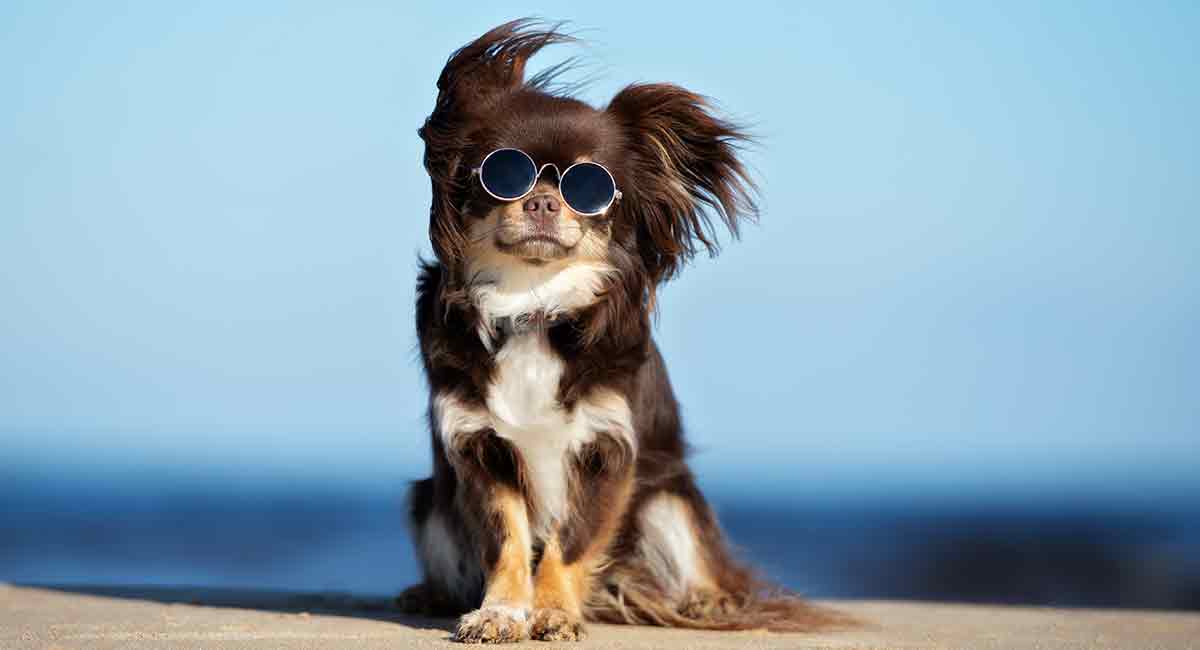 Long haired Chihuahuas may be tiny, but they are hugely popular!
Their longer, fluffier coats give them a distinctive look that distinguishes them from short-haired Chihuahuas.
If you're looking to find out more about the Chihuahua breed in general, you can check out our complete guide.
But for now, let's look more specifically at long haired Chihuahuas!
We'll examine the differences between these and other types of Chihuahuas.
We'll also discuss their personality traits and any health issues you should be aware of, so you have all the long haired Chihuahua information you need!
Long Haired Chihuahua
The main difference between a long haired Chihuahua and other Chihuahuas is their fur, as you've probably already guessed!
Long haired Chihuahuas have longer fur than other Chihuahuas, especially around their ears, necks, legs and tails.
This longer fur means grooming is a little more important.
You should brush your long haired Chihuahua's coat at least once a week to ensure no tangles develop.
Other qualities, such as temperament, and health issues, are the same as their shorter haired counterparts!
Let's look at these qualities in a bit more detail.
Long haired Chihuahua temperament
Long haired Chihuahuas may be small dogs, but they have big personalities!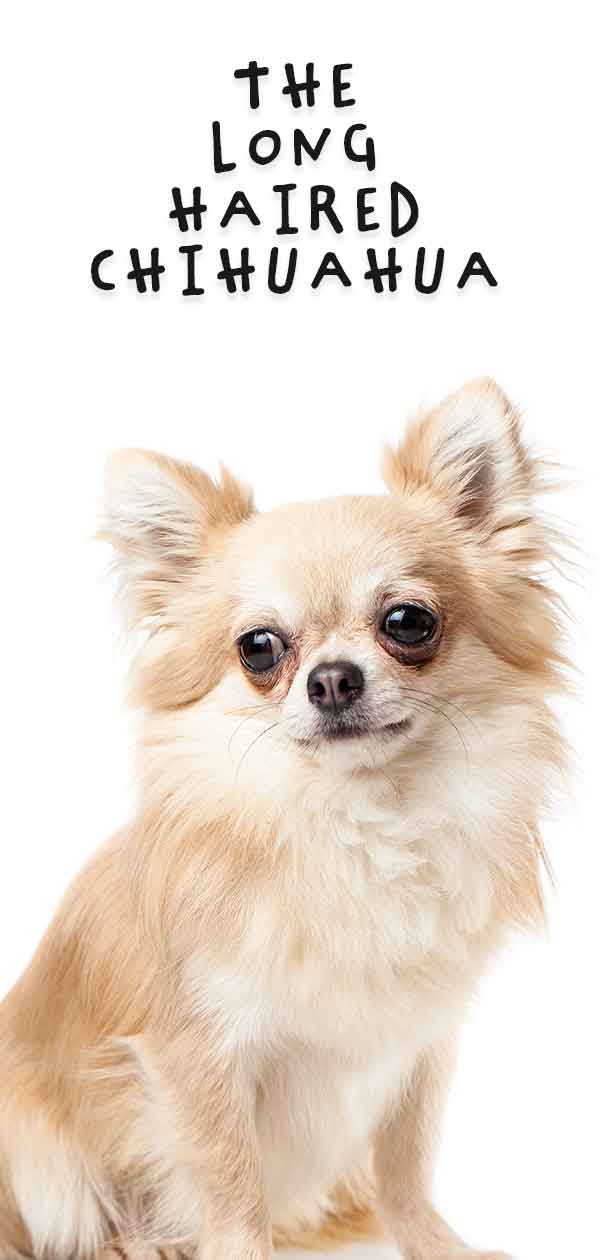 They're an incredibly loyal breed and also very intelligent.
But they can be a little stubborn!
Therefore, it is important to show you're in charge, especially when training your Chihuahua, to control the 'terrier' temperament they're known for!
Unfortunately, the breed is rumored to be aggressive, so many may avoid adopting a long haired Chihuahua.
Although Chihuahuas are often seen as an aggressive breed, this isn't guaranteed. There are steps you can take to minimize this trait.
Socialization from a young age is one of the most important ways to minimize aggression in adult dogs.
Another step you can take is to meet your dog's parents, to judge how friendly they are.
Obviously, these steps are only possible if you get your long haired Chihuahua when it is a puppy.
But not all adult Chihuahuas are aggressive.
And if you're looking to get a long haired Chihuahua, rescue dogs are another really great option!
Long haired toy Chihuahua
Even though Chihuahuas are already small dogs, some people prefer them to be even smaller!
Long haired teacup Chihuahuas aren't a separate breed. They are just smaller dogs in the same breed.
The size of these smaller pups, unfortunately, comes with additional health issues, such as increased risk of heart disease.
It is important to do lots of research and consider these risks before you decide to get a long haired teacup Chihuahua puppy.
Long Haired Chihuahua Health
It is not just long haired teacup Chihuahuas that have health concerns.
Health is an important issue for any breed – this includes long coat Chihuahuas.
Let's look at some of the major issues long haired Chihuahuas can be prone to, and if there are any steps we can take to reduce the risks.
Chihuahuas in general can be prone to heart conditions like mitral valve disease and patent ductus arteriosus.
They are also prone to a condition called hydrocephalus, which involves a buildup of fluid in the brain, causing an enlargement of the head and potentially brain damage.
Long haired Chihuahuas, as small dogs, have a higher risk of canine patellar luxation.
It is important to also keep a close watch on your dog's dental hygiene.
You can achieve better dental health for your long haired Chihuahua by brushing its teeth, or occasionally using vet-recommended dental chews.
The predispositions to health issues like these emphasize the importance of finding a good breeder and a Chihuahua with healthy parentage.
A good way to keep on top of issues is to have regular check-ups with your vet.
Long Haired Chihuahua Puppies
Hereditary health issues in long haired Chihuahuas make it even more important to be thorough when finding a long coat Chihuahua puppy.
Choosing the best long haired Chihuahua breeders can be tricky!
There are steps you can take to make sure the puppy you're getting is as healthy as possible – both for your benefit, and your new pup's!
You can ask to see the parent dogs.
You should ask whether the parents have been health tested.
Have good knowledge of the health problems long coat Chihuahua puppies may be prone to.
You should also ask whether the puppies are being socialized.
This is important with this particular breed because early socialization will reduce the risk of aggression both towards people, and towards other dogs!
Long haired Chihuahua price
The cost of long haired Chihuahua puppies can vary quite a lot!
Depending on the breeder, they are advertised from $500 to $1200.
It is important to remember that it isn't just the initial cost.
You will also have to take into account food bills and vet fees.
And if you're not looking to get a long haired Chihuahua as a puppy, you can also consider rescue dogs!
Long Haired Chihuahua – Summary
Long haired Chihuahuas are a great breed to add as a new member of your family!
It's important to remember the health issues that can be inherent in this little breed.
But proper socialization, regular vet checks, and a healthy lifestyle can help these pups flourish.
And every long haired Chihuahua is different!
Are you looking to get a long haired Chihuahua as your next dog?
Let us know the best thing you've found about having a long haired Chihuahua as a pet!
Sources