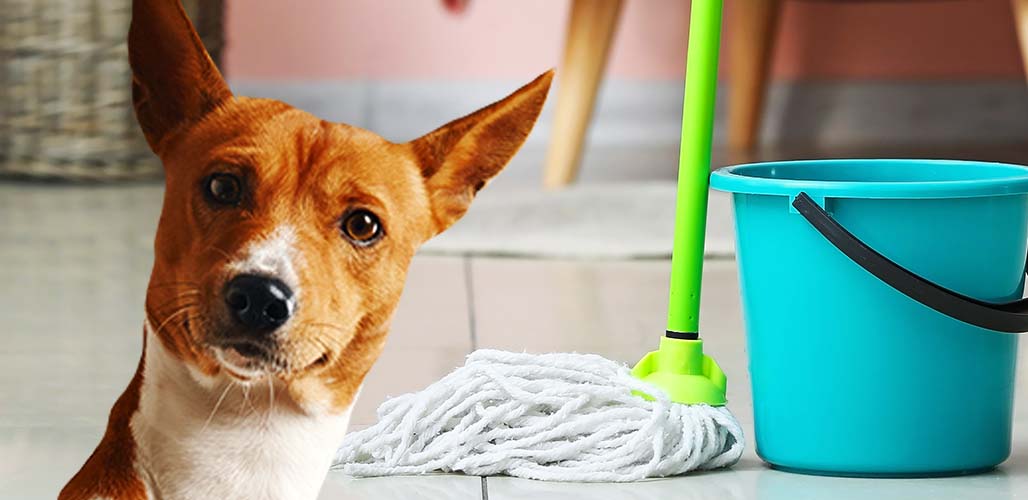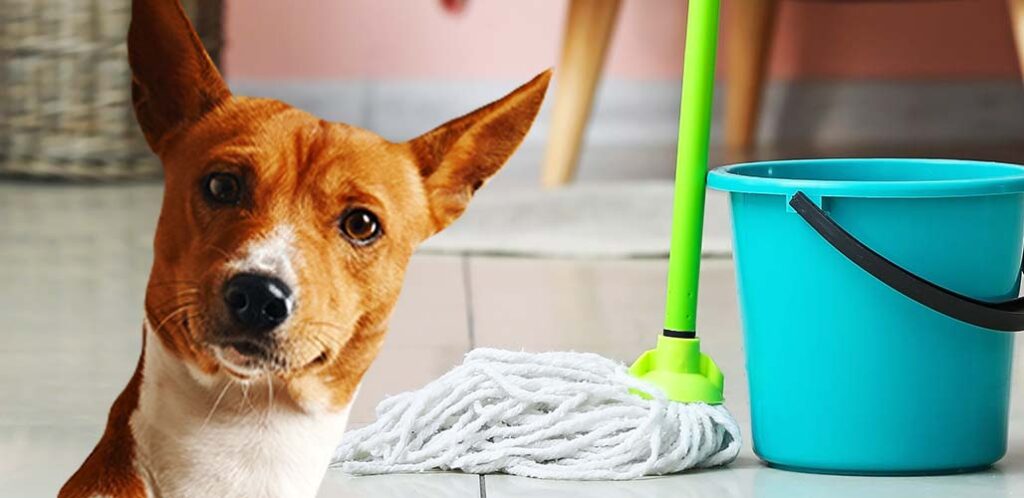 Knowing how to keep the house clean when your dog is in heat can help a lot of owners feel more relaxed about their dog's period. When my dog is in heat, I want to take care of her, but I know I'll also feel better if my home is as clean as normal. If you're new to owning female dogs, or you're just looking for some more tips, don't panic! Keeping your home clean when your dog is in heat won't be too much extra work. In this guide, I'm going to share my top cleaning tips, so you can make sure your dog is comfortable through her period in a hygienic environment.
Contents
How Messy is a Dog In Heat?
A dog's reproductive cycle has four stages. These are proestrus, estrus, diestrus, and anestrus. You're most likely to observe discharge from your dog in the first stage, proestrus, but this can extend to the estrus stage. Discharge during the proestrus stage is thin and bloody. At the start of this period, it will be vibrant in color, but color will change over time, as will the volume of discharge.
The proestrus stage of a dog's heat cycle lasts for an average of 9 days. But, the full potential range is from 0 to 27 days. Bloody discharge will be heaviest towards the start of this period, but can continue throughout. Your dog cannot control the release of this discharge, so it's common to find spotting and stains in the places they spend a lot of time. Particularly on soft fabrics, like their bedding, or the couch.
The amount of mess a dog leaves whilst on her heat can vary depending on the length of her proestrus stage, and on the size of your dog. Toy dogs are likely to produce less discharge than a large or giant dog. So, mess from a dog in heat can really vary.
How Do You Keep a House Clean When a Dog is in Heat?
Dogs won't release all of their discharge at once. It will be heaviest at the start of their proestrus stage, but will gradually decrease in volume. You're most likely to notice that your dog is in heat when you see blood spotting or discharge stains on soft material around your home, often paired with higher frequency of self-cleaning by your dog.
This discharge is the main culprit of mess when your dog is in heat. And, as we know, this stage can last up to 27 days – though the average time is much shorter, at only 9 days. This discharge can stain soft materials around your home, and is most common in places where your dog will spend a lot of time. So, places like her bed, her crate, and if you let her on the couch or your bed, these areas too.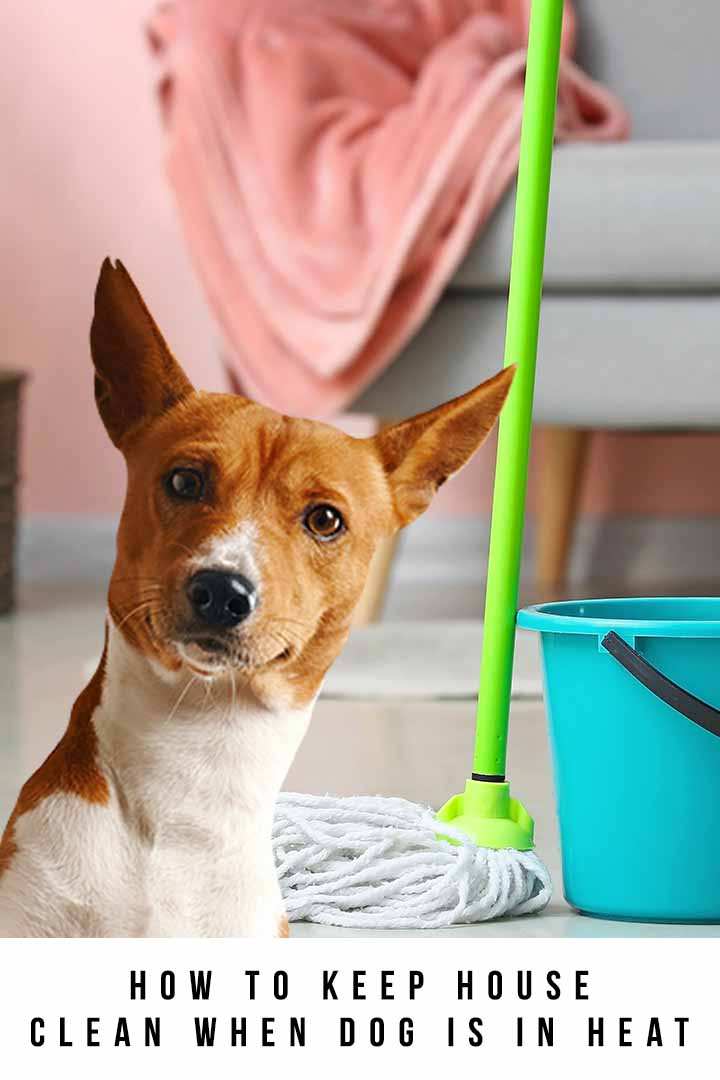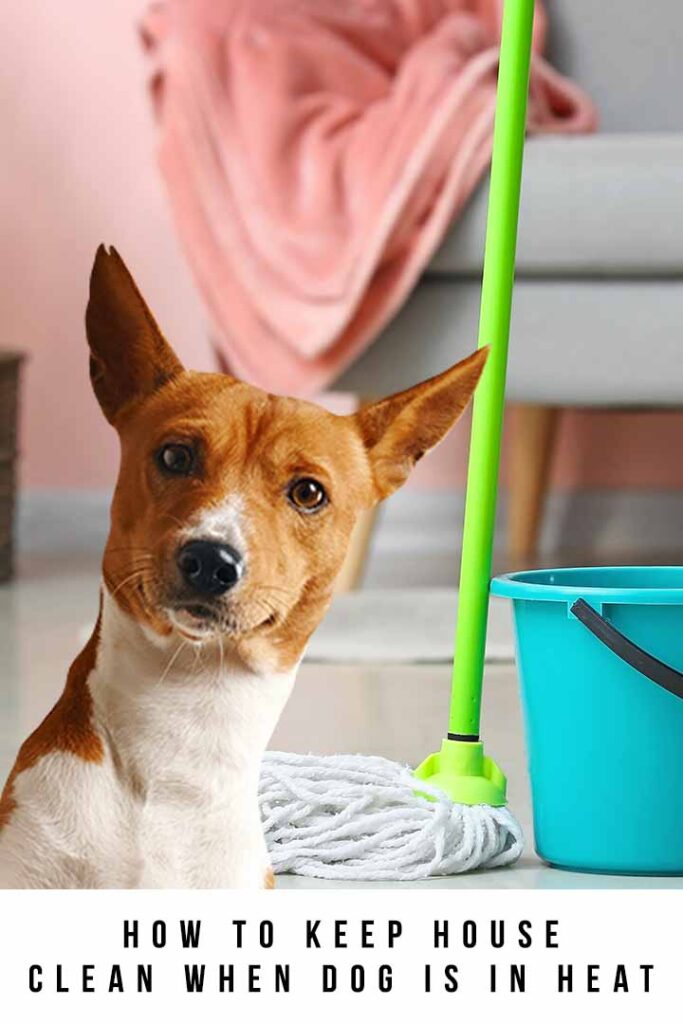 If you can put these things in the washing machine, do this regularly whilst your dog is bleeding. Stain removal products might be necessary on blood that has seeped into fabrics. Alternatively, cold salty water is a great way to lift blood stains from fabrics. Place clean blankets on your couch and bed before letting your dog onto them. This way, any discharge will go on the blankets rather than your furniture. And blankets are much easier to clean – just shove them in your washer!
If your dog's discharge has stained your furniture, stain removal products like tide pens are a great way to clean these spots. You can also blot at these stains with cold water, or cold salty water. Blotting motions are better than rubbing, as they are less likely to spread any discoloration.
Do Dogs in Heat Smell?
All dogs are individuals. So, some might have a strong smell whilst they're in heat, but others might smell no different to normal. Strong smells during heat cycles are a way for female dogs to attract mates. Usually, this smell isn't strong enough for us to notice, but in some cases, people can detect it. And, that slightly fishy scent won't be appealing for you in your home. If your dog does not usually smell when in heat, but suddenly smells very strong, it's worth a veterinary appointment to check she is not suffering from an infection.
How Do You Hide the Smell of a Dog In Heat?
A good cleaning regime is the best way to hide and prevent strong smells whilst your dog is in heat. So, wash their bedding regularly, as well as any other soft materials that they interact with a lot, or lie on frequently. This can include blankets, pillows, clothing, and even soft toys.
Scented candles and sprays can help you to cover up unpleasant smells. But, a better solution is to tackle the scents at their source. So, keep everything your dog uses clean. Like general house cleaning tips, blankets are much easier to clean than furniture, since they can just go straight in your washing machine. So, use cheap blankets to protect any soft furnishings your dog is allowed on. And, use bleach or other strong cleaning products to clean any stains on hard flooring.
Is it OK if My Dog Licks Her Period Blood?
When your dog is in the proestrus stage of her heat cycle, you'll notice that she licks herself a lot more frequently. The main reason your dog will lick herself when in heat is to keep herself clean. This is good news for you, as it makes it less likely that any blood or discharge will stain items in your home. Dogs might also lick themselves to self-soothe, or to soothe any swollen, sensitive areas.
There's no danger to your dog if she ingests her period blood or discharge. But, obsessive licking in some cases can lead to irritation – which can easily become a vicious cycle. Dogs are likely to lick themselves more frequently in heat, but keep an eye on this behavior to make sure it doesn't become harmful.
Should I Put a Diaper on My Dog in Heat?
One solution that some people use to keep their house clean whilst their dog is in heat is to put a diaper on their dog. These come in either disposable or reusable forms. Reusable dog diapers are usually fabric and must be washed in between uses. Disposable ones can be thrown straight in your trash – and can be most costly in the long term when you need to keep replacing them.
Diapers aren't a must when your dog is in heat. In most cases, she will keep herself clean, and any spotting around your home will be minimal and easily removed. But, some people might feel more comfortable using dog diapers to control discharge stains and spotting. Ultimately, this is a case of personal preference.
It's worth bearing in mind, though, that not all dogs will be happy wearing a diaper. Dogs in heat like to lick themselves clean and soothe sore areas. So, she may try to remove a diaper. If your dog is prone to shredding and tearing toys, diapers could meet the same messy fate. Not only does this still risk any discharge inside from getting around your house, but you'll also have to clean up shredded pieces of diaper to prevent your dog from accidentally ingesting any. You will usually need to let your dog become familiar with wearing a diaper gradually, before she starts bleeding.
How Often Do I Change My Dog's Diaper in Heat?
Diapers for dogs are similar to sanitary pads. They need to be regularly changed to promote the best hygiene possible. Leaving a dog diaper on for too long can increase the risk of diaper rash and other problems.
As a general rule, dog diapers should be changed at least twice a day, or once every 4 hours. But, this advice can change depending on the brand you use, and whether or not the diaper is suitable for urinating in. Letting your dog go to the toilet in diapers can mean more work cleaning them up between changes for you.
Can My Dog Wear a Diaper Overnight?
Again, this might depend on the brand, but most dog diapers are okay for your dog to wear overnight. Change their diaper just before bedtime and again as soon as they wake up, after they've gone to the toilet outside. Letting your dog wear a diaper overnight can stop your dog from bleeding on things whilst you're asleep.
Alternatively, you can restrict your dog's access to the house whilst she is sleeping. If your dog sleeps in a crate, you'll already have this sorted. But, if you don't like or use crates, consider putting her bed in a dog pen with hard flooring. This way, you'll be able to pop her bedding in the washer through the day and simply mop clean the floor in her pen once you're awake.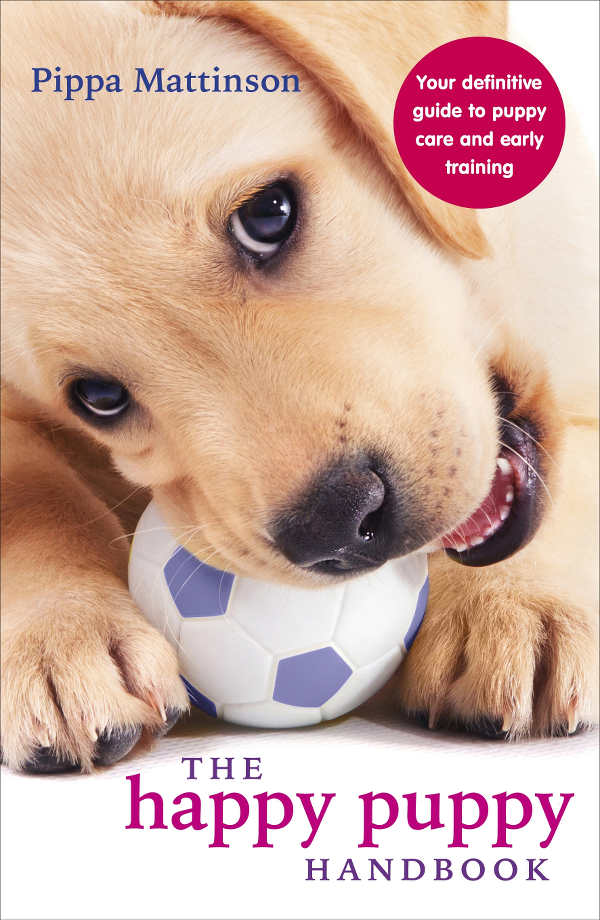 Can I Give My Dog a Bath Even in Heat?
Yes, you can definitely give your dog a bath even in heat! Make sure you're gentle when washing her, and keep the experience positive. Offering a few treats during bathtime can really help when your dog is in heat. But, bathing is a great idea, particularly if your dog has long fur, or if you've noticed bloodstains on her fur.
How Long Does Heat Last in a Female Dog?
The length of a heat cycle will vary from one dog to the next. The proestrus stage (where you will see bleeding and discharge) can vary between 0 and 27 days. But, on average, it will last just over a week. However, your dog's heat cycle doesn't end there, and her chances of getting pregnant definitely don't end there.
The next stage is the estrus stage, where your dog will allow males to mount her. Like the proestrus stage, this lasts an average of 9 days, but can range anywhere from 4 to 24 days. Following this is the diestrus stage, where females refuse mating and tend to be less appealing to males. This generally lasts around 57 days. Anestrus is the final stage. Like the diestrus stage, females in anestrus will not allow mating and are not as appealing to males. This is the longest part of the heat cycle, lasting between 4 and 4.5 months.
How Do I Take Care of My Dog on Her Period?
Your dog might not act like her usual self when she's in heat. She could be more restless, more reactive, and unsettled. You can take care of your dog on her period by keeping her clean, and keeping your routine stable. Feed her at the usual times, and make sure she's comfortable. Don't tell her off if you see discharge stains on things – just clean them up without a fuss. Shouting or hitting your dog for this can lead to distrust between you, and won't make her feel any better when she's already not feeling 100%.
How to Keep a House Clean When a Dog is in Heat
Keeping your home clean when your dog is in heat is pretty easy. Cover up soft furniture with blankets, which are much easier to shove in the washing machine. Wash your dog's bedding and soft toys regularly. You might choose to use diapers on your dog in heat, or you might choose to simply bathe her a little more frequently. In most cases, your dog will keep herself quite clean, and spotting around your home will be minimal!
More Guides to Dog Care
References