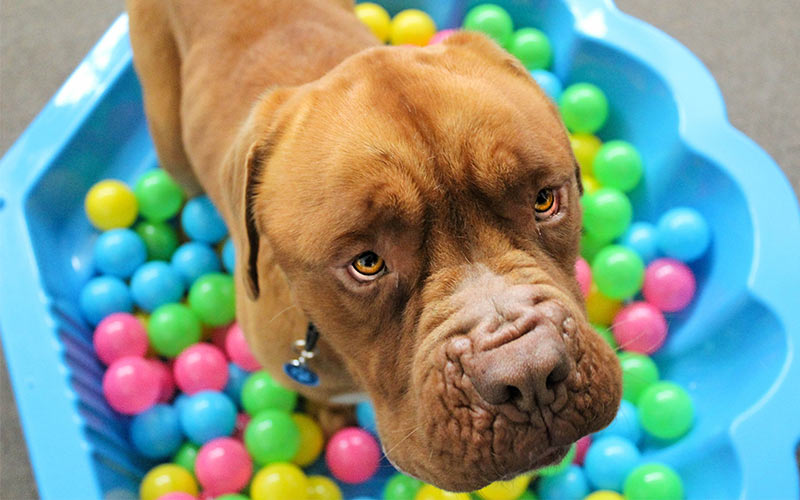 It's time to look at the surprising world of Neuticles and dog plastic surgery!
Neuticles, if you're not acquainted with them already, are dog testicle implants – or fake dog balls – for male dogs who have been neutered.
Fake dog balls?!
Yes, you read that right.
The decision to neuter your male dog or keep him intact is an important one. Not to mention a personal one.
There are a lot of factors to consider before you make your choice. For many people the visible disappearance of their dog's testicles is one of these factors.
This could be because they think a male dog with no balls looks "wrong", or of lower quality. For example, show dogs must be kept intact, and neutered dogs are usually disqualified from dog shows.
Other owners worry that their dog will miss his balls, and their absence might depress him or lower his self esteem.
However, with neutering still routinely recommended by many US veterinarians, those owners looked to be caught in a hard place.
Enter Gregg Miller…
In 1992 entrepreneur Gregg Miller announced that he had the answer. Prosthetic dog balls, which he named Neuticles.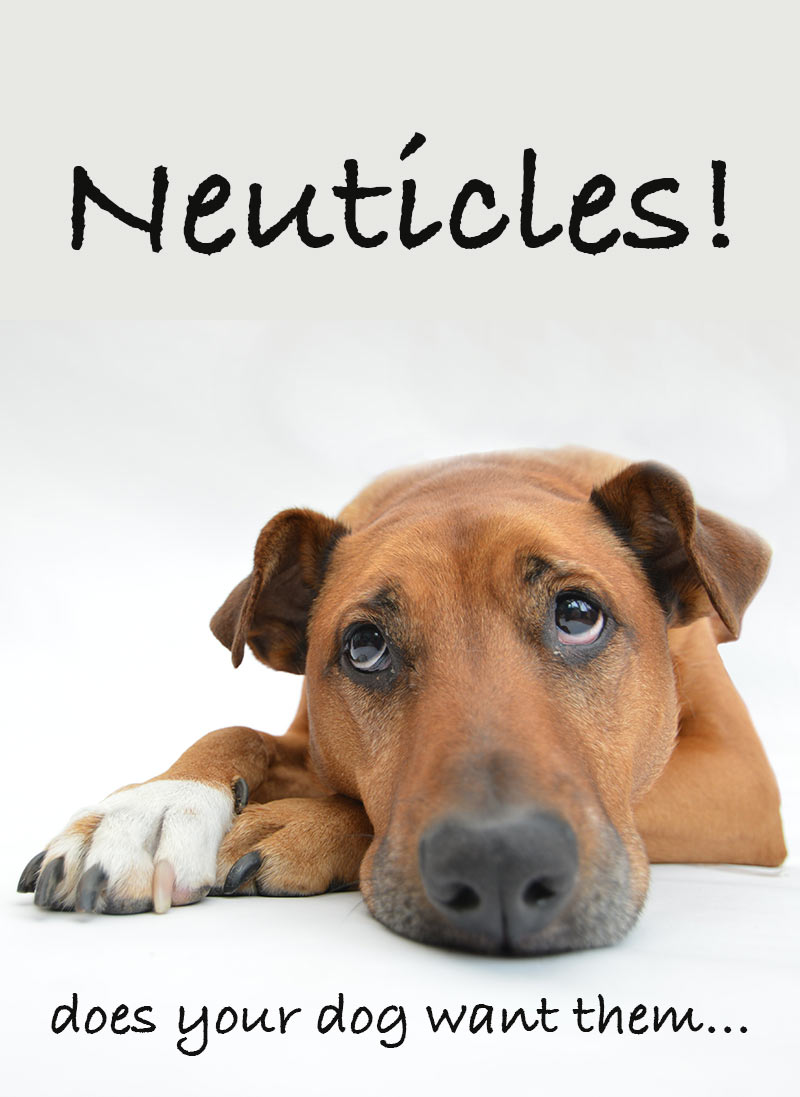 Since then Miller's company claims that over half a million pets have received a pair of Neuticles.

Top Indestructible Dog Toys
The Best Dog Beds Reviewed
In the meantime, his invention has gained a certain notoriety amongst, well, everybody else.
In 2005 the scientific humor magazine Annals of Improbable Research awarded Miller the Ig Nobel prize for medicine for Neuticles.
And Neuticles have also received baffled, and often scathing, coverage in newspapers, magazines, and on TV.
So, would you consider giving your dog plastic surgery to restore his testicles?
Neuticles for dogs
Neuticles for dogs are now available in four different models, and eight different "off the shelf" sizes.
Plus custom-sized options.
They're made of either rigid polypropylene or soft silicon, depending which product you choose.
And their premium model even includes an imitation of the epidydimis tube, which connects the testes to the penis.
Neuticles price
Given they are essentially bits of plastic, fake balls for dogs are surprisingly expensive.
Prices on the website start at $169 per pair, and the top-of-the-range product in the largest size cost an eye watering $629 EACH.
That's nearly $1,260 for a pair!
In addition, you'll need to pay your vet's fees for implanting them.
So why are so many dog owners willing to pay so much for testicular implants for dogs?
Why do people choose plastic surgery for dogs?
The role of dogs in our lives has shifted massively in the last few generations.
Dogs are much more likely to be kept for companionship than as working dogs these days, and they often enjoy pampered status as members of the family.
The American Pet Products Association estimates the U.S. pet industry will be worth over $69 billion in 2017.
That's a four-fold expansion on 1994.
Many forces will be driving that growth, but Business Week attributes much it to shift in attitude about how we see our pets.
Dog implants for self esteem
In fact, we're becoming less inclined to regard our dogs in animal terms at all. And increasingly project human qualities onto them instead.
Many Neuticles customers talk about protecting their dog's self esteem, and concerns about depression and anxiety.
When I've told friends about this article (and believe me, it's been a great conversation point this week), many have been keen to tell me how sad and confused they felt their dogs were to lose their balls.
Using Neuticles to get the right look
These days we're also more likely to see our dogs as an extension of the image we project out into the world.
Expensive collars and dog jackets and the rise of designer hybrid breeds are obvious visible examples of this.
Many owners have an idea of exactly how their dog should look in order to provide the best reflection of them, and sometimes this includes still having balls.
In fact in 1994, a survey of 15,800 dog owners in Brisbane, found that men were more likely to equate dog sexuality with human sexuality. That is to say, if their dog looks emasculated, then they believe they appear emasculated too.
So clearly, multiple emotional impulses are driving dog owners to seek prosthetic balls for their dogs.
Are prosthetic dog balls a step too far?
It's clear Neuticles are gaining traction in the pet product market, but are they really a good thing for dogs?
Whilst champions of dog Neuticles talk passionately about the psychological benefit of using dog testicle implants, there hasn't yet been any properly conducted peer reviewed scientific research published on whether dogs benefit from having them or not.
Skeptics say that worrying about depression or loss of self-esteem in our dogs after neutering is projecting too much human feeling onto them.
Have we fallen into a trap of over-anthropomorphizing our pets, and projecting concerns onto them which they simply do not have?
Without more research, it is difficult to answer.
Many other people regard any unnecessary cosmetic surgery on our pets as unjustified and inexcusable.
Whilst Miller is keen to stress Neuticles' safety record, no surgery is completely risk free. And subjecting a dog which has already been neutered to a second surgical procedure for purely cosmetic reasons poses a tricky ethical dilemma.
Please also bear in mind that giving your dog implants doesn't necessarily mean he'll qualify for shows again.
Ask your kennel club what the implications would be for showing your dog in future.
Getting Neuticles for your dog
So you've weighed everything up, and decided to get implants for your dog, or at least find out more.
Your first port of call, whenever considering any medical procedure for your pet should always be their usual vet, who is familiar with their medical history.
Ideally testicular implants for dogs are put in place during the neutering procedure, but Miller's website says they can still be placed later in dogs which have already been neutered previously.
If your vet does not offer Neuticles, Miller's website has details of how to locate participating veterinary clinics and animal hospitals across the US.
Whilst the website will also ship the implants world wide, bear in mind they are still very rare outside the US, so it might be harder to find a vet willing to insert them.
Dog testicle implants – are there any alternatives?
If all this information has put you on the fence regarding fake balls for dogs, then you might be interested in alternatives to Neuticles.
Vasectomies are rare among dogs, because for so long it has been thought that castration improves behavior and health prospects as well as providing birth control.
However, in light of more recent research into how neutering affects behavior, you might want to consider requesting a vasectomy for your pooch and leaving his testes in place.
Dog implants – summary
Just like deciding whether to neuter in the first place, choosing plastic surgery for your dog is a highly personal choice.
Fake balls for dogs will sound like a lot of compassion in exchange for a small investment to one person, and like the height of ridiculousness to another.
It will be interesting to see if the benefits of fake dog balls are ever subject to academic research, and what the outcome is.
Would you consider dog Neuticles?
What do you think, are they madness or kindness? Has your dog already got them?
We'd love to hear your experiences, and other dog owners would too, in the comments section below.
Caring For Your Puppy
Do you have a puppy that you want to help grow up happy and healthy?
Then you will love The Happy Puppy Handbook!(paid link)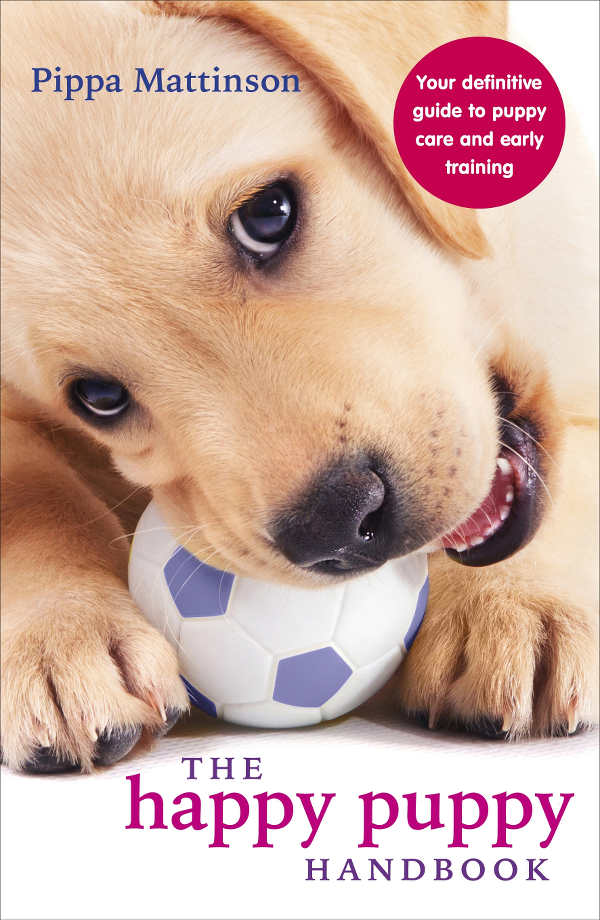 (paid link)
A complete guide to caring for and raising your furry friend.
Order your copy from Amazon today. (paid link)
Sources
Blackshaw, JK. 1994 Attitudes of dog owners to neutering pets: demographic data and effects of owner attitudes. Australian Veterinary Journal.