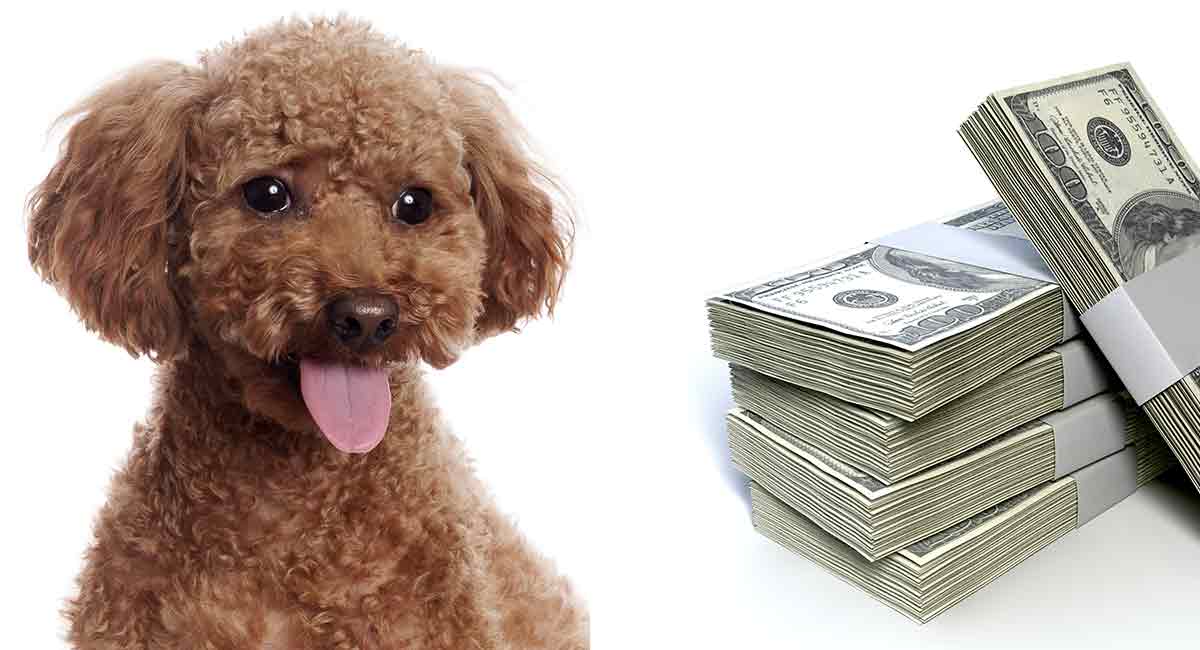 The cost of a Poodle puppy can be a bit of a shock to a new puppy buyer, but it's nothing in comparison to the lifetime charges associated with raising and owning a dog. Today I'll share what you can expect to pay for a well bred, healthy Poodle puppy. I'll also let you know what you'll need to budget for their ongoing expenses.
Contents
The Poodle is a regal purebred dog breed that is so instantly recognizable that he rarely needs any introduction! Standard Poodles, Miniature Poodles, and Toy Poodles are amazing athletes, loyal friends, alert watchdogs, and intelligent service dogs.
Calculating The Cost For A Poodle Puppy
Poodle prices can vary based on a surprising number of factors. The typical price range is from free to $4,000 or more.
Expensive Puppies Vs Low Price Puppies
If this will be your first-ever puppy, or your first Poodle puppy, you may genuinely not be aware there are several different types of Poodle breeders. Here are the three main types of Poodle dog breeders:
Purebred dog breeder.
Backyard dog breeder.
Puppy mill/import breeder.
You may also choose to find a Poodle puppy or adult at a local rescue shelter or Poodle rescue organization.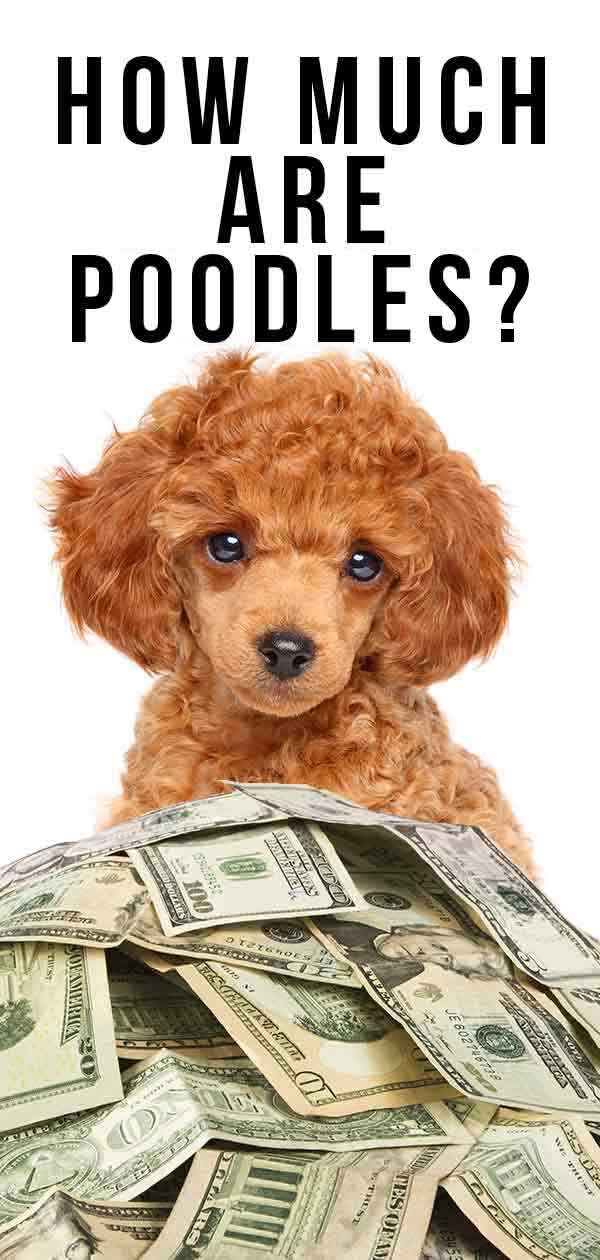 Purebred Dog Breeder
A purebred dog breeder concentrates on breeding "show quality" purebred Poodles, either Standard, Miniature, Toy, or all three sizes. This type of dog breeder will tell you up front they're in the business because they love Poodles!
They breed two types of Poodle dogs: "show" quality and "pet" quality. The former will often compete in dog shows or canine athletics and some puppies that are show quality may also be bred.
The latter will be placed in high quality homes with families who have been thoroughly interviewed and vetted. Often, they will have paid an initial deposit and waited for a period of time before a puppy became available.
Purebred dog breeders place Poodle health and breed longevity before profit. They pre-test their breeding dogs for genetic health issues. Parent dogs and puppies are fed high quality food, receive ongoing veterinary care, and are well-socialized for placement.
When you work with a purebred dog breeder, you will receive:
an initial guarantee of health (typically 12 to 24 months)
a record of all vaccinations
a take-back guarantee if your new puppy does not work out
proof of pedigree and AKC (or other organization) registration
a new puppy/owner packet
ongoing access to that breeder's knowledge and expertise.
Backyard Dog Breeder
Clearly, the purebred dog breeder is the crème de la crème in the dog breeding world. But what is a backyard breeder?
A backyard breeder generally gets into dog breeding for two reasons: their unfixed dog got knocked up by the intact daddy dog down the block, or they want to make some extra cash.
This type of breeder isn't necessarily going to harm their dogs, although their sheer lack of knowledge can inadvertently cause harm to happen.
You can be pretty sure a backyard breeder won't have any formal registration with the AKC. They also are unlikely to know much, if anything, about canine genetics or breed health.
Parent dogs won't have been pre-tested for genetic health or temperament issues. They may not even be purebred Poodles (even if the puppies look the part and the breeder tells you they are purebred).
There are many unknown variables involved in purchasing a Poodle from this type of casual or accidental dog breeder. So you really won't be able to control the quality of the pup you bring home.
Backyard dog breeders often operate out of their car, hawking puppies at local flea markets or grocery stores. They may also work with local pet stores, although this is typically more the purview of puppy mills.
Puppy Mill/Import Breeder
The puppy mill is a main reason why so many dogs end up in shelters or euthanized each year. One research authority states there may be as many as 10,000 puppy mills up and running in the U.S. alone right now!
Puppy mills are in it for one reason and only one reason – to make money. To this end, their business model is simple: spend as little as possible to make as much as possible, while flying under the local radar to avoid being brought up on animal cruelty charges.
Some puppy mills are now importing puppies bred in other countries to keep a lower profile.
These puppies may cost less than either a purebred dog breeder or even a backyard breeder will charge, but the profit margin on each Poodle puppy is likely to be far higher. This valuable article offers 41 tips to spot a puppy mill-type breeder and steer clear.
Rescue Shelter
Not everyone will have the financial means to purchase a purebred Poodle puppy from a reputable breeder. For some people, it is also important for other reasons to adopt rather than shop.
Here, you are more likely to find an adult Poodle (of any size) rather than a Poodle puppy, but this can also offer its own advantages, including being able to skip teething and house training!
The typical adoption fee ranges from no charge to $600 or more. Always look for a rescue organization that is a registered 501(c)3 charity and re-invests adoption fees back into the organization.
What Is The Cost Of A Poodle Puppy?
Now let's take a closer look at what reputable (purebred) dog breeders charge for purebred Poodle puppies, either Standard or Miniature/Toy.
You will pay the most for a "show" quality Poodle puppy that comes with breeding rights. Next most expensive will be a show quality puppy without breeding rights ("limited AKC registration").
The most affordable Poodle puppy of any size from a purebred dog breeder will be the "pet" quality puppy.
This puppy may lack the ideal coat color or conformation (appearance) to compete in the show ring. But they will be a great example of a purebred Poodle dog in all other ways (temperament, athleticism, et al).
Other reasons why a breeder might charge more or less can include demand, gender, size, temperament, coat color, show lineage/parent dog awards and the breeder's own costs.
Specific Costs
Let's look at some reported costs from purebred Poodle breeders so you can get an idea of why Poodle puppy prices are what they are!
Pre-screening health tests (parent dogs): $500 per parent dog
Stud (breeding) fee: $2,000 per attempt
Brucellosis test (canine STD): $75 per mother dog
Ultrasound/X-ray (confirm pregnancy): $150 per test
C-section (assisted delivery): $1,500
AKC registration: $25 + $2 per puppy
Pregnancy/puppy food and supplements: $200
Pregnancy/whelping supplies: $1,000
Food and supplies: $50 per puppy
Puppy pads, bedding: $50 per puppy
Puppy shots and de-worming: $50 per puppy
New puppy owner packets: $100 per packet
Standard Poodles can have as many as six puppies in a litter. Miniature and Toy Poodles average three puppies per litter. The cost of breeding, delivering, whelping and raising a litter of Poodle puppies can range anywhere from $5,000 to $8,000 and up.
This means a Standard Poodle puppy from a litter of six puppies will cost the breeder anywhere from $833 to $1,333 per puppy.
Are There Other Costs With A Poodle Puppy?
If you plan to add a Poodle puppy to your family, remember that the price tag on that precious bundle of fur is just one aspect of puppy budget!
In addition to the price of your puppy, you need to purchase additional supplies to get ready to welcome your new fur baby home. Here are some typical "new puppy" costs many new Poodle owners report:
Puppy food: $40 per month
Food/water bowls: $25
Leash/collar/I.D. tag: $40
Spay/neuter: $200
"Well puppy" initial veterinary exam: $85
Micro-chipping: $45
Puppy at-home crate: $75
Puppy travel crate: $45
Obedience training classes: $100 (4 sessions)
Puppy bed: $60
Puppy toys, treats and teething supplies: $50
Pet health insurance: $15 per month
Preventative flea/tick/heartworm: $15 per month
Grooming supplies (at-home): $75
Grooming appointments (Salon): $60 per visit
Dog license (if applicable): $15 per year
Some of these are (thankfully) one-time or rare purchases, and some will be ongoing throughout the 10 to 18 years of your Poodle's life.
If you can budget at least $100 per month for expenses during the first year of your Poodle's life, this will give you a bit extra just in case any unexpected veterinary care needs crop up.