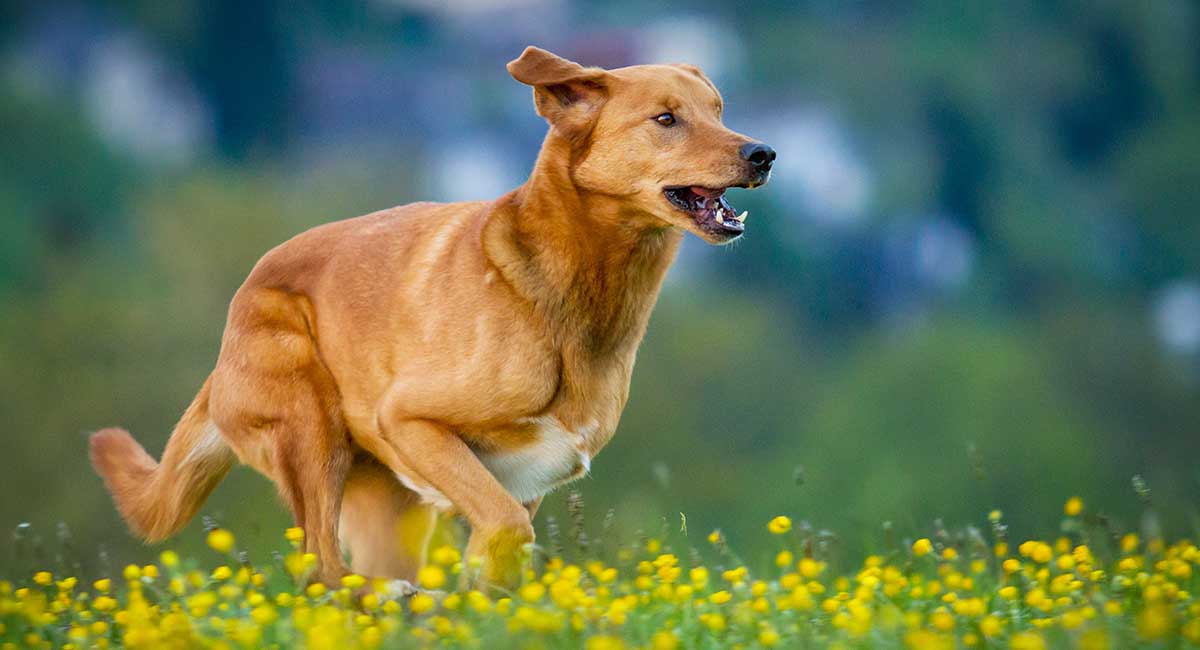 The German Shepherd Golden Retriever Mix is an active, intelligent dog. Known as the Golden Shepherd, this mixed breed can differ a lot from dog to dog, but generally weighs 55-85lbs and stands at around 22-26 inches tall.
Their temperaments vary too, with some puppies inheriting the guarding tendencies of their German Shepherd parent, and others having a stronger connection to the retrieving instincts of the Golden Retriever.
What's In This Guide
German Shepherd Golden Retriever Mix FAQs
Our readers' most popular and frequently asked questions about the German Shepherd Golden Retriever mix.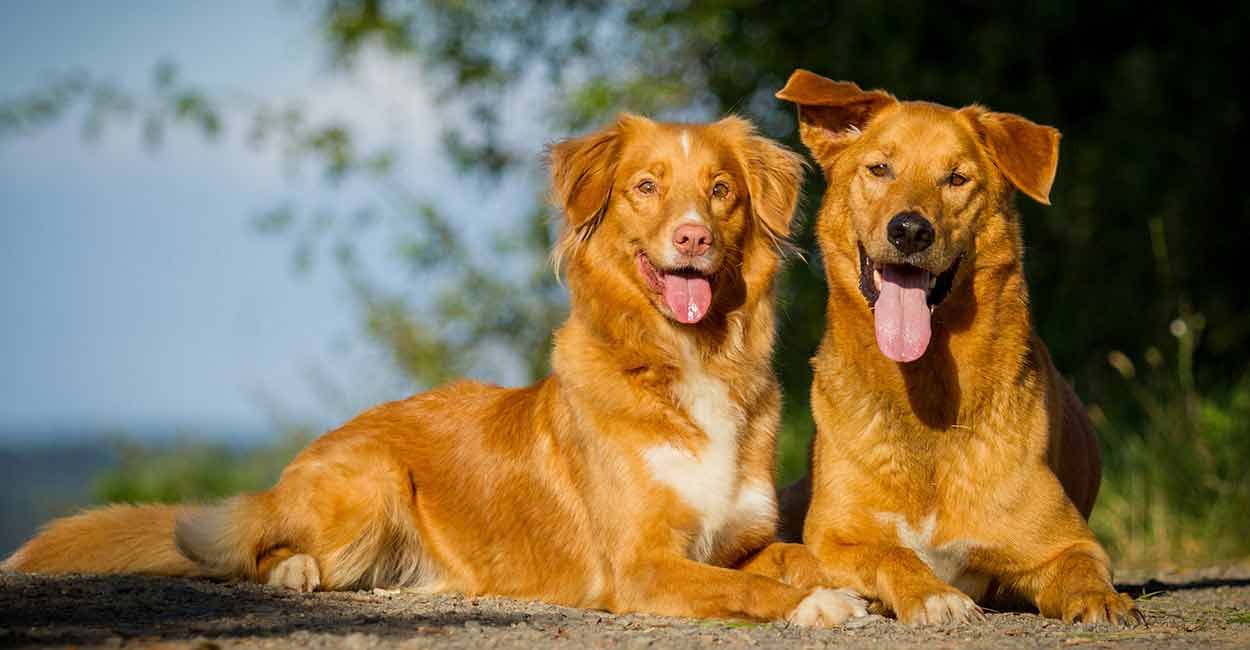 German Shepherd Golden Retriever Mix: Breed At A Glance
Purpose: Companions and service dogs.
Weight: 50-90 pounds.
Coat: High shedding
Exercise: 2 hours a day
Temperament: Intelligent, trainable
German Shepherd Golden Retriever Mix Breed Review: Contents
Use these handy links to jump to the aspect you're most interested in. Or read on to find out all about the German Shepherd Golden Retriever mix!
History And Original Purpose Of The German Shepherd Golden Retriever Mix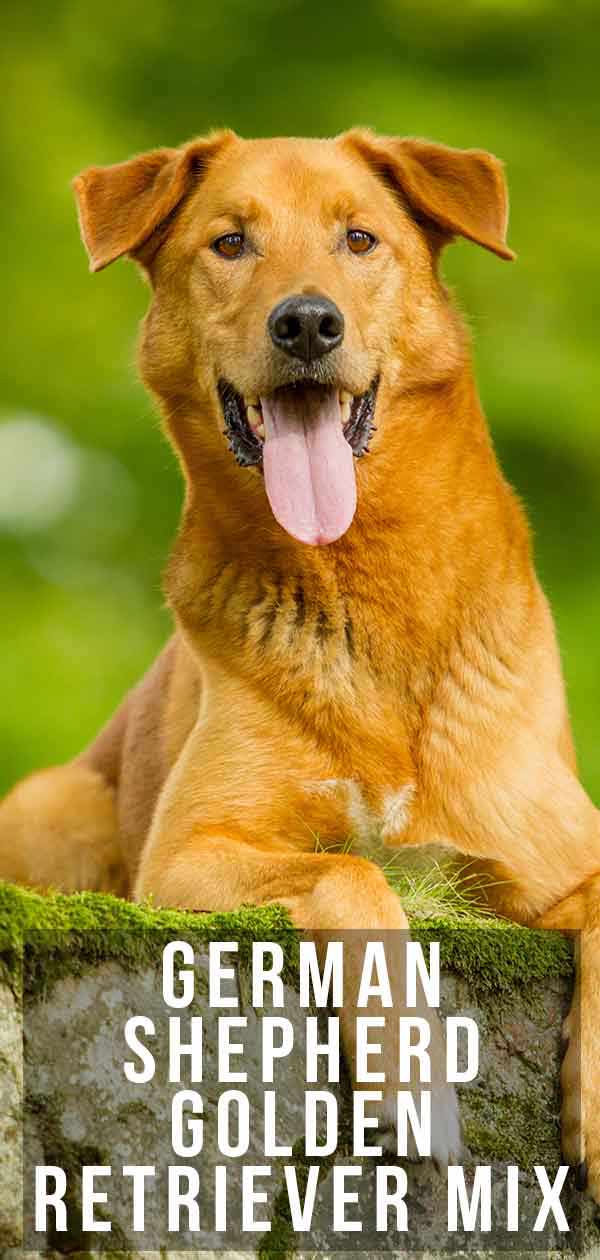 As is the case with many mixed breed dogs, no one is entirely certain where the mix originated.
This is because, often, these mixes are the result of a happy accident!
However, we do have more facts about the parent breeds.
Origins Of The German Shepherd Dog
One of the most popular and recognizable breeds, German Shepherds have come a long way in the past hundred years.
Exactly as their name suggests, these dogs started out as sheep herders in Germany.
They were valued far more for their work ethic than their looks.
It was only at the end of the 19th century that an effort was made to create a specific dog of Germany.
The First German Shepherd Breed Club
A man named Max Emil Frederick von Stephanitz is largely credited for the success of the breed.
He created a club to maintain and regulate breed standards, and also bought a stud that he viewed as the ideal German Shepherd, which he then proceeded to breed.
With his efforts, German Shepherds became increasingly popular.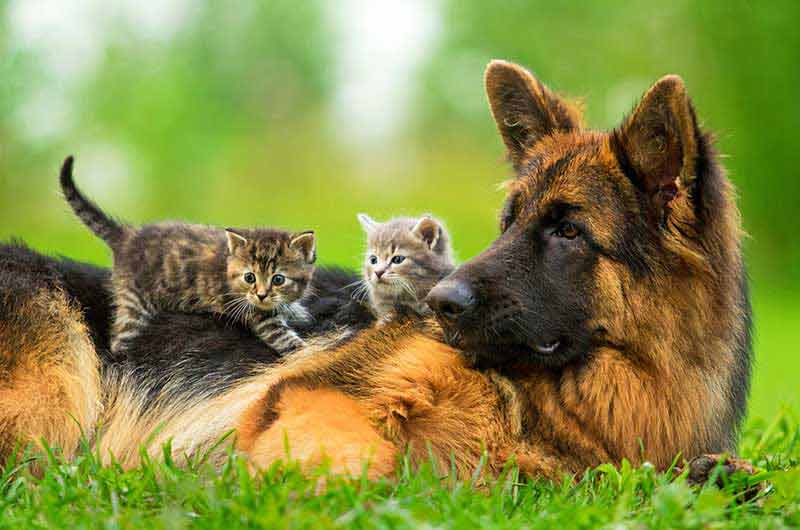 During WWI, this popularity declined in America and the UK due to anti-German sentiments.
However, German Shepherds regained popularity with the public in the 1960s and have been a favorite with the police and military for decades.
Origins Of The Golden Retriever
The Golden Retriever has noble origins. The breed was developed by a British aristocrat named Lord Tweedmouth.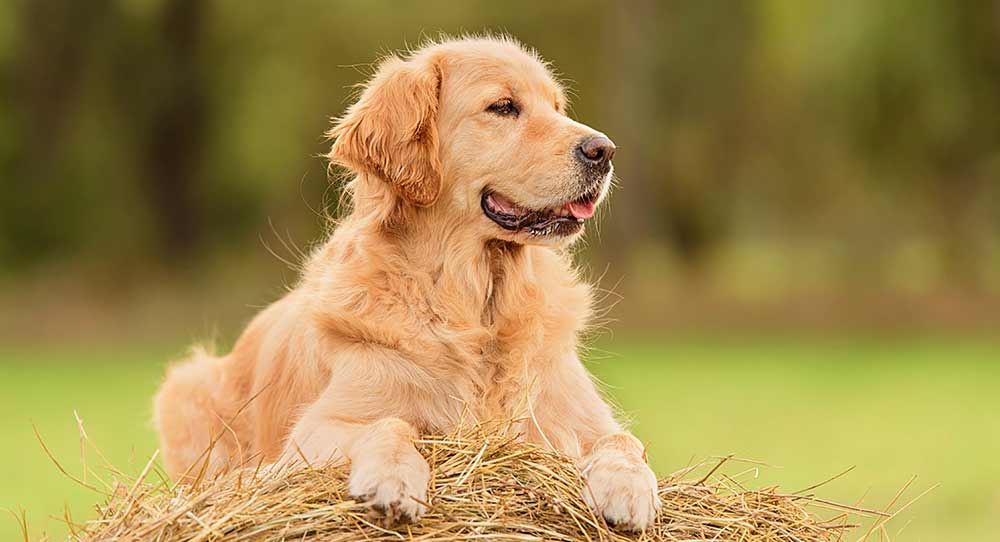 Though the breed is considered to have Scottish roots, Tweedmouth purchased the first Retriever in Brighton, England.
He trained the dog, named Nous, to retrieve birds, and it went so well that he decided to breed Nous with a type of water spaniel that no longer exists.
The Golden Retriever was thus bred to be a sporting dog and is still used by hunters today. It is also favored by charities such as Guide Dogs For The Blind, due to its intelligence and kindly nature.
Fun Facts About The German Shepherd Golden Retriever Mix
Portmanteau names, or a name which combines parts of two other names to create something new, are very popular among crossbreed dogs.
This is understandable, as the full name can get a little unwieldy!
So you'll be interested to know that the German Shepherd Golden Retriever mix is also known as the Golden Shepherd.
Although the Golden Shepherd is not recognized by the AKC as a breed in its own right, this mix has been recognized by the International Designer Canine Registry since 2009.
German Shepherd And Golden Retriever Mix Appearance
Male German Shepherds stand between 24 and 26 inches at the shoulder and weigh 65 to 90 pounds.
Females are between 22 and 24 inches tall and weigh 50 to 70 pounds.
Male Golden Retrievers are 23-24 inches tall and weigh 65-75 pounds.
Females are 21.5-22.5 inches tall and weigh 55-65 pounds.
Based on the parent breeds, you can expect a German Shepherd Golden Retriever mix to be a big dog!
German Shepherd Golden Retriever Mix Characteristics
German Shepherds are known for their upright ears and black and tan coloring, but they can actually come in 11 different colors including black, white, and liver!
They have bushy tails and an intelligent expression.
Golden Retrievers are strictly golden, though the shade of gold can vary widely from pale cream to a dark golden red.
The medium length coat can be straight or more often have a slight wave, and Goldens have a characteristically friendly expression.
There are many possibilities for what a Golden Retriever x German Shepherd might look like.
Many will have the red/gold coat of the retriever and ears that are partially erect but tipped over at the top.
German Shepherd Golden Retriever Mix Temperament
Temperament in the Golden Shepherd can be harder to predict.
That's because these two breeds have quite distinctive personalities, and it's impossible to say which parent your puppy will take after
German Shepherd Temperament
German Shepherds are naturally intelligent, protective and loyal.
They can attach to one person more strongly than others, even becoming overprotective of that person.
They may be aloof toward strangers and in some cases can also be nervous of them.
The bite risk in German Shepherds is also very high compared to other breeds, especially in respect to children.
Golden Retriever Temperament
On the other hand, the Golden Retriever is usually an easy going, friendly dog that welcomes advances from total strangers..
What you can be almost certain of is a clever dog!
Both breeds are intelligent and trainable using positive reinforcement methods for a wide range of tasks.
Socialization
Because of the possibililty that your dog will inherit the guarding tendency of the GSD you will need to also be very careful about his socialization.
Intensive socialization helps to avoid potential issues with inappropriate guarding behavior.
Meeting the German Shepherd parent and making sure that they are happy with strangers is vital, but you will still need to follow a good socialization plan.
Training And Exercising Your German Shepherd Golden Retriever Mix
Socialization is important for all dogs to keep them from becoming fearful or aggressive. Even the Golden Retriever, a breed that rarely shows aggression, can develop such behavior.
From the day you bring your puppy home, start on a detailed plan of socialization. Have visitors come to the house daily and take your dog out to busy places.
Continue with this daily socialization program until the window closes at around 14 weeks old. Then carry on just once or twice each week, indefinitely.
Exercise
Exercise is a vital part of any dog's life, but it should not be overdone with German Shepherd Golden Retriever mix puppies due to the Shepherd's risk of developing joint problems.
Exercise should be gradually built up, allowing the dog to gain muscle. However, once they are older they need to receive proper exercise or they may become bored and cause trouble.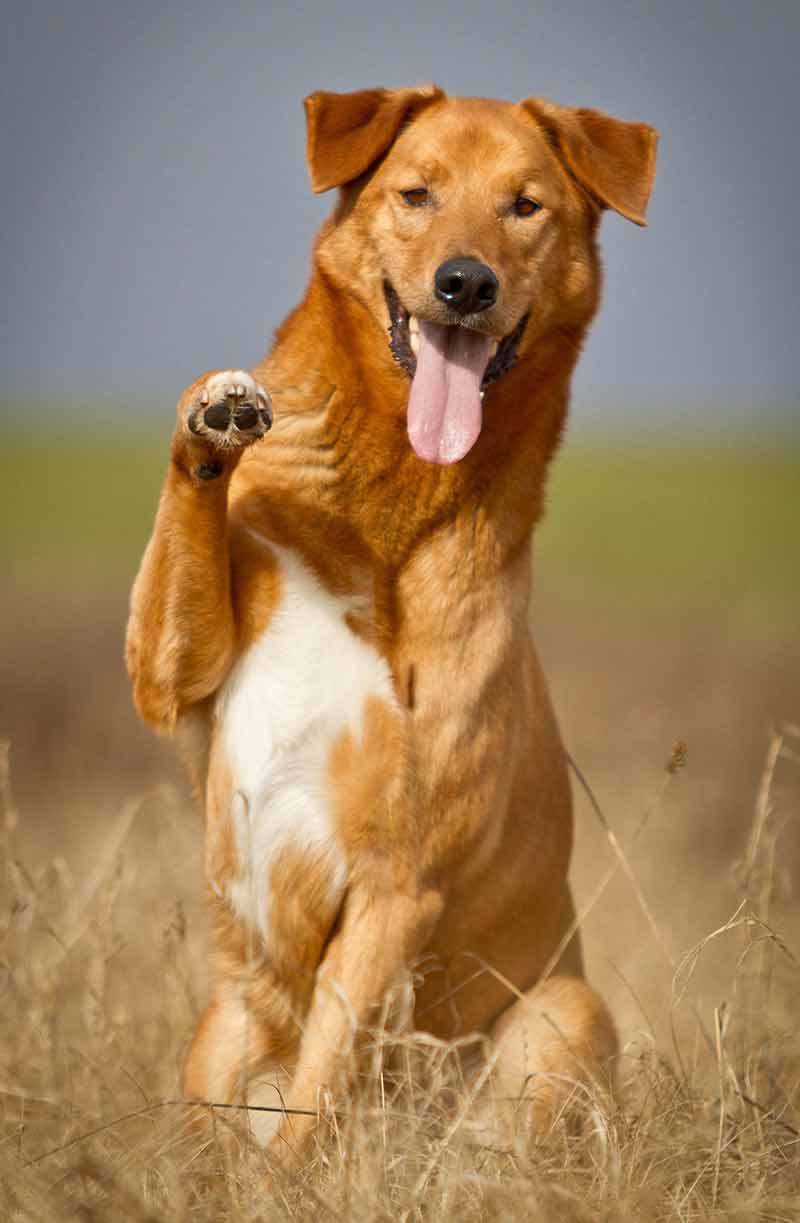 Both Germans and Goldens need mental and physical stimulation, and so will their offspring! Your German Shepherd Golden Retriever mix will need companionship.
This will not be a dog suited to a home where the family is not around for much of the day.
For more specific details and tips on other aspects of training, check out our guides to crate training and puppy potty training.
German Shepherd Golden Retriever Mix Grooming
German Shepherds have a waterproof double coat and are always shedding, though not profusely unless it's shedding season.
Golden Retrievers also have a water-resistant double coat, and their long hair can easily become tangled and matted.
Frequent brushing is important to keep the coat sleek and mat-free.
Choose a brush that can reach both layers of fur as your puppy will also have a double coat like its parents.
Bathing and General Care
An occasional bath may be necessary and will do no harm.
A Golden Shepherd's nails should be checked regularly and clipped when needed.
Teeth should be brushed weekly, and ears should be checked for wax buildup, especially if the puppy has the dropped ear flaps of a Golden.
German Shepherd Golden Retriever Mix Health And Care
The list of health risks for these breeds seems pretty long, and your mix may possibly inherit any of them.
Some health problems are also more commonly seen with old age.
When two parent breeds share common health problems, there may be an increased risk for the mixed puppy to inherit that specific issue.
German Shepherd Health
German Shepherds have a life expectancy of about 11 years.
Their health risks include:
anal furunculosis
anal gland issues
food allergies
hypothyroidism
chronic superficial keratitis
epilepsy
hip and elbow dysplasia
bloat
megaesophagus.
Von Willebrand's disease and cardiac problems such as patent ductus arteriosus and chronic degenerative radiculomyelopathy have also been associated.
Some lines of German Shepherds have been bred with an exaggerated stance and weakness in the hindquarters.
Golden Retriever Health
Golden Retrievers have a life expectancy of about 12.5 years. And most Goldens have a sturdy well balanced body.
Health risks for this breed include:
cancer
allergic skin disease (atopy)
aortic stenosis
digestive tract diseases.
elbow and hip dysplasia
endocrine disease
epilepsy
geriatric and canine vestibular disease.
Other health problems associated with them include hypothyroidism and pyometra.
Not to mention eye conditions!
Eye Conditions
These may include:
hereditary cataracts
congenital cataracts
generalized progressive retinal atrophy
retinal pigment epithelial dystrophy
multifocal retinal dysplasia
glaucoma.
The biggest concern with Golden Retrievers right now however is probably cancer. Nearly 40% of all Goldens will die from this.
This risk is increased in neutered females.
Golden Shepherd Mix Health
Health risks like these underline the importance of purchasing your pup from a responsible breeder.
This will be one that has health tested the parent animals.
These tests can give insight on what sort of health issues, if any, your dog may run into down the line.
Both parents should have good hip and elbow scores, a clear eye test, and be PRA clear as a minimum.
You should also make sure that the German Shepherd parent does not walk on their hocks and avoid dogs with an extremely arched back.
Ensure that the Golden Retriever parent has no family history of cancer.
General Care
Your mix is likely to require regular grooming, although is not as high maintenence as some breeds.
Both parent breeds shed moderately all year round. And more intensely during shedding seasons.
So you can expect your mix breed to do the same!
Make sure to feed your mix a high quality food and give him a well balanced diet. However, to avoid obesity make sure you don't overfeed or give too many treats, and give your mix plenty of exercise.
Do German Shepherd Golden Retriever Mixes Make Good Family Pets
The answer to this question depends a great deal on the family!
German Shepherd Golden Retriever mix dogs are active and intelligent. Mental and physical stimulation is important.
Early socialization and the use of positive reinforcement training is essential, especially if you have children or they regularly visit.
No breed of puppy should be left alone for long periods of time, as puppies need an enriching environment and lots of attention. And these are pups that will be happiest with plenty of company
With both parents being prone to separation anxiety, a German Shepherd Golden Retriever mix is only suited to homes where the family is around for much of the day.
Rescuing A German Shepherd Golden Retriever Mix
Many mix breed dogs come from rescue centers or animal shelters, and we would definitely encourage you to look into adopting an adult dog!
Adopting a Golden Shepherd can be a very fulfilling experience. One benefit is that you will be able to tell more about the temperament of the dog.
Another is that you will have given a forever home to a dog in need!
We have a list of rescue organizations with the potential to have your Golden Shepherd just waiting for you.
Finding A Puppy
If, on the other hand, you really do want to get a Golden Shepherd puppy, here are a few important things to consider.
Make sure that you avoid puppy mills and pet stores. These sources often sacrifice the interests of the animals in favor of making money.
Mixed breeds can be harder to find than purebred dogs, but they're still out there. Spread the word among friends and family. And if you find puppies online, do some careful checking to make sure they are not puppy mill pups
Once you do find a breeder, make sure you visit and ask to discuss the health tests of the parents.
These health tests are very important as they can inform you about any health risks your puppy could inherit. A responsible breeder will share these results with you.
Choosing a German Shepherd Golden Retriever Mix Puppy
The behavior of the parents should reflect their respective breeds. Both should be friendly to you and display no signs of aggression. The German Shepherd might not want to jump in your lap for a cuddle, but he should seem unworried by your presence and have a wagging tail.
Check the Golden's hair for mats and tangles, as this will give you a good idea of how well the breeder takes care of their dogs.
The breeder should ask you lots of questions, and be happy to answer them from you too. If you have any doubts, walk away and resume your search elsewhere.
For additional help with finding a puppy, check out our puppy search guide.
Raising Your Mix Breed Puppy
Caring for a bouncy, fast growing, German Shepherd Golden Retriever mix puppy is a big responsibility.
There are some great guides to help you with all aspects of puppy care and training.
You'll find them listed on our puppy training page.
German Shepherd Golden Retriever Mix Products And Accessories
Shampoo Recommendations For German Shepherds
Best Harnesses For Goldens
For even more recommendations of products for your pooch, check out our product reviews pages.
Pros And Cons of Getting A Golden Shepherd
Cons:
Extra attention to socialization is important
May display some guarding tendencies
May shed heavily
Pros:
A friendly, loyal companion
Very intelligent
Likely easy to train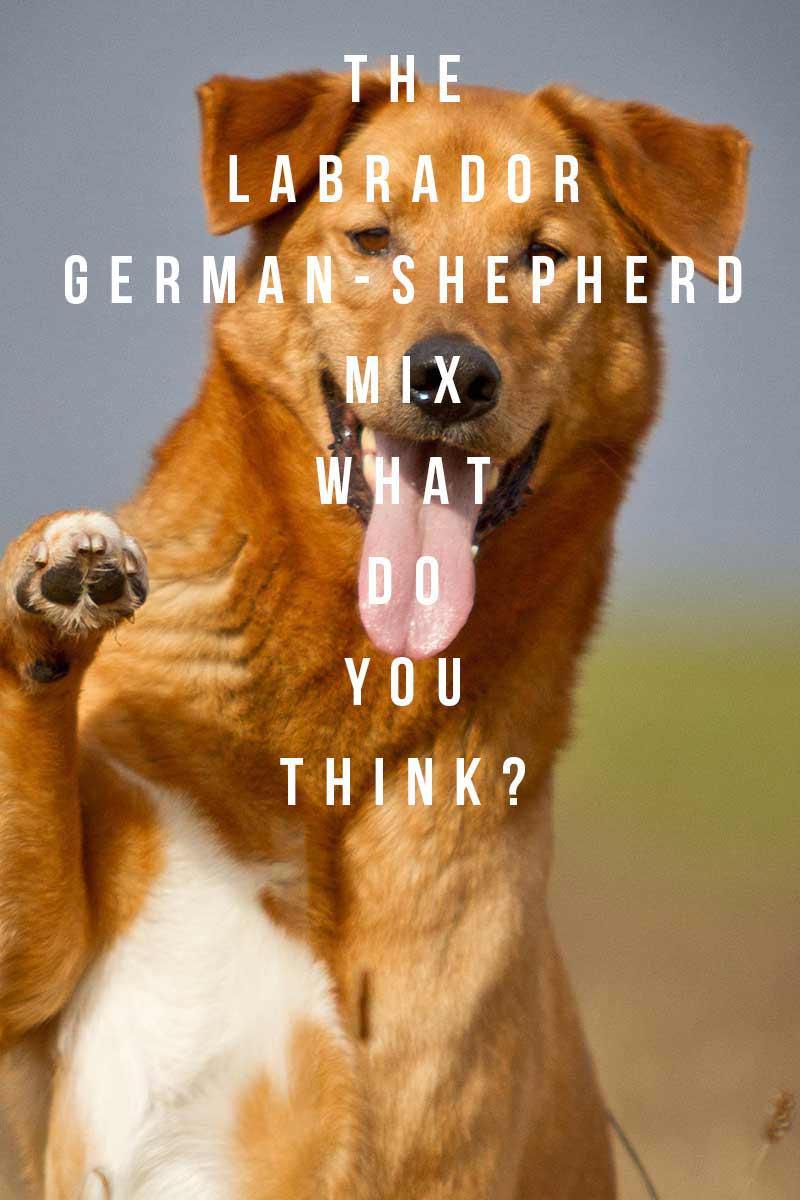 These are just some basic pros and cons, of course. As you can see from the rest of the article, there's a lot more to be considered!
Comparing The German Shepherd Golden Retriever Mix With Other Breeds
When it comes to breeds that may be considered rather than this mix, there are a few suggestions.
Or it may be that you're looking for a mix that is similar to the Golden Shepherd.
Similar Breeds
German Shepherd Doberman mix
But what if you have already decided on a Golden Shepherd?
Breed Rescues
Here we have compiled a list of rescues around the world.
Though it can be difficult to find rescues that focus on a specific mix, like the German Shepherd Golden Retriever mix, there's a good chance that breed-specific rescues are good places to start when looking for your Golden Shepherd.
If you know of other rescues that work with this mix or its parent breeds, we would love to hear about them! Please let us know in the comments below.
Related Articles
References And Resources
Gough A, Thomas A, O'Neill D. 2018 Breed Predispositions to Disease In Dogs and Cats. Wiley Blackwell
O'Neill et al. 2013. Longevity and Mortality of Dogs Owned In England. The Veterinary Journal
Schalamon et al. 2006. Analysis of Dog Bites In Children Who Are Younger Than 17 Years. Pediatrics
Duffy D et al. Breed differences in canine aggression. Applied Animal Behavior Science 2008
Strain G. Deafness prevalence and pigmentation and gender associations in dog breeds at risk. The Veterinary Journal 2004
Packer et al. 2015. Impact of Facial Conformation On Canine Health. PlosOne
Adams and Evans 2010 Methods and mortality results of a health survey of purebred dogs in the UK. Journal of Small Animal Practice.
American Kennel Club
Beuchat, Carol. 2014 "The myth of hybrid vigor in dogs…is a myth." The Institute of Canine Biology, 22 Dec. 2014,
German Shepherd Dog Club of America.
Golden Retriever Club of America.
House, A.K., et al. 2009. "Analysis of NOD1, NOD2, TLR1, TLR2, TLR4, TLR5, TLR6 and TLR9 genes in anal furunculosis of German shepherd dogs." Tissue Antigens.
Kennedy, L.J., et al. 2008. "Risk of Anal Furunculosis in German Shepherd Dogs is Associated with the Major Histocompatability Complex." Tissue Antigens.
Scott et al. 1990. A Survey of Canine and Feline Skin Disorders Seen in a University Practice: Small Animal Clinic, University of Montréal, Saint-Hyacinthe, Québec (1987-1988). The Canadian Veterinary Journal.
Stock, K.F., et al. 2011. "Genetic Analyses of Elbow and Hip Dysplasia in the German Shepherd Dog." Journal of Animal Breeding & Genetics.