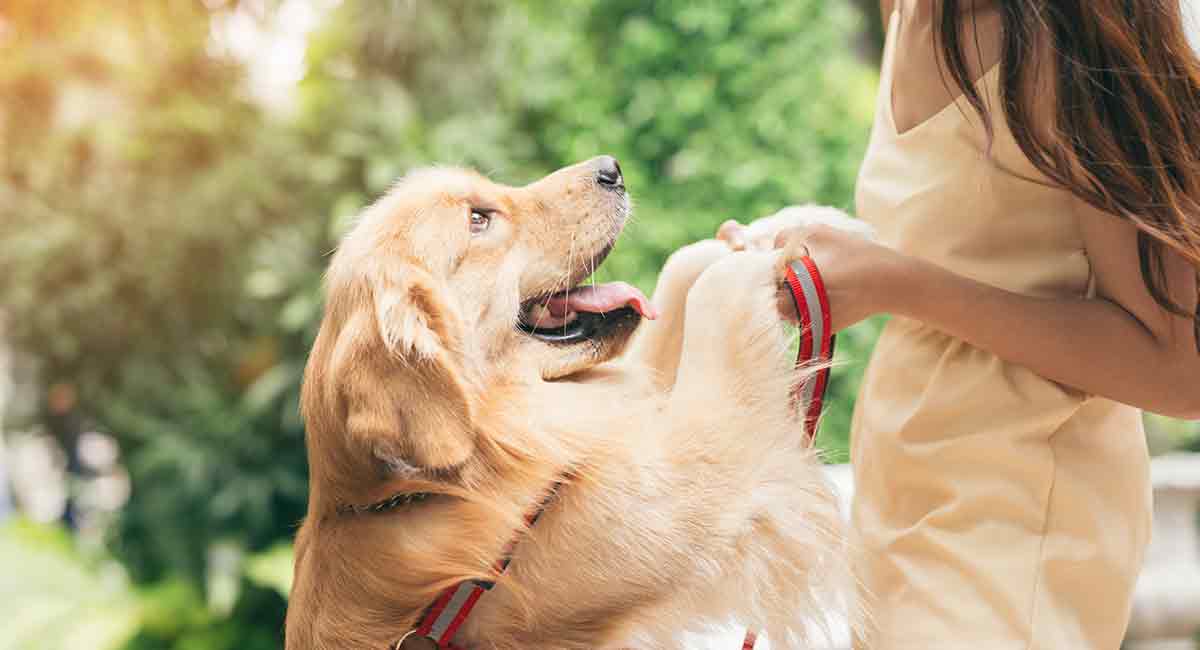 A female Golden Retriever is slightly smaller than males on average. But her temperament and intelligence are exactly the same.
You can expect her to be friendly, active, and loving.
Female Golden Retriever owners must weigh up the risks and benefits of having her spayed, and make plans to prevent unwanted pregnancies while she remains unspayed.
Read on to find out more about the gorgeous female Golden Retriever.
Golden Retrievers
The Golden Retriever is a large, friendly dog. It is popular as a pet, working dog, and show dog.
In fact, they are the third most popular dog breed after the Labrador Retriever and German Shepherd dog!
Female Golden Retriever Size
Adult Golden Retrievers weigh from 55-75 pounds. They grow to between 21 and 24 inches tall at the shoulder.
Female Golden Retrievers tend to be at the shorter and lighter end of the scale. They have a finer-boned appearance, especially on their skull and head.
Coat Types
A Golden Retriever has a dense coat only in shades of gold. They also have a mane and feathered tail. Females may have a slightly shorter coat without a less pronounced ruff.
Dogs from a pedigree show line often have a fuller and paler coat than those bred as gun dogs, for work or agility events.
Female Golden Retriever Temperament
Male and female Golden Retrievers have not been shown to differ greatly in terms of temperament.
Authors of books on the breed assert that females and males are equally good in terms of personality and working skill. The breed is very friendly, energetic and highly trainable.
This makes them a really great family dog, or first-time dog.
However, if you're struggling to choose between a male and female dog, this post offers more insight.
Female Golden Retriever Health
The Golden Retriever Club of America reports that females have a somewhat older life expectancy than males. Their average age is 11.3 versus 10.7 years of age for males.
A number of health issues that may be found in Golden Retrievers are affected by sex.
Unspayed females show an increased risk of hip dysplasia. But, this may be due to the slightly more careful screening of male pedigree dogs.
In general, these skeletal disorders have been improving in recent years due to more careful screening and selective breeding.
Females are at also increased risk of extraocular myositis and adrenocortical insufficiency. But they have a lower risk of idiopathic epilepsy than males. These issues are all quite rare and so the overall the health of female and male animals is considered equivalent.
Spaying a Golden Retriever
Whether and when to neuter a dog is now treated as an individual decision. A blanket recommendation will not properly take into account your dog's breed, genetic risk, sex, and lifestyle.
For population control reasons, neutering is advisable. However, this decision should also be based on whether you plan to breed your dog. And whether there are specific reasons why it might be bad for the health of your dog.
There is reason to be cautious about spaying. Based on vet records, it was found that female Golden Retrievers that are spayed have an increase in the risk of some joint problems and cancers.
However, spaying also prevents pyometra, which is a condition Golden Retrievers are more prone to.
Why Spaying is More Complicated than Neutering Male Dogs
With males, neutering after puberty avoids the majority of known health consequences. But the situation with females is more complicated. Delayed spaying reduces the risk of some disorders and increases others. So, this decision should be made with the help of your vet.
All of these research results need to be understood in a broader context. For example, when it comes to cancers, there is a wide range of cancers.
The sex of a dog affects cancer risk. Female dogs have a relatively higher risk of adenoma but a lower risk of hemangioma or squamous cell carcinoma.
With neutering, there is a decrease relating to cancers of the reproductive organs. But there is evidence of an increase in cancers affecting other parts of the body.
The majority of dogs will not suffer from any particular disorder and the contributing factors are complex.
Be Cautious Interpreting Findings
As more studies are conducted, it has been found that the effects of sex and neutering on various health conditions vary between different populations. So these findings should be interpreted cautiously. This can make it hard to decide what to do.
You should also think about how being spayed or intact may affect your dog's opportunities to mix socially and take part in multi-dog activities.
Living with an Unneutered Golden Retriever
In many countries, it is common to leave dogs sexually intact. However, in many of these cases, dogs either rarely mix, or female dogs are segregated during their "heat."
An intact female dog will come into heat several times a year. At these times she will attract and become receptive to male dogs.
She may seek out male dogs, become unsettled and restless, or vocalize more than usual. Her heat will also disrupt the behavior of any male dogs that are nearby.
Dogs are naturally social animals. So, spaying allows them to live with other dogs or take part in social activities without the risk of unplanned breeding.
A spayed female is not subject to these restrictions which may be a significant factor for dogs that live in multi-dog households. Or those that often mix with other dogs such as at dog parks, dog sitters, or doggy daycare. Spaying your dog avoids some of the social issues that can crop up.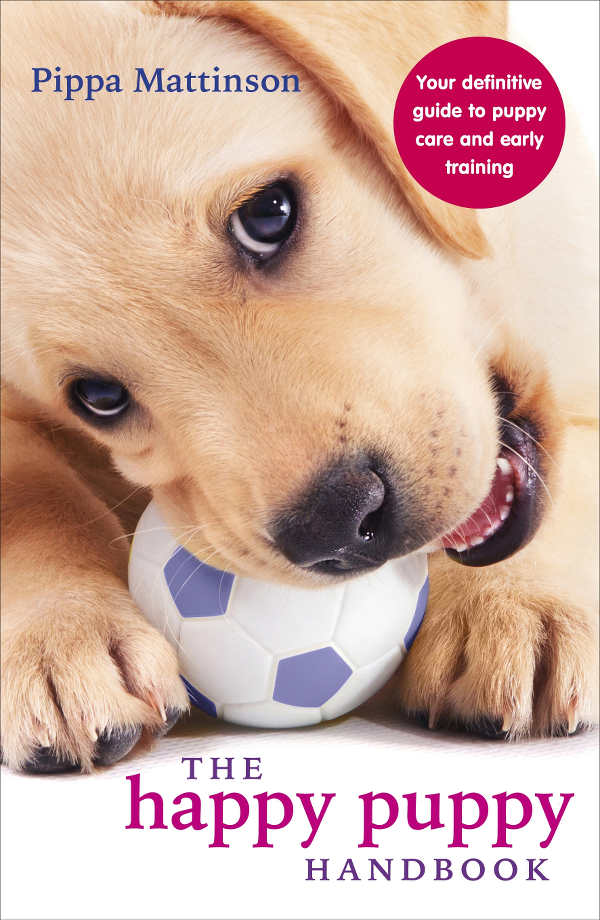 Male vs. Female Golden Retriever
The Golden Retriever does not show very pronounced differences, physically or behaviorally, between females and males. Any choice for one or the other comes down to personal preferences.
If your girl is not spayed, care should be taken to avoided unplanned breeding while providing opportunities for socialization.
Do Female Golden Retrievers Make Good Pets?
Both female and male Golden Retrievers make great pets for any person or family able to give them enough exercise and attention.
They are renowned for being intelligent, friendly, attached to their owners and adept at a wide range of tasks and activities.
Do you think a female Golden Retriever will be perfect for your family?
Let us know about your female Golden Retrievers below in the comments!
Other Golden Retriever Info
If you love all things Golden Retriever, we've got plenty of guides for you to read. Whether you want to look at fun products and accessories for the breed, or just find out some more fun facts about them!
Take a look at some of the other articles we have on Golden Retrievers below:
References and Resources
Hanson, J. M, et al, "Naturally occurring adrenocortical insufficiency–an epidemiological study based on a swedish‐insured dog population of 525,028 dogs." Journal of veterinary internal medicine.
Hart, B. L, et al, "Long-term health effects of neutering dogs: comparison of Labrador Retrievers with Golden Retrievers." PloS one.
Houlihan, K. E, "A literature review on the welfare implications of gonadectomy of dogs." Journal of the American Veterinary Medical Association.
Howe, L. M, "Current perspectives on the optimal age to spay/castrate dogs and cats," Veterinary Medicine: Research and Reports.
de la Riva, G. T, et al, "Neutering dogs: effects on joint disorders and cancers in golden retrievers." PloS one.
Lavrijsen, I. C. M, et al, "Prevalence and co-occurrence of hip dysplasia and elbow dysplasia in Dutch pure-bred dogs." Preventive veterinary medicine.
Srenk, P. et al, "Genetic basis of idiopathic epilepsy in the golden retriever." Tierarztliche Praxis.
Williams, D. L. "Extraocular myositis in the dog." Veterinary Clinics of North America: Small Animal Practice.