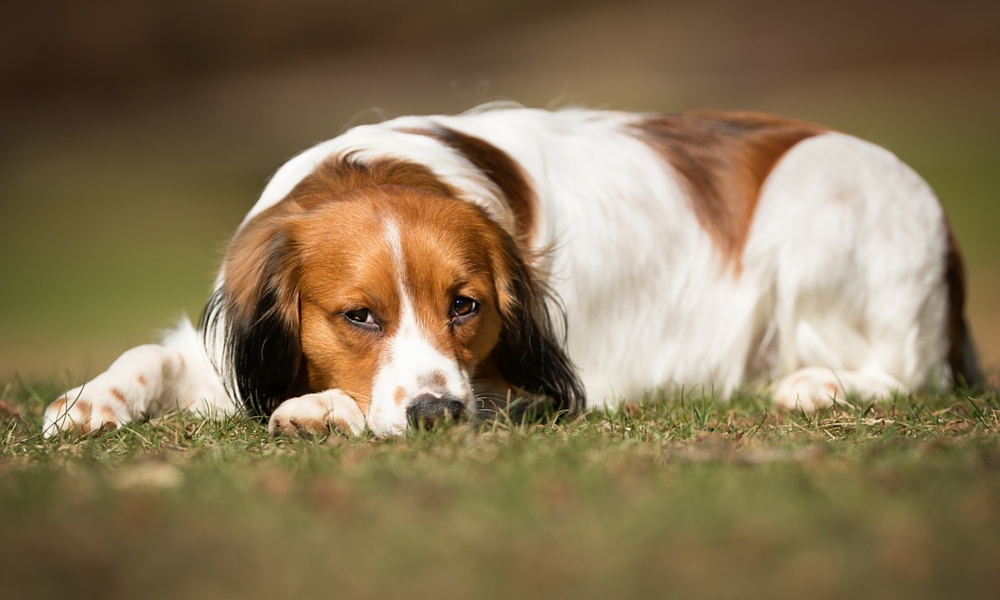 Dog training discs and rattle bottles were once quite popular ways of correcting unwanted behavior in pet dogs.
Along with pet correctors which squirt compressed air.
In this article we're going to look at how rattle bottles and dog training discs work, and why their use in dog training is declining.
Using sound to distract a naughty dog
There was an interesting discussion on my Facebook group recently.
About the use of a 'rattle bottle'.
A member of the group suggested the use of a rattle bottle to 'distract' a dog that was engaging in unwanted behavior.
Another member of the group pointed out that the use of such a tool was not in keeping with the ethos of the group because a rattle bottle is an aversive for most dogs.
A somewhat heated debate then broke out as to whether training with rattle bottles or dog training discs is a form of punishment, bearing in mind that it doesn't actually harm the dog.
Or whether it should be classed as an interrupter.
So, the aim of this article is to clear up this issue. Let's take a look at the contentious items first!
What are dog training discs?
Dog training discs are a collection of small metal discs held together on a ring like a bunch of keys.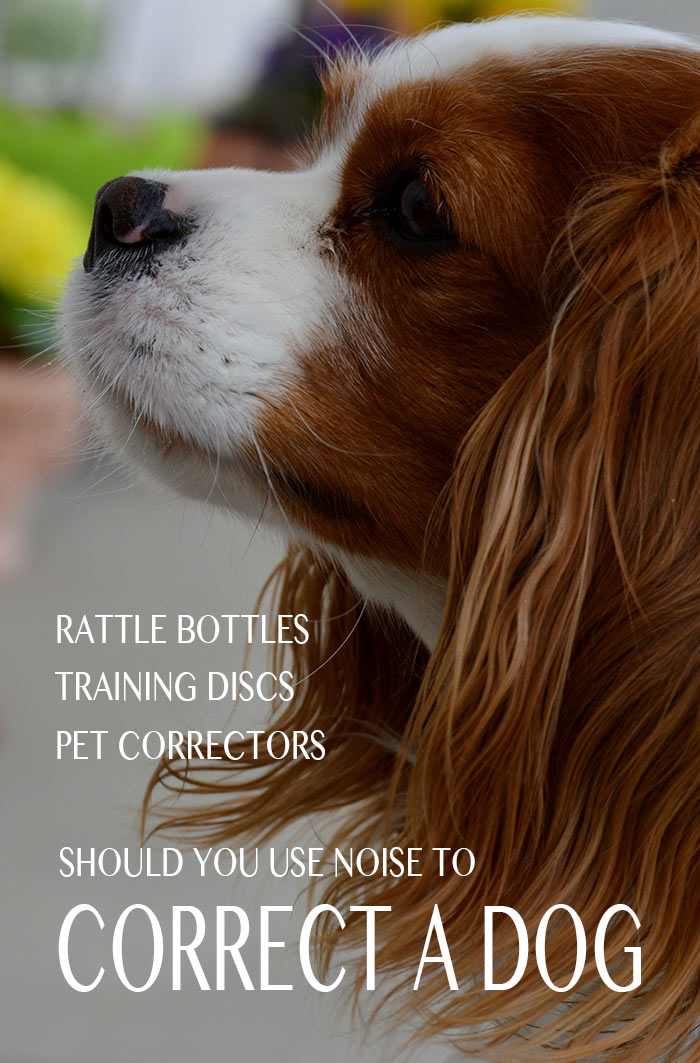 When thrown on the floor they make a clattering noise.
What is a dog training rattle bottle
A rattle bottle is simply an empty container part-filled with loose stones/gravel or beads.
When the bottle is thrown or shaken, it makes quite a loud and distinctive noise.
What is a pet corrector?
A pet corrector is an aerosol container that simply squirts compressed air when you press the button.
Rather like something you might buy to clean dust from a camera lens or computer keyboard.
What all these tools have in common is that they make a noise which 'startles' the dog.
The use of rattle bottles, discs and correctors
You may have seen these tools used in dog training sessions on television.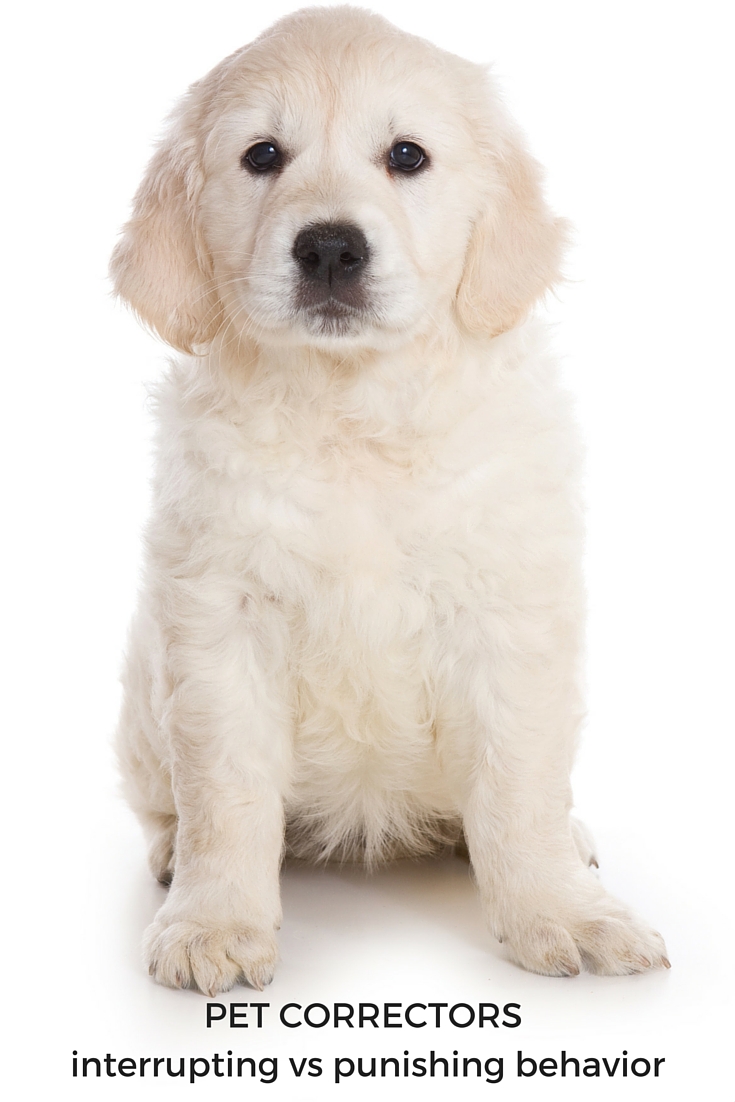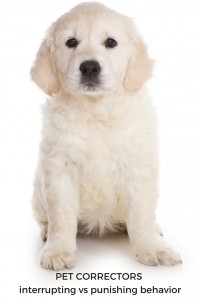 They are popular because they often seem to produce quite a dramatic reaction in the dog, with the dog veering away from what it was doing when the bottle is shaken or thrown.
So the dog's behavior is interrupted right?
That makes the rattle bottle or dog discs an interrupter, doesn't it?
Well no. It doesn't.
If you give your dog a hard slap whilst he is sniffing another dog's bottom, it may well interrupt his behavior. But that does not make the slap an interrupter.
To understand this properly, we really need to look at what defines a 'punisher' and compare that with what defines an 'interrupter'.
Punishers and interrupters
A punisher is any consequence to a dog's behavior, that makes that behavior less likely in the future.
So, if you slap your dog as he approaches his dinner bowl, he will be a lot more cautious about approaching his bowl again.
He may even avoid his bowl until he is very hungry indeed.
The slap is a punisher.
If you make a kissy noise with your mouth as your dog approaches his dinner bowl, and the dog looks up at you or comes to you, that, is an interrupter.
It won't affect how your dog feels about his dinner bowl five minutes later.
He'll still go back and tuck into his dinner.
The kissy noise was not a punisher, it was an interrupter.
Using noise as an interrupter in dog training
An 'interrupter' breaks the dog's concentration on what he is doing, usually momentarily. This may be sufficient for the handler to then give the dog another cue.
The power of an interrupter depends on how well it has been conditioned.
If every time you make a kissy noise with your mouth, you give your dog a pat and say 'good dog' your interrupter will be weak. It certainly won't work when he is about to tuck into his dinner, or chase the neighbour's cat.
If you have associated your kissy noise with some powerful rewards such a juicy roast chicken or the chance to fetch his favorite ball, your interrupter will be strong.
Arguably, the word 'interrupter' is misleading as an interrupter is usually simply another cue for the dog to look at his handler.
The important thing to note, is that a genuine interrupter does not need to be startling or upsetting in any way for the dog. It is simply a noise that he responds to in a consistent way (looking at you for instructions).
Most people when using what they think is an interrupter are actually using a punisher. Let's look more closely at that.
Using noise as a punishment in dog training
Many dogs are fearful of sudden, unusual noises.
When we socialise our dogs, we expose them to as many experiences as we can. So they get used to hearing a wide variety of different everyday sounds.
For this reason, most dogs are not scared of the vacuum cleaner for example, or passing lorries, or the clattering of saucepans or a car door slamming.
These are all normal noises for the dog. But some noises are less common and are often quite scary for dogs. If a noise invokes fear, it can be used as a punishment.
This is because punishment is not just about pain. Punishment is anything that diminishes behavior, and that a dog will work to avoid. So fear can be a powerful form of punishment.
How dogs view compressed air
Many dogs for example are scared of the sudden sound of escaping or compressed air. A dog raised in the town, may be used to the sound of compressed air due to repeated exposure to air brakes in heavy goods vehicles.
Most rural dogs are not. So you might think your dog is bomb-proof to noises, but if a lorry suddenly applies air brakes next to him, he might jump.
Hot air balloons can startle many dogs when they operated the burners, and a loud squirt from an aerosol can do the same
These noises may be aversive to the dog, and he may well attempt to avoid them in the future if he can. This is the basis of the "Ttshhh" noise that some dog trainers use to change dogs' behavior.
Of course, not all dogs will mind these sounds, but many do.
How rattle bottles and dog training discs work
Which brings us to an important point. The pet correctors, rattle bottle and the training discs are all just noises.
But, they are noises that most dogs are not familiar with. They are sudden, sharp, unusual noises.
They are not intrinsically defined as either punishers or interrupters.
Whether or not they can be used as punishers or interrupters depends on the dog, and how he feels about the noise.
For those dogs that don't find the noise intrinsically aversive, dog training discs may come with instructions on training the dog to see the discs as a punishment marker. In other words a sound that predicts a punishment.
But for most dogs, these tools are naturally aversive, and using them is a form of punishment. So if you are considering buying them, you need to be sure that you are comfortable with training this way.
Punishment is determined by the dog
The most important point of all this topic is simply this:
Whether or not an item is aversive, and will have a 'punishing effect' is determined by the reaction of the dog to that item, not by the item itself or the actions of its owner.
If your dog does not like the sound of compressed air escaping, or the "Ttshhh" noise you make with your mouth, these noises are aversive for that dog.
In the same way, if your dog does not like the sound of training discs being chucked across the room or a rattle bottle being thrown or shaken, this items are aversive for that dog. Whether or not this is a natural aversion, or one you have carefully conditioned.
Punishment does not have to be painful
The fact that a noise is aversive and can be used as a punishment, is something that many people don't think about.
But once they do think about it, they may conclude that it is okay to use these training tools because they don't actually cause pain to the dog.
And it is true, rattle bottles and training discs don't actually cause physical harm or pain to the dog.
Does that mean you can use them?
Well, it depends on whether you want to risk the disadvantages of training with punishment, and on how you feel generally about punishing dogs.
You need to ask yourself whether or not you want to use aversives in training. Or whether you are simply looking for an 'interrupter'. Because if it is an interrupter you want, there are better ways of creating one.
You also need to ask yourself if you want your dog to be afraid, or to learn to be more afraid, of sudden noises. Most of us do not.
Confusion over dog training
Sometimes, it seems that the more we talk over these things, the more confused we get. We can easily become tangled up in debating about no reward markers, interrupters, positives and negatives.
But there really is no need for this confusion.
In this case, the facts are quite clear cut. If a consequence to your actions is that the dog's behavior is likely to be diminished, then that consequence was a punisher. And whatever consequence it was that you applied, was aversive for that dog.
Whether or not the dog was physically hurt is not relevant to the definition of punishment. And this is something that confuses a great many people. It's also a very emotive topic.
Let's be honest
Some people have tried to avoid the way we feel about punishing dogs by changing the word punisher, to diminisher, and the word punishment to correction.
But changing the language does not change the facts. Because the truth is, using rattle bottles is indeed usually a form of punishment. And when we use punishment, it is a good idea to be honest and upfront about it.
Sometimes people unwittingly use punishment because the word is misconstrued or dressed up as 'correction' Using the word punisher does at least draw attention to what we are actually doing with the dog.
How do you want to train your dog?
Aversives are anything that dogs prefer to avoid. Aversives can be used as punishers to diminish unwanted behavior in our dogs.
Whether or not something is aversive, is defined by the dogs reaction to it, not by the object itself.
Most dogs find rattle bottles and training discs aversive, at least initially.
A significant proportion of dogs find rattle bottles very aversive indeed.
So if you are using them, you are using punishment not an interrupter.
Punishment is a hard word. But if you have found a noise that your dog will work to avoid, you are using punishment.
Whether or not this is OK with you, is a very personal decision. But you need to be aware of what you are doing in order to make that decision objectively.
More Information
Share Your Thoughts!
How about you? Does this make sense to you, or are you still confused about the difference between punishers and interrupters?
Share your thoughts in the comments box below.