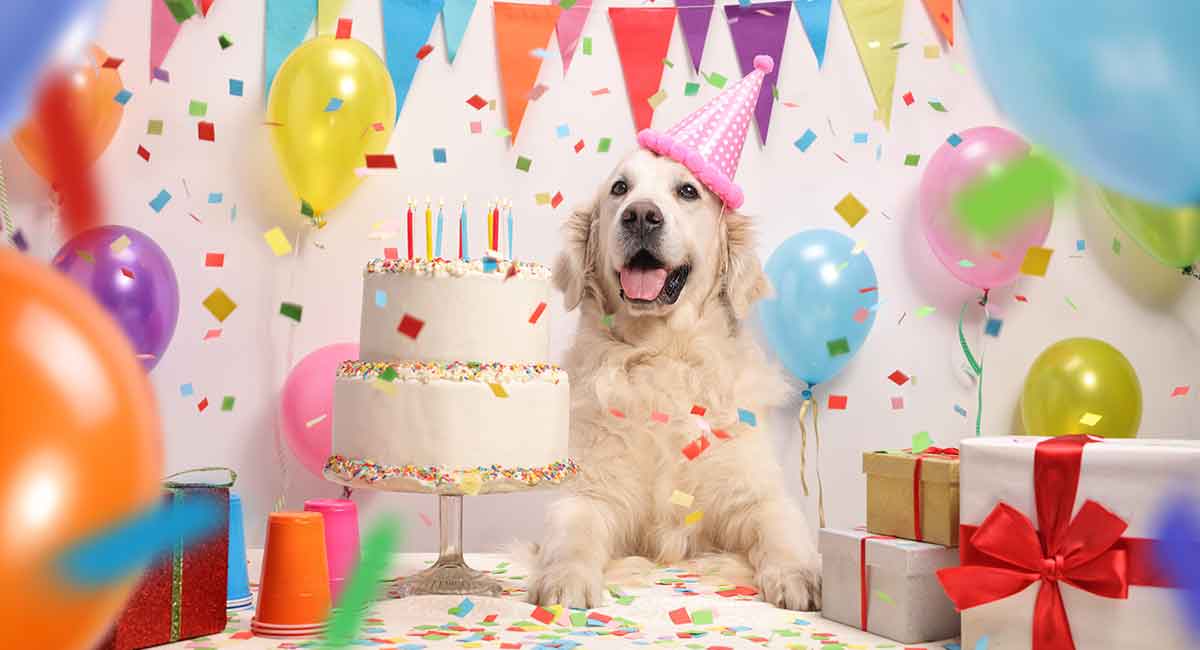 A complete guide to cakes for dogs. All the best dog birthday cake ideas including healthy dog birthday cake recipes for your puppy on their special day.
Whether you've a tiny puppy, a grizzled senior or a middle-aged mutt, every dog will love a fuss on their birthday. Even though they might not understand what it's all about.
With these birthday cake recipes for dogs you can put on the perfect treat. While there are bakeries out there that can do birthday cake for dogs, it's often just as easy and more economical to bake at home.
Products included in this article were carefully and independently selected by the Happy Puppy Site team. If you decide to make a purchase from one of the links marked by an asterisk, we may earn a small commission on that sale. This is at no extra cost to you.
Making A Dog Birthday Cake
When you bake a dog birthday cake yourself, you have more control over the ingredients. And this is great news if you have a fussy mutt, or a dog with special dietary needs!
We've put together a number of recipes that you can choose from. Most of them have simple ingredients and don't need expert baking skills. There are also lots of ideas for puppy-friendly cake decorations.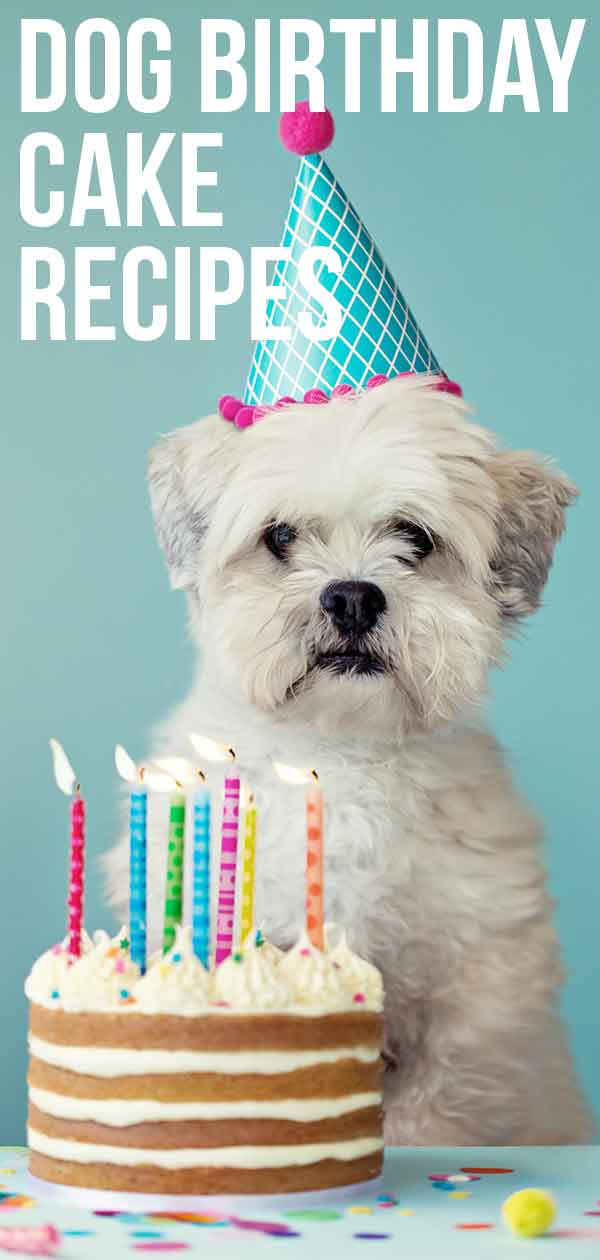 Read on to discover easy-to-follow recipes for your dog friendly birthday cake, a rundown of the best cake mixes available and ideas for decorating your creation.
We even cover cakes for dogs with allergies or health concerns, and the best grain free options.
Armed with all this information, you won't just know how to make a dog birthday cake, you'll know how to customise a recipe, decorate it for your pooch and be the best doggy baker on the block!
How to make a dog birthday cake
When it comes to dog safe birthday cakes, dogs are very easily satisfied customers!
Typical recipes for cakes for dogs contain very simple ingredients that you probably have in your kitchen already.
A tasty cake can be constructed from just flour, peanut butter, oil and an egg. But, of course, you can let your imagination fly and mix it up with different flavours and tastes.
If your dog is a big fan of bananas, add them to the list. Or try something savoury with a meat-based cake.
There are lots of dog birthday cake ideas to choose from so you're sure to find something your dog will love.
And once the cake is made, the fun part begins. You can really let your creative juices flow and come up with a prefect instagrammable presentation.
Your DIY dog birthday cake can be bone-shaped, tiered, layered and topped with frosting and finished off with colorful tasty treats.
While your dog may not appreciate your work of art, he'll definitely love the taste and gobble up your efforts!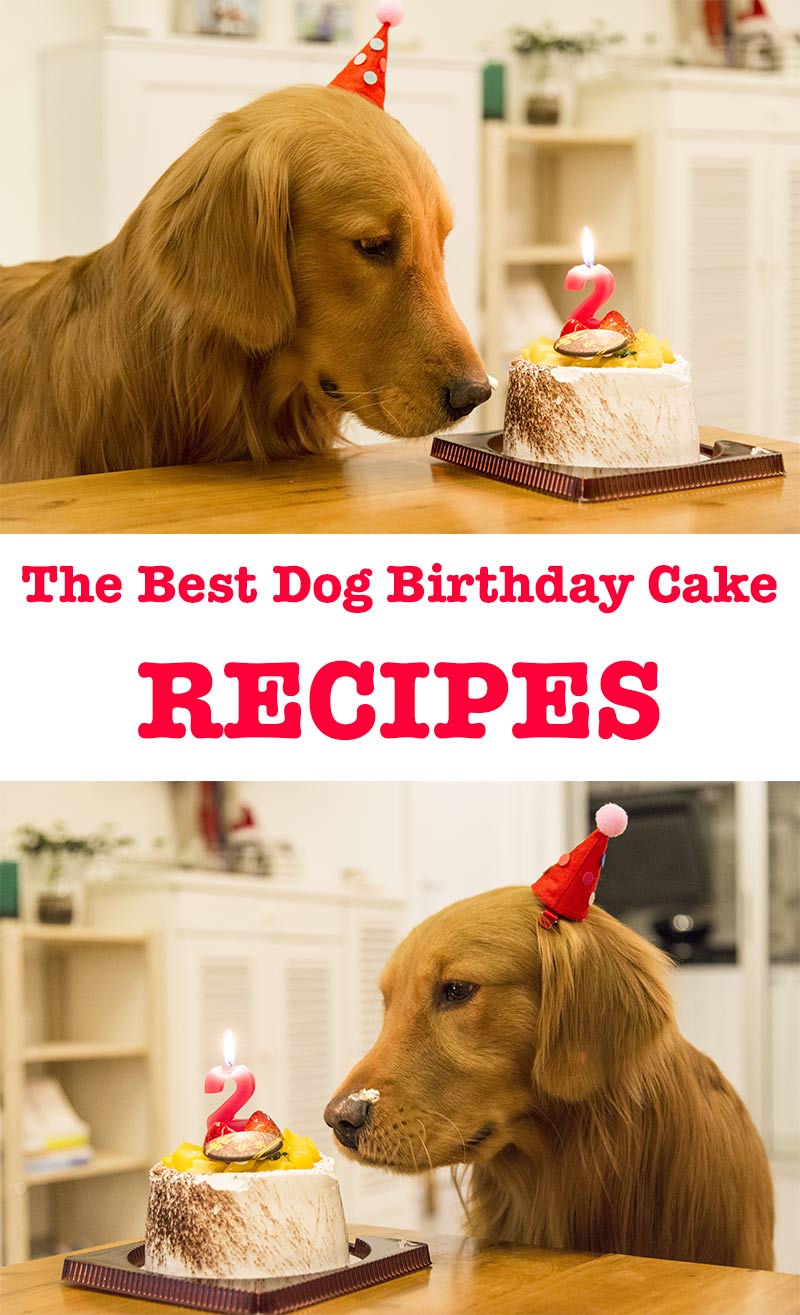 Dog birthday cake recipes
There are lots of bakers out there making their own homemade dog birthday cakes. And, using any of the recipes below, you can too.
Brown Eyed Baker has a beautiful frosted bone for dogs that love their peanut butter.
The ingredients include flour, peanut butter, shredded carrots and honey.
Brown Eyed Baker used extra peanut butter for the 'icing' but also suggests cottage cheese for a white icing.
Lifestyle blogger Joanna Meyer made her dogs an impressive carob and banana cake, decorated with stacked Milk Bone treats and carob sprinkles.
Carob is a substitute for chocolate because, of course, chocolate isn't good for our four-legged friends.
The finished result is a cake that looks good enough for the whole family, not just the furry members!
Healthy dog birthday cake recipes
If, like me, you have a dog with allergies or a sensitive stomach then you have to be very vigilant about their diet.
The good news is sensitive dogs don't have to miss out on birthdays.
The Rodimels has a low-fat healthy dog birthday cake recipe that's full of fruit and vegetables.
Made with beef broth, this cake has a dense crumb but a rich taste.
And don't be afraid to customise generic recipes when making a healthy dog birthday cake. Some ingredients can be easily swopped out for healthier options.
When I'm baking for my Boxer mix, I use fruits such as banana in place of sweeteners. Pureed sweet potato or pumpkin are great substitutes for honey.
If you don't want the hassle of pureeing your own vegetables, do what I do and browse the baby food section of your local store. They often they sell pureed vegetables and fruit in single-use pouches that are ideal for baking.
Just be sure to check the label for any hidden ingredients that dogs can't eat.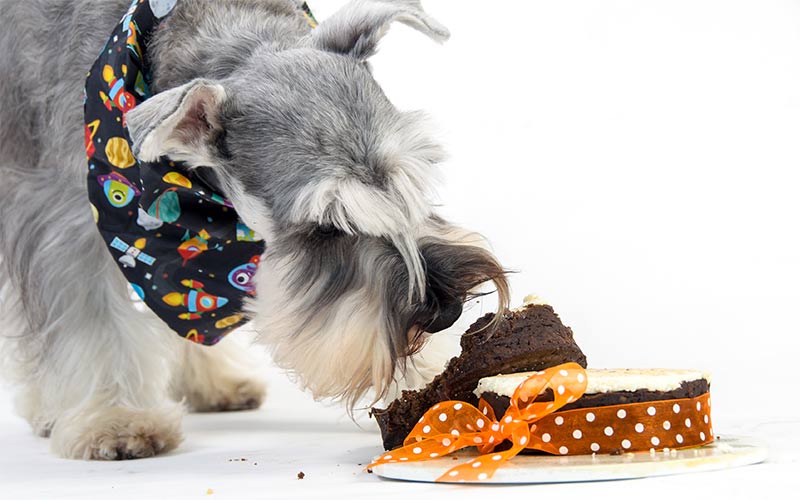 Carrot cakes for dogs
Carrots are healthy for dogs. Not only are they a good source of fiber and vitamins for dogs but they're also recommended by vets as a low-calorie snack.
What better ingredient for a birthday treat if you need to watch your furry friend's weight.
Allrecipes has a very simple carrot cake recipe for dogs with hundreds of 5-star reviews.
One reviewer commented the her husband decided to try a piece of the cake. He liked it so much that he ended up feeding one piece to the dog and one piece to himself.
So with this cake the whole family can join in the celebration! To make it even tastier you can add a bit of ground cinnamon as well, which is quite safe for your dog.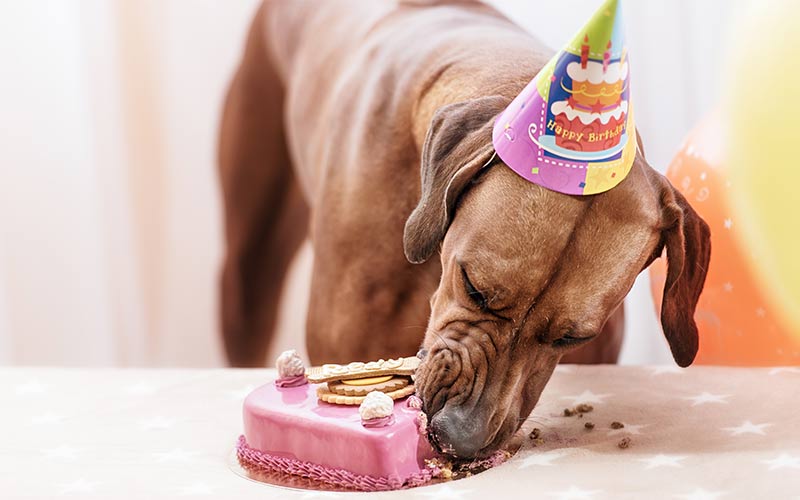 This recipe, and many of the others contain oil. If your dog is on a low fat diet, you can swop this out with applesauce – making the cake sweeter and healthier too.
Puppy birthday cake
Puppies can enjoy the same birthday cakes as older dogs, but you should be wary of letting your pup overindulge on his special day.
And if the cake contains an ingredient that your dog is eating for the first time, be especially careful. It's important to introduce new foods slowly during a dog's first year.
Just like kids at a birthday party, puppies are notoriously greedy – and you know what that can lead to! Be careful that your pup doesn't gobble up his whole dog birthday cake in one sitting.
You can always put slices away in the freezer and give them to your pup on another day when he's earned a treat.
Puppies do need lots of food for their bones, immune system and brains to develop. Remember though, that treats should be given sparingly and as part of a balanced diet.
Easy dog birthday cake
If you're looking for an easy dog birthday cake, it doesn't come much easier than this frozen treat from Lola the Pitty.
Simply blend the four ingredients together, freeze and voila! Frozen pupcakes for your pooch.
Staying Close to Home also has a super simple four-ingredient option.
Baked for Chloe the retriever, this is a single cupcake and it looks delicious!
Dog 1st birthday cake
First birthdays are extra special occasions. So your dog 1st birthday cake has to be something very special.
Love From The Oven has a recipe for a 'Spoiled Dog Cake'.
It's an extravagant mouth-watering dessert with two layers, plenty of frosting and mini bone-shaped decorations.
Another decadent option from Canine Journal is the double layer meat cake.
This is a rich-tasting chicken and bacon cake that can be decorated with bacon crumbles.
A single, thin treat strip in the center can be the 'candle' on top of the cake.
Grain free dog birthday cake
Some dogs don't tolerate grains well. If your dog has digestive distress after eating grains, check out the following gluten-free options.
Table for Two made a grain free dog birthday cake for her dog Winston.
It contains chickpea flour, coconut oil and apples making it a very healthy option.
And, judging by the pictures in the article, Winston certainly gave it his doggy seal of approval.
Pretty Fluffy makes a grain free option that looks delicious – not only for pups, but for owners as well.
This mini berry almond cake is made from strawberries, almond flour and coconut oil.
The icing is made from yoghurt and almond or peanut butter.
Dog birthday cake mix
If you're pushed for time, a mix can be a great way to make a dog birthday cake.
Puppy Cake has a mix* for a wheat free, peanut butter cake.
Just add egg, water and oil and bake. The package also includes frosting – made by simply adding water.
And if you want to bake a cheesecake for your pup's special day, there's a grain free cheesecake with a coconut crumble crust*.
This dog birthday cake mix is even easier. Just add water and refrigerate!
Dog birthday cake recipe without peanut butter
Some dogs have trouble with tree nuts and shouldn't eat peanut butter.
If your favorite cake recipe contains peanut butter don't worry.
Simply switch out the peanut butter for a healthier choice, such as sunflower seed butter or almond butter.
Or choose a dog birthday cake recipe without peanut butter such as this apple cake from Dog Treat Kitchen.
It's made with cinnamon and apple and includes a cheddar cheese drizzle frosting.
Dog Birthday Cake Recipes Done? – Let's Get Creative!
Once you've found the dog birthday cake recipe you think your pet will love, it's time to think about presentation.
You can bake an ordinary layered cake, a round tube cake, or cupcakes, in the pans you already have. But maybe you want to go all out with a special doggy themed shape.
K9 Cakery has a fun silicone cake pan in the shape of a bone*.
Also from K9 Cakery is a cute pawprint pan that can make a set of six cupcakes*.
Once your cake is baked, the fun and creative part starts. Dogs shouldn't get too much sugar so you need to think carefully about what to use for frosting and topping.
You can cover the cake with your choice of plain yogurt, cream cheese or cottage cheese, peanut butter, bananas, or even mashed potatoes – or a mixture of these ingredients.
Add carob powder for a chocolate color and flavour. You can even add a bit of food coloring to create bright colors – maybe pipe on some rosettes, lines, or even your dog's name.
Don't have an icing set? Don't worry – just grab a plastic bag, cut a small corner away and use it as a piping bag.
Now you're all set to add some more pretty and tasty bits.
Decorations for cakes for dogs
All kinds of doggy treats can be used for decorating your pup's cake.
You can also sprinkle the cake with bacon bits, chopped peanuts, mini carob chips, sesame or poppy seeds, and even grated carrots or apple.
You can even get some dog safe chocolate drops*.


Or how about these yummy doggy yogurt treats*.
Best dog birthday cake
Your dog's birthday cake should be one that suits your pup's personality, taste and dietary needs. And now you know how to make a dog birthday cake that's just perfect for your own four-legged family member.
Dogs should get treats in moderation but once a year it's okay to thoroughly spoil your pet with a homemade cake. Birthdays are special – whether you have two legs or four!
Please share the creative ideas that you come up with in the comments below – and whether your dog enjoyed his birthday treat.
For more reading, take a look at what to do if your dog eats plastic. And don't miss these celebrations of different breeds reaching their first birthday:
Affiliate link disclosure: Links in this article marked with an * are affiliate links, and we may receive a small commission if you purchase these products. However, we selected them for inclusion independently, and all of the views expressed in this article are our own.
This article has been extensively revised and updated for 2019.
References
Kriss, R. 2016. Can dogs eat carrots? American Kennel Club.