In Can Dogs Have Cantaloupe Pippa Mattinson looks at the pros and cons of feeding cantaloupe, and other types of melon, to our dogs.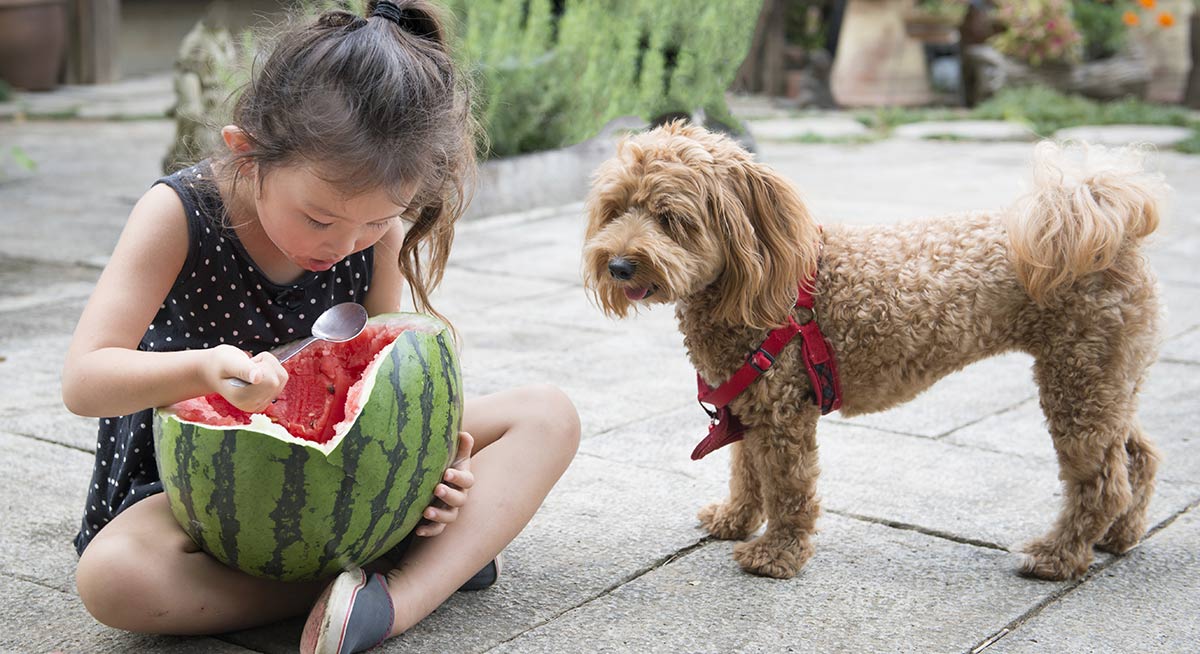 When I was a little girl, in the UK cantaloupe was considered an outrageously exotic luxury.
Watermelon was what we called it, thought they are actually two slightly different things.
The nearest I came to getting my hands on some cantaloupe, was in one of the colors in my paint box.
A rich deep buttery orange, named for the center of this delicious fruit.
We weren't entirely deprived of melons mind you, we had honeydew melons as a special treat.
My mother would slice one in half, then into segments, and sprinkle them with sugar and a little ginger for those that liked it.
Such a luxury was melon of any kind, that anyone feeding some to a dog in those days, would have been considered to have taken leave of their senses.
Meat and biscuit of the dog variety was what dogs got and were deemed lucky to have it!
How times have changed.
Nowadays, many of us spend more on our dog's dinner than we do on our own. And we want to share our human treats with our four-legged best friends.
Which means that we need information on what is safe to share and what isn't.
Grains are out – fruit and veg are in!
Wheat and other grains have been getting a bad press in recent years, both as a constituent of human food and of dog food too.
And not entirely without reason.
As a result people are moving away from grain based treats for dogs, and looking for healthier alternatives, such as fruits and vegetables.
But are fruits like cantaloupe really suitable for a dog? Can dogs have cantaloupe and other melons without any ill effects? Let's have a look
What is cantaloupe?
Cantaloupe are a type of melon.  They belong to the family of plants called Cucurbitaceae. Also known as the 'gourd' family.
They are related to squashes, zuccinis, cucumbers and the like.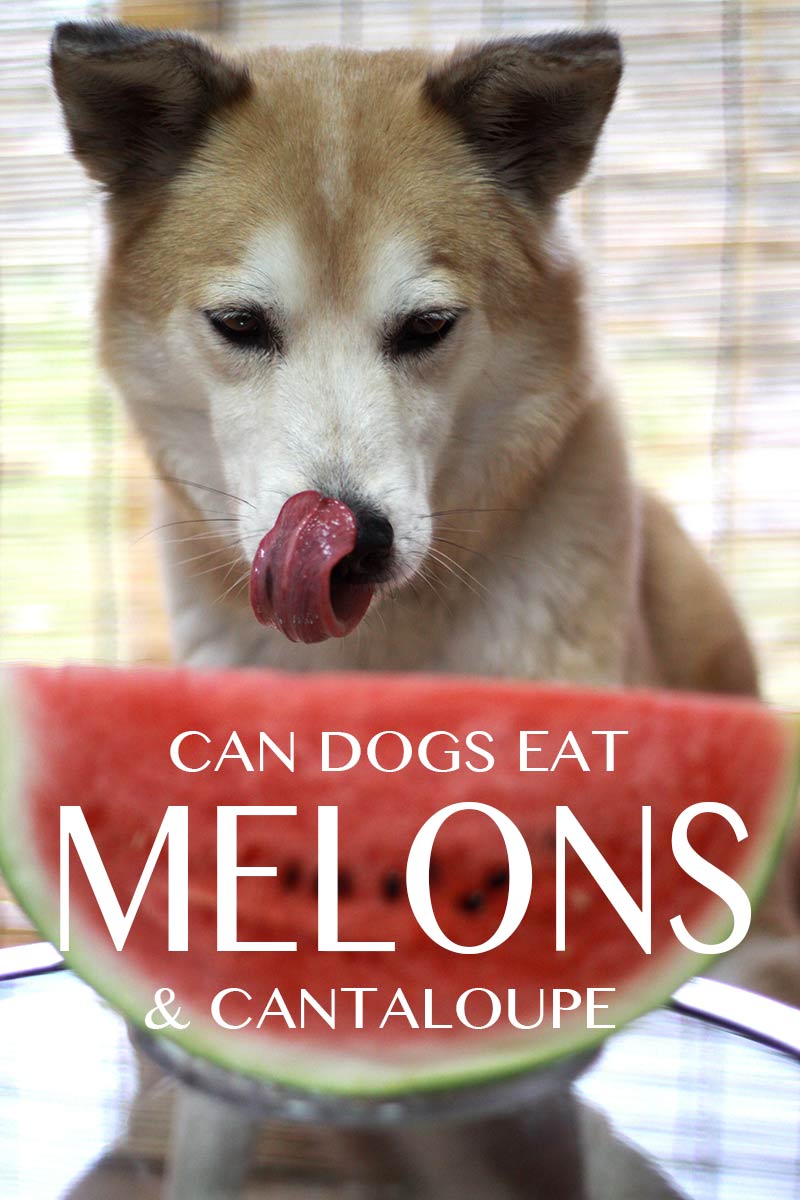 Most plants in this family are annuals. That is to say they grow, flower, fruit, and then die. All within the course of a single year.
Much of the information below applies to all types of melon and squash
What nutrients does cantaloupe contain?
Like all gourds and squashes, cantaloupes have a very high water content, but they also contain some interesting nutrients.
In common with many other yellow and orange foods, cantaloupe are a rich source of vitamin A.
Don't Forget To Add Your Dog!

According to the World's Healthiest Foods website, that's 30 times higher than the beta-carotene content in oranges. Not quite in the same bracket as carrots, but still a rich source.
Many fruits are high in vitamin C and cantaloupe is no exception with one cupful providing about 70% of a human being's daily requirement.
That same cup also provides a range of other vitamins and minerals including significant amounts of potassium and copper.
But what does this mean for our dogs.  Do dogs need these nutrients?  And are the levels appropriate for our four-legged friends or might they even be harmful?  Let's have a look
Is cantaloupe bad for dogs?
There is nothing inherently 'toxic' to dogs in the flesh of the cantaloupe or watermelon.  But you should be aware that cantaloupe has occasionally been associated with outbreaks of human  food poisoning.
I say you should be aware, because some experts worry about dogs being exposed to food borne pathogens that humans are susceptible to.
For example, you'll hear some vets express the opinion that dogs shouldn't eat raw chicken because it may contain salmonella and listeria.  Of course many thousands of dogs around the world eat raw chicken as the mainstay of their diet without coming to any harm, so it's important to keep these things in perspective.
Check out Raw Meat For Dogs to find out more about this interesting debate
So, back to cantaloupe.  And if cantaloupe isn't toxic to dogs, then does it actually do them any good?
Is cantaloupe good for dogs?
Along with a range of other fruit and vegetables, cantaloupe is a effective and tasty way for you and me to get some valuable vitamins.
But let's be honest – if your dog is being fed a complete commercial dog food in the form of a quality kibble, he doesn't need any extra vitamins.
The food you give him contains everything he needs.  The same applies to dogs being fed a balanced raw meat and bone diet.
What's more, like all sweet fruit, cantaloupe contains substantial amounts of sugar which is not good for your dog's teeth or his waistline.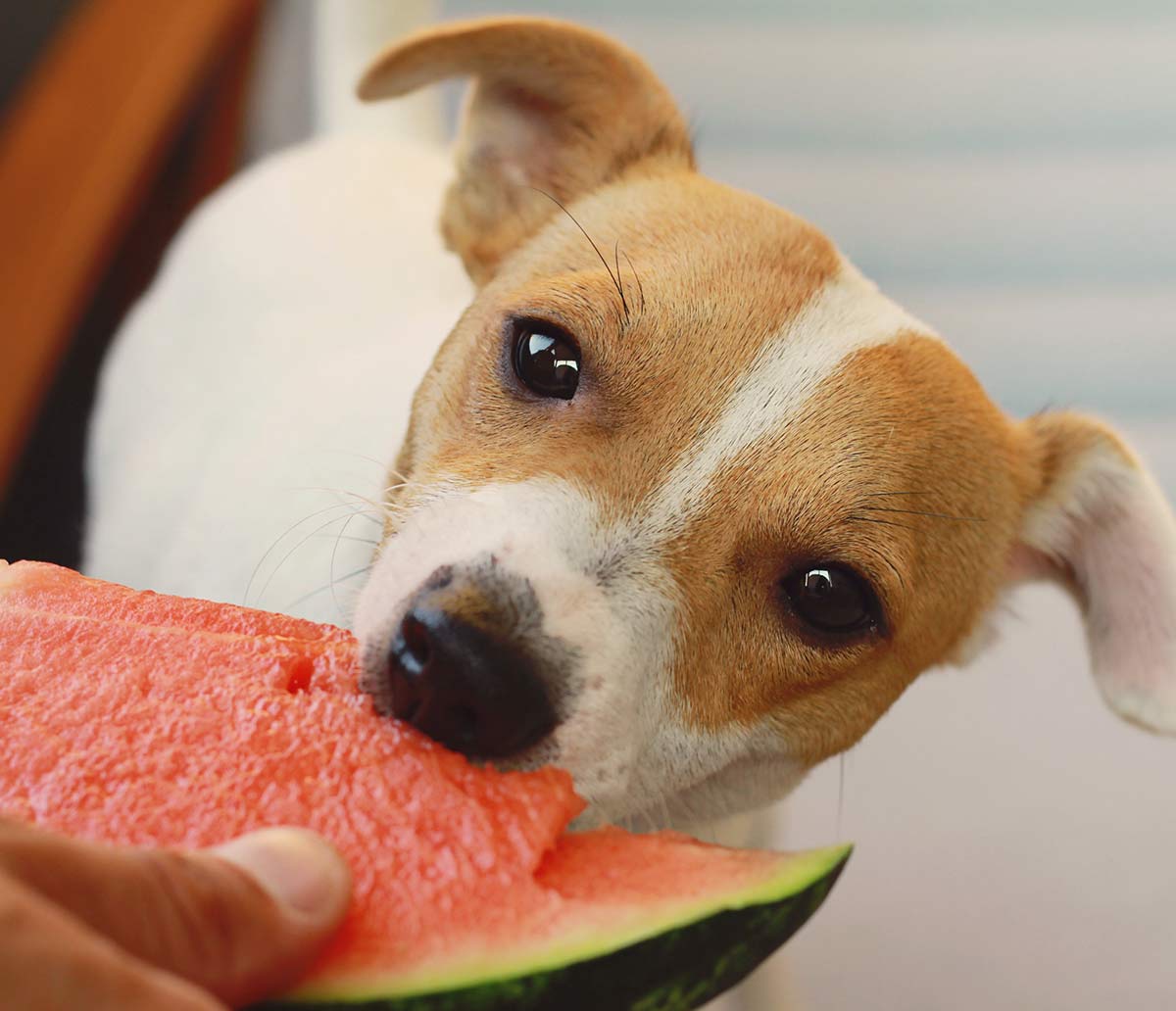 So we really need to think of cantaloupe and other melons, as being a special treat, rather than a source of nutrients for your dog.
That being said, if you want to give a dog a small treat, a cube of cantaloupe is perfectly reasonable choice.
Can dogs have cantaloupe – a summary
The answer to "can my dog have cantaloupe" is "Yes" he can.   In moderation.
A little piece of cantaloupe is a relatively safe treat for a dog.
And in the summer, if you like, you can freeze cubes of cantaloupe to give as a special frozen treat on hot days.
Avoid feeding cantaloupe or any other fruit in large quantities as the sugar won't do him any good and might even upset his tummy.
How to pick a ripe cantaloupe
I used to watch in fascination while my mother picked up melons, one at a time, and pressed the end in to judge how ripe they were.
They all felt the same to me.
However, though it takes a little practice, this is actually quite a good way to tell.  The stem end of your cantaloupe should 'yield' slightly when you press it with your thumb.
A ripe melon also feels 'heavier' for its size.  So if you pick up your cantaloupe, and are surprised by the weight and think that the end is slightly softer than the others on the shelf, you've probably picked a ripe on.
Once ripe it will keep in your fridge for a few days, but don't wait too long to enjoy the juicy goodness.  And if you want to share a little piece with your dog, then go ahead.  It's unlikely to do him any harm.
More feeding information
You might also enjoy