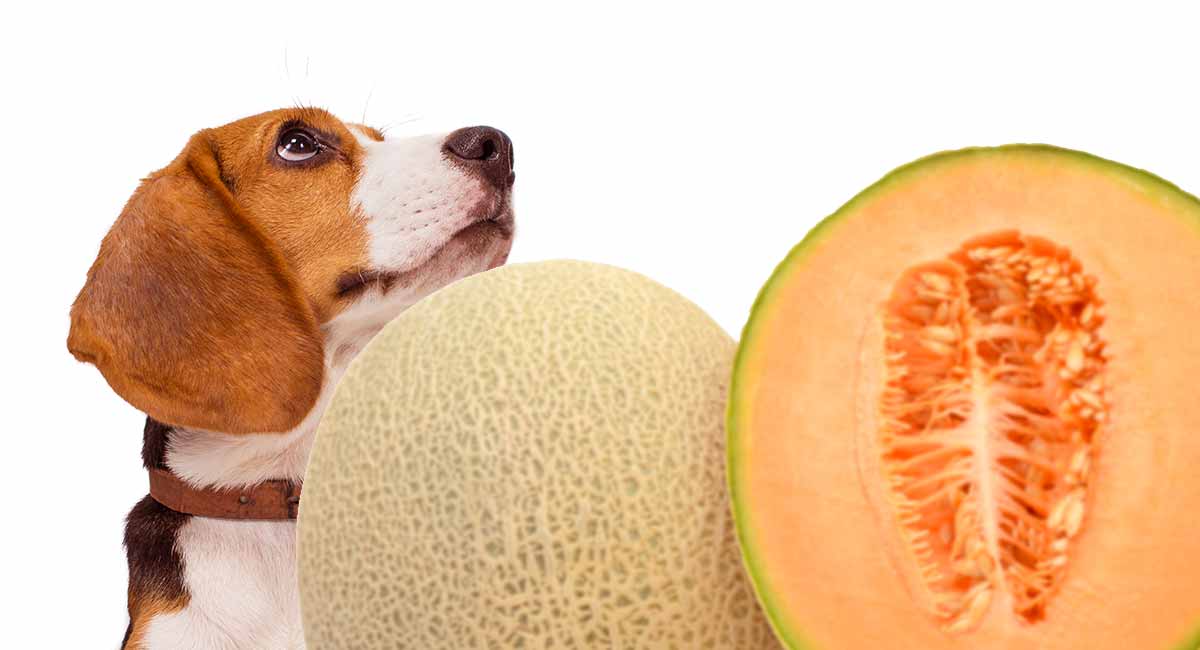 Can dogs eat melons and cantaloupe? Dogs can eat cantaloupe and other melons safely in small quantities. Cantaloupes and melons, in general, have a substantial sugar content and should be fed as treats. These fruits also contain vitamins and minerals that are good for dogs. However, while cantaloupe seeds are non-toxic, it is best to avoid the rind. So, with cantaloupe for dogs, cut it up into bite-sized chunks!
What Is a Cantaloupe?
Cantaloupes are a type of melon. They belong to the family of plants called Cucurbitaceae. These plants are also known as the "gourd" family.
They are related to squashes, zucchini, cucumbers and the like.
Most plants in this family are annuals. That is to say they grow, flower, fruit, and then die — al within the course of a single year. Because cantaloupes are so similar to other melons, much of the information below applies to all types of melon and squash. But the real questions are: can dogs have cantaloupe? Can dogs eat melon? Is the cantaloupe for dogs?
Can Dogs Have Cantaloupe?
Like all gourds and squashes, cantaloupes have a very high water content, but they also contain some interesting nutrients.
In common with many other yellow and orange foods, cantaloupes are a rich source of vitamin A. According to the World's Healthiest Foods website, that's 30 times higher than the beta-carotene content in oranges. Not quite in the same bracket as carrots, but still a rich source.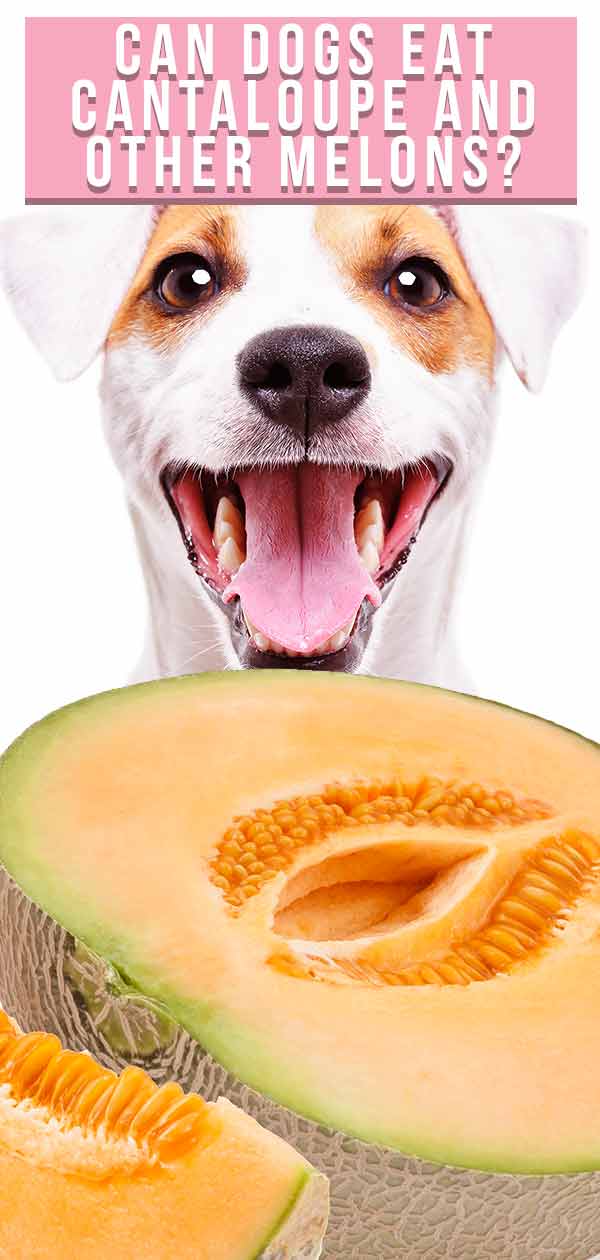 Many fruits are high in vitamin C and cantaloupe is no exception. One cup of the fruit provides about 70% of a human being's daily requirement. That same cup also provides a range of other vitamins and minerals including significant amounts of potassium and copper.
But, is cantaloupe good for dogs? Can dogs have cantaloupe? Can dogs eat melon? Do dogs need these nutrients? And are the levels appropriate for our four-legged friends, or might they even be harmful?
Is Cantaloupe Bad For Dogs?
There is nothing inherently "toxic" to dogs in the flesh of the cantaloupe or watermelon. But you should be aware that cantaloupe has occasionally been associated with outbreaks of human food poisoning. However, this shouldn't be too concerning, as these outbreaks have been pretty rare.
We say you should be aware, though, because some experts worry about dogs being exposed to food borne pathogens that humans are susceptible to.
For example, you'll hear some vets express the opinion that dogs shouldn't eat raw chicken because it may contain salmonella and listeria. Of course many thousands of dogs around the world eat raw chicken as the mainstay of their diet without coming to any harm. So it's important to keep these things in perspective.
So, back to cantaloupe. Can dogs have cantaloupe? And if cantaloupes aren't toxic to dogs, then is cantaloupe good for dogs? And can dogs eat melon?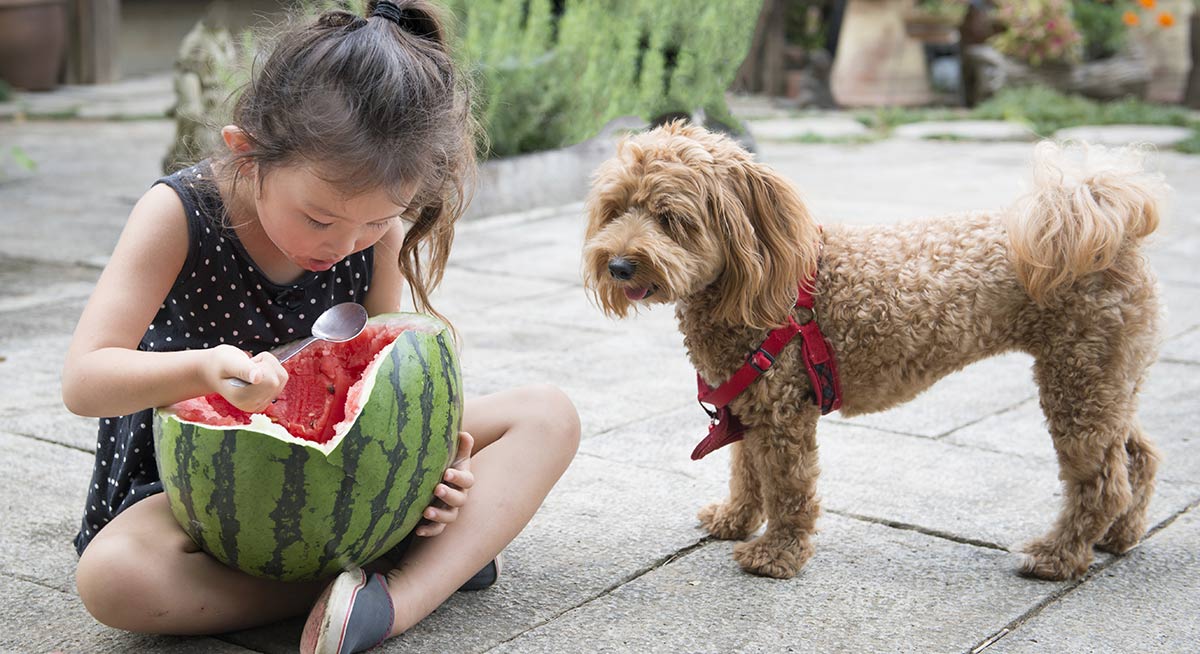 Is Cantaloupe Good for Dogs?
Along with a range of other fruit and vegetables, cantaloupe is an effective and tasty way for you and me to get some valuable vitamins.
But let's be honest, if your dog is being fed a complete commercial dog food in the form of a quality kibble, he doesn't need any extra vitamins. The food you give him contains everything he needs. The same applies to dogs being fed a balanced raw meat and bone diet.
What's more, like all sweet fruit, cantaloupe contains substantial amounts of sugar which is not good for your dog's teeth or his waistline.
So we really need to think of cantaloupe and other melons as a special treat, rather than a source of nutrients for your dog.
Regardless, if you want to give a dog a small treat, a cube of cantaloupe is a perfectly reasonable choice. The fruit has many benefits for dogs — and for humans.
Health Benefits of Cantaloupe for Dogs
Cantaloupe contains useful fiber, vitamin B6, niacin, folate, vitamin A, vitamin C, and potassium. A great thing about this fruit is that it is low in calories and high in water content. This means it's excellent for rehydrating.
In dogs (as well as in humans), vitamins A and C are well known to function as antioxidants. These chemicals capture free radicals, which slows cell aging, and may help reduce the risk of diseases like cancer. The high levels of water and fiber in cantaloupe also help your pup's plumbing. It can even prevent constipation.
Can Dogs Eat Cantaloupe Seeds?
Yes, they can! Experts agree that most seeds — except cherry, peach, nectarine, plum and apricot pits — are safe for dogs. So, don't panic if your dog accidentally swallows cantaloupe, watermelon or even honeydew melon seeds.
Can Dogs Eat Cantaloupe Rind?
No, they can't. While cantaloupe seeds are non-toxic and safe to eat, its rind is a different story. Cantaloupe and other melon rinds can be dangerous for your dog. They are first off, choking hazards. Then if your dog does manage to swallow them, they're unlikely to digest them safely.
These rinds can actually become impacted or "stuck" in your dog's plumbing. This can cause serious gastrointestinal upset.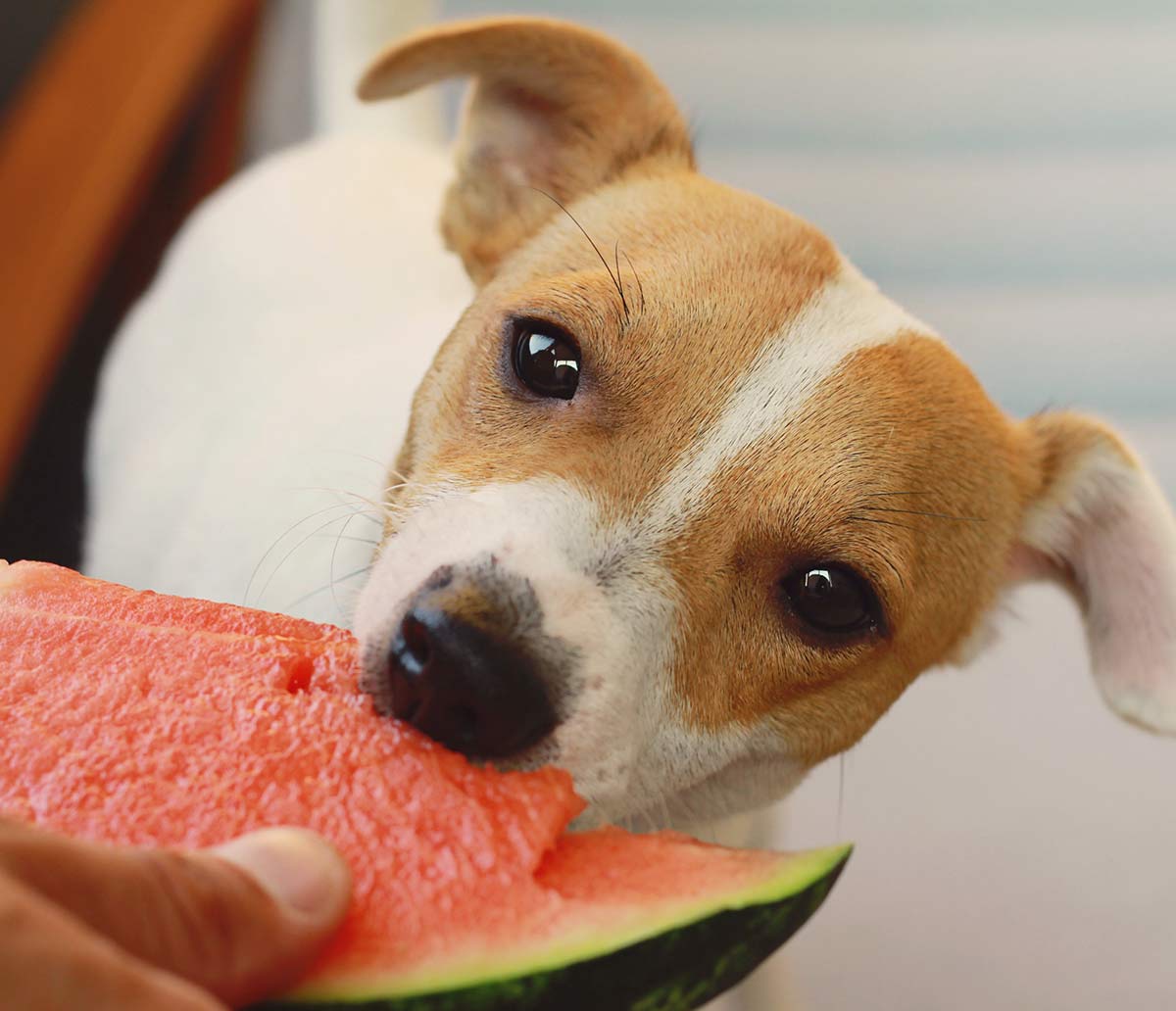 Can Dogs Eat Honeydew Melon?
Can dogs eat melon? More importantly here, can dogs have honeydew melon? They can, but in moderation. Honeydew melon is known for having an even higher sugar content than cantaloupes. So it's wise to keep that in mind as you treat your dog to chunks of the fruit.
Can Cantaloupe Treat Inflammation in Dogs?
Maybe. Because cantaloupes have a host of vitamins and minerals, as well as antioxidants, it's believed that they can reduce inflammation in dogs. For instance, if your dog was recently overactive and has a few swollen joints or inflamed muscles, cantaloupe might help!
Unfortunately, not enough research has been done with dogs and cantaloupes. Still, if you're desperate, it can't hurt.
So if you're ever wondering: can dogs have melon? They can — with likely benefits too!
How to Give a Dog Cantaloupe
Feeding your dog cantaloupe isn't rocket science. However, there are some precautions to take:
Remember to wash the cantaloupe before feeding it to your dog — just as you would for yourself.
It's also wise to only feed them safely ripe cantaloupe — not unripe or rotting.
Because the rind is not safe to consume, cut the cantaloupe into small chunks for your dog instead.
You may remove as many seeds as you possibly can.
Additionally, just like humans, dogs can be allergic to cantaloupe. So, always introduce any new foods gradually to your pet's diet. This helps to prevent any stomach upsets. Start with small amounts of the fruit or vegetable and always introduce one type of fruit or vegetable at a time. That way, if there is an adverse reaction, you'll know what caused it.
Alternatives to Cantaloupe for Dogs
Still unsure about your question, can dogs have melon or cantaloupe? Fret not. Besides cantaloupe, there are many other fruits you can safely feed your dog. Many of these fruits are entirely safe, while for others, you may need to take out their seeds/pips.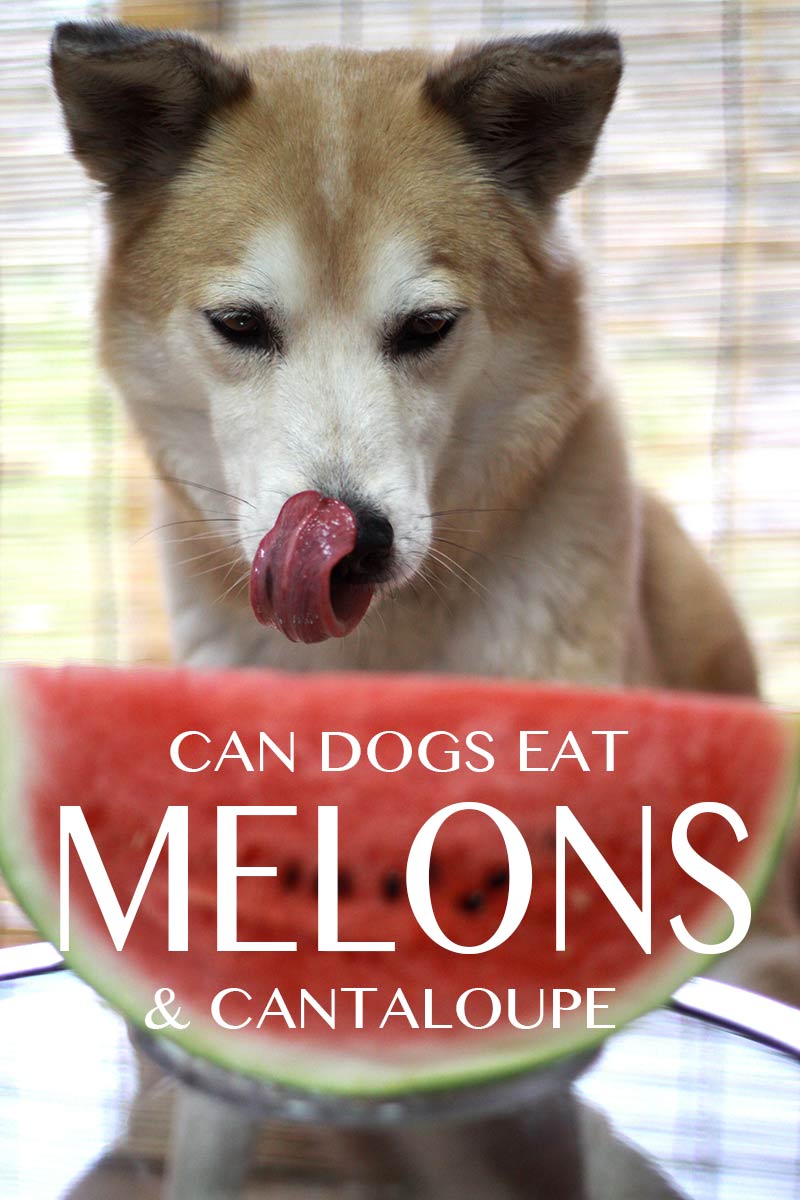 Can Dogs Eat Cantaloupe? – Summary
The answer to "can my dog have cantaloupe" is yes, they can, but in moderation. A little piece of cantaloupe is a relatively safe treat for a dog.
And in the summer, if you like, you can freeze cubes of cantaloupe to give as a special frozen treat on hot days.
Avoid feeding cantaloupe or any other fruit in large quantities as the sugar won't do him any good and might even upset his tummy. Also, never feed your dog the cantaloupe or melon rind. While seeds are safe, the rind may choke your dog and will certainly be hard to digest.
If you have questions or concerns about feeding your dog cantaloupe, consult a veterinarian. Has your dog eaten cantaloupe in the past? Do they like it?
Make sure you also take a look at what to do if your dog eats plastic.
References and Further Reading
AKC. Can Dogs Eat Cantaloupe? Burke, A.
Very Well Fit. Cantaloupe Nutrition Facts. Cervonie, B. RD CDE.
Trupanion. Does My Pet Have an Allergy to a Certain Fruit or Vegetable? Nold, S. DVM.
Doolitle, J. "Osteomyelitis and septicemia secondary to Listeria Monocytogenes in a young dog." Journal of Dairy, Veterinary & Animal Research 6, no. 1 (2017): 00170.
Can Dogs Eat Cantaloupe has been extensively revised for 2019.