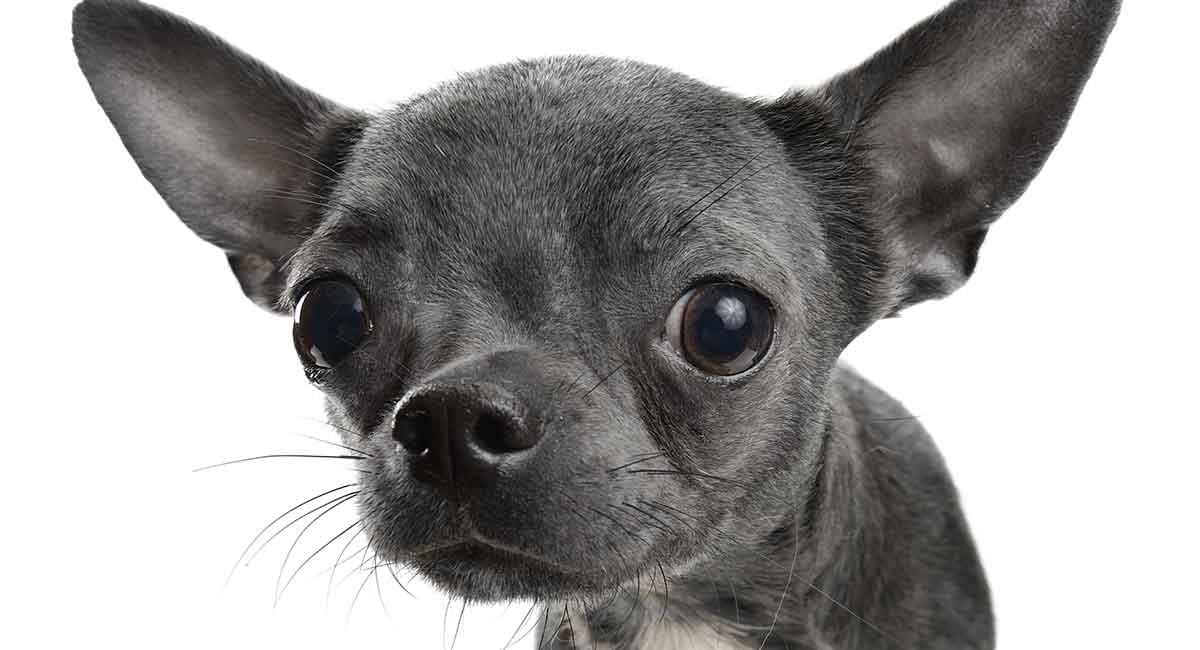 The Chihuahua is an already popular and established breed. But how is the black Chihuahua different from the rest of the breed?
In this article, we take a detailed look at the black-coated Chihuahua in particular. From their temperament to their health issues.
So let's get started.
What Are the Genetics of the Black Chihuahua?
The coat color expressed by any given dog is controlled by specific genes.
Every healthy dog receives coat color genes from both parents. Meaning they receive two copies of information.
How these two sets of genes interact is the key to what coat color is expressed.
Each gene is either dominant or recessive. A dominant gene beats out a recessive gene.
For example, if a puppy is carrying a dominant black coat color gene and a recessive red coat color gene, their coat color is black.
Recessive genes
For a recessive gene to be expressed, no coat color gene that the dog is carrying can be dominant.
If a puppy is carrying two red recessive genes, she would be a red-coated dog. This is because no dominant gene is beating them out.
The black coat color gene found in Chihuahuas is dominant.
This is why it tends to be a rather common color in the breed and quite easy to find.
Surprise Genes in Black Chihuahuas
It is important to note that sometimes there may be surprises when it comes to the color of a Chihuahua.
For example, it is possible for two black-coated dogs to give birth to a puppy of a completely different coat color!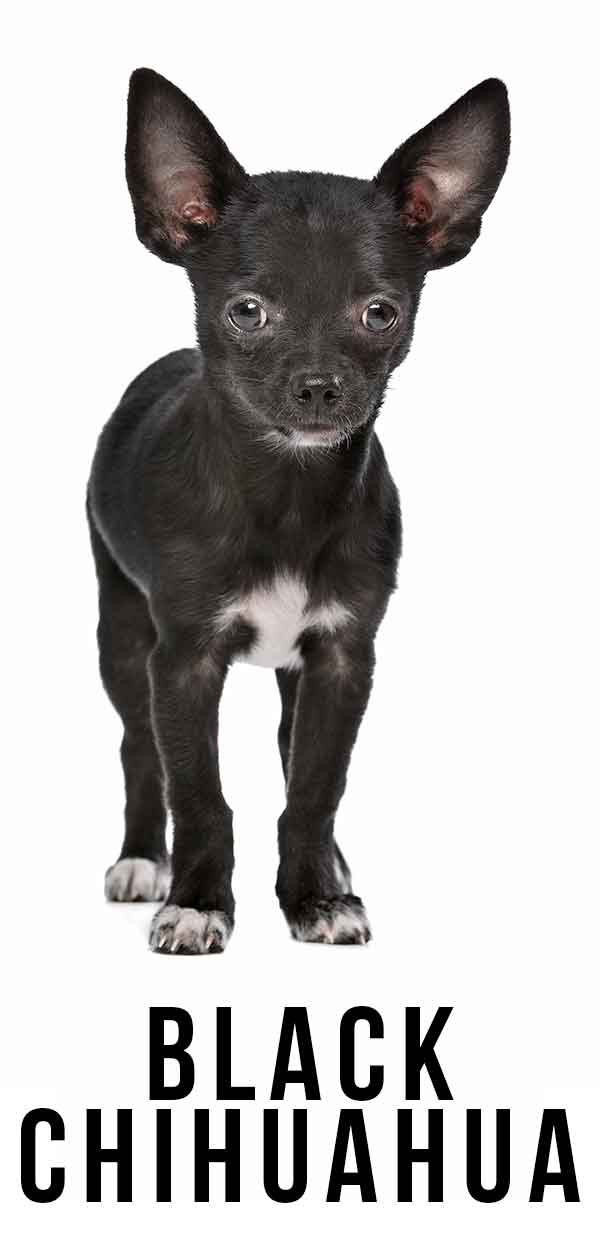 How is this possible?
Both parents can carry recessive genes alongside with their dominant black gene.
By chance, they both can pass on those recessive genes to their puppy.
This means the dominant black gene is no longer is present. The recessive color is expressed, despite not being apparent in the parent's coats.
If you are wondering what coat colors may be possible in an unborn litter, ask your breeder.
A trustworthy and experienced breeder should be able to answer those questions with confidence.
Black Chihuahua Appearance
The Chihuahua as a breed is known to hold many possible colors and patterns in her coat.
This extends to the black Chihuahua, too. Variations include:
Solid black Chihuahua—Black all over
Tan and black Chihuahua—Mainly black, with tan patches around the face and/or chest
Black tricolor Chihuahua—Three distinct colors: black, tan and white
White and black Chihuahua—Black with white patches around the face, chest and/or the legs
Merle and black Chihuahua—Mostly white coat with black spots and splashes
Over time, it is possible for a black coat to fade into gray and white as a Chihuahua ages.
It's possible for the Chihuahua to either be short-haired or long-haired, regardless of color.
Personally, I don't think there is anything cuter than a black long-haired Chihuahua!
It's also important to note that the Black Chihuahua has no physical differences to Chihuahuas of different coat color.
Black Chihuahua Temperament Superstitions
Black Chihuahuas do not have any marked difference in temperament compared to other Chihuahuas.
However, there are some who may believe otherwise.
There is no scientific evidence backing this claim, and it is very likely that these claims are based in superstition.
In the case that a breeder is making this claim, approach them with caution.
If they're making promises about their puppies' temperament based on coat color alone, they might be (at best) naive and misinformed about dog breeding. Or (at worst) deliberately spreading misinformation to "market" their puppies.
Actual Black Chihuahua Temperaments
The black Chihuahua can be a charming, happy dog like any other Chihuahua.
However, Chihuahuas are known for being predisposed to developing aggression to other dogs and humans.
Bite attempts could be a real possibility if the Chihuahua is not trained or socialized correctly.
They can also suffer from separation anxiety.
It's very important that all Chihuahuas are trained and socialized well from a young age. And raised in a loving environment.
This gives them them the confidence to be well-behaved and friendly adults.
Chihuahua Health for Merle-Coated Dogs
Most variations of the black Chihuahua's coat do not come with any special health concerns.
However, merle Chihuahuas can be prone to certain health problems related to their coat.
The most well-known of these is congenital deafness, common in a merle coat.
The merle-coated Chihuahua may also lead to ocular problems such as microphthalmia. This is when the dog's eyes are much smaller than they should be.
In severe cases, it can cause problems with vision.
Therefore, we recommend being extra wary with merle Chihuahuas.
Ensure before purchasing a puppy of this coat that any auditory or ocular problems are not present.
Black Chihuahua Health Concerns
Black Chihuahuas are still prone to health issues that affect the entire breed. These include:
Cardiac issues such as patent ductus arteriosus and degenerative mitral valve disease
Patellar luxation
Epilepsy
Hypoglycemia
Tracheal collapse
Progressive retinal atrophy
You can read more about Chihuahua health right here.
Finding Good Breeders for Black Chihuahuas
When purchasing a puppy, it is important to find a breeder you can trust.
Find a breeder who has recognition from trusted and established breeding societies.
Positive feedback from previous customers is a good sign.
A good breeder should be able to show proof of the parent dogs' genetic health. This will help ensure any hereditary conditions won't pass onto the puppy.
This may come in the form of health evaluations.
Choosing Black Chihuahua Breeders
The Black Chihuahua does not differ in overall health when compared to other members of the breed.
That is, except for the Merle variation with the already-mentioned health concerns.
If a breeder states that the black Chihuahua is the healthiest variation of the breed, avoid them.
This simply isn't true and is most likely a marketing ploy, similar to the temperament myths.
For more information on purchasing a puppy, see here.
Maintaining the Black Chihuahua Coat
Chihuahuas have easy grooming requirements for keeping that black coat in top shape.
If they are short-haired, occasional brushing them keeps them looking their best.
If they are long-haired, a weekly brush is necessary to keep their fur from matting.
Black Chihuahua: A Stunning and Graceful Dog
In summary, the black Chihuahua for all intents and purposes is just a Chihuahua with a black coat.
Breeders who tell you that black Chihuahuas have differing health concerns or are more aggressive than other-colored Chihuahuas should not be trusted.
They require just as much love and care as any other Chihuahua. And have an equal chance of growing into an entertaining and loving companion.
What do you think of the black Chihuahua? Have you ever owned one? Got any stories to tell?
Let us know below.
References and Further Reading:
Ahonen, S.J., et al., 2013, "A CNGB1 Frameshift Mutation in Papillon and Phalène Dogs with Progressive Retinal Atrophy," PLOS One
Dea, C.O., 2014, "The Prevalence of Ocular and Auditory Problems in Homozygous Merle Dogs," Szent István University
Duffy, D.L., et al., 2008, "Breed Differences in Canine Aggression," Applied Animal Behaviour Science, Vol. 114, Issues 3–4, pgs. 441-460
O'Brien, J.A., et al., 1966, "Tracheal Collapse in the Dog," Veterinary Radiology & Ultrasound
Oyama, M.A. and Levy, R.J., et al., 2010, "Insights into Serotonin Signaling Mechanisms Associated with Canine Degenerative Mitral Valve Disease," Journal of Veterinary Internal Medicine
Patterson, E.P., 2007, "Clinical Characteristics and Inheritance of Idiopathic Epilepsy," Tufts' Canine and Feline Breeding and Genetics Conference
Priester, W.A., 1972, "Sex, Size, and Breed as Risk Factors in Canine Patellar Dislocation," Journal of the American Veterinary Medical Association, Vol. 160, Issue 5, pgs. 740-742
Saunders, A.B., et al., 2013, "Long-Term Outcome in Dogs with Patent Ductus Arteriosus: 520 Cases (1994-2009)," Journal of Veterinary Internal Medicine
Schmutz, S.M., "Genetics of Coat Color and Type in Dogs," College of Agriculture and Bioresources, University of Saskatchewan
Strain, G.M., 2012, "Canine Deafness," Veterinary Clinics: Small Animal Practice, Vol. 42, Issue 6, pgs. 1209-1224
Strain, G.M., 2004, "Deafness Prevalence and Pigmentation and Gender Associations in Dog Breeds at Risk," The Veterinary Journal, Vol. 167, Issue 1, pgs. 23-32
Strain, G.M., et al., "Prevalence of Deafness in Dogs Heterozygous or Homozygous for the Merle Allele," Journal of Veterinary Internal Medicine
Vroom, M.W. and Slappendel, R.J., 1987, "Transient Juvenile Hypoglycemia in a Yorkshire Terrier and in a Chihuahua," Veterinary Quarterly, Vol. 9, Issue 2, pgs. 172-176