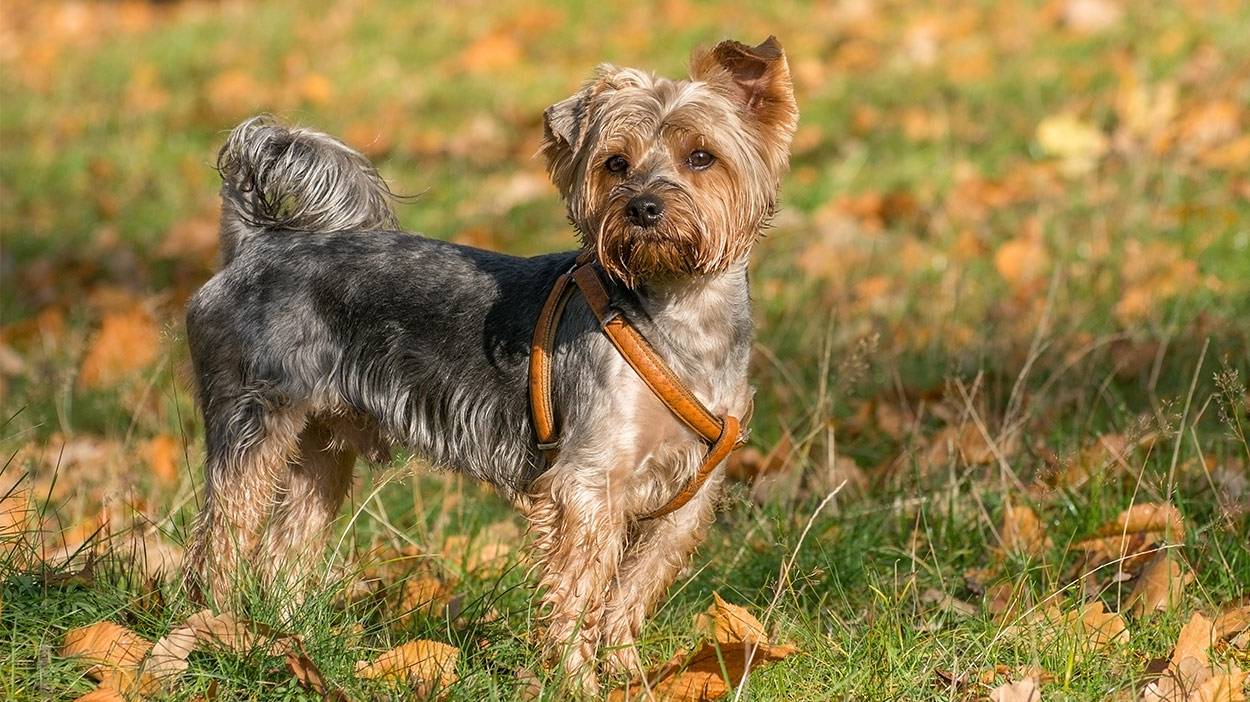 A very warm welcome to our comprehensive guide to choosing the best Yorkie harness for your Yorkshire terrier!
In recent years, using a harness to walk your dog has become more popular than using a traditional collar and lead.
But why might a harness and leash combo be best for your Yorkie?
How do you know what Yorkie dog harness size to buy?
Can you even get a teacup Yorkie harness?
We'll answer all these commonly asked questions and more in our comprehensive guide.
We've also taken time out to review a selection of what's available, to help you find the very best harness for Yorkies.
Our reviews include handy links to our favorite Yorkie dog harnesses on Amazon.com, so ordering couldn't be easier!
So, without further ado, let's answer some of your questions!
Why use a Yorkie harness?
While traditionalists may prefer to stick to using a collar and lead to exercise their pup, forward-thinking owners are making the move to harnesses instead.
But why?
Well, first of all, if you have a Yorkie puppy, you may find a harness is an effective and sympathetic training tool.
A harness provides better control over dogs that are inclined to pull and jump when they become excited during a walk.
Due to the pressure that a collar places on their windpipe, dogs that habitually pull while on a collar and lead can suffer neck injuries and associated health problems. A harness does not place direct pressure on the dog's neck, so the risk of injury is avoided.
Understanding your Yorkie's neck anatomy
To understand why a collar can be so damaging for your Yorkie, it's important to look at the anatomy of his neck.
Underneath your Yorkie's vocal cords, his throat splits into two distinct sections.
The trachea (windpipe) is situated toward the front of the dog's neck. This tube leads to the dog's lungs and enables him to breathe. The trachea is encased by rings of soft, flexible cartilage.
Slightly behind the trachea lies the other tube, your pup's esophagus, which transports food to his stomach.
What injuries can be caused by a collar?
Because the trachea is not protected by rigid bone, it can be easily crushed by a collar if the dog pulls. This could potentially result in serious tracheal collapse or, at the very least, coughing seizures.
Yorkies are particularly at risk due to their small stature and lack of muscular support around the neck area.
Injuries to the dog's trachea are extremely painful and can require surgery. Some dogs may never fully recover from collar-related injuries.
By comparison, a harness is designed to fit around your dog's shoulders, chest, and upper back. These areas have much more muscle and are also bony, easily handing any tension that may occur if your Yorkie pulls while he is being walked.
Which type is the best Yorkie harness?
There are two main styles of dog harness that are suitable for use with Yorkies:
Padded strap harness
First is the strap harness. Most strap harnesses have buckles on the upper back and/or sides, making the harness fully adjustable. Adjustability can be very useful when choosing a teacup Yorkie puppy harness for really tiny pups!
Strap dog harnesses come in different materials, but nylon webbing is probably the most popular as it is very durable, easy to clean, lightweight, and weather resistant.
Leather harnesses are best avoided as they tend to lose their shape and fit.
Vest or wrap harnesses
Available in myriad colors and designs, including bling, Yorkie harness vests are a very popular choice for the fashionista and her dog-about-town!
In addition, many tiny breeds, including teacup Yorkies and Yorkie puppies, find the wrapping effect of the vest harness comforting.
A vest harness is essentially a tiny vest that your Yorkie wears. You attach your dog leash to a D-ring or fabric connector on the upper back of the vest.
Vest harnesses fasten via Velcro or nylon straps and feature a quick-release safety buckle.
Vests are easy to put on your Yorkie and fit securely and comfortably.
Both harness style options allow your Yorkie total freedom of movement and keep their neck protected from injury.
So, really, the best Yorkie harness style is the one you like the most!
What about collars?
Even though you may prefer to use a harness for your Yorkie, you should still have him wear a collar with an ID tag bearing his name and your contact telephone number.
You should also have your Yorkie microchipped so that he can be easily traced to you if he gets lost.
It's worth noting that, according to the American Society for the Prevention of Cruelty to Animals, 15% of dog owners reported that they had lost their pet at some point in the last five years. Of these, 93% were eventually reunited with their pet parents, but of the 542,000 dogs found as strays, only 26% were claimed by their owners.
Why the correct fit is vital
It's important that your dog's harness fits him properly.
A harness that's too loose may rub the dog's skin, causing sore patches. A loose harness around the dog's neck could place him in danger of strangulation should be become tangled in low-hanging branches or brambles while out walking.
If the harness is too tight, it will be uncomfortable for your Yorkie, restricting his movement and potentially causing painful pressure sores.
How to fit your Yorkie's harness
Whether you're buying online or from a pet supply store, you'll need to know how to measure your Yorkie for the perfect harness fit.
Generally, you should choose an extra-small harness, as these are usually a good fit for a Yorkie. You can also buy tiny harnesses that are designed specifically for teacup Yorkies and Yorkie puppies.
Use a flexible cloth tape measure and measure your Yorkie around his chest. Begin at the bottom of his rib cage, go up and over his back, and then back down to your starting point.
Next, measure his neck by wrapping the tape around the thickest area right where his neck joins his shoulders.
Many harness manufacturers use weight as a sizing guide. If your lively pup won't sit still on the scales, weigh yourself first. Now pick up your pup and weigh both of you together. The difference between the two measurements will be the weight of your Yorkie!
Now let's move on to look at some of the best Yorkie harnesses we've found for you and your pampered pet!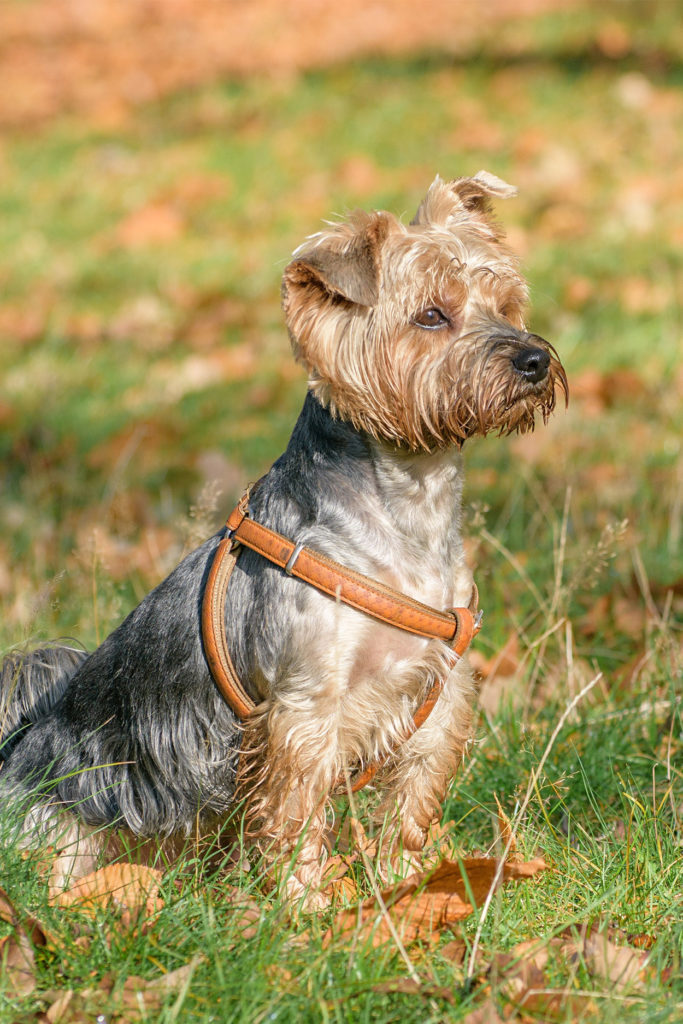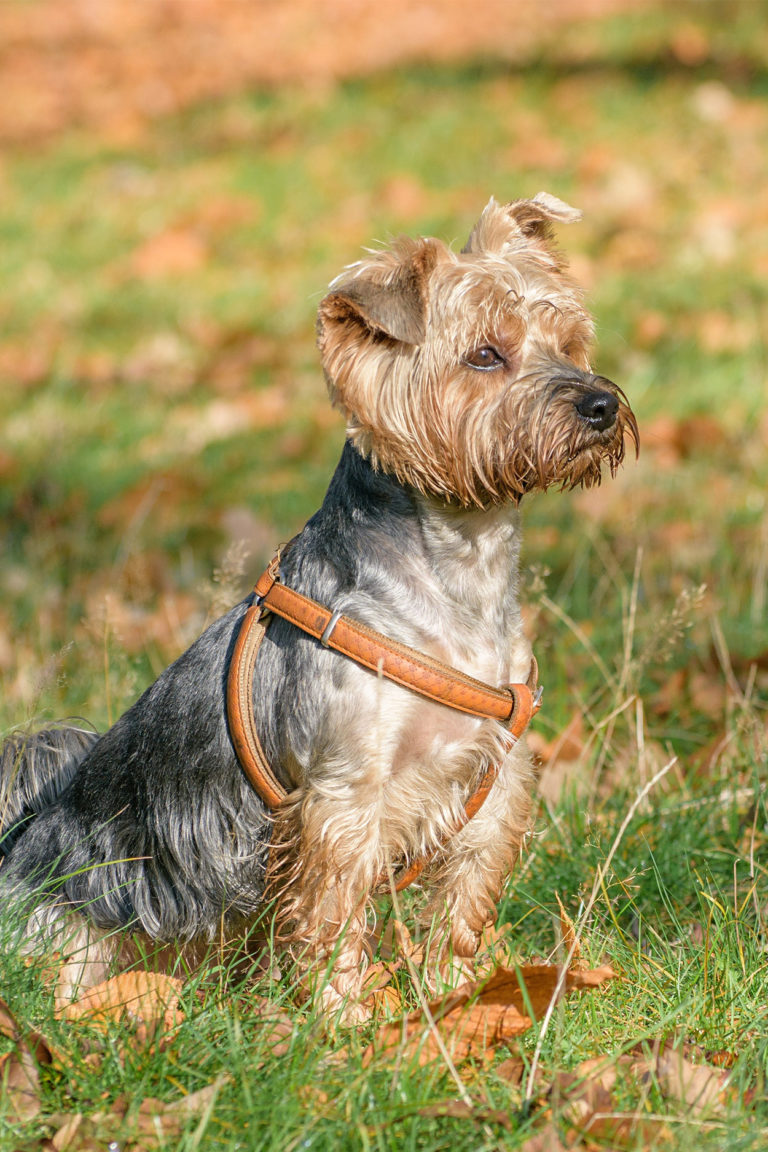 Vest Yorkie harness
The Voyager Mesh Harness makes a great Yorkshire terrier harness!
It is made from breathable mesh fabric with an easy step-in style, making it quick and easy for the busy owner to put on their pet.
The harness has strong Velcro closures and robust metal D-rings for safe and secure leash attachment.
The Voyager comes in a wide range of bright and cheerful colors for the trend-setting pup and owner!
This vest style toy Yorkie harness from PUPTECK is also small enough to fit a teacup Yorkie or a puppy.
The classic checkered patterned fabric is made from breathable mesh, keeping your pup dry and cool, whatever the weather. The frilled neckline and cute bowtie ribbon make this vest cutesy perfection!
This dog harness for teacup Yorkie fastens via a Velcro and strong plastic clip closure with two metal D-rings for extra security.
The vest is also available in purple and red.
Padded Yorkshire terrier harness
This best-selling air-mesh padded dog harness from BINGPET tends to come up slightly smaller than average than the given measurements, making the extra-small size suitable for teacup Yorkies and puppies.
The harness is made from comfy, padded, breathable polyester and features a quick-release buckle.
Although the chest vest is fully adjustable, note that the neck strap is fixed and cannot be adjusted.
The harness also comes in a range of stunning, bright colors.
Pamper your pet with Voyager's super-soft, padded harness!
Made from stylish suede-effect fabric with a soft, fluffy lining, this vest offers the ultimate in comfort for your precious furbaby.
The well-made harness has a durable fastener and quick-release safety buckle. The harness is also fully adjustable, enabling you to get the perfect fit for your pup.
This luxuriously warm harness comes in a range of pretty colors and is also fully machine washable, making cleaning up after muddy winter walks a breeze.
For environmentally conscious owners, the EcoBark harness is a best-seller that's made from recycled plastic water bottles.
The lightweight harness design is safety tested by ROSH. It's lined with padded mesh for extra comfort and its no-choke design guards against injury to your Yorkie's trachea and throat.
The harness has an adjustable belt fitting and also features a reinforced anchor hook and quick-release clasps.
Seatbelt harnesses
If you travel with your Yorkie in your car, you should choose a harness that can be attached to the seatbelt. In the event that you have to brake harshly, your pet won't fly off the seat and be injured.
So what are the best Yorkie harness options when it comes to travel?
This lightweight padded adventure dog harness comes in a range of colors to suit every pup!
The breathable fabric is durable and is lined with a soft sponge padding for comfort, making it a sympathetic training aid for dogs that have a tendency to pull.
Brilliantly reflective material is included in the design, making your pet highly visible during nighttime walks.
The unique design includes a Draflex buckle, making the harness very strong. There are also two leash attachment points via an aluminum V-ring on the back and reinforced webbing on the chest.
This ergonomically designed harness has a sturdy handle, allowing for easy seatbelt attachment to keep your Yorkie safe while riding in your car.
This best-selling harness from Pawaboo is designed to be used with a seatbelt for safe car travel, as well as for normal leash walking. The robust metal seatbelt attachment can be used in most family cars and SUVs.
The harness is vest style and made from breathable Oxford Polyester. It has a padded chest plate for added protection and comfort.
Teacup Yorkie harness
But what is the best Yorkie harness for a teacup variety?
These harnesses are made especially for toy breeds, and can also be the best harness for a Yorkie puppy.
These teacup Yorkie harness vests are designed to fit teacups and tiny puppies.
The breathable air-mesh will keep your pup cool and dry during hot weather and also has heavy duty D-ring leash attachments for added security.
The harnesses come in a variety of cute colors for your tiny best friend!
The Lil Pals breathable soft mesh harness is made with the tiniest pup in mind.
The harness has adjustable sides for a perfect fit. The metal D-ring leash attachment is durable and built for safety and longevity.

Choosing The Best Yorkie Harness
We hope that our guide to choosing the best harness for Yorkshire terriers has been helpful!
Walking your Yorkie in a harness can help to prevent collar-related injuries caused by choking if your pup pulls. A harness can also be a great training aid for Yorkie puppies.
Why not let us know what small Yorkie harness you chose for your pet, especially if it was one we recommended in our guide.
Share your Yorkie harness choice with other readers in the comments section below!
References and further reading:
ASPCA
Dr. Peter Dobias DVM, "One 'Jerk' Can Cause a Lot of Damage"