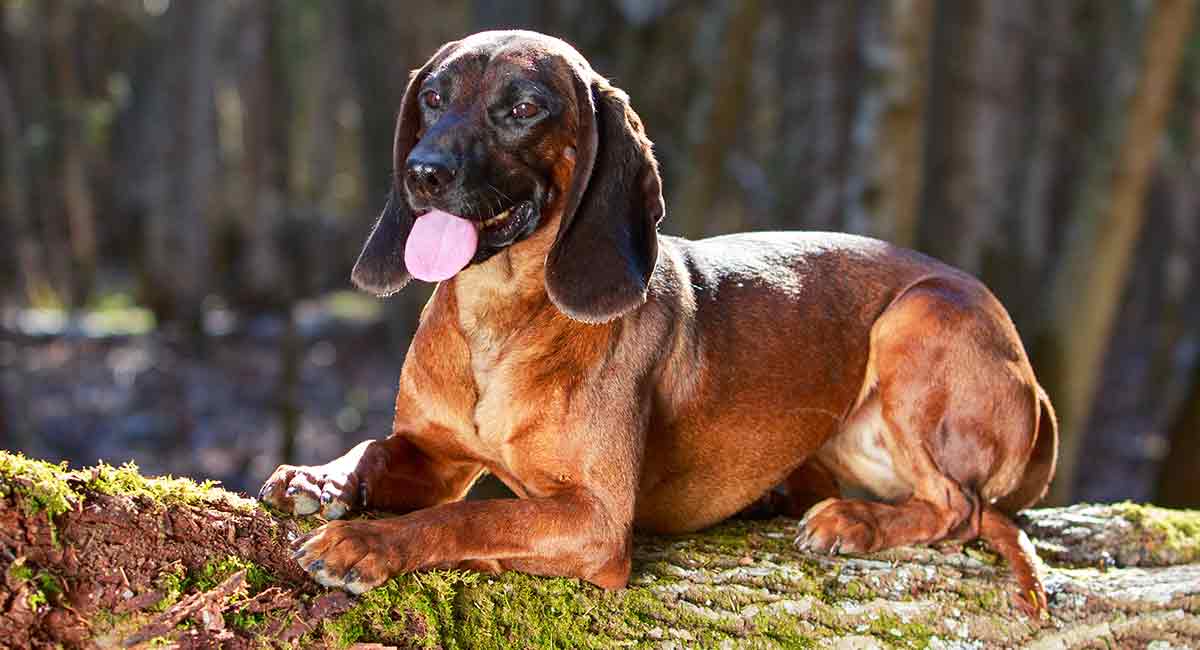 The Bavarian Mountain Hound is a lesser-known breed of dog from Germany. It is a relatively new, rare working breed, a cross between the Bavarian Hound and the Hanover Hound. Bred as a scent hound, this clever canine is used to trail wounded game, but recently they are also being adopted as companion dogs. Bavarian Mountain Hound puppies are a good fit for social people and families with an active lifestyle.
They are known for being calm and quiet, much like other hounds. But they have extremely powerful instincts and need lots of exercise. If you're thinking of welcoming a Bavarian Mountain Hound into your home, let's learn about their dog breed traits. We'll show you how to adopt a Bavarian Mountain Hound puppy and raise and care for them to be a friendly adult dog.
Contents
Where Does the Bavarian Mountain Hound Come From?
The Bavarian Mountain Hound is a relatively new breed of dog. For hunters, it was not uncommon for prey to be injured but not killed centuries ago. The weapons were less accurate and significantly less deadly.
It was often necessary for a hunter to shoot at a large animal multiple times. The hunter had to find the animal in order to shoot it more than once. This task fell to scent hounds, who were trained to track injured animals.
Scent hounds have been utilized for centuries to track injured animals. But, until the Bavarian Mountain Hound was breed, there were no hounds suitable to follow this game in the mountains.
Breeding Bavarian Mountain Hounds
To combat this problem, the Bavarian Mountain Hound was developed in the 19th century in Germany by crossbreeding the Hannoversche Schweißhund breed and various Alps breed. They are bred to be resilient dogs with strong bones and drooping ears.
These dogs also have a strong sense of smell and a trainable temperament. In other words, they are perfectly suitable for tracking massive game in the mountains.
In 1912, the Club for Bavarian Mountain hound was founded in Munich. And, the breed gained popularity in neighboring countries.
Fun Facts About the Bavarian Mountain Hound
The Bavarian Mountain Hound is a relatively new breed of dog.
They were not accepted into the American Kennel Club until 1996.
This breed prefers to spend their time outside, making them unsuitable to city living.
They are specialists in wounded game tracking but are also occasionally used for other tracking purposes.
The Bavarian Mountain hound is in the AKC's Foundation Stock Service.
This service is aimed to allow rare, purebred dogs to develop while keeping track of their bloodline records.
Bavarian Mountain Hound Appearance
Bavarian Mountain Hounds are very muscular and resiliently built. They can weigh anywhere between 37 to 66 pounds and stand at 17 to 20.5 inches.
These dogs are incredibly muscular and balanced. They are all-around working dogs, and you can tell in their appearance. They stand on proportionally sized legs and stand somewhat higher in the rear than in the front.
Their skin fits tightly to their bodies to prevent unnecessary drag with tracking. Their snouts are long and built for tracking.
Bavarian Mountain Hounds' coats are short and somewhat soft around their heads. But it is rougher on their tails, legs and bellies to protect them from rough, mountainous terrain.
Coat Color
Their coats can come in a few different colors. Bridle, reddish brown and tan are the most common. However, fawn colors, red and a few other colors are also possible.
Bavarian Mountain Hounds' eyes are nearly always brown, and their noses are black. Hardly noticeable, black hairs can commonly be picked out from their coats.
Their tails are usually darker than most of their other coats. A white patch on their chests is also standard.
Bavarian Mountain Hound Temperament
These dogs are bred for tracking. Their instincts are powerful and nearly impossible to compete with. Once this dog is on a trail, they are extraordinarily narrow-focused and will ignore all recall commands. For this reason, they are usually only owned by serious hunters.
Bavarian Mountain Hounds are commonly used by foresters, game wardens and rescue crews. But they can also make excellent companion pets to the right family.
They are calm, quiet and poised. Bred to be the perfect hunting dog, these canines are also known to be agile and courageous. Rough terrain does not deter them. They are often reported to climb across furniture and get into things they shouldn't.
You and Your Bavarian Mountain Hound
Bavarian Mountain Hounds are also social and intelligent. While they are attached to their owners, this kind of dog is also wary of strangers. Typically, they pick one "special person" and become very attached to them.
Separation anxiety is common. Overall, they act much like other hounds. They are vocal, independent and calm.
Training Your Bavarian Mountain Hound
This dog is extremely trainable. They are smart, readily listen to commands and remarkably serving. Because these dogs prefer the outdoors, potty training is usually straightforward. However, we recommend starting early just in case.
Crate training should be begun slowly but surely. Bavarian Mountain Hounds do experience separation anxiety, so it is vital that they are crate trained properly.
Socialization at an early age is essential. These dogs can be very wary of strangers, though they are not aggressive. Their intense prey drive, however, makes it nearly impossible for them to avoid chasing smaller animals, such as cats.
The instincts from Bavarian Mountain Hounds are so high that in most cases it is impossible to train them otherwise. Because these dogs are powerful, train them to walk on a leash in their puppy years.
Exercising your Bavarian Mountain Hound
Some Bavarian Mountain Hound enthusiasts believe that they should always be in a heavily fenced-in area or on a leash when outside due to their tracking instincts. These dogs were built for tracking and hunting so they need lots of exercise daily to stay happy and healthy.
Neglecting the physical needs of Bavarian Mountain Hounds can cause them to become destructive. Exercise them intensely for at least an hour a day or more if possible.
If at all possible, it is probably in your best interest to prepare a sturdy fence in the yard for them. This allows them to spend their time outdoors and get enough exercise.
Bavarian Mountain Hound Health
These dogs are not known to suffer from many health problems. They are incredibly healthy and regularly live to over 10 years old. Unlike many purebred dogs, they have a decently large gene pool.
Hip and elbow dysplasia are becoming more prominent as the Bavarian Mountain Hound population increases. Luckily, this disorder is not usually severe in the Bavarian Mountain Hound. These dogs typically suffer from only minor symptoms if any at all.
Other health issues
Ear problems are the only other common disease of importance. Regular ear cleaning can help to avoid infections.
Some reports have shown that Bavarian Mountain Hounds also suffer from cerebellar dysfunction. This is an inherited disorder. Signs include swaying, head tilting and lack of coordination.
They are also somewhat prone to babesiosis. But this might be due to their usual high-altitude location, not a genetic predisposition.
Do Bavarian Mountain Hounds Make Good Family Dogs?
These dogs require a family with specific qualities to care for them. Their high exercise requirements make them the perfect fit for active families, particularly those who spend a great deal of time outside. It is also best if they can spend the majority of their time at home with a member of the family.
Their separation anxiety can be severe in some cases. If these things describe you, then this dog can be a very suitable companion dog.
Bavarian Mountain Hound Pros and Cons
Pros
These dogs are incredibly trainable. They listen to commands readily and are eager to please.
They are also very calm and laid-back. Their even temperaments make them suitable family dogs for many.
Plus, they also suffer from very few health problems.
Most live long, healthy lives.
Cons
These dogs require a unique family to care for them. They are bred to be hunting dogs, not companion dogs.
They require quite a bit of exercise.
And their love for the outdoors can complicate things for more mellow families.
They are not very friendly toward strangers.
Bavrian Mountain Hounds are prone to separation anxiety.
Is a Bavarian Mountain Hound Right for Me?
If you live an active lifestyle and have a large, fenced-in yard, then this dog can be a great companion. But you must work with and not against their hunting and tracking instincts.
Rescuing a Bavarian Mountain Hound
If you find one of these dogs to rescue, it is essential to give them lots of time to adapt to their new homes. They are very wary of strangers. And, if they have experienced previous trauma, they will likely be even more cautious.
Due to their love of spending time outside, we recommend fencing in your yard before adoption. Allowing them to spend time outside will let them warm up faster to their surroundings.
Finding a Bavarian Mountain Hound Puppy
Due to Bavarian Mountain Hound rarity, it is usually easier to find a puppy to purchase than one to adopt at a shelter. These dogs are most popular in Germany and the surrounding countries.
While it might be possible to find a breeder in the United States, it can be significantly harder. However, they are significantly less expensive than other breeds, running around $800 from your average breeder.
It is essential to find a breeder that follows ethical breeding guidelines. They should be happy to provide you with health certification for the puppy's parents.
While it might be tempting to go to a puppy mill or pet store, these places usually do not follow ethical breeding practices. Their puppies can be unhealthy and unsocialized.
For more tips on finding your perfect puppy, we recommend reading our puppy search guide.
Raising a Bavarian Mountain Hound Puppy
Raising this canine is similar to any others. They require proper food, exercise, mental stimulation and training.
You should begin training early. Leash, potty and crate training are particularly important. Learning about puppy development stages can help with this. These dogs are brilliant and will benefit from regular training.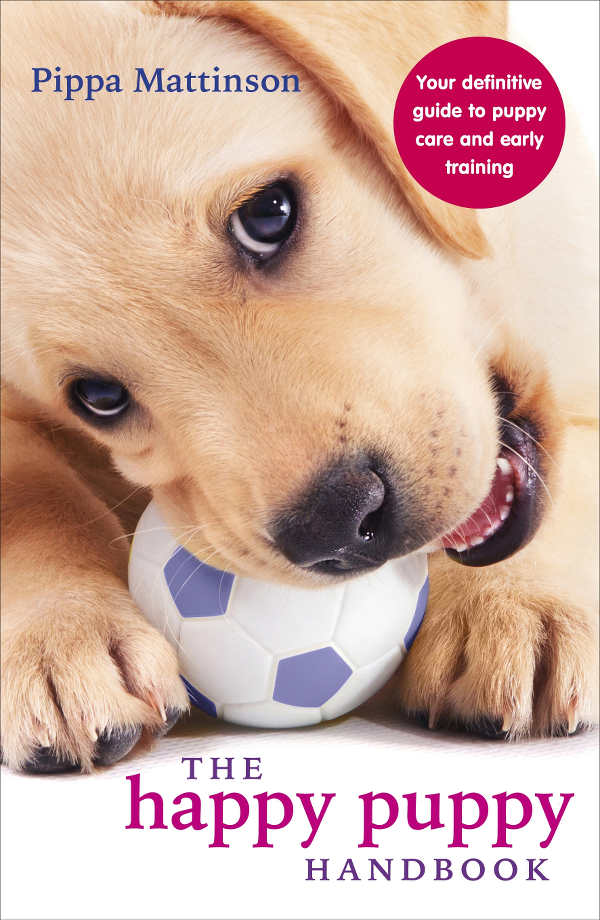 You should clean their ears regularly to prevent infections. Socialization should also be a priority.
Bavarian Mount Hound Products and Accessories
Leashes are a must for these canines. They will run away while following a trail. Leashes are necessary to keep them safe. You should also invest in a couple puzzle toys to keep them mentally stimulated.
Similar Breeds
The Bloodhound is probably the most well-known dog that is similar to this breed.
The Hanoverian Scenthound and Black and Tan Coonhound are also very similar.
All hounds are going to be somewhat similar to this breed. If you want a dog of a similarly calm and even temperament, looking at other hounds might be useful.
Bavarian Mountain Hound Rescues
There are only a few rescues currently for this breed.
References and Further Reading:
Adaszek, L., et al., 2011, "The Factors Affecting the Distribution of Babesiosis in Dogs in Poland," Veterinary Parasitology, Vol. 181, Issues 2-4, pgs. 160-165
Flegel, T., et al., 2007, "Cerebellar Cortical Degeneration with Selective Granule Cell Loss in Bavarian Mountain Dogs," Journal of Small Animal Practice
Ledecky, V., et al., 2004, "Occurrence of Hip Joint Dysplasia in Some Hunting Dog Breeds," Veterinarski Arhiv
Turcsan, B., et al., 2011, "Trainability and Boldness Traits Differ Between Dog Breed Clusters Based on Conventional Breed Categories and Genetic Relatedness," Applied Animal Behavior Science
Voges, S. and Distl, O., 2009, "Inbreeding Trends and Pedigree Analysis of Bavarian Mountain Hounds, Hanoverian Hounds and Tyrolean Hounds," Journal of Animal Breeding and Genetics, Vol. 126, Issue 5, pgs. 357-65