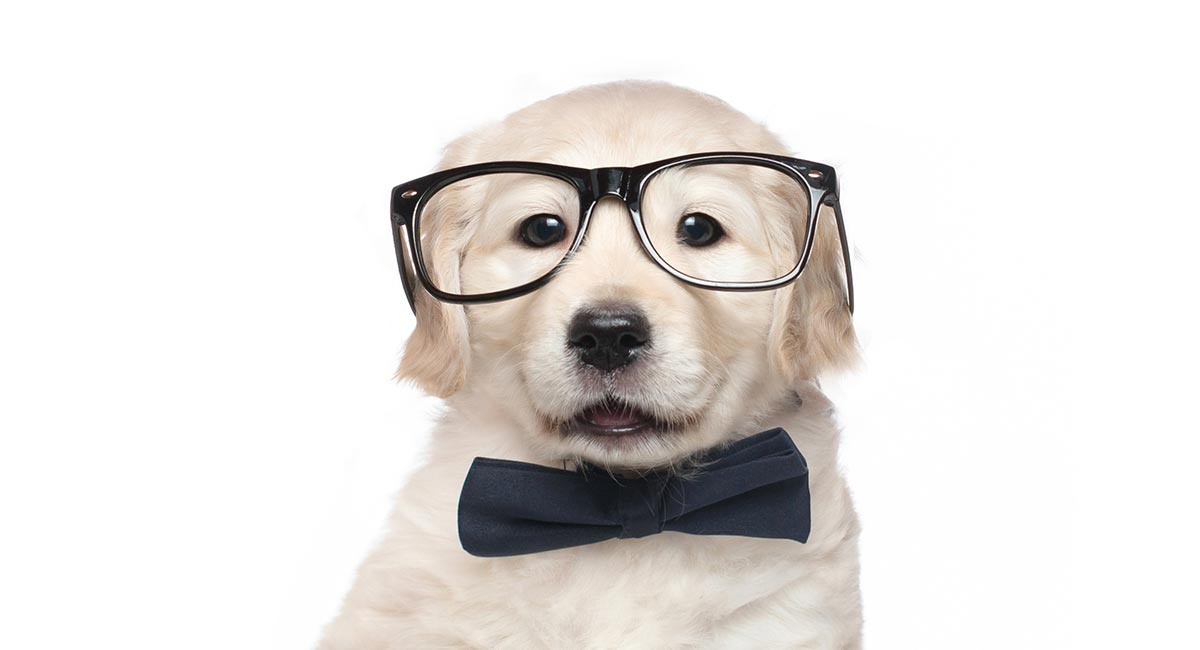 Welcome to our guide all about the intelligence of the Golden Retriever. We'll answer the question "why are Golden Retrievers smart?" and find out whether there's any scientific evidence to suggest that Golden Retrievers are smarter than average.
If you're wondering exactly how canine intelligence can be measured, we'll take a look at that as well!
Are Golden Retrievers Smart?
While these beautiful dogs are well known for their lustrous golden coats, and friendly temperaments, are they also smart? Yes they are!
In fact, Golden Retrievers are up there with the smartest dogs of all.
They're currently ranked as the 4th most intelligent breed.
This observation isn't just based on anecdotal evidence, but is grounded in a variety of scientific studies.
The use of Golden Retrievers as search and rescue dogs, service dogs, and therapy dogs also gives us a hint that this breed is smarter than your average pooch.
Now, let's take a look out exactly how scientists can go about measuring canine intelligence.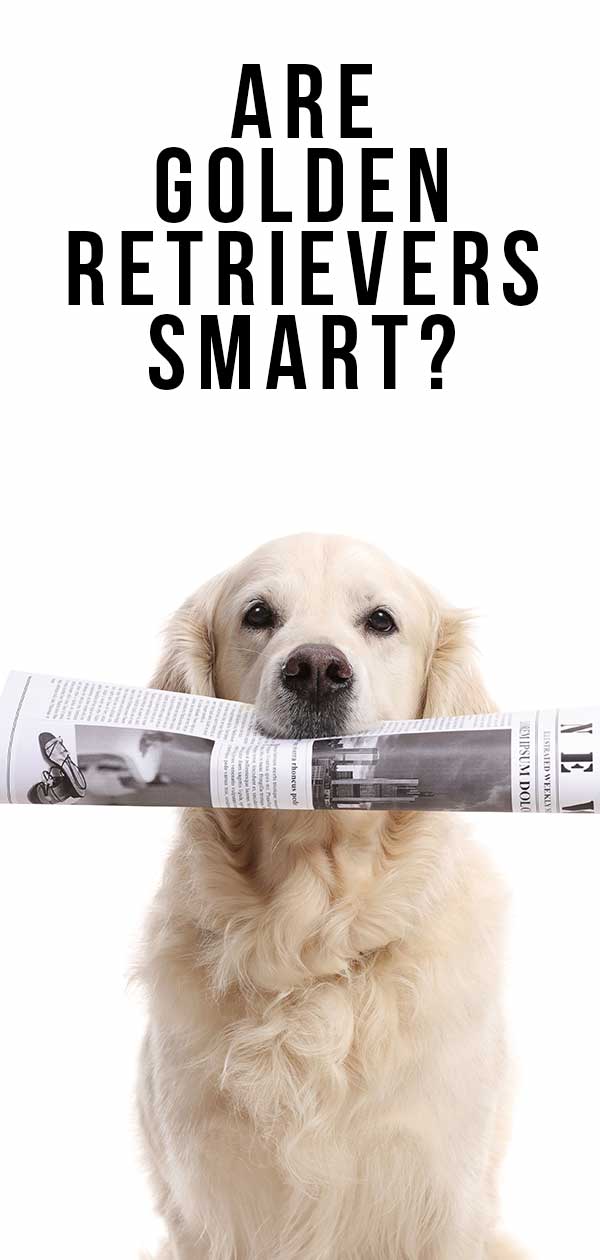 How Do We Measure Canine Intelligence?
While many of us may suspect our dog is particularly clever, without completing an IQ test, it's impossible to know how they would rank compared to other dogs.
There isn't one accepted method by which the intelligence of dogs is studied, and that is something scientists in this area would like to address.
Despite this, there are a few large scale studies which we can use to form a picture of the relative intelligence of various dog breeds.
Cognitive Abilities And Social Intelligence
It's been found that the cognitive ability of dogs can be measured quickly, with results showing the structure of their abilities to be similar to what we also find in humans.
A 2017 study found that the social intelligence of dogs is similar to toddlers. Dogs are able to form rewarding relationships with their owners using cooperative communication skills, in the same way that toddlers do with their parents and guardians.
The methods used in this test were similar to those used to test both humans and apes. Surprisingly, the patterns shared by dogs and human infants were not observed in chimpanzees.
While we may like to take that as proof that our canine companions are exceptional – other studies point out that their level of cognition is not extraordinary.
It may simply be that as one of the animal species that lives with us in such close proximity, that they are particularly sensitive to our actions.
Types Of Intelligence
When studying canine intelligence, experts tend to split this into 3 sub-sections:
Instinctive intelligence
Adaptive intelligence
Working or obedience intelligence
As you might have guessed, instinctive intelligence is something that varies widely between breeds.
It's something that's been bred into them over hundreds of years. And of course, for Golden Retrievers, their instinctive intelligence leads them to retrieve game that has been shot in the field.
Adaptive intelligence refers to a dog's ability to solve problems. Your Golden Retriever may work out how to open a cupboard door for a sneaky snack, or come and stare at you when their water bowl runs dry.
Working or obedience intelligence involves memorizing a new command, and understanding the link to performing the action that's requested.
Breed Differences
Any of us who spends time around dogs knows that different breeds tend to have particular character traits.
One study in 2013 found that smaller dog breeds had more difficulty learning and obeying commands.
Of course, not every dog is going to fit perfectly into the category we assign them. But many do fit into a classic profile for their breed.
So, have there been any studies into the intelligence of different dog breeds? Yes! Let's take a look at the method used by Stanley Coren, author of 'The Intelligence of Dogs'.
Coren's method examines canine intelligence by splitting it into the 3 sections we discussed above. As a reminder, these are instinctive intelligence, working or obedience intelligence, and adaptive intelligence.
He initially used data from professional dog judges, and later devised a personality test to measure the intelligence, and personality type, of a wide range of different dogs.
So, where does the Golden Retriever sit within these results?
How Smart Are Golden Retrievers?
In Coren's studies, Golden Retrievers came an impressive 4th out of a total of 138 breeds.
Breeds within this 'brightest dogs' category were found to need fewer than 5 repetitions before they understood a new command.
They also obeyed the first command given, 95% or more of the time.
Coren's rankings were formulated using observations from Kennel Club obedience trial judges in America and Canada.
While Coren's results were considered controversial at the time, they have now been generally accepted as an accurate pattern of intelligence in dogs.
A later study of Coren's, detailed within his book 'Why Does My Dog Act that Way?' , canine personality profiles were split into 5 sections.
He found that a typical Golden Retriever would have a personality profile with the following traits:
Intelligence and Learning Ability: very high
Sociability: very high
Emotional Reactivity: moderately low
Energy: moderately low
Dominance and Territoriality: very low
Why Are Golden Retrievers Smart?
Now we know that the Golden Retriever is a supremely smart breed, let's take a look at exactly why that is.
If we consider the history of the Golden Retriever as a working breed, it's easy to see where their intelligence may come from.
As a member of the Gundog group, the original purpose of the Golden Retriever was to work with his master to mark and then retrieve gamebirds which had been shot. This ability has been treasured with this breed since the late 19th Century when the breed was established.
Working at a distance from their handler requires Golden Retrievers to have the ability to work independently to mark, find, and retrieve the game. At the same time, they need to stay aware of where their handler is, and cooperate with them from a distance.
Golden Retrievers who work out in the field are known for their problem solving skills. Finding a shot bird in dense undergrowth can be a challenge. So once the Golden Retriever has worked out the likely location, they then start looking for the bird in a systematic way.
These skills, referred to as instinctive intelligence, are a large part of the answer to the question "why are Golden Retrievers smart?"
Training Your Golden Retriever
Intelligence and trainability are two different things, but luckily the Golden Retriever excels in both these areas.
Golden Retrievers are, as we now know, a very intelligent breed. Due to their powerful desire to please their owners, Goldens are also very trainable, providing you select the correct methods to suit their personality.
But bear in mind that they're also sensitive. This means that a positive, rewards-based training system will suit them best.
Historically, gundog training often involved the use of negative reinforcement and force, if the dog did something incorrect.
However, our modern understanding of canine intelligence and how dogs learn shows us that dogs can learn more complex commands. They also learn faster using positive reinforcement alone.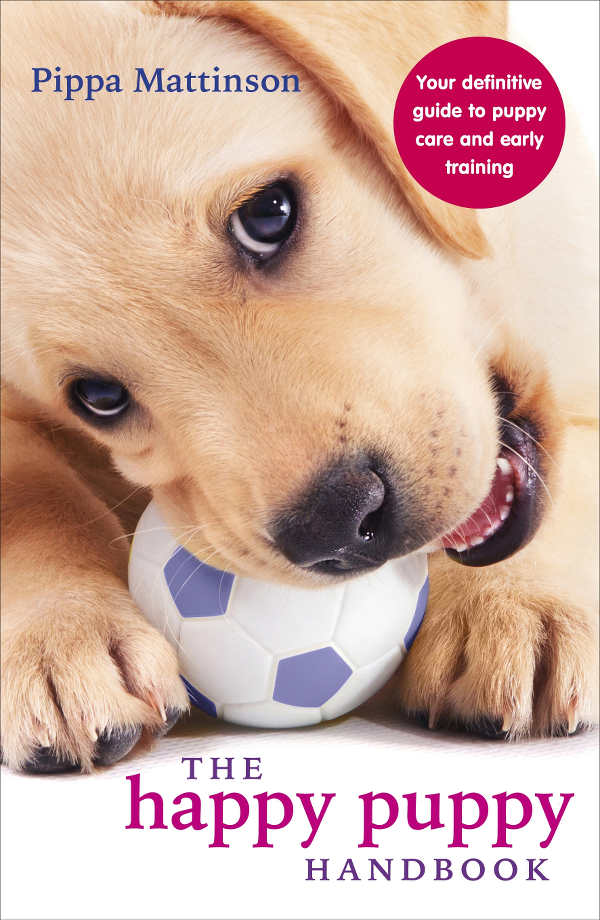 Golden Retrievers are far better suited to a rewards-based training system. This is a training system which can be used as soon as you bring your new Golden Retriever puppy home. As well as making the most of your puppy's intelligence, it's also a great way to bond with your dog.
Clicker training does require a level of handler skill, and it's definitely a good idea to attend some classes with a qualified trainer.
Due to their success, these techniques are growing in popularity and you shouldn't have any trouble finding a trainer who aligns their training classes with this ethos.
Is A Golden Retriever Right For Me?
If you're looking for an active, affectionate, and smart canine partner, this breed could be perfect for you.
Having a smart dog is a wonderful thing, but it can come with its own challenges!
As well as quickly learning behavior that you want them to, your golden pup will also need plenty of mental and physical stimulation to stop them getting bored.
Bored dogs are more likely to start destructive behaviors, such as barking, chewing things, or any other manner of mischief they can find!
Agility and retrieving training are two ways of keeping your Golden Retriever entertained and exercised.
Before you get any dog, make sure you can commit to their grooming requirements, and are aware of any health concerns that can affect their breed. You can read about those issues, and more, in our full breed review.
Do you have a smart Golden Retriever? What are your tricks for keeping their mind active, and their body busy?
We'd love to hear from you in the comments below!
Read more about this wonderful breed in our guide to the female Golden Retriever!
Related Articles
References and Resources