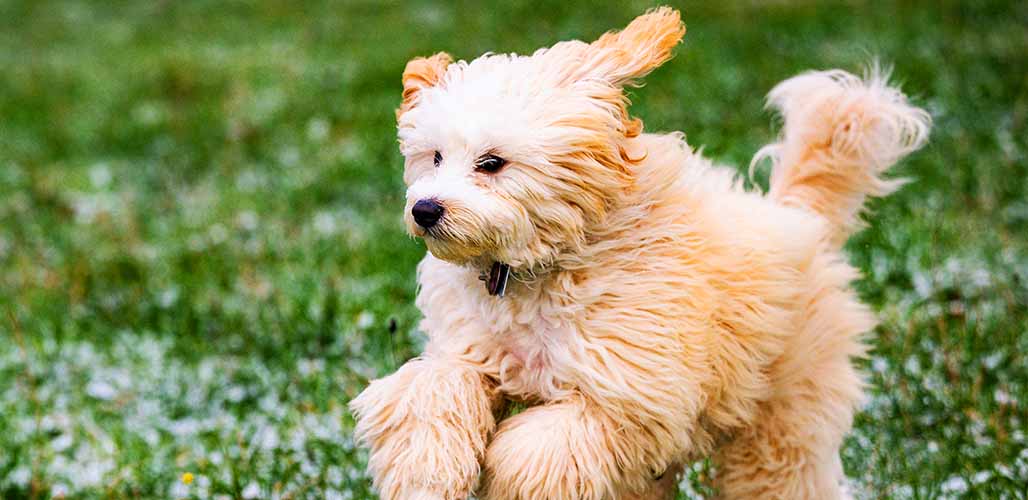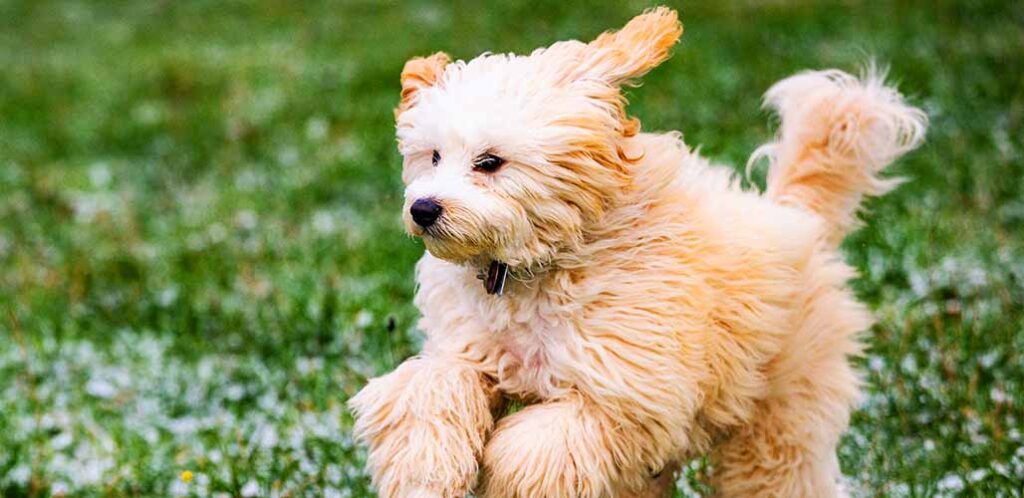 An adult Mini Cockapoo is an adorable smaller version of the popular mix between a Cocker Spaniel and a Miniature Poodle. Standard varieties range from 16 to 22 inches in height, which isn't ideal for everyone. I tend to prefer smaller dogs, and the smaller version of this mix stands between 11 and 14 inches! Although their size makes them a better choice for someone with a smaller home, these dogs still require daily exercise to stay healthy. So, it's important to make sure you can meet all of their needs. In this guide, I'll explain everything you need to know about what to expect when you have an adult Mini Cockapoo in your life.
Contents
At What Age is a Mini Cockapoo Considered an Adult?
Dogs do most of their growing during the first six months of their lives. The smaller the dog, the faster they mature since they have less growing to do. So, a Mini Cockapoo will reach adult size faster than a standard version of this mix. Typically, these dogs are considered fully grown between 9 and 12 months of age. But, the specific age will vary depending on the full growing potential of your puppy. Confused? Let's take a closer look at what this means!
How Big is an Adult Mini Cockapoo?
The best indicator of how big a hybrid breed will become is the size of the parents. First-generation mixes, in particular, can be very unpredictable compared to multigenerational Mini Cockapoos. An adult Mini Cockapoo generally weighs in the 15-to-25-pound range and stands 11 to 14 inches on average. So, if you have a multigen puppy, these guidelines will probably help you. But, the earlier your pup's generation, the less predictable their adult size will be.
Coats and Colors
Highly intelligent, sociable, loyal, and loving, Mini Cockapoos make wonderful pets. Like other doodle dogs, their Poodle ancestry creates a wavy, low-shedding coat that many people find desirable, not to mention adorable.
Thanks to the many colors and patterns Cocker Spaniels and Poodles come in, their offspring can come in just about every hue possible. Cocker Spaniels come in over 20 colors, including solid, part, and tricolored varieties, and Poodles come in an even wider rainbow of hues. The most common solid Cockapoo colors include:
Black
Cream
White
Tan
Red
Apricot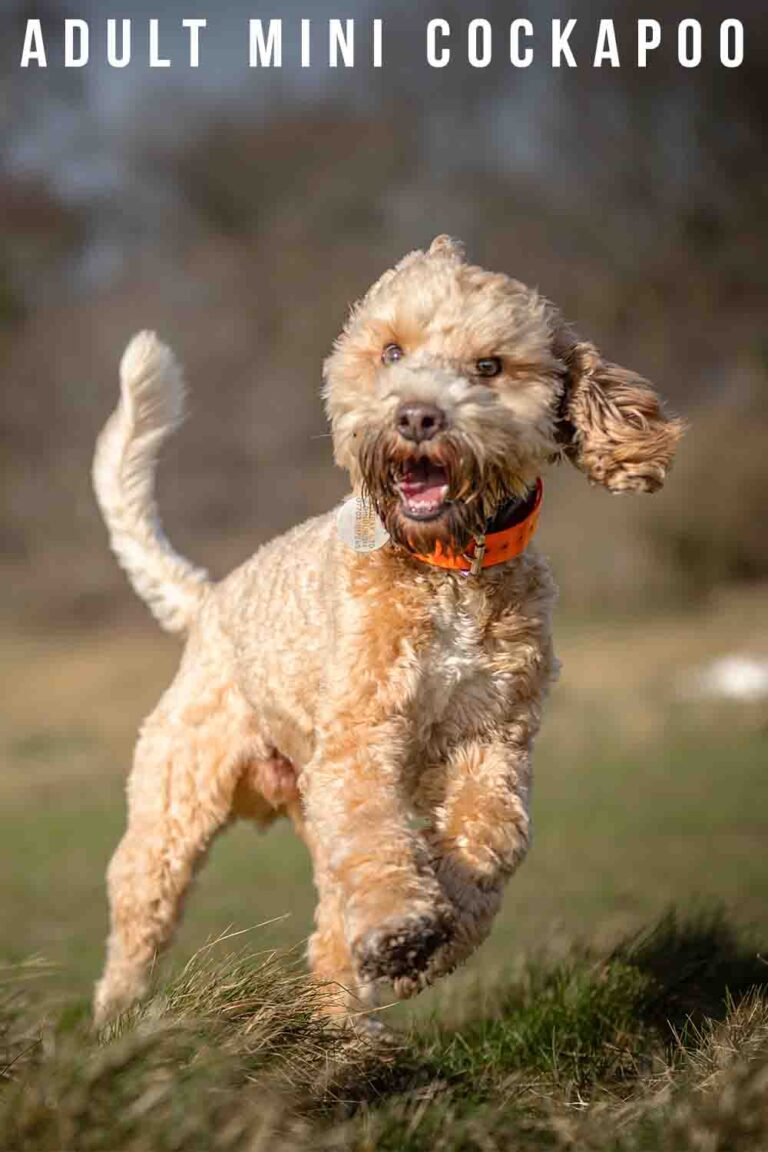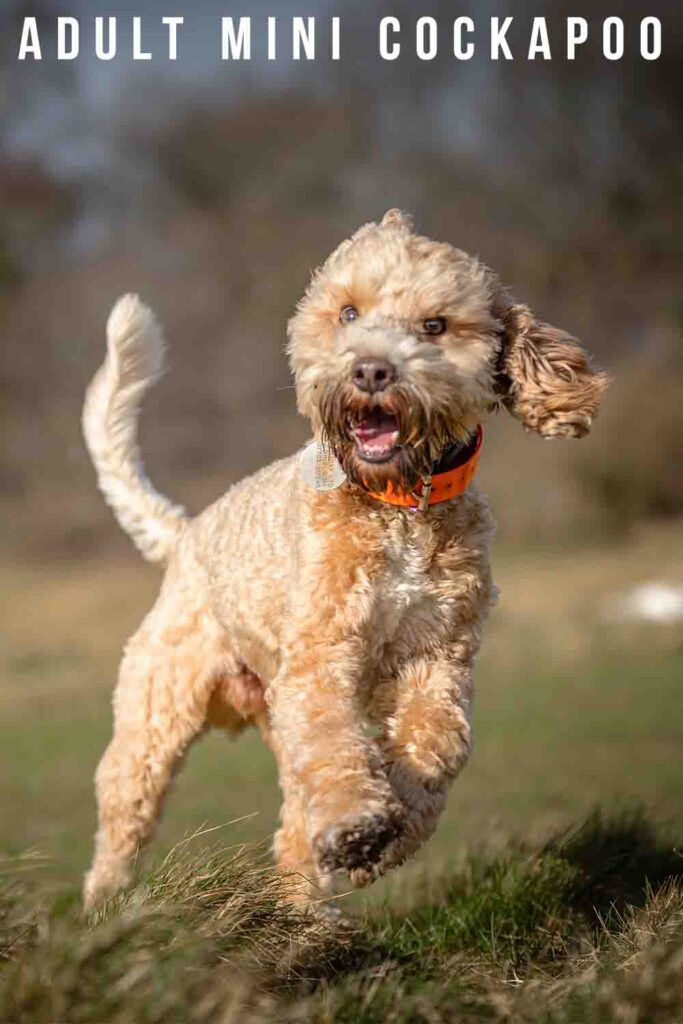 Will a Mini Cockapoo Puppy's Coat Change as an Adult?
This mix's coat will begin to change when they start to get their adult coat. All puppies tend to have light, soft, single-layered coats. But, as adults, Cockapoo coats can thicken up and develop a different consistency – such as curlier fur.
On top of this, some Cockapoos will inherit a gene from the Poodle parent that causes the color of their fur to fade as it ages. What is commonly referred to as the fading gene typically begins to cause a Cockapoo's coat to fade or lighten at approximately 6 to 8 months of age. However, the process happens very gradually. It may take years before you actually notice that your dog's coat looks different!
The change can also make the texture of the fur become thicker at the roots. Straight hairs may become curlier, and your Mini Cockapoo's hair will require more grooming to prevent mats from forming.
Grooming an Adult Mini Cockapoo
It's important to start grooming your Mini Cockapoo from a young age, so he becomes accustomed to being touched and brushed. But, he won't need a haircut until he gets his adult coat at about 8 months of age.
Grooming will depend on the type of coat. The tighter the curls, the more maintenance is required. Cockapoos with a straight coat may only require brushing twice a week, while a tight curly coat may need daily brushing to keep tangles and mats from forming. It's vital to stay on top of brushing your dog's coat. Avoiding grooming duties can lead to matted fur, which is painful for your dog and will need to be shaved off completely.
Do Adult Mini Cockapoos Shed?
Mini Cockapoos are often advertised as non-shedding, but all dogs shed to some degree. While the Poodle famously boasts a low-shedding coat, the Cocker Spaniel's double-coat will shed a lot twice a year.
Since you cannot know definitively which type of coat they will inherit, if you, or someone in your family, is an allergy sufferer, the best way to determine if a dog will trigger a reaction is to spend time with them before bringing them home.
Studies have found that it's not the fur that elicits allergic reactions but the dander attached to the hair. The tighter the hair is curled, the less hair falls, which is why these dogs tend to cause fewer symptoms. But, the tighter their curls, the more grooming they will need. So, you will still need to get up close and personal with the dander that can trigger allergies.
How Much Exercise Does an Adult Mini Cockapoo Need?
Although smaller dogs like this usually require less activity than the standard variety, they are the offspring of two highly energetic breeds. Adult Mini Cockapoos make great companion dogs but still need 30 to 60 minutes of daily exercise to stay happy and healthy.
As well as this routine exercise, they will also need plenty of mental stimulation. This mix is very intelligent, and can easily grow bored if left to their own devices. So, include plenty of training games in your daily routines! This is just as important as physical exercise, and can take up a surprising amount of your time!
Diet and Feeding
When fully grown, this mix will weigh in the 13-to-25-pound range and should eat approximately 1 and 1/3 cups of food per day. Your dog's size and energy level will dictate how much food he should eat. If your adult Mini Cockapoo's weight is in the 20-pound range and he's very active, he may require more food.
You should carefully monitor your dog's weight and how much food he eats each day. Eating too little can lead to nutrient deficiencies, and too much can cause obesity, which leads to many health problems. It's also important that your Mini Cockapoo gets an adult food specifically formulated for his size. Your veterinarian is the best source of advice if you're unsure about your dog's ideal diet and weight.
Adult Mini Cockapoo Health
As a cross between a Miniature Poodle and a Cocker Spaniel, a Mini Cockapoo is at risk for conditions that affect either parent. There are several inherited health conditions that both parent breeds are at risk for, including:
Patellar luxation
Hip dysplasia
Progressive retinal atrophy
Blindness
Epilepsy and seizures.
Adult Mini Cockapoo Lifespan
Miniature Poodles have a lifespan of 13 to 15 years. Cocker Spaniels live from 10 to 14 years on average. Being a mixed breed and a smaller dog tends to result in a longer lifespan, provided there are no underlying health concerns. So, the average life expectancy of a Mini Cockapoo is between 12 to 15 years.
Adult Mini Cockapoo Facts and Care – Summary
The combination of the Poodle's intelligence and low-shedding coat with the gentle and affectionate nature of the Cocker Spaniel has made this mixed breed one of the most popular companion breeds. Between 9 and 12 months of age, a Mini Cockapoo will be fully grown, standing between 11 and 14 inches tall and weighing from 13 to 25 pounds. Are you currently looking after a fully grown version of this popular mix?
More Cockapoo Care Guides and Information
References