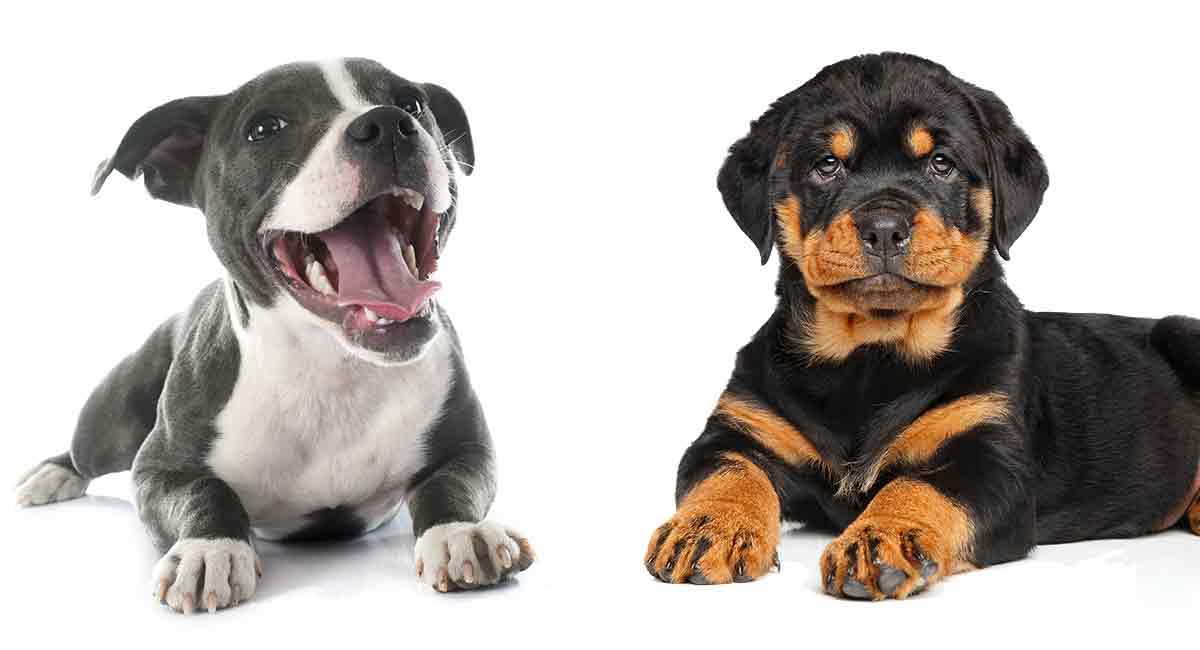 Are you looking for a new dog and weighing up the pros and cons of a Rottweiler vs Pitbull?
Obviously, there is not a single 'Pitbull' breed, but we can compare a Pitbull 'type' of breed (bully breeds) to the Rottweiler.
This will help you decide which will suit you and your family best. So, let's take a look at just how different these two breeds are!
Rottweiler vs Pitbull History
You might not think much about the history of your dog before you get it. But it can actually be interesting to learn about where your dog comes from.
It can also be a great way to show off your new pooch.
Let's take a look at how different the histories of the Rottweiler and Pitbull breeds are.
Rottweiler history
The Rottweiler developed from Asian mastiff-type dogs that were used by the Roman Empire. After the fall of the Empire, these dogs became popular in the German town of Rottweil.
Once used to move cattle they also protected livestock from threats, like burglars or vicious animals.
As this career became less common, the role of the Rottweilers changed to that of protection.
They also became popular as service dogs, for the police, search and rescue missions, and the visually impaired.
So, this breed has had quite a few different roles to play throughout its history.
Pitbull history
Although many breeds can be classified as a Pitbull breed, they all originated from terrier breeds and English Bulldogs.
These breeds were used as fighting or baiting dogs. So when fighting bears and bulls became illegal, they were put against each other.
Even though this is now also illegal, many people still hold underground dog fights.
This history has earned the Pitbull a vicious reputation, but we'll look at how true this is a little later.
But fighting isn't all that Pitbull breeds have been used for!
Pitbulls have also been bred for less aggressive roles, such as working and companion dogs.
So, these two breeds have relatively different histories! But how different is the rest of them?
Rottweiler vs Pitbull Appearance
When choosing a dog, appearance can be just as important as anything else.
You'll want a dog you think is cute, that you can show off to your friends and family!
But when we pit one against the other; Rottweiler vs Pitbull, how different are the breeds?
Do the breeds look similar?
A fully grown Rottweiler measures between 22 and 27 inches and weighs between 80 and 135 pounds, with females being smaller.
They're a muscular, sturdy breed, with short black fur and lighter colored markings that come in one of three colors: rust, mahogany or tan.
Pitbull breeds can vary in appearance, but generally, these are also sturdy muscular dogs.
Let's take a look at the appearance of some popular Pitbull breeds.
The American Pitbull Terrier generally grows between 17 and 21 inches and weighs between 30 and 60 pounds. Females are usually smaller than males.
They have a blunt, wedge-shaped head, and can come in a variety of colors.
American Staffordshire Terriers are another breed, but have pretty much the exact same appearance as the American Pitbull Terrier. The only difference is that they are slightly bigger and heavier.
The Staffordshire Bull Terrier is another similar-looking Pitbull breed, although it is considerably smaller than the previous two.
The Bull Terrier is the most distinctive Pitbull which is recognized by its longer muzzle and egg-shaped face.
So even among Pitbull breeds, there is a large difference in appearance. But overall Pitbulls and Rottweilers are similar, especially with their muscular, stocky builds.
Rottweiler vs Pitbull Temperament
The temperament of a breed is one of the most important parts of choosing a new family member. Especially when they have a bad reputation.
The Rottweiler is known for being loyal, affectionate, and confident.
They are a people-centered breed that will love having a family who can spend lots of time with them.
Rottweilers are affectionate as they are strong and protective.
It's suggested that Rottweilers scored lower than average for aggression towards owners, but higher than average for aggression towards strangers and other dogs.
A study that looked at aggression Rottweilers and Pit Bull breeds specifically but criticizes the idea entire breeds can be generalized as dangerous.
Pitbull breeds do have a bit of a reputation for aggression, in part because of their history and origins.
However, a study suggested they are no more aggressive than any other breed. While further research supports this theory in a direct comparison between Pit Bull breeds and Golden Retrievers.
In fact, Pitbull aggression is usually directed towards other dogs and they are one of the least aggressive breeds towards their owners.
While the potential for aggression is scary, any dog can be aggressive with poor socialization and treatment.
The most important way to prevent it is socialization from a young age. This includes animals and people to avoid any potential aggression later in life.
Both Rottweilers and Pitbulls are very affectionate to their own families and being gentle with familiar children.
But, be wary of leaving young children alone with them.
Rottweiler vs Pitbull Training
Training is important for any and every dog, but especially ones that are muscular and strong.
It's important these dogs are well trained, especially around other people and animals, so you never lose control.
The Rottweiler is used as a service dog, so can take really well to training. However, the best results will come when started as early as possible in your dog's life.
They are an intelligent, people-oriented breed that can be stubborn.
Training methods should be positive and rough discipline avoided, so aggression is never encouraged.
Despite being people orientated dogs, Pitbulls tend to have short attention spans, so the best results are achieved with short burst training.
Both Rottweilers and Pitbull breeds need to be socialized from an early age. This can help avoid any potential aggression, but also makes sure your pup is happy and confident in new situations.
Rottweiler vs Pitbull Exercise
Both of these breeds are very muscular, so you can expect they would need a lot of exercise.
Rottweilers will need daily exercise, and will love accompanying you on any outdoor activities. They can also be great candidates for dog sports like herding, tracking, and obedience.
Pitbulls also need daily exercise. Like Rottweilers, they will enjoy the chance to burn off some energy but also spend time bonding with you.
When given enough exercise, both of these breeds will love snuggling up with you in the evenings.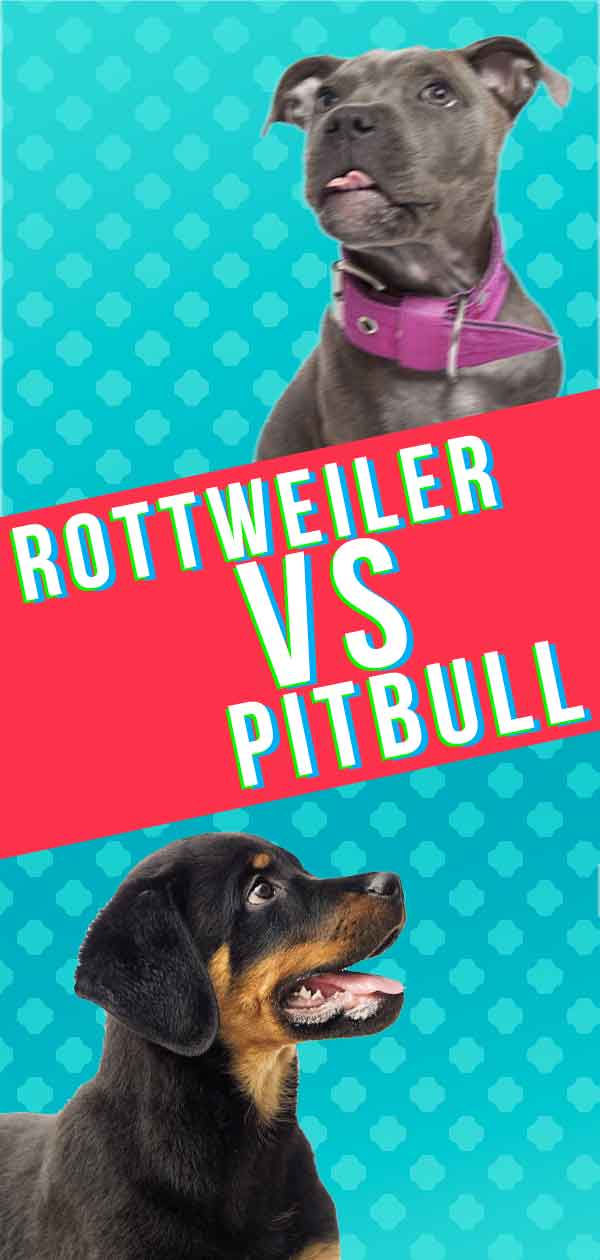 Rottweiler Puppy vs Pitbull Puppy Health
Rottweilers generally live between 9 and 10 years.
They, unfortunately, are prone to some health problems, including hip dysplasia, eye diseases, heart conditions, and cancers.
But, choosing a responsible breeder can help you avoid these conditions.
Pitbull breeds will usually live into their mid-teens when healthy.
Common to most Pitbull breeds are problems like hip and elbow dysplasia, allergies, heart problems, and eye problems.
There are some health problems unique to the various Pitbull breeds, too. American Staffordshire Terriers can be vulnerable to cerebellar ataxia.
Staffordshire Bull Terriers are known to get a metabolic disorder called L-2 Hydroxyglutaric Aciduria.
And Bull Terriers are prone to zinc deficiencies, deafness and hereditary nephritis.
Overall, both breeds have some hereditary potential conditions, but health screening by breeders is a way to try and avoid these.
Both the Rottweiler and Pitbull breeds have short, coarse coats that only need the occasional bath or brush. They also shed occasionally.
Their dental health should be monitored with regular teeth-brushing, and their nails and ears should be checked regularly.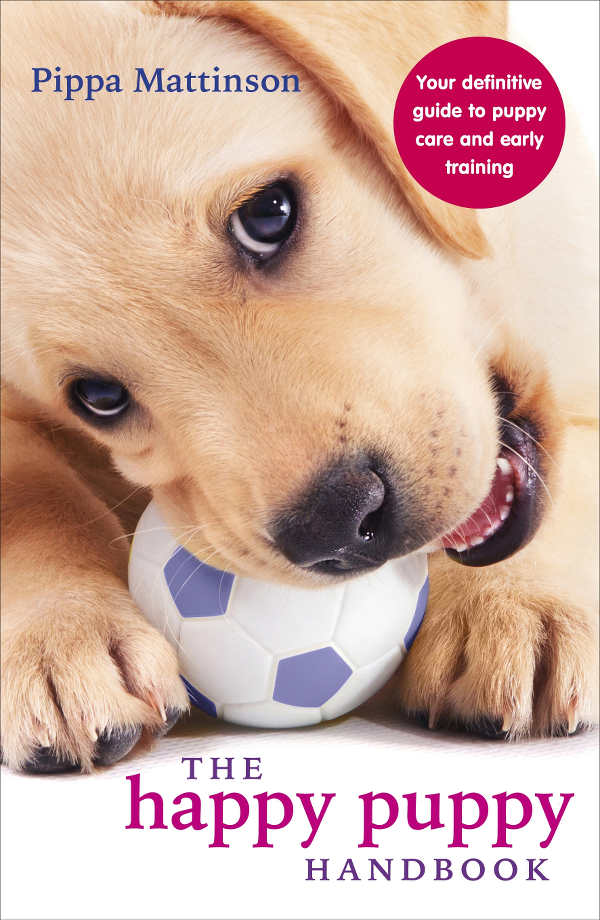 Which Breed makes a Better Pet?
Have you been able to decide which breed is best suited to your family?
Although neither breed has huge requirements for grooming, they do require families that can spend plenty of time with them. In addition, they both need high levels of training and daily exercise.
Although some people are concerned about the temperaments of these breeds, given proper training and socialization they can make a loving, loyal addition to the right family.
There are some health conditions to be aware of, but choosing a responsible breeder can help avoid these.
Have you had a Rottweiler or Pitbull before? What was your favorite thing about owning them? Have you owned an unusual guard dog like a Cane Corso or a Keeshond? Share your thoughts!
References and Resources
Scot Dowd, 'Assessment of Canine Temperament in Relation to Breed Groups', Matrix Canine Research Institute, (2006),
Randall Lockwood and Kate Rindy, 'Are "Pit Bulls" Different? An Analysis of the Pit Bull Terrier Controversy', Anthrozoos, (1987)
Esther Schalke (et al), 'Is Breed-Specific Legislation Justified? Study of the Results of the Temperament Test of Lower Saxony', Journal of Veterinary Behavior, (2008)
A. MacNeil-Allcock (et al), 'Aggression, Behavior, and Animal Care Among Pit Bulls and Other Dogs Adopted from an Animal Shelter', Animal Welfare, (2011)
Stefanie A. Ott (et al), 'Is There a Difference? Comparison of Golden Retrievers and Dogs Affected by Breed-Specific Legislation Regarding Aggressive Behavior', Journal of Veterinary Behavior, (2008)
Deborah Duffy (et al), 'Breed Differences in Canine Aggression', Applied Animal Behavior Science, (2008),
A. M. Oberbauer (et al), 'Long-Term Genetic Selection Reduced Prevalence of Hip and Elbow Dysplasia in 60 Dog Breeds', PlosOne, (2017),
Priyanka Pandy (Et al), 'Incidence of Eye Affections in Dogs', Indian Journal of Veterinary Sciences and Biotechnology, (2018)
Dan O'Neill (et al), 'Rottweilers Under Primary Veterinary Care in the UK: Demography, Mortality and Disorders', Canine Genetics and Epidemiology, (2017)
K. Gruntzig (et al), 'Swiss Canine Cancer Registry 1955-2008: Occurrence of the Most Common Tumour Diagnoses and Influence of the Age, Breed, Body, Size, Sex and Neutering Status on Tumour Development', Journal of Comparative Pathology, (2016)
Luisa De Risio (et al), 'Prevalence, Heritability and Genetic Correlations of Congenital Sensorineural Deafness and Coat Pigmentation Phenotype in the English Bull Terrier', BMC Veterinary Research, (2016)
Alex Gough, 'Diagnosis of Inherited Diseases', British Small Animal Veterinary Association, (2016)