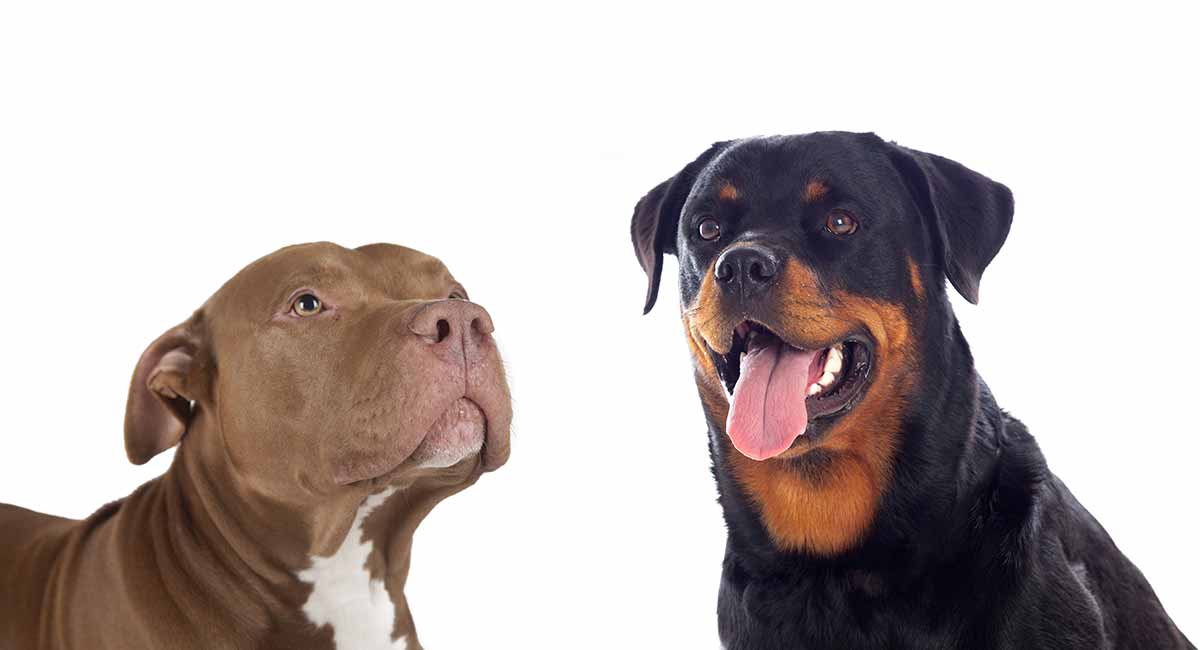 What should you know about the Rottweiler Pitbull mix dog sometimes called a Pitweiler?
The popularity of designer breeds like the cross between Pitbull and Rottweiler is on the rise because they offer a sense of uniqueness that appeals to modern dog owners.
When you combine that diverse style with an already popular species like the Pitbull or Rottweiler, it is clear why this hybrid dog is in demand.
However, Rottweilers and Pitbulls are also known for being physically intimidating.
They have a reputation as somewhat dangerous animals to own, especially Pitbulls.
It's a stigma that's not necessarily supported by studies, though.
What is the story behind the Pitbull Rottweiler mix breed?
Understanding Hybrid Dogs Like the Rottweiler Pitbull Mix
The Rottweiler Pitbull mix breed falls into the category of crossbreed or hybrid dog.
The term means the puppy is born from the mating of two different purebred dog breeds.
Pitbull cross Rottweiler puppies can have characteristics of either parent, but there is no way to know which ones they will inherit.
For this reason, crossbred dogs like a Pitbull mixed with Rottweiler breed are sometimes misunderstood.
People automatically assume they are less healthy, for example.
The puppy can inherit genetic diseases associated with one or both parents, or it may not have any medical problems at all.
Often people incorrectly assume that vigor increases when the puppy is a hybrid.
That is not true, either.
Vigor is controlled by many things including genetics, training, and environment.
What Is the Origin of the Rottweiler Pitbull Mix?
It's unclear when breeders first starting working on the Pitbull and Rottweiler cross.
Both of these species are known as strong guarding dogs, so it might have seemed like a natural combination.
Both of the parent dogs also have historical significance.
The Rottweiler is one of the oldest herding breeds around, with a history that may date back as far as ancient Roman times.
Pitbulls actually originally come from the crossbreeding of bulldogs and terriers.
In the nineteenth century, breeders in England, Scotland, and Ireland began experimenting with crossing these two purebred dogs to create puppies they thought would be great warriors.
What Do Rottweiler Pitbull Mix Puppies Look Like?
A mix breed of Pitbull and Rottweiler will have characteristics from both of its parents.
Typically, they are very solidly built dogs.
They also tend to be medium-sized with well-defined musculatures, like both the Rottweilers and Pitbulls.
Height and Weight
Height and weight will vary but expect the Pitbull and Rottweiler mix puppy to grow to anywhere from 45 to 100 pounds.
They can be on the heavier side because of the dense muscular body, although there are no guarantees.
Height should fall between 18 to 26 inches, but Pitbull and Rottweiler mix breeds could be shorter or taller based on the parents' height.
Both the Rottweiler and Pitbull are known for their short but broad, wide heads and deep muzzles.
The teeth are evenly spaced and impressive physically.
Keep in mind, Rottweilers and Pitbulls are guarding dogs so their puppies' appearance will reflect that strong nature.
From there, the style of a Rottweiler and Pitbull mix breed becomes more diverse depending on the genetic traits of the parents.
The coat might be short and fine or thick and dense, for instance.
Rottweiler Pitbull Mix Temperament
There is no easy way to answer this question because of the varied temperaments of the parent species.
Rottweilers are often very confident but not necessarily aggressive.
Pitbulls, despite their reputation, are usually considered fun, loyal, and loving dogs.
They tend to react based on their exercise level, as well.
A Pitbull that is destructive might not be getting enough outdoor play or exercise.
More about Pitbulls:
It's important to remember that the personality of the parents matters when it comes to crossbred dogs.
A dog that is half Pitbull half Rottweiler will have a temperament that reflects that of one or both of its parents.
If considering a Pitbull mixed with a Rottweiler, make sure to meet both parents.
Rottweilers and Pitbulls are guard dogs that can be aggressive.
You need to know if either parent has an aggressive temperament.
The puppy may (or may not) inherit that same trait.
Caring for a Mixed Pitbull and Rottweiler
This hybrid mix doesn't require much in the way of grooming.
A weekly brushing is necessary with all short-haired dogs, though.
Bathing several times a year keeps the coat clean without drying out the dog's skin, too.
A muscular body is a key characteristic of the Rottweiler Pitbull mix.
All that muscle requires a diet that includes high-quality protein along with carbohydrates for energy.
The parent breeds are known for their allergies, too.
The vet may suggest a grain-free diet to ensure the digestive tract functions well.
A Rottweiler mix Pitbull dog can become overweight without a proper diet and daily exercise.
Avoid giving them too many treats.
Excess weight will take a toll on the dog's joints and overall health.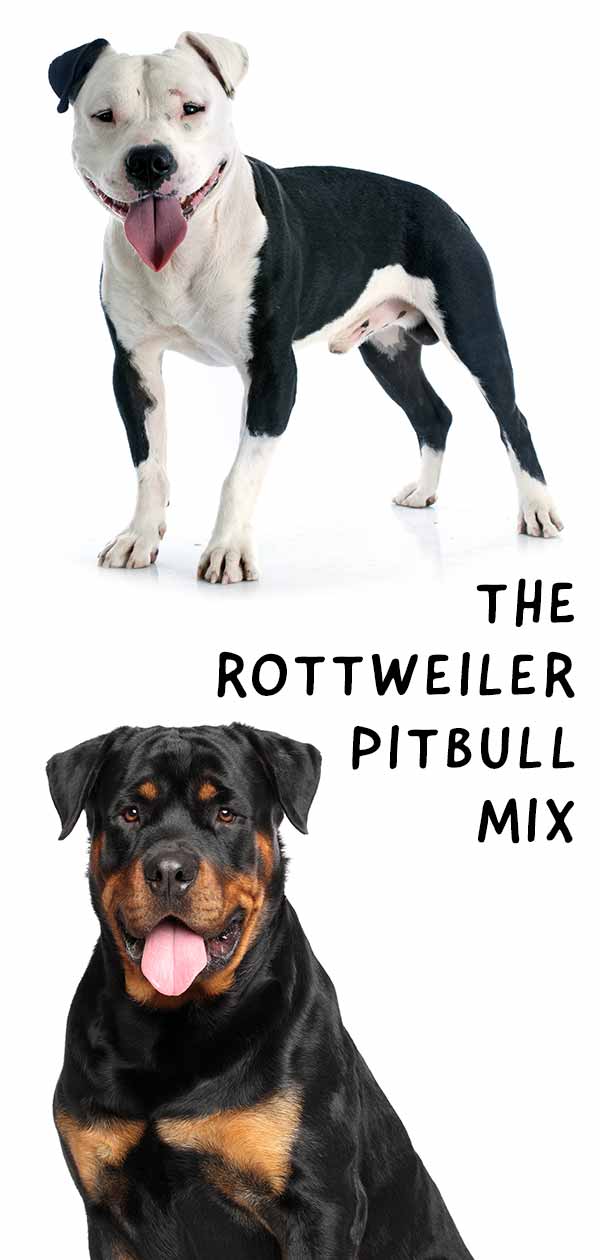 Training a Rottweiler Pitbull Mix
Training is one of the most important aspects of bringing a Pitbull dog mix Rottweiler into your family.
Once you meet the parents and ensure they have friendly and loving temperaments, focus your training style on controlling the dog.
This is an intelligent breed but they can strong willed.
Start the training and socialization at a very young age.
They will learn quickly given the chance, and teaching them to follow directions is an important part of keeping them under control.
Common Health Issues for the Pitbull Breed With Rottweiler
All hybrid breeds can inherit genetic illnesses from either parent.
Like most dogs, the Rottweiler Pitbull mix is prone to hip dysplasia.
Hip dysplasia means there is a defect in the joints of the hind legs.
Other common health concerns for Pitbulls include:
Cataracts
Heart disease
Congenital heart defects
Allergies – both food and environmental
Skin infections
Diabetes
Rottweilers are prone to:
Elbow dysplasia in the front legs
Panosteitis – Long bone disease
Cataracts
Progressive retinal atrophy
Addison's disease
Aortic stenosis
Von Willebrand's Disease
Rottweiler Pitbull puppies are at risk for any disease that tends to affect either parent species.
With regular vet care, a healthy Rottweiler Pitbull mix life expectancy averages between 12 to 15 years.
Getting a Rottweiler Pitbull Mix Puppy
It starts with finding a qualified breeder.
A proper breeder will screen the parents for common hereditary diseases to ensure the puppy is healthy.
The breeder should be willing to introduce you to the puppy's parents, as well.
Given the nature of both Rottweilers and Pitbulls, this is an essential step.
You want to ensure the parents are friendly and well trained.
Training will be a critical part of a Rottweiler cross Pitbull puppy's life, so you need to know that the parents took well to their training.
Check Out the Parents
Consider how the parents react to you as a stranger:
Did you feel uncomfortable?
Was the dog aggressive or guarded?
Did the dog listen to the commands of its master?
Once you were able to get close to the parent dog was it affectionate and friendly?
The temperament of the parents will give you an idea of what to expect from the puppy, although there are no guarantees.
Investigate the Breeder
Check the background of the breeder before buying the puppy, too.
Make sure they are experienced in handling and training guard dog breeds like the Rottweiler and Pitbull.
Ask to see the medical documentation of both the parents and the puppy.
A proper breeder will have that information on hand and be willing to share it with you.
Pitbull and Rottweiler puppies should be screened for the health issues common to the parent breeds.
Reviewing the medical documents allows you to check to see what shots the puppy has already had and if it is spayed or neutered.
How Much Does a Rottweiler Pitbull Puppy Cost?
You can expect a qualified breeder to charge anywhere from $150 to $800 for a mix Rottweiler and Pitbull.
It's best to get the dog while very young, or if older, make sure it is properly trained.
Medical expenses for this hybrid breed dog run anywhere from $485 to $600 a year, depending on the health needs and what your vet charges.
Is the Rottweiler Pitbull Mix Puppy Right for You?
Rottweiler Pitbull puppies make good family dogs as long as they are properly trained starting at a young age.
If you are new to training dogs, consider hiring a professional to show you the ropes and to help the dog learn.
They may need extra help to learn how to handle strangers who approach them and other dogs, too.
Home space is a concern with a Rottweiler Pitbull mix.
They have big, broad bodies which will mean apartment living might not be the right choice.
They need a home that allows them to run and play often, so a fenced yard or farm setting is a plus.
Know the Law
Some cities and neighborhoods have very strict rules about owning Pitbull dogs and, by association, crossbred puppies such as the Pitweiler.
Check with the local authorities and neighborhood association in your area to ensure you can own this kind of dog.
Otherwise, you might get one and have to surrender it or give it away because you didn't know the laws.
What do you love about the Pitbull Rottweiler mix breed?
Tell us all about it in the comments below.
References
The Popularity of Pit Bull Terriers. The Animal Foundation.
Dog Bite Risk and Prevention: The Role of the Breed. American Veterinary Medical Association. May 2014
Pippa Mattinson. Purebred Vs Mutt – Common Objections to Mixed Breed Dogs. Thelaboradorsite. January 2018
Carol Beuchat PhD. The Myth of Hybrid Vigor in Dogs…Is a Myth. The Institute of Canine Biology. December 2014.
Rottweiler. The American Kennel Club.
American Pit Bull Terrier. United Kennel Club