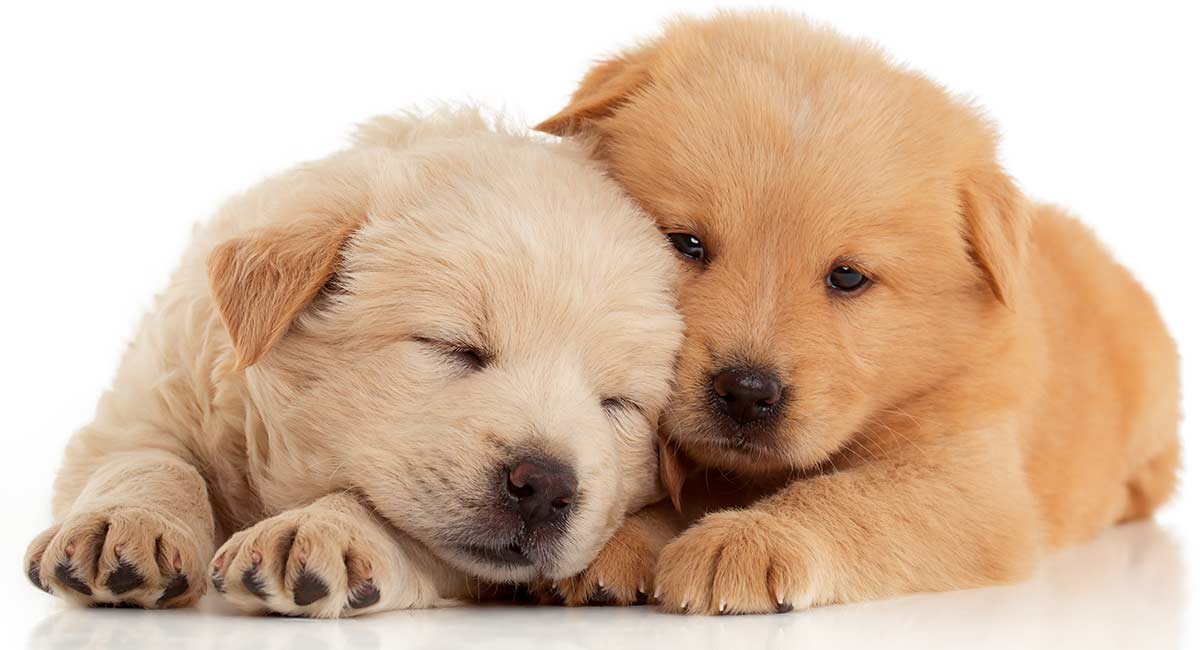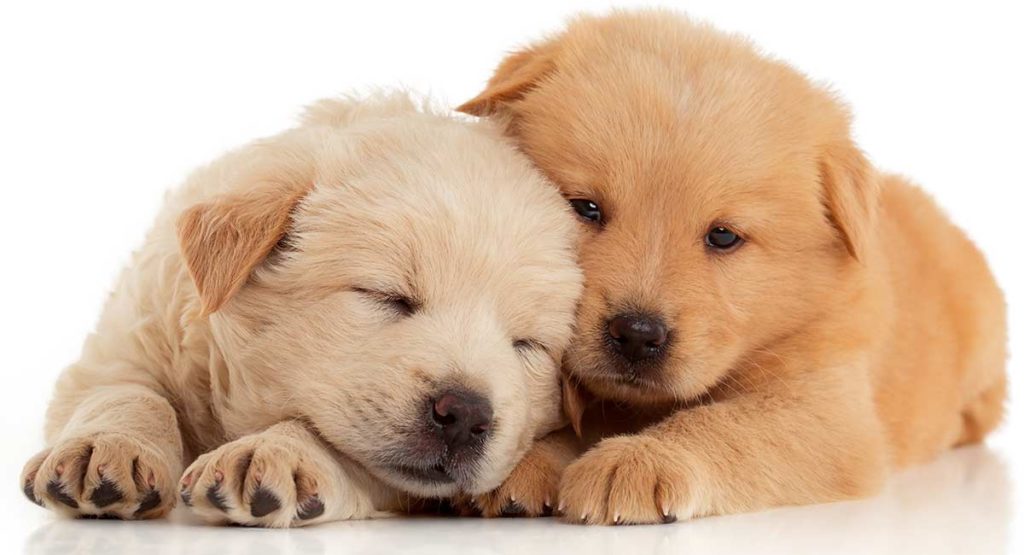 If you're about to welcome a new puppy into your home, you're probably wondering what puppy essentials you really need.
Well, first of all, congratulations! Second, you've come to the right place!
In this article, we're going to look at our top 10 puppy essentials that every new owner should have to help make your new pup's homecoming go smoothly.
Products included in this article were carefully and independently selected by the Happy Puppy Site team. If you decide to make a purchase from one of the links marked by an asterisk, we may earn a small commission on that sale. This is at no extra cost to you.
Harness/Collar/Leash Puppy Essentials
Your puppy will need a harness, a collar, and a leash from day one.
The collar carries your pup's ID tag, listing your contact number and name.
The harness should be worn by your puppy when you take him for walks, and the leash attaches to the harness.
A harness is more comfortable for your puppy than leading him by his collar.
It reduces the risk of him choking if he pulls on the leash.
Be sure that the harness you buy is adjustable and fits your puppy correctly.
It should be tight enough that it doesn't slip around when your pup moves, but not so tight that it rubs or pinches his skin.
The leash should be strong and well-made, with hardware that is durable and robust.
You'll need a long leash for obedience training and a shorter one for everyday walking activities.
Blueberry Pet Classic
The Blueberry Pet Classic Solid Color Dog Collar* is a nylon, high-density webbing collar.
The soft fabric is comfortable but sturdy, and the adjustable buckles and fastenings are made from ecofriendly plastic.
The collar comes in a wide range of appealing colors and you can also buy leashes to match.
EcoBark Maximum Comfort
Amazon's recommended harness is The Original EcoBark Maximum Comfort & Control Dog Harness*.
The fully adjustable harness is made from recycled materials.
It's strong and robust, yet comfortable for your puppy with a special no-choke design feature.
Puppy Crate Puppy Essentials
A crate allows you to contain your pet in a confined area where you can housetrain and monitor him.
The crate you choose should allow your pup plenty of space to stand up, turn around, lie down, and stretch.
The crate will also form a comforting den for your puppy, so be sure to buy a cozy blanket or mat to put inside.
If you opt for a stainless steel cage-style crate, you'll also need a cover, to create the cozy den effect.
MidWest iCrate
The MidWest iCrate* is made from durable stainless steel.
The crate has a divider panel so you can adjust the size of the crate as your pup grows.
There's a tray liner to prevent wetness from getting through onto your floors, as well as rubber roller feet.
EliteField
If you prefer the idea of a soft crate, the EliteField three door folding soft dog crate* is a good option for smaller breed puppies.
The crate has a steel tube frame and a robust fabric and mesh cover.
Providing good ventilation and making the crate light enough to be used for transporting your puppy, too.
This crate comes with a free carrying bag, fleece bed, and two year manufacturer's warranty.
The crate folds down for easy storage when not in use.
Pet Dreams
The Pet Dreams new double door bedding set* is designed to transform stainless steel crates into comfy homes!
The set includes a soft, plush crate liner, wall bumpers, and a top-side cover.
The whole thing fits easily with snap fasteners and is fully machine washable.
Baby Gate Puppy Essentials
Puppies are curious bundles of fun and mischief!
To keep your pup safely contained and out of trouble, another of our puppy essentials has to be a baby gate.
A baby gate can be used to stop your pup from sneaking outside and getting lost, or from climbing stairs where he could fall and hurt himself.
Free Standing Gate
This large folding pet gate* makes a stylish and functional puppy fence.
At 24" high, the gate allows adults to step over with ease, whilst keeping puppies contained.
Summer Infant
The Summer Infant modern walk-thru gate* is a fully adjustable baby gate that has an attractive decorative panel in the center.
People can pass easily through the gate via an integral door, but puppies can't.
Puppy Playpen
When you first bring your puppy home, he will likely be very excited and even overwhelmed by his new surroundings.
Once your pup is fully vaccinated, he will be able to go outside for walks and exercise.
However, until then, his exercise will have to take place inside your home.
The safest arrangement for indoor exercise, especially while your pup is still being housetrained, is to set up a playpen.
Your puppy can learn and play while safely contained, protecting both your pup and your home from accidents!
MidWest Foldable
The MidWest foldable playpen* is ideal for containing small pups.
The playpen provides a generous 16-foot play area, has ground pegs so that the pen can be secured for outdoor use, and folds flat for easy storage.
This pen can also be connected to a MidWest puppy crate – perfect for times when you're not at home to supervise play.
Tespo's Dog Playpen
Tespo's portable dog playpen* is expandable.
Providing over 28-feet of enclosed play area for your pup.
The steel wiring and heavy-duty plastic connectors offer security and safety, whether your pup is playing indoors or outside.
AmazonBasics
AmazonBasics folding playpen* is a steel mesh, giving around 25-feet of enclosed play area for your puppy.
The playpen can be used inside or outside and folds flat for easy storage.
Puppy Food Essentials
Feeding your puppy correctly from the very beginning is essential for his healthy growth and development.
Therefore, making sure you have the right food on hand for your pup is another of our puppy essentials.
You may wish to feed a combination of wet (canned) and dry (kibble) food to begin with.
Soft food is kinder on soft gums and baby teeth, while kibble helps to remove plaque and bacteria that could cause dental disease.
Your vet will advise you on the most suitable type of food for your puppy, based on his breed and health.
Hill's Science Diet
Hill's Science Diet puppy food* is often recommended by vets.
The company has a world-wide reputation for making high-quality animal foods that address specific health requirements.
This dry puppy food is formulated using extra calcium for bone health in large breed dogs.
Merrick Grain Free
Merrick Grain-Free Puppy Recipe* is formulated with DHA for healthy brain development.
The main ingredient is deboned chicken, but there are also lots of healthy veggies for extra flavor.
Merrick is a US company with a great reputation for producing high-quality, gluten-free dog foods suitable for all breeds.
Pedigree
PEDIGREE Puppy cans* contain a soft food that's formulated for puppies.
The food contains beef and chicken and has added minerals and vitamins too.
Sturdy Bowls Are Puppy Essentials
An absolute puppy essential are bowls. You'll need at least one for your pup's water and another for his food.
Ceramic bowls are probably the best choice.
A ceramic bowl will have sufficient weight not to move around when your puppy is eating or drinking.
Ceramic is also easier to keep clean and hygienic.
Plastic bowls tend to become scratched, making them tricky to clean and providing a harbor for bacteria.
A lightweight plastic bowl will slip around when your pup is eating and may blow away if used outside.
Plastic can also be chewed to obliteration, leaving sharp edges that could injure your pet and fragments that could be swallowed.
Metal bowls are too light.
My Labrador puppy thought it was a great game to pick up her metal dish full of water and run around with it.
Soggy carpets and flooded wooden floors are not fun! Metal bowls can also rust eventually.
Bone Dry
Bone Dry lattice patterned bowls* come as a smart set of two.
The bowls are dishwasher safe and have silicone rims around the base to prevent slipping on tiles or wood floors.
Petrageous
Petrageous Designs' cute bone bowl* comes in pink and black with a polka dot and paw print design.
The bowl is dishwasher and microwave safe and is made from 100% stoneware.
ProsperDog
If you have a large breed puppy, the ProsperDog Pet Products feeding station* is an attractive yet practical solution.
The two ceramic dishes sit on top of a wooden stand so you pup won't have to stretch his neck to reach his food and water.
Puppy bed
Near the top of the list of puppy essentials is a puppy bed!
Although pups love to play, they alternate periods of frantic activity with long periods of sleep. For these times, you'll need a comfy bed for your pup to rest in.
A comfy bed provides your pup with a feeling of security.
You will need to buy a bed to put inside your puppy crate if it doesn't have one included.
You'll also need a couple of other beds for different areas of the house where your pup spends his time.
Look out for beds that are washable – puppies do have accidents while they're being housetrained!
Also, choose a bed that's chew-proof. You don't want your pup chewing a hole in his bed and eating the filling!
Best Friends
Best Friends by Sheri* is a super-comfy bed that's so inviting you'll want to snuggle down in it yourself!
The bed has a waterproof, non-slip bottom and is fully machine washable, too. It comes in a selection of pretty colors too.
iNNEXT
The iNNEXT puppy blanket* is perfect for lining crates or travel cages.
The soft, snuggly fabric is fully machine washable and comes in a range of gorgeous designs to fit your interior décor scheme.
Blueberry
Blueberry Pet's heavy duty bed* is a well-made option.
It is constructed using a bolster design, allowing your pup to rest his weary head in comfort after a strenuous play session.
The cover is removable, machine washable, and is made from all-natural materials.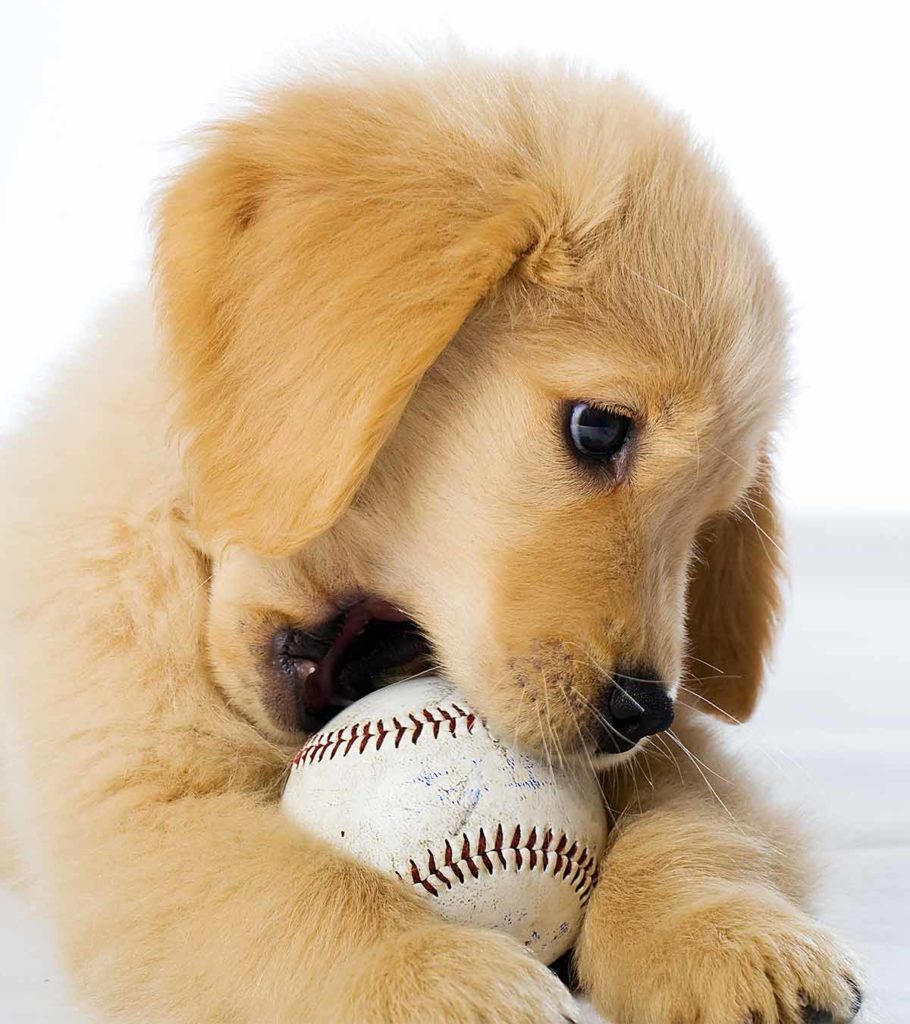 Fun Chew Toys Are Puppy Essentials
A good selection of toys is essential for all puppies!
When I bought my rescue pup home, I'd bought her a pink rubber ball.
It was such a simple toy, but she latched onto it immediately and carried it everywhere we went!
Toys provide your puppy with a sense of security and belonging, which is very important, especially for pups who have not had the best start in life.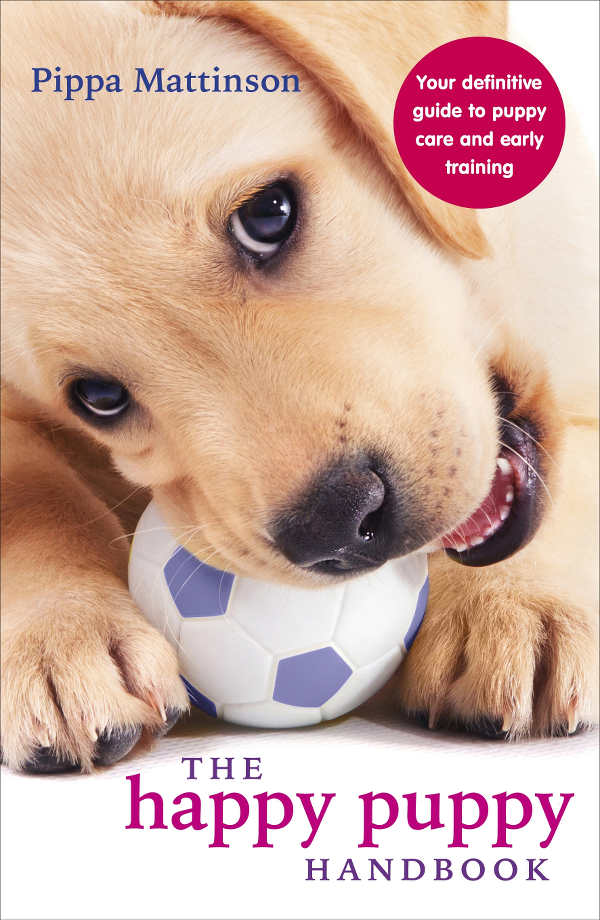 Toys are also important for keeping your puppy exercised and stimulated, especially if you can't be with him 24/7.
Pups also enjoy the comfort of having a soft toy companion to cuddle up to at night.
Youngever
The Youngever chew toy set* is designed for puppies who are teething.
The set contains rubber bone and ring chews, a ball, and rope-twist pull and chew toys.
Nylabone
Nylabone's Puppy Starter Packs* are also designed with teething pups in mind.
The toys are made from a variety of hard rubber shapes, perfect for a pup to get his teeth into!
Kong Cozies
KONG Cozies dog squeaky toy* is a soft toy that can be cuddled, squeaked, and chewed!
Kong are well-known for making high-quality pet toys that are made to last as well as satisfy your pup's playtime needs.
Grooming products
Grooming is a very important part of your pup's education, as well as being good for the health of his coat and skin.
Your pup's grooming routine will depend on his breed and on whether he has a long or short coat.
To start with, a soft-bristle brush and slicker brush are really all that you need.
You might also want to buy some nail clippers, a dog toothbrush and toothpaste.
Glendan Dog Brush
Glendan's slicker brush* is perfect for removing loose hair and scurf from your pup's coat.
The pin bristles are plastic-ended so they won't scratch your pet.
The rotating head of the brush allows you to easily reach all areas to be groomed.
Safari Pin
The Safari pin & bristle brush for dogs* is another double-sided pin and bristle brush.
This brush is made from heavy-duty plastic, rather than wood.
Books
As a new puppy owner, you will have much to learn!
A great deal of your learning will take place "on the job," but you can pick up lots of useful advice and information from books too.
The Happy Puppy Handbook: Your Definitive Guide to Puppy Care and Early Training*, by dog training specialist Pippa Mattinson, has all the information you'll need to care for and train your new puppy.
Puppy essentials – nailed it!
By making sure you have everything we've covered in our puppy essentials guide you'll be equipped and ready for your new arrival.
Why not share with us what you bought for your new pup in the comments section below?
Affiliate link disclosure: Links in this article marked with an * are affiliate links, and we may receive a small commission if you purchase these products. However, we selected them for inclusion independently, and all of the views expressed in this article are our own.
References and further reading:
Rouge, M., "Dental Anatomy of Dogs," VIVO Pathophysiology," 2017
Bosch, Guido. "Dietary nutrient profiles of wild wolves: insights for optimal dog nutrition?" British Journal of Nutrition. 2015