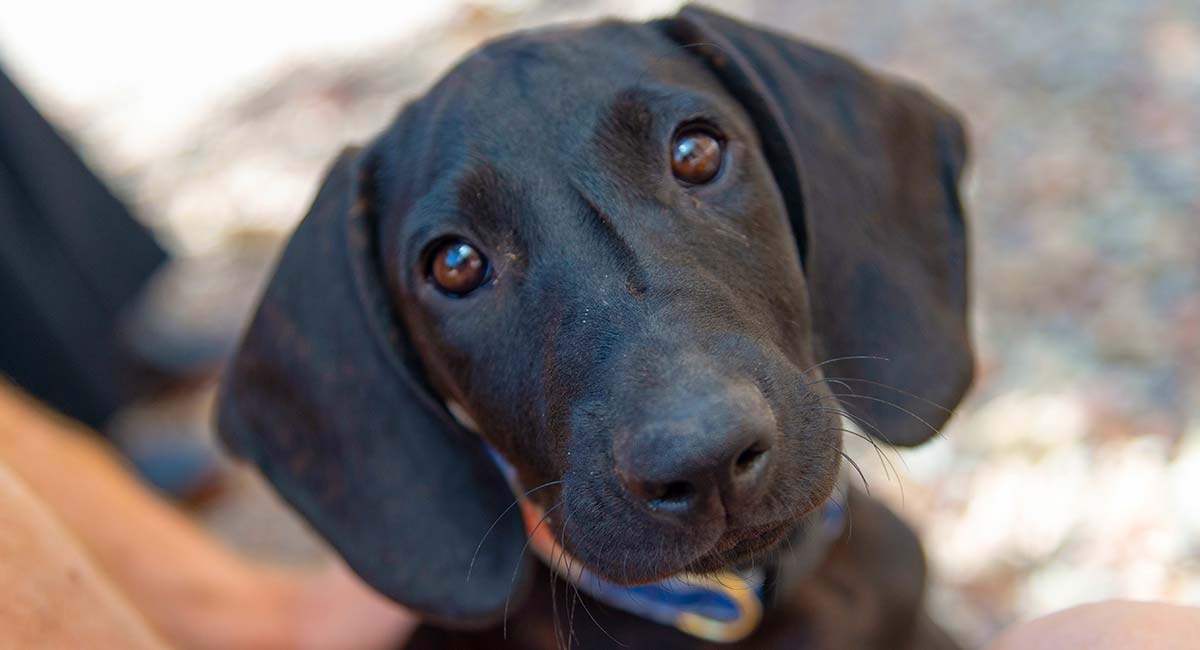 The Plott Hound is the state dog of North Carolina and a hunting dog in the coonhound family. The Plott is an active, athletic hunting dog. Their distinctive brindle fur sets them apart from the colorful patchwork coated hound breeds more commonly seen in homes around the world.
Plott Hounds grow to between 20 and 25 inches tall, and weigh between 40 and 60 pounds as adults. They have expressive dark eyes and soft dropped ears with a lean but powerful body. Plott Hounds are energetic, intelligent, and independent dogs that need considerable exercise, training and intensive socialization if they are to be happy as a companion dog in a family home.
The loyal Plott Hound has a surprising heritage, which sets them apart from the other coonhounds. We'll be looking at their history, characteristics, and behavior traits and sharing some tips on finding and raising one of these unique and special dogs. 
Contents
The Plott Hound has only recently been recognized by the AKC and you can see some examples of the breed being judged here at the Westminster Show in 2021
Where Does the Plott Hound Come From?
You may not be familiar with the Plott Hound. But this sturdy scent hound has been the state dog of North Carolina since 1989. Known for intelligence, loyalty, and fearlessness, Plotts were originally bred to hunt big game.
Along with their peculiar name, the Plott Hound has an interesting story about their origins. Interestingly, they're the only one of the American coonhound breeds that do not descend from the English Foxhound.
Rather, they are ancestors of the German Hanover Hound, also known as the Hanoverian Schweisshund. Their ability to hunt wild boars and track cold trails over rough terrain was prized.
Other Breeds Introduced
In 1750, a 16-year-old German immigrant by the name of Joahnnes Plott brought five Hanover Hounds with him to the Great Smoky Mountains.
Their exceptional hunting aptitude and refusal to back down from a fight made them ideal for tracking other large game like mountain lions and bears.
Plott kept his strain exclusively pure, making no outcrosses. Then, he passed his prized pack along to his son Henry who set out to create a dog that was particularly skillful at hunting bears.
Even now, it's still unknown if other breeds were combined with his father's original stock. The "leopard spotted bear dogs" are the only confirmed instance of new blood introduced into the breed line.
Fun Facts About the Plott Hound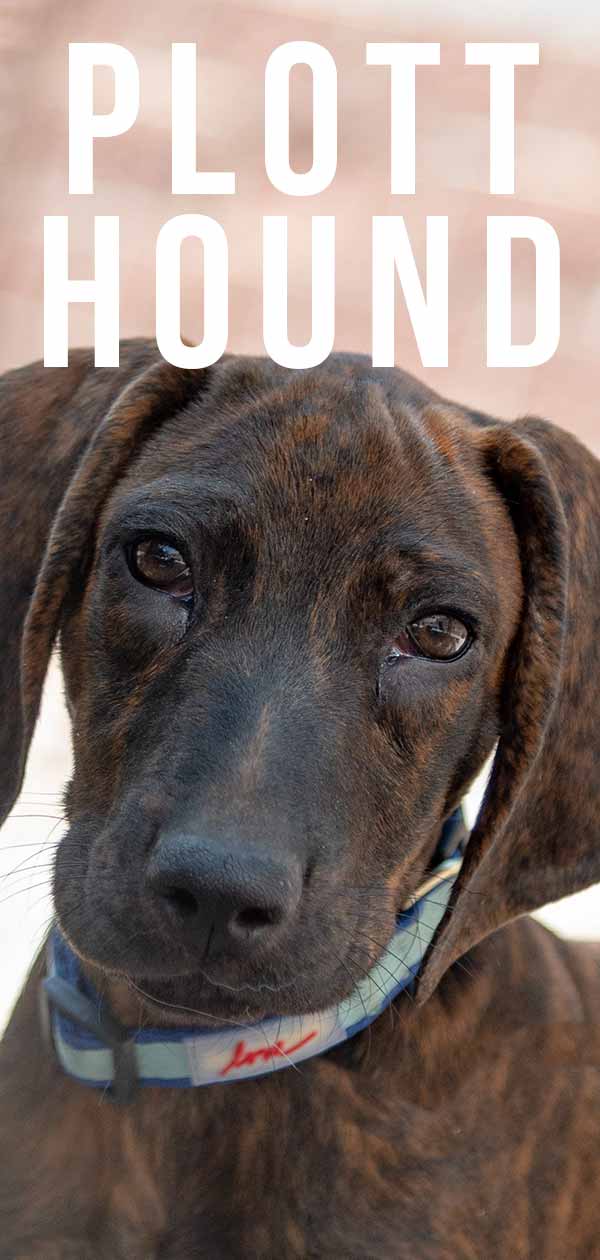 Plotts have a loud, bellowing bark that ends on a distinctive chop.
The United Kennel Club (UKC) named the breed Plott Hound in 1946.
Known as aggressive hunters, Plotts are one of the best trailing and treeing breeds.
These dogs have webbed feet and make excellent swimmers.
The Plott's skin isn't as loose as that of some other scent hounds.
Plott Hound Appearance
Like a typical hunting hound, the Plott is a powerful dog with an alert, confident presence.
Typically, males stand from 20 to 25 inches and weigh from 50 to 60 lbs and females from 20 to 23 inches and weigh between 40 and 55 lbs.
This medium-sized dog is muscular, yet streamlined, and very agile. They carry their head high and have a moderately long, square muzzle.
In addition, their hanging ears are of medium-length and set high on top of their head and their top line is sloped from withers to hip with a long tail to boot.
Plott Hound Coat
Their short, sleek coat comes in a wide array of striking colors and is considered their most distinctive feature.
Showy coat colors include any shade of brindle, including yellow, buckskin, tan, brown, liver, orange, russet, light or dark gray, or blue.
However, they also come in solid black and can have white around the chest and feet.
Plott Hound Temperament
Despite a reputation for being fierce and tenacious on the trail, Plott Hounds are affectionate and loyal around people.
But only if these extremely spirited dogs get enough attention, training, and exercise.
They are natural hunters with boundless energy and infinite stamina.
On top of this, Plotts are intelligent and known to be independent thinkers.
Natural Instincts
If they catch a whiff of an interesting scent they're apt to follow it wherever it goes.
Whereas these dogs enjoy both human and canine companionship, their protective instinct makes them suspicious of strange dogs and people.
They're good with older children, but may be too rowdy for little ones.
Training Your Plott Hound
Plott Hounds are notoriously independent and like to do things their own way. Fortunately, they also love attention and are eager to please.
This makes them more amenable to training, as long as you begin early and use positive reinforcement techniques.
In addition, Plott puppies need to be socialized as soon as possible around a wide variety of people and animals. Patience is crucial as they have a tendency to be forgetful.
We recommend short sessions and plenty of treats for success.
Exercising Your Plott Hound
A dog described as a relentless athlete and known for their endurance and determination is going to require lots of vigorous daily exercise. Plotts will love joining you on long hiking or jogging excursions or extended play sessions.
These dogs want to be outdoors and need plenty of time off leash to run freely and explore.
A country setting with a large, securely fenced yard is ideal, as these dogs will find a way to escape if at all possible.
Remember, Plotts were bred to hunt and outsmart bears.
Without a challenge, they become bored which can lead to destructive behaviors like chewing and digging.
Plott Hound Health
Plott Hounds are quite a healthy breed, with a lifespan of 12 to 14 years.
Nonetheless, responsible breeders screen their dog's parents for health concerns such as hip dysplasia.
A rare group of metabolic disorders called Mucopolysaccharidosis can affect Plotts, leading to vision problems.
Bloat
One of the biggest threats to the breed is gastric dilatation and volvulus, more commonly referred to as bloat.
The results from the rapid accumulation of gas in the stomach causing it to twist and compress the surrounding organs.
As yet, there's no known cause for this life-threatening condition which affects many large, deep-chested breeds. However, feeding your dog several small meals throughout the day and avoiding exercise for at least an hour after eating can help reduce the risk.
Plott Hound Grooming & Feeding
Plotts are pretty low maintenance in the grooming department.
Fortunatly, they don't shed much and their smooth, fine coat is thick but easy to care for. Weekly brushing with a hound glove should be enough to remove loose hair and dirt.
Some Plott Hounds have double coats, with a thick insulating layer beneath a stiff outer coat, but this is fairly unusual.
Ear Care
Their floppy ears can be prone to infection, so they should be checked regularly for excess wax or any signs of a problem.
Use soft gauze and a veterinarian-approved ear cleaning solution to gently clean them.
Weekly teeth brushing and regular nail clipping are also recommended.
Feeding
Like any breed, Plott puppies require high-quality, age-appropriate food. Daily rations should be divided into four small meals for the first few weeks. Pups can drop down to three meals a day at three months, and two meals per day at six months.
Some Plott puppies are prone to being overweight. So, it's important to watch your pup's calorie consumption, including treats during training — those little morsels can pack a lot of extra calories.
Do Plott Hounds Make Good Family Dogs?
Although they're closely associated with hunting, Plott Hounds can make good family dogs, for the right family in the right living conditions.
Despite a reputation for being hardworking, they're happy to be a family pet as long as their mental and physical requirements are fulfilled.
Companionship and activity are key ingredients to keeping this breed content.
These dogs need active owners who spend plenty of time outdoors. For this reason, they're not a good fit for city living or homes without a large fenced yard with room to roam.
Also, their loud bark can be a problem if you have neighbors nearby. Plotts are pack dogs and do well in homes with other canines.
Rescuing a Plott Hound
Although Plott Hounds are relatively rare, especially outside of the southern United States, there's always a possibility of locating one through a shelter.
Adopting an older dog has plenty of advantages.
For example, older dogs may already be trained and have their shots. Further along in this article, we'll link to some specialist shelters.
Finding a Plott Hound Puppy
If a Plott Hound is the breed for you, then locating a puppy may require some patience.
Avoid pet stores and puppy mills, as these dogs are often mistreated and have a high incidence of health problems.
It's important to find a breeder who employs ethical breeding practices.
They should be able to provide you with proof that the parents have been health tested.
Our puppy search guide will give you more tips on finding the perfect puppy.
Raising a Plott Hound Puppy
Their natural hunting instinct and need for exercise and attention can make life with a Plott Hound puppy quite a challenge.
This breed can also be very stubborn which can make training difficult, particularly for first-time dog owners.
Early training and socialization are crucial to ensure your Plott grows to be well-adjusted and not destructive.
You can learn more about the series of puppy stages that follow the natural development of canine behaviors here.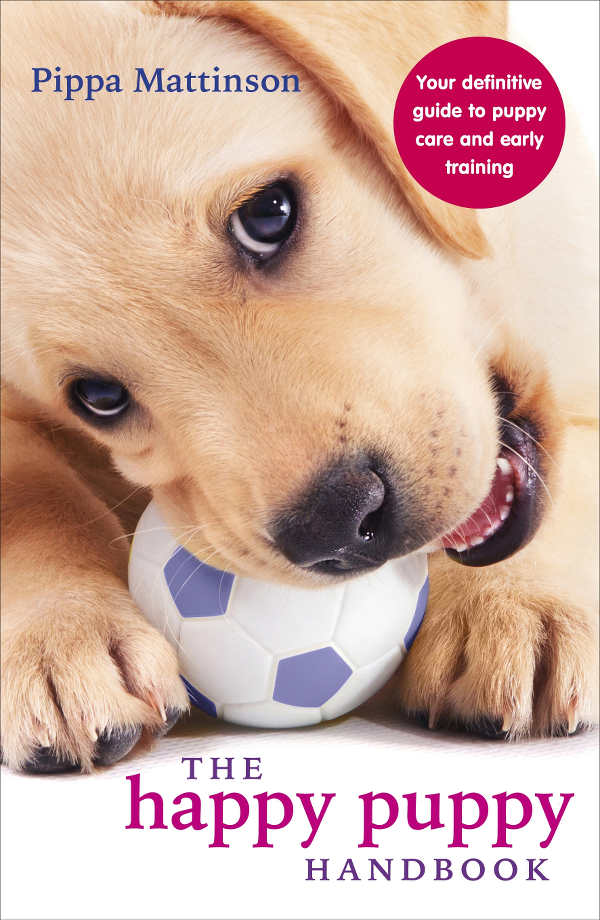 Plott Hound Products and Accessories
Ear cleaner will keep your Plott Hound's floppy ears free from infection.
An outdoor water fountain ensures your pup always has easy access to clean, fresh water in the backyard.
Pros and Cons of Getting a Plott Hound
Cons
Require a huge amount of exercise
Can become destructive when bored
Prone to loud barking
A tendency to drool and slobber
Require a lot of space
May be difficult to find due to their rarity.
Pros
Loyal and protective
Excellent watchdog
Low grooming maintenance
Intelligent and trainable
An overall healthy breed.
Similar Breeds
If you're having trouble locating a Plott Hound, here are some other hound breeds to consider:
You may also be interested in a Plott Hound mix, which you will be able to find on our Coonhound mixes guide!
Plott Hound Rescues
Here are some rescue centers in the US that rescue hound breeds and mixes.
If you know of others and would like them added to our list, please include them in the comments below.
Is a Plott Hound Right For Me?
Although Plott Hounds can make excellent pets, they're not the right dog for everyone.
If you're a first-time dog owner they can be a lot to handle.
Likewise, if you live in an apartment or small home without a big yard, this is not the pet for you.
However, for active people who love the outdoors looking for a canine companion with energy to burn and stamina to spare, the Plott Hound might just be your new best friend.
Do you have your very own Plott Hound at home? Or perhaps, you're planning to welcome one of these pups into your family?
We'd love to hear your story in the comments below.
References and Further Reading
United Kennel Club
Loder RT et al. 2017. The Demographics of Canine Hip Dysplasia in the United States and Canada. Journal of Veterinary Medicine, 2017.
Newkirk KM et al. 2011. Ocular Lesions in Canine Mucopolysaccharidosis I and Response to Enzyme Replacement Therapy. Investigative Ophthalmology and Visual Sciences.
German AJ. 2006. The Growing Problem of Obesity in Dogs and Cats. The Journal of Nutrition.
Burrows CF et al. 1990. Canine gastric dilatation‐volvulus. Journal of Small Animal Practice.