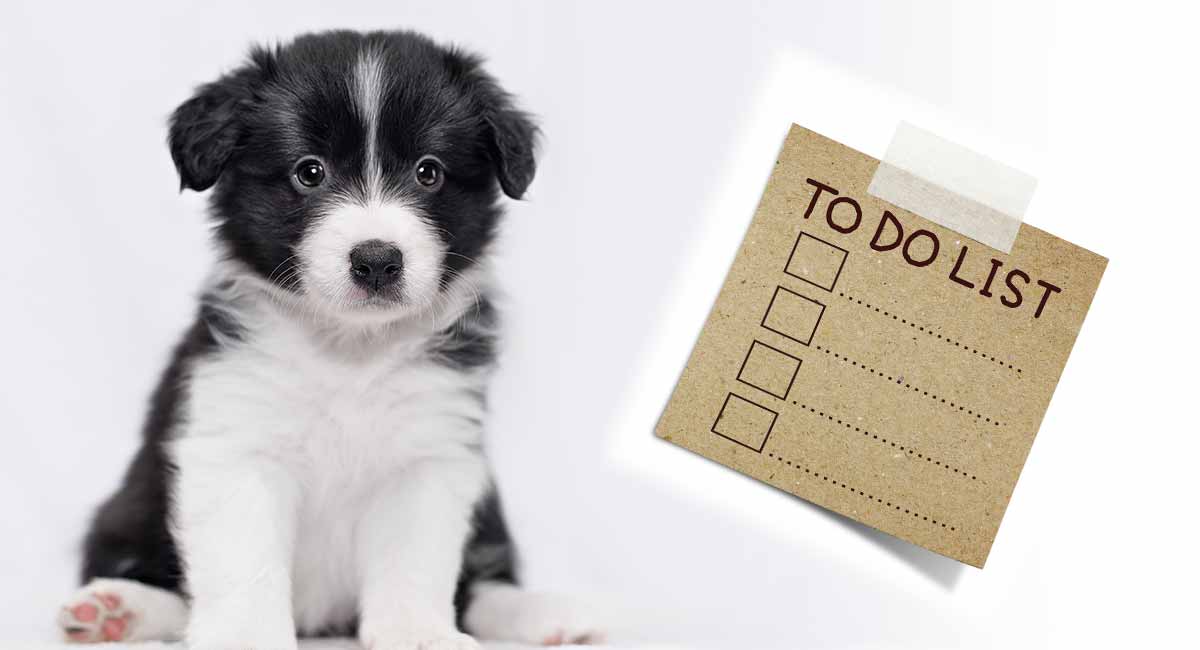 This new puppy checklist is a complete inventory of all the things you might need for a new pet dog:
Vet appointment for check up and vaccinations
Collar and tag

Travel restraint
Puppy lead
Crate
Bedding
Playpen or baby gates
Puppy pads, if using
Poop bags
Enzyme cleaner
Toys
Food and water bowls
Age appropriate food and treats
Harness
Clothing, if needed
Coat brush
Shampoo
Toothbrush and toothpaste
Nail clippers
Tick twister
...and a plan for training and trouble shooting!
It looks like a lot, and kitting out for a new canine pal can be a big task.
In this article we'll examine which items are essential on day one, which you'll need in your first few weeks, and which can be done away with altogether in some situations.
And we'll take a look at the all-important puppy-proofing jobs which should be included on your new puppy checklist.
Leaving you feeling 100% prepared for your new arrival!
New Puppy Shopping Checklist
Preparing for a new puppy is an exciting time. It can also be an expensive and overwhelming time.
There are so many things you might need, it's easy to be left reeling.
And what about the top-of-the-range bed your neighbor says they swear by? Or the high-spec harness your friend insists you need?
Which items are essential from the start, and how do you avoid wasting money on items you won't use?
A lot of this depends upon you, your lifestyle, and the type of dog you're getting.
Let's go through the items on our list and find out which should earn a place on your new puppy shopping list.
Starting with the one thing every new puppy parent should plan in advance.
Their First Veterinary Appointment
This might look like a peculiar inclusion. It's not even an object you can bring home and have ready for your new puppy!
But it's very important, for two reasons:
1. To make sure your new puppy is healthy
An early vet check can pick up problems which have gone unnoticed or undisclosed by the breeder.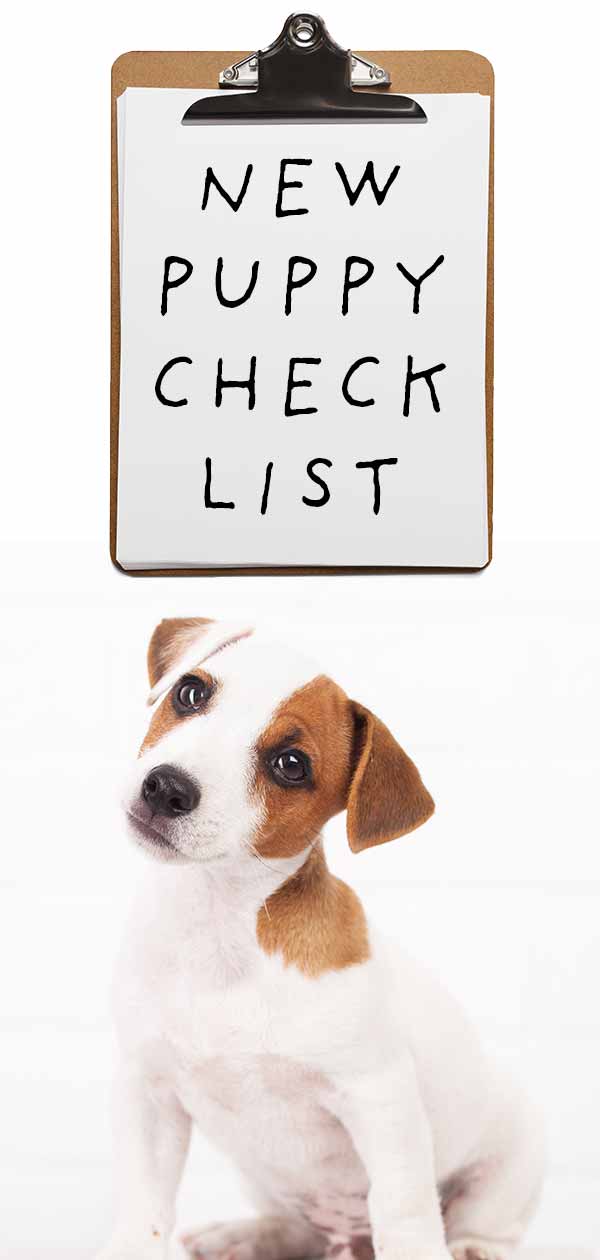 Reputable breeders will accept a puppy back in exchange for a full refund in the first few days after you bring them home.
It's a show of quality, and that they take personal responsibility for their puppies' well-being.
Purchasing a puppy from one of those breeders, and making sure the puppy you've bought is in good health by having them vet checked promptly, are two ways that you can promote and uphold good breeding practices.
This in turn will help drive puppy mills out of business.
2. To get a head start on vaccinations
Your puppy needs to complete a schedule of four puppy shots before they can go out and about in places that unvaccinated dogs might have been.
And reaching that point can be a real exercise in patience and overcoming cabin fever!
Few things are more frustrating waiting until your puppy comes home before registering them with a vet, only to discover that they can't offer you and appointment until next week.
Which means an extra week stuck indoors together, wasting valuable socialisation time.
So call your vet as soon as you have a collection date for your new puppy, and arrange that first check up for the next working day after.
Collar and Tag
The United States, Canada, United Kingdom and Australia all have laws requiring dogs to wear a collar and tag whilst out in public.
Check the regional laws where you live concerning the information which must be included on your dog's tag.
Take your puppy's collar with you when you go to pick him up, and from then on make sure he's wearing it whenever you're out and about.
But always remove it when your puppy is unattended in his crate – sadly many puppy injuries and even fatalities are caused by getting ID tags caught in the bars of crates.
To help you get familiar with your options, we've rounded up some of our favorite puppy collars here.
Travel Restraint
Lots of puppies are small enough to ride home for the first time in a lap, open-topped cardboard box, or laundry basket.
They're not familiar with car travel yet, and clever gadgets like car harnesses require a bit of gradual introduction before you start using them.
So letting your pup ride home in a lap or footwell is a great way to minimise stress on the way home.
But for future journeys you'll need a long term solution to keep them safe in the car.
This could be:
a secure trunk (depending on the model of your car, you may need guard against them climbing into the back seats)
a rear footwell with a barrier to stop them climbing into the front
a travel crate
a car harness.
Puppy Lead
It'll be awhile before your new puppy is ready for long walks.
But depending on your yard set up, you might need to think about how you'll stop him wandering off during potty breaks.
One option is a puppy pen in the yard, surrounding the spot you want him to get used to toileting in.
Another is a lightweight puppy lead attached to his collar or harness.
You can use this to stop him disappearing into flower beds and shrubs, picking up and eating anything he shouldn't, or escaping out of that hole in the fence which you missed earlier!
If your dog is a small breed, his puppy lead might continue to be suitable for walkies all his life. If he's a larger breed, you might eventually need to replace it with something more substantial.
Crate
To crate train or not to crate train is a hot topic among new puppy owners.
Even if you don't plan on using a crate forever, you might want to consider using a small, economical crate as part of your puppy's potty training.
Crates are generally robust, and so second hand ones in good condition are often easy to come by.
Or you could buy your own from new – in which case look for styles with internal space dividers which can be rearranged as your puppy grows.
Bedding
Most puppies come home with at least one blanket which smells like their mom and littermates.
What else you buy them and how much you spend really depends on you!
You can line their crate with something as cheap and cheerful as a piece of vetbed or an old, washable pillow.
Lots of puppy parents with a little experience under their belts recommend starting here until you know how chewy your dog is!
Then you can find new beds for every aesthetic and every budget.
Likewise, whether your puppy inherits an old quilt from the linen cupboard or acquires a collection of brand-new blankets probably doesn't bother him.
So this really is a place to indulge a spending habit, or keep it as frugal as you like.
Playpen or Baby Gates
Puppies are high energy bundles of fun and teeth.
They haven't yet learned the habit of only peeing and pooping outside.
They seek attention and ask you to play with determined little nips.
And they have an unrivalled capacity for finding things they shouldn't while your back is turned!
For their safety, and to preserve your carpet and your sanity, we recommend preparing a "puppy safe space" ready by the time they get home.
You can create it with puppy gates in doorways, or by putting a puppy pen in the busiest room of the house.
It should be in the heart of the home, so your puppy gets used to the sights and sounds of everyone in your household.
It's going to be where you put her while you answer the front door, or to calm down if she gets over-excited.
Puppy Pads
Puppy pads are possibly even more controversial than crates.
But if you don't have quick and easy access to a safe outdoor space to potty train your puppy in, then you'll have no choice but to start out with puppy pads.
If this is you, make sure you have some in stock from day one.
Poop Bags
Whichever toilet training method you follow, there's no escaping the need to clean up after your dog's number twos.
Given their fundamental purpose, the variety of poop bags available to buy is frankly astonishing.
Start with the first ones that catch your eye.
If you're prone to overthinking, take comfort that you've got a lifetime of opportunities to try out the rest as well.
Enzyme Cleaner
It is technically possible to toilet train a puppy without them having a single accident in your home.
This is usually the preserve of very experienced puppy owners, and very lucky novices.
But for the rest of us, accidents happen. And dogs love to pee where they've peed before, so when accidents happen it's vital to remove all the evidence.
To foil your puppy's brilliant sense of smell, a good quality enzyme cleaner is essential.
Enzyme cleaners destroy the tiny telltale protein molecules in pee and poo residue, so your pup can't recognise where he's been before.
Toys
Puppy toys are another category where you can go to town, or spend nothing at all.
If you're thriftily-minded, your puppy will be delighted with old towels cut into strips (great for playing games at arm's length from those razor sharp teeth!), durable wooden utensils, and old tennis balls or plastic bottles.
With household items, examine them regularly and remove at the first sign of damage or splintering.
If you're keen to buy some toys made for the purpose, find out which ones we recommend right here.
Food and Water Bowls
Next up, food and water bowls.
Puppies need round the clock access to clean, fresh water. But don't be surprised if their food bowl sits untouched in the cupboard for the first few weeks!
That's because taking their meals and feeding them by hand, or as treats for good behavior, are a great way to establish a bond with your puppy, and lay the foundations of great manners.
If these items are still on your shopping list, we can help you find a smart, sturdy, durable and hygienic solution.
Age Appropriate Food and Treats
Puppies usually come home with a couple of weeks' worth of the food they were weaned onto from the breeder.
Ask ahead of time what it is, and make sure you know where your nearest stockist is.
The anxiety of moving to a new home can be rough on a puppy's stomach, so even if you want to change their diet in the long run, wait a few weeks and then transition them to it gradually.
Harness
For the longest time, dog harnesses weren't on anyone's radar. And myths still persist that they can encourage pulling.
But in fact there are a lot of advantages to using a harness.
When your dog is fully grown you might want to invest in a robust harness made from technical fabrics and boasting extra features.
But lightweight puppy harnesses with lots of growing room don't have to cost much.
Even though the purpose of your puppy's harness won't come into its own until he starts going and walks and taking part in structured training, bear in mind he may need a week or so before that to get used to seeing it, putting it on, and wearing it.
So we think this is one item worth buying ahead of time.
Clothing
Depending on your climate and the breed of your puppy, there's a good chance that they won't need clothes at all.
But small breeds, puppies with fine or very short fur, or puppies with very little body fat might benefit from a coat if you bring them home in a cold season.
Also even the most rugged and waterproof breeds are easier to get dry after a walk in the rain if they were wearing a raincoat.
And coats with reflective or illuminated panels are a great safety measure for walks after dark.
However, to avoid wasting money on garments which are already too small or don't fit right, we recommend waiting until your pup comes home before you buy her first sweater.
Grooming Supplies
Your puppy is unlikely to be getting very dirty at first, but eventually you might discover you need:
brushes
toothpaste
nail clippers
and a tick remover.
Of course it might turn out that your puppy gets all the baths they need and always has their nails clipped at the groomers.
Or that they have no interest in long grass, and never get a tick.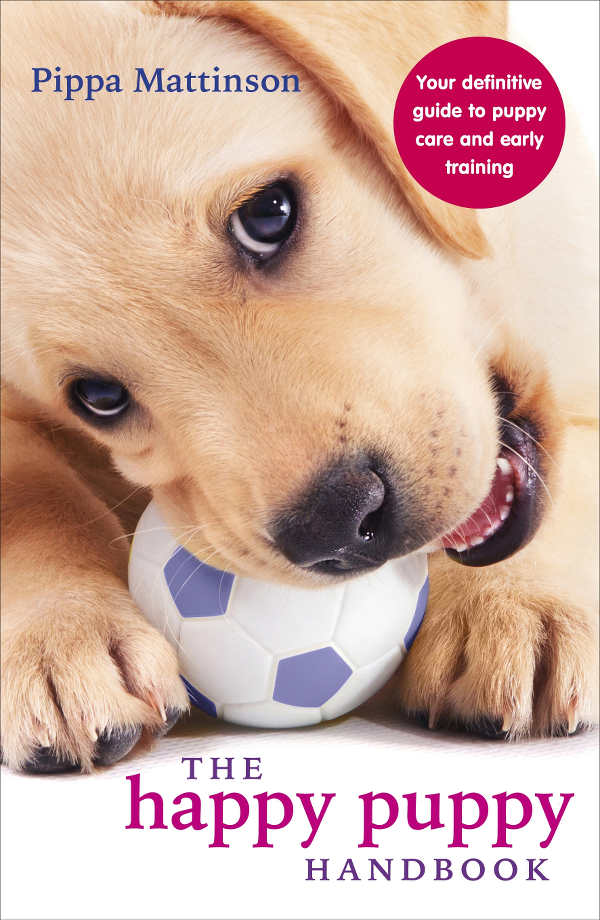 The Perfect Companion For Life With A New Puppy
But these are all small ticket items, and it's usually easier to have them on standby than try to find them at short notice.
A Plan for Troubleshooting and Training
The final item on our list is another somewhat intangible addition.
New puppies are sweet, disruptive, exhausting and overwhelming.
They do things which wrack us with worry at 3am, and make us question our judgement over and over again.
Now we're blessed with the internet, we can ask any question, any time, but potentially receive a dozen different answers. So it helps to know in advance where you'll find the advice you trust.
Troubleshooting
Your puppy's breeder knows them better than anyone, and should be happy to offer guidance for as long as you need it.
Our Happy Puppy Handbook includes tips for finding your feet and answers to frequently asked questions on a huge range of topics.
Training
When your puppy is 12 weeks old they'll be ready to begin structured training sessions.
Whether you want to attend local training classes or follow an online training course, you'll probably need to sign up ahead of time.
You can join the waiting list for our Dogsnet Training Programme over here.
New Puppy Checklist – Jobs Around The Home
Last but not least, some puppy preparation tasks to complete around the home:
1. Puppy proof their safe space
This is easy if you're using a playpen, but if their space is the whole kitchen, make sure cupboard doors are secure, cleaning products are out of reach, and there are no trailing cables.
2. Secure your yard
Check fences and gates don't have gaps large enough to escape from.
Remove or fence off plants which are poisonous to dogs.
3. Make sure your kids know what to expect
Puppies are a very exciting proposition for children, but the reality can be a shock.
If you have kids in your household, use books and conversations to set their expectations ahead of time.
In particular make sure they understand the importance of not disturbing your puppy while they're eating or sleeping, how to understand doggy body language, and the right way to deal with unwanted behavior.
4. Plan for vet's fees
Some people get pet insurance, others keep a separate savings account or credit card in case of unexpected bills.
Decide what you're going to do, and set it in place.
What Do You Need For A New Puppy?
And there you have it!
Once you've ticked off everything in this article, the only thing you'll still need is your puppy!
Which items do you think are essential on the day your puppy comes home? Is there anything you've bought a puppy and never used?
Tell us in the comments section down below!