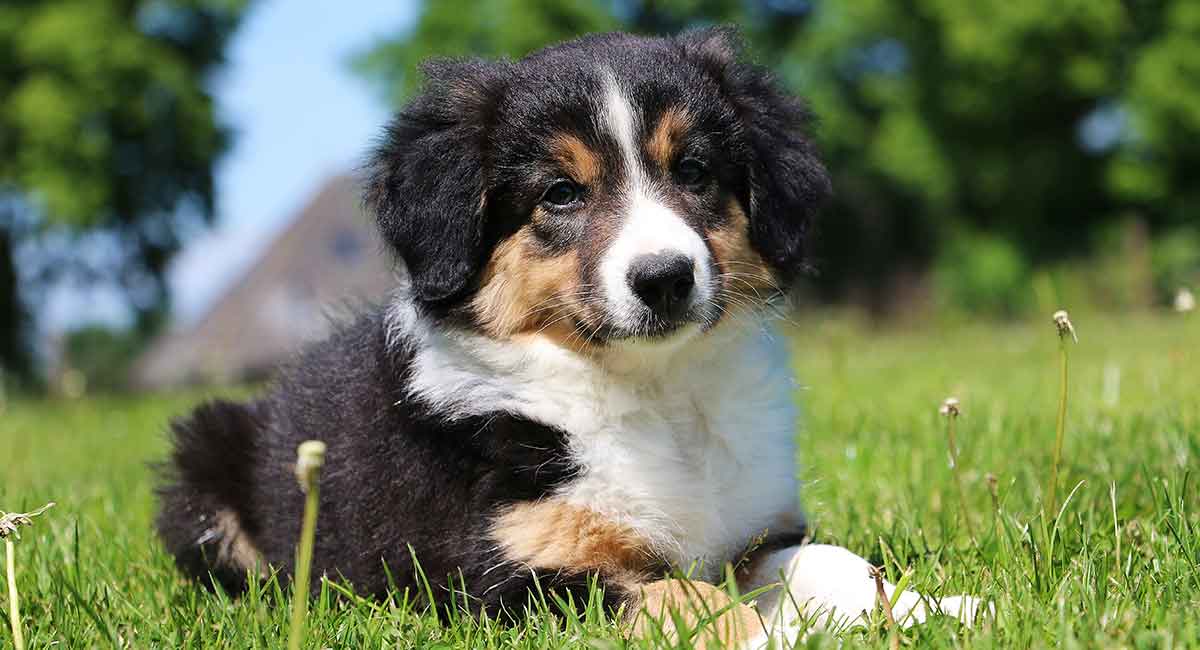 A miniature Collie appeals to those that love the look and personality of a full size Colllie dog. But would rather not share their home with such a large pet.
We look at the different types of mini Collie that you might come across. And help you pick and raise the right pooch for your family
Contents
Small Collies are smart dogs! Check out Sheltie Nessie in the video below and she demonstrates some cool training tricks!
Full Size And Miniature Collies
Small versions of dog breeds are becoming more popular among dog lovers. And the collie dog breeds are no exception.
There are two popular Collie breeds registered with the American Kennel Club. One is the Border Collie, often found competing as an agility or obedience competition dog. And the other is the Collie best known as the lassie dog breed, after the 1940s film Lassie Come Home.
The AKC also register a small Lassie breed dog called the Shetland Sheepdog. Many enthusiasts regard the Shetland Sheepdog (Sheltie) as the official miniature Collie. We'll talk a bit about this mini Lassie dog below.
But there are other ways breeders produce puppies to sell as "mini Collie dogs." And they often do this using by cross breeding. We'll be talking about this too.
We'll help you decide whether a miniature Collie is the right choice for you. And if so, which type of mini Collie is best.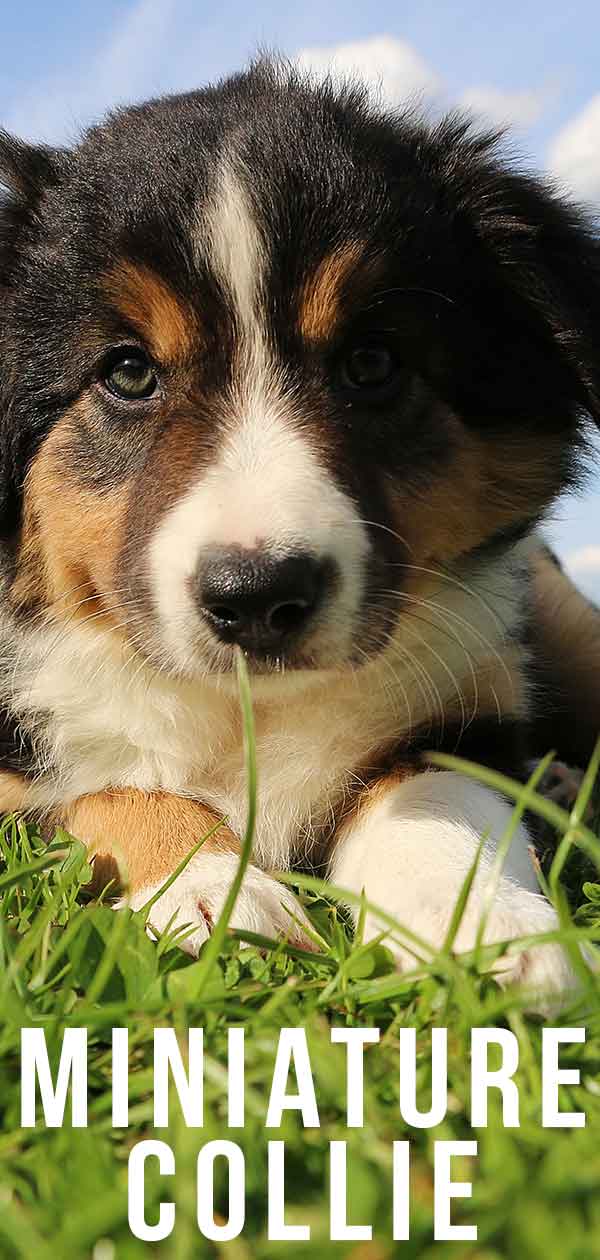 Collie History
Before we look at the miniature version of the Collie, here's an overview of the traditional full-sized Collie breed.
Collies originated as livestock herding dogs in Scotland and the northern parts of England.
The Collie's handsome looks and pleasing temperament led to the breed's worldwide popularity as a canine companion and family pet.
Collie size
The Collie is a popular medium-large size dog. Standard adult male Collies weigh between 60–75 pounds and stand 24–26 inches tall at the shoulder.
Females are 50–65 pounds and stand 22–24 inches tall.
Collie temperament
Collies are a gentle and affectionate breed, and are intelligent and responsive to training.
They are reknowned for their kindness to children, and are also inclined to be rather vocal. The smaller, Shetland Sheepdog, or miniature Lassie dog, has a similar personality but can be very reserved with strangers.
While miniature Collies, other than the Sheltie, are not officially recognized by dog breed organizations, many people are interested in them.
Let's find out more about the miniature Collie next.
The Appeal Of The Miniature Collie Dog
It's true, small versions of regular sized dog breeds are a trend among many dog lovers.
Besides the fact that smaller is cuter, what are the other reasons why people turn to smaller dogs like the miniature Collie?
In the case of a larger dog like the full-sized Collie, potential owners may admire the breed but not want a full-sized dog.
Smaller dogs can be more practical if you live in a small space like an apartment.
Older owners or families with very young children may also prefer a smaller dog that's easier to handle.
Let's take a closer look…
How Are Miniature Collies Created?
There are three ways that breeders can create miniature versions of dog breeds.
Each method has potential drawbacks when it comes to an individual dog's overall health and well-being.
The three methods are:
Mix a full-size Collie with a smaller, similar looking breed to create a smaller dog. This retains as much of the classic Collie appearance as possible.
Introduce the gene for dwarfism. That is a genetic mutation that rarely occurs in Collies but is common in other breeds such as the Corgi.
Repeatedly breed the so-called runts of a litter together to create a line of smaller than normal Collies
Let's look at each of these methods in a little more detail, including how each could impact your miniature Collie's health.
Mixing With a Smaller Breed
A mixed breed miniature Collie can be a healthier option than breeding runts or for dwarfism.
Mixing a Collie with a dog of another breed can introduce a healthy genetic diversity into the Collie line.
But it's important to make sure that the other dog has a good genetic background too.
What are some small to medium sized dogs that resemble the Collie and can be used in the mix to create a smaller type of Collie?
Sheltie Collie Mix
As we said earlier, the Shetland Sheepdog (Sheltie) is a separate breed that strongly resembles the Collie.
The Sheltie Collie mix will be a smaller mixed breed dog that most closely resembles a traditional Collie.
Other Collie Mixes
There are other smaller sized dogs that are somewhat similar in appearance to the Collie, such as the Border Collie, the Australian Shepherd, and the Belgian Tervuren.
All these other breeds are herding dogs just like the Collie.
They also have long coats and Collie-like heads and body types, so the mix will resemble a small sized Collie.
Introducing the Dwarfism Gene
Dwarfism is a genetic mutation that can occur in any breed.
While rare, it is what gives short-legged breeds like the Dachshund and Corgi their unique look.
These so-called "disproportional" dwarf breeds have a dwarfism known as chondrodysplasia.
Sometimes a nondwarf breed dog can be born with a type of dwarfism called pituitary dwarfism.
A growth hormone deficiency causes this type of dwarfism.
Certain breeds like German Shepherds and Karelian Bear Dogs are prone to pituitary dwarfism, but it is rare in Collies.
Breeding for any form of dwarfism can lead to serious health problems, and experts do not recommend it.
So can mixing a Collie with a dwarf breed dog.
Dogs with dwarfism can suffer from a wide range of chronic health issues, including a serious spinal condition called intervertebral disc disease (IVDD) and painful, malformed limbs and joints.
Breeding From Runts
Like breeding for dwarfism, breeding from runts can be a problematic way of creating miniature Collies.
Runts are not just the smallest puppies in a litter. True runts fall below the normal size range for the breed and are abnormally underweight.
Some runts can grow up healthy and do well with proper care and nutrition. But sometimes low birth weight can lead to health problems.
For example, a runt may be less able to compete for milk with his normal sized siblings. This leads him to miss out on valuable nutrients, develop a weakened immune system, and become more prone to infections.
Unusually small size can also be an indicator that a puppy has underlying health problems or a genetic abnormality.
Breeding runts with one another can pass genetic defects and health issues—along with small size—from one generation to the next.
Is a Mini Lassie Dog Right for Me?
There are some health risks associated with dogs that are smaller than average in size.
Choosing a healthy, normal sized Collie from a reputable breeder can be a safer choice than an unusually small dog.
A female at the lower end of the normal size range can be 50 pounds.
This is much smaller than a male at the higher end.
If you have your heart set on a miniature Collie, consider crossbreed Collies in the small to medium range.
Remember miniature Collies from runts or dwarfism genes can have more health problems than normal sized Collies and mixed breed Collies.
Finding a Miniature Collie
How do you find a miniature Collie that's as healthy as possible?
Are you interested in a puppy?
Contact reputable Collie breeders and let them know that you seek a smaller dog.
It's possible to find a healthy purebred Collie that falls at or slightly below the low end of the normal size range.
If a breeder specializes in miniature Collies, be sure to ask them how they breed for small size.
Responsible breeders will health test their dogs for inherited health problems known to affect the Collie breed.
Health Tests for the Miniature Collie
Like most purebred dogs, Collies can suffer from some inherited health issues, no matter what size they are.
Your breeder should test for a condition called multidrug sensitivity and an eye disease known as progressive retinal atrophy.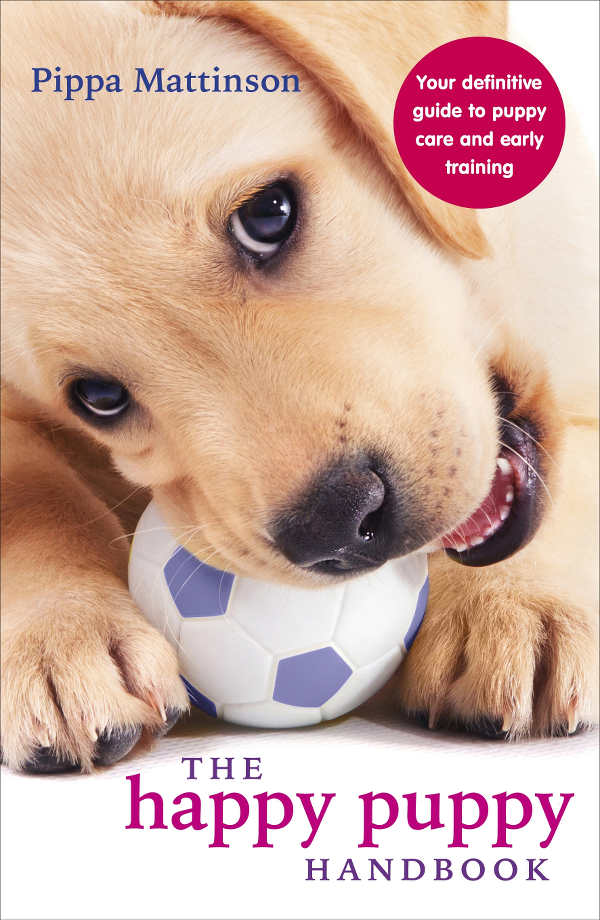 Avoid buying a puppy labeled as miniature, micro, etc. from online ads or retail pet stores.
Dogs sold through these venues often come from large commercial breeding operations known as puppy mills.
Miniature Collie Rescues
Rescue is an excellent option if you are interested in a mixed breed miniature Collie or an adult dog.
Check with your local animal shelters and rescue groups for dogs identified as Collie mixes.
Breed-specific rescue groups for Collies are also a good resource for smaller sized and mixed breed Collies.
In the US, there are many state and regional Collie rescue groups you can contact.
In the UK, Collie Rescue (Rough and Smooth) lists available Collies in England, Scotland, and Wales.
Miniature Collie Summary
A miniature Collie can be a wonderful canine companion.
Be sure to choose your next best friend with care to ensure that your dog is as healthy as possible.
Do you already share your life with a miniature Collie?
Tell us about your dog in the comments section!
References and Resources
Beuchat, C. The Myth of Hybrid Vigor in Dogs…Is a Myth. The Institute of Canine Biology, 2014.
Gene Insertion Underlies Origin of Dogs with Short Legs. National Institutes of Health, 2009.
Voorbij, A. Shedding Light on Canine Pituitary Dwarfism. Veterinary Sciences Tomorrow, 2016.
Shores, A. Intervertebral Disc Disease in Dogs. American College of Veterinary Internal Medicine, 2014.
Health Statement. Collie Club of America.