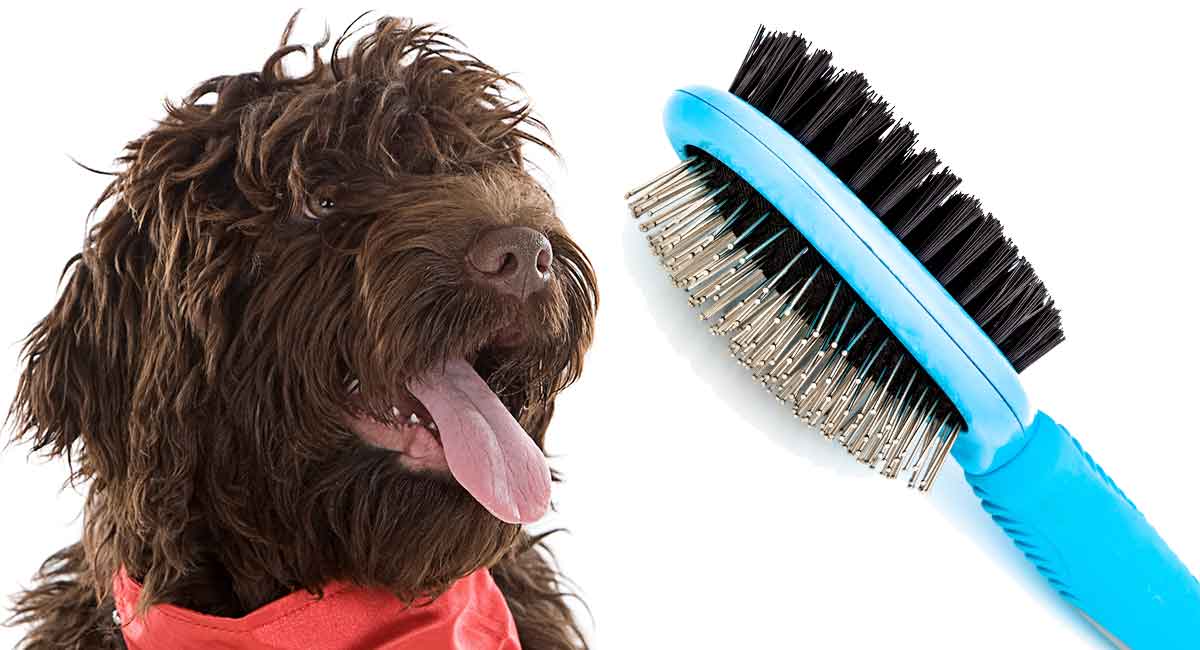 Labradoodle grooming is an essential regular task for owners of this curly Labrador Poodle mix. They have three main coat types, fleece, wool or hair, and each shed differently and must be managed in a slightly alternate way. And although Labradoodle coats vary in thickness and wavyness, they all need daily, weekly and monthly tasks to stay in top condition. Every Labradoodle owner knows these intelligent, fun loving days delight in gettin mucky, rolling in the dirt and rubbing up against things to increase those natural tangles. Today we'll share tips, tricks and routines to help you stay on top of their fabulously high maintenance fur. We'll give you a step by step guide to Labradoodle grooming, instructional Labradoodle grooming videos, and links to various places where you can find the best grooming tools for wavy haired dogs.
Contents
Although Labradoodle grooming is no small task, with our help it can be an easier one! The Labradoodle is one of the most beloved and recognizable pet pups in the world today. These happy-go-lucky and loving pups have endeared themselves to star-studded celebrities and ordinary families from all walks of life all around the globe. But their hair is something that every owner has to get to grips with.
Do Labradoodles Need Grooming?
Despite what many people believe and expect, not all Labradoodle dogs are non-shedding. Some Labradoodles can shed quite a lot. And all Labradoodles, whether they shed or not, need weekly or twice-weekly brushing and more detailed grooming every few months.
In fact, the less your Labradoodle sheds, the more brushing and grooming your dog is likely to need as we will explain in later sections here. Labradoodles tend to be high-energy, athletic dogs who love to run and play and swim (and sometimes roll in very stinky things).
For these reasons, you may find yourself needing to bathe, brush and groom your dog with greater frequency after play sessions or outings.
What Type of Fur Do Labradoodles Have?
Labradoodles are a hybrid dog with one Labrador Retriever parent and one Poodle parent. These two dogs have very different coat types. Since there is no method for predicting in advance how much genetic influence either parent dog will have over a given puppy, this can make a Labradoodle's adult coat type rather hard to predict.
Poodle Coat
The Poodle coat is very dense and curly, but it is single layer (i.e., Poodles do not have an insulating undercoat). Poodle dogs do shed, but the coat catches the hair so it doesn't fall to the ground.
This has given Poodles a reputation as "hypoallergenic" dogs. For some people who are very sensitive to pet dander, Poodles can be a potentially good pet dog choice.
Labrador Retriever Coat
The Labrador Retriever coat is medium in length, thick, coarse and straight. The coast is also water repellent on the top layer, and soft and insulating on the under layer.
Labs shed year-round. Twice per year, they shed a lot when they "blow coat." Labradors are not a good choice for people who are very sensitive to pet dander.
Labradoodle Coats
If your Labradoodle inherits more genetic influence from the Poodle parent, the coat is likely to be closer to single layer, dense, thick, curly and mostly non-shedding. This type of coat is often referred to as "fleece" or "wool."
If, however, your Labradoodle puppy inherits more genetic influence from the Labrador Retriever parent, you can count on year-round shedding as well as more intense seasonal shedding. This type of coat is typically referred to as "hair."
If you really need to make sure your puppy will not shed (much or at all), the safest approach is to work with a breeder who specializes in breeding later generations (F2, F3, F4, etc.) of Labradoodles.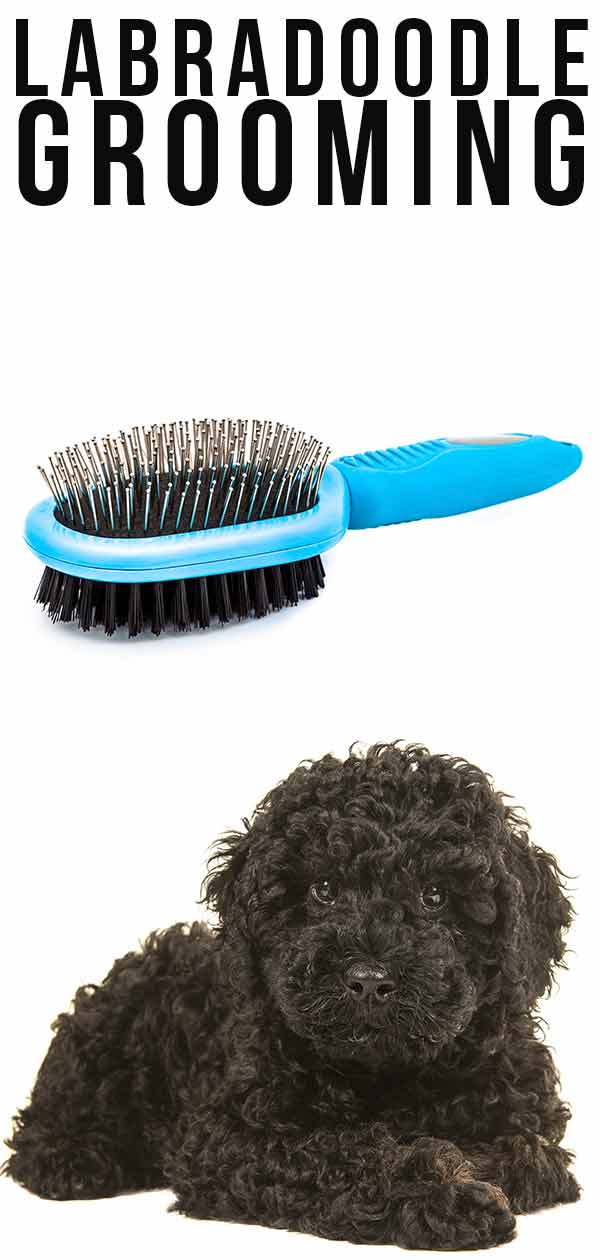 How Often Should You Groom a Labradoodle?
Once your Labradoodle grows up, the coat will have transitioned from the short, fuzzy puppy coat into your dog's full adult coat. This is when you will find out for sure what type of coat your Labradoodle has inherited and how much grooming you will need to do.
For general purposes (and assuming your dog hasn't been out enjoying a good roll), you can plan on doing a good basic brushing and combing session twice a week. For high-shedding Labradoodles, you may want to increase this frequency during seasonal sheds.
Labradoodle Grooming During the Shedding Season
During the seasonal "coat blows," Labradoodles with hair coats (more of the Labrador influence) may need daily or every other day grooming and brushing. Labradoodles with fleece or wool coats (more of the Poodle influence) may not require any grooming adjustments at all.
How to Groom a Labradoodle
These are the recommended steps to do a basic at-home Labradoodle grooming session.
1. Run the de-matting rake over your dog's body.
Simply pull out the dead, shed hair and dirt or debris that has gotten trapped in your dog's thick coat since the last brushing and grooming session.
It can take a few tries to get the hang of using the undercoat rake, especially because this grooming tool can look kind of scary at first glance.
A well-built rake will be designed to extract excess hair and debris without pulling on your dog's coat or skin.
2. Spritz your dog with detangling spray.
As you do this, be careful to shield your dog's eyes so you don't cause any irritation.
Spritz the detangler lightly and evenly over your dog's body. If you find tangles as you brush, you can stop and spritz on a bit more detangler to help work them out easily.
3. Brush your dog with the slicker brush.
Different groomers have different approaches for grooming dogs with thick coats like the Labradoodle.
As a beginner, one of the best ways to start is to brush "feet first."
Start at your dog's feet and brush out one section until it is smooth.
Continue brushing section by section in this way, stopping to work out tangles as you find them and then continuing on.
If you have purchased different sizes of slicker brushes, you can use the larger size on your dog's body and the smaller size on your dog's face and legs.
4. Run the comb over your dog's coat.
After you are done using the slicker brush, it is time to comb out your dog's coat.
The comb is the tool that will help you detect smaller tangles that you may have missed with the slicker brush.
If you find additional tangles, stop and spritz a bit more detangler and work them out with the slicker brush.
Then run the comb over the area one final time to be sure the tangle is gone.
5. Trim and/or thin your dog's coat as needed with the scissors.
Not every Labradoodle owner feels comfortable and confident trimming their dog's hair at home.
This is definitely a personal choice. If you do want to try it but feel unsure, you can ask your dog's groomer for a little tutorial.
Most groomers are happy to help in this area.
6. Do any additional maintenance tasks as needed.
Brushing and grooming sessions offer a good time to do all of the following:
Check and clean the ears
Trim the dog's nails
Brush the dog's teeth
Do other necessary health and hygiene maintenance tasks that may be needed.
Labradoodle Grooming Tools
When you are just starting out and building your Labradoodle grooming toolkit, you will want to be sure you have these basics—recommended by Labradoodle breeders and professional groomers.
Undercoat Rakes
A good undercoat rake will pull out dead, shed hair and debris that has gotten caught in your dog's coat. The Mars Coat King Dematting Undercoat Grooming Rake Stripper Tool for Dogs* is a good option.

This highly rated and popular undercoat rake represents an investment, but it is durable and solid and really gets the job done.
A similar choice is the PawsPamper Extra Wide Undercoat Rake* for medium to large dogs.

This model comes with a free money-back manufacturer's guarantee.
Slicker Brushes for Labradoodles
A good slicker brush will help you locate tangles and mats, and work them out without causing any discomfort to your pup. For Labradoodles, finding a long-pin brush with angled pins like one of these is key to grooming success.
The Chris Christensen Long Pin Slicker Brush* is large and effective. This popular long-pin, angled-pin, large slicker brush is great for grooming all the way down to the undercoat.

Once your dog grows up, you may want to use the large brush on the main body coat and a medium brush on the legs and facial areas.
The Hertzko Self Cleaning Slicker Brush* is another very well received choice.

This popular slicker brush has a feature many grooming-intensive dog owners just love: a self-cleaning button. One push of the button ejects all the hair trapped in the tines.
Labradoodle Comb
Labradoodles tend to have such thick coats that it can be easy to miss smaller tangles and mats. But you won't be able to miss catching them when you go over your dog's coat with one of these combs*.

This high-quality, stainless steel comb has closer pins on one end and wider pins on the other end to help you groom larger and smaller areas on your dog's body and face. All pins have rounded tips for skin safety.
Labradoodle Detangling Spray
Detangling spray can be a must for safely and comfortably working out tangles and mats without pulling on your dog's sensitive skin. BioSilk Therapy Detangling Mist for Dogs* also includes shine protection!

This lovely, soft, human-grade detangling spray is made from all natural ingredients and is specifically pH balanced for canine skin.
Cowboy Magic Detangler and Shine* is a favorite among groomers and breeders.

Both for its conditioning effect and its ability to repel debris.
Trimming Shears for Labradoodles Fur
Trimming shears can be really useful to trim away longer hair that could interfere with your dog's vision. You can also use them to trim ear hair, paw hair and hair around the hind quarters. The Pet Magasin Grooming Scissors Kits* are a popular choice.

This scissor set has rounded ends for safety and surgical-quality stainless steel construction.
Gimars Heavy Duty Titanium Coated Stainless Steel Pet Grooming Trimmer Kit* is another good option.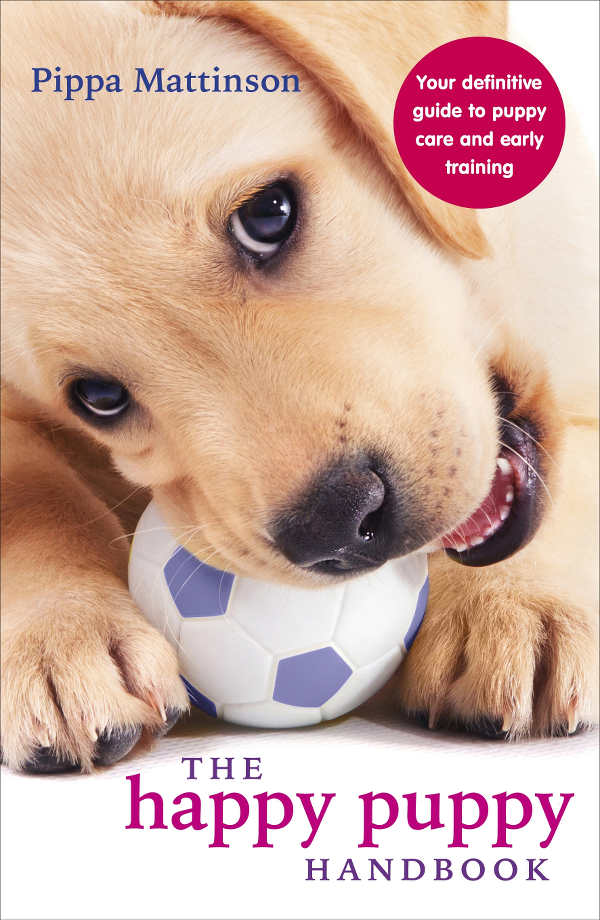 This set of three shears features one set of straight, curved and thinning scissors.
Labradoodle Grooming Video
All the written instruction in the world sometimes can't compare to a simple visual tutorial, which is just what this short and sweet grooming video offers.
In less than five minutes, learn from a professional Labradoodle breeder how to:
Brush and comb your Labradoodle from bottom to top
Check for and work out mats and tangles
Use detangling spray to make grooming easier, safer and comfier for your pup
Labradoodle Haircuts
The Labradoodle typically has two clip styles: long and short. There isn't actually a tremendous degree of difference between these two clips. For beginners in particular, breeders and groomers often recommend keeping the Labradoodle coat between one and two inches long for ease of maintenance.
When the coat grows out longer than three or four inches, this can double the time you spend brushing out your dog's coat.
Short Clip
This clip is around one inch long. Opting for a short clip is easier to brush out and won't typically develop as many tangles, but this clip will require more frequent trims to maintain.
Long Clip
This clip is around two inches long. Choosing a long clip will be more prone to developing tangles and collecting dead hair and debris, but you don't have to visit the groomer as frequently.
Grooming Your Labradoodle
We hope this focused article about grooming your Labradoodle has helped you learn how to care for your precious pup's coat with confidence.
Learn More About Labradoodles
Affiliate link disclosure: Links in this article marked with an * are affiliate links, and we may receive a small commission if you purchase these products. However, we selected them for inclusion independently, and all of the views expressed in this article are our own.
References and Further Reading: