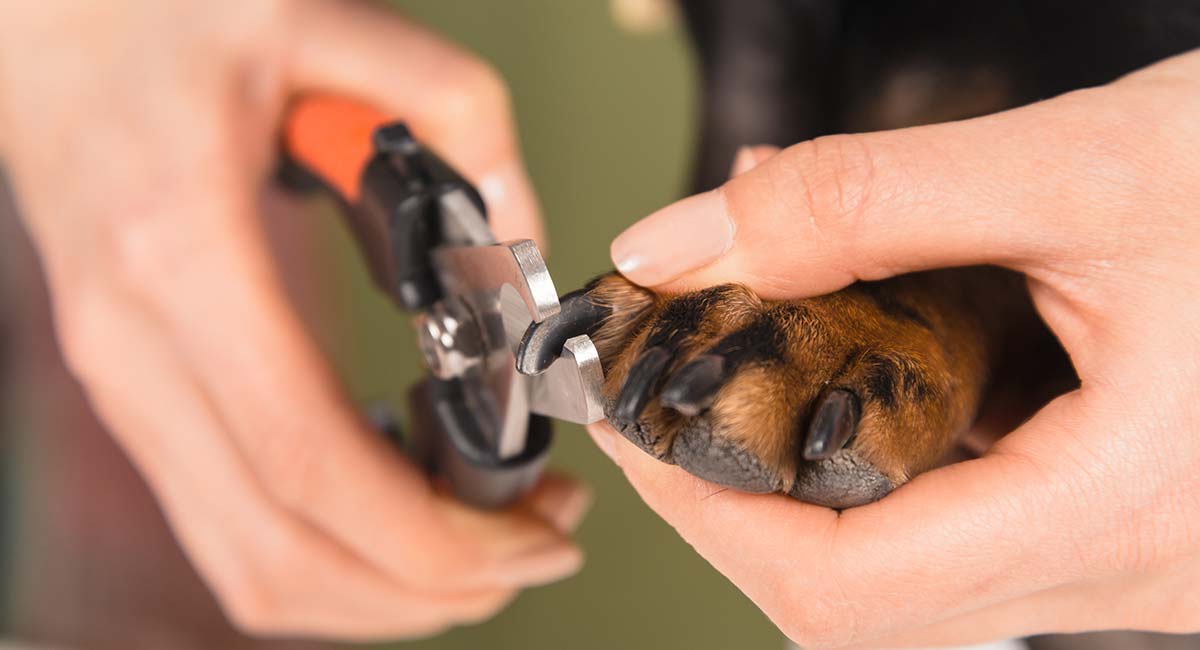 How to stop a dog's nail from bleeding: learn the causes and treatment of broken nails in dogs, and how you can stop dog nail bleeding, quickly and safely.
Just like humans, dogs too can suffer from broken or torn nails. However, for our pups this is a bigger problem because the structure of their nails is completely different to ours.
Unless it's only the tip of the dog's nail that is broken off or cracked there will be bleeding – and pain. For a while it could impair their ability to walk, run and play comfortably.
Every dog owner is likely to be confronted with dog nail bleeding at some point. Here you'll learn how to safely stop dog nail bleeding. And what to do if the dog's nail won't stop bleeding.
First let's answer the question "Why is my dog's nail bleeding?", by looking why a broken dog nail bleeds and the causes of dog nail bleeding.
Why is there dog nail bleeding?
Although we often refer to our dog's claws as 'nails', it's important to realise that they are anything but.
Our nails lie flat and grow on the skin. Dogs have claws, which are actually attached to the last bones at the end of their toes. The dew claw – the nail higher up on a dog's front paws – are a doggy equivalent of our thumbs.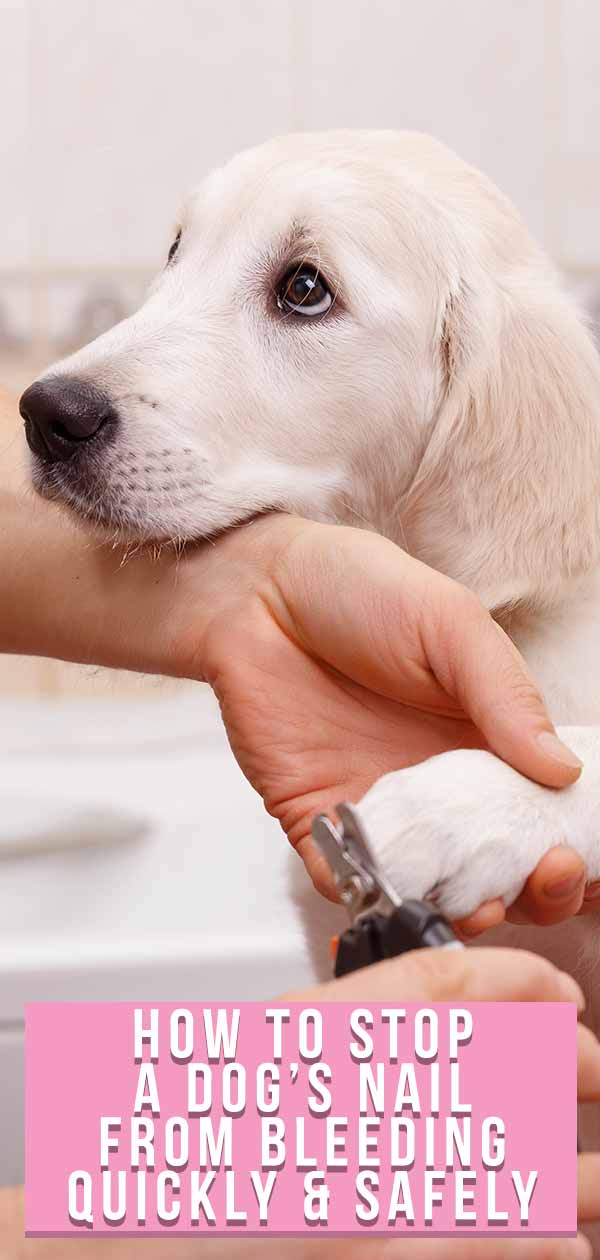 The outside thick hard layer of a dog's nail consists of keratin (the same as our nails). However, in dogs, this hard layer serves to protect what is known as the "quick".
The quick is the live and growing cuticle in the center. It's supplied by blood vessels and nerves which run right into what we refer to as a dog's nail. This is why a dog's broken nail bleeds and why it's painful.
This brings us to how and why dogs' nails might start bleeding. You can expect more bleeding than from a small cut to the skin – because it's an actual blood vessel that's been cut through.
The most common cause of dog nail bleeding
Dogs' nails most often start bleeding when we accidentally cut into the quick while clipping their nails.
This could happen because the dog's nails are clipped incorrectly. Usually it's really an accident when your pup moves suddenly or squiggles and squirms while you're trimming their nails.
We'll have a look nail trimming further on because it's important for you to keep your pet's nails trimmed. Nail breaking and tearing usually happens because the dog's nails are too long.
Other causes of dog nail bleeding
After trimming accidents, nails that have grown too long are the main underlying cause of dog nail bleeding.
For the most part, a dog's claw will naturally wear itself down from everyday activities like walking, playing, and digging. If your dog is inside most of the time, or only walks and plays on soft ground they will need their nails trimmed more often.
Dogs most often break or tear the nails on their front paws, including the dew claw. This can happen while they're digging, scratching, or when they snag their nail. A nail can be snagged in carpets, furniture, unevenness in flooring or paving, even when they jump up into the car.
Aside from length being a factor in broken or torn claws, some dogs are simply more predisposed to breakage due to brittle nails, which grow that way naturally.
When a dog's nails are exposed to water or damp for an extended period they also tend to become soft like ours, which increases the chances of breaking or cracking. For example when they've been swimming for a while.
Regardless of how your dog broke their nail, there is one important thing to keep in mind. Without attention, such as stemming the bleeding and cleaning the injury with a pet-friendly antiseptic, a broken dog nail could lead to a serious infection.
Most broken and bleeding dog nails can be treated at home. In certain instances, however, it's best to take your pup to the vet for professional attention.
When to consult your vet
As horrible as it sounds, a nail that's completely ripped off and bleeding is actually the best case scenario. It's the easiest type of dog nail bleeding to treat.
With an injury like this, the nail has already been fully removed. All you need to do is clean the wound, stem the bleeding and then take steps to prevent infection. The details of how to do this are discussed further on.
A cracked or broken nail that's still attached is a more challenging situation. If the broken nail is loosely hanging on you can try and remove it yourself. But be warned – this is a two-person job.
Only remove the nail if it's tremendously loose and always proceed with care. Your dog may yelp or nip at you in surprise as the nail is suddenly detached.
A cracked or broken nail that's still completely attached is the most difficult to treat. And the most painful for your pup. A completely attached broken nail should be handled by your vet who will usually sedate your pet before proceeding with treatment.
Depending on the amount of bleeding, and in how much pain our pup is, this does not necessarily warrant a trip to the emergency animal hospital. However, you should apply first aid as discussed below and take you dog to the vet within 24 hours.
Now you may be wondering whether it's necessary to intervene to stop dog nail bleeding or will nature take its course.
Will a dog's nail bleeding stop on its own?
The answer to this question is that dog nail bleeding will usually stop within about five minutes – especially if you accidentally clipped the nail too short.
Very occasionally a dog's nail won't stop bleeding naturally because of a blood clotting disorder that you might not even be aware of yet.
But in the meantime it worries you to see the your dog's nail bleeding. Your pet is getting restless. And it seems as though everything is getting full of blood – it's surprising how much mess a small amount of blood can make.
So of course your natural reaction is "My dog's nail is bleeding, how do I stop it?" Then there's also the possibility of infection from the wound if you don't take basic precautions.
Before discussing how to stop dog nail bleeding just a word of caution.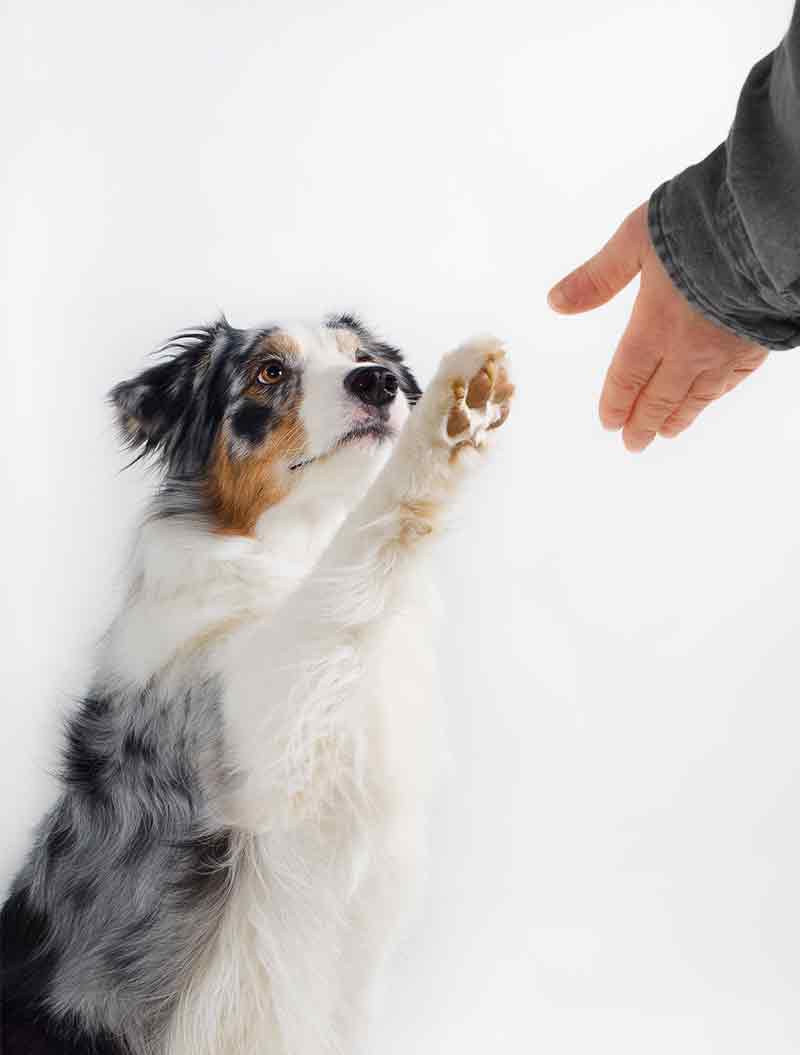 Take care while evaluating your dog's broken nail
You dog will be in pain – remember that, besides a cut blood vessel, there's also an exposed nerve. A dog that's in pain can become anxious and agitated and may dislike you investigating the tissue surrounding their injured claw.
It's not uncommon for a typically well-behaved dog to act unpredictably during situations where they're in pain or frightened.
You can help to alleviate your dog's stress and fear by keeping them calm while you try and evaluate their broken and bleeding nail. Speak to your pup in a soothing voice and stroke them gently as you assess their wound.
If your dog clearly doesn't want you near the injury, don't force it. Instead, consult a professional as soon as possible. Also if you've investigated the broken nail and you are at all unsure about the severity of the injury.
Now we get to how you can treat dog nail bleeding at home.
How to stop dog nail bleeding?
The first step is to clean the wound if it's dirty. If your pup allows it, you can hold a piece of soap against the broken nail – as you will see further on this is also a way of stopping bleeding. Or you can hold the paw under clean running water.
You can try to gently remove a dangling piece of nail – but proceed with caution. Only do this if the crack is on the tip of a long nail before the quick or if it's already broken through the quick.
The next step is to apply pressure to stop the bleeding. Use a clean cloth, paper towel, or gauze to keep consistent pressure for 5 to 10 minutes. You can also try applying ice, because the cold causes blood vessels to contract which helps to stop bleeding.
Be sure you don't release it the pressure before the allotted time has passed. This could prevent the blood from coagulating properly and then the bleeding will start all over again.
You should apply the above steps as first aid, even if you plan to take your dog to the vet.
However, if you're satisfied that the injury probably doesn't need veterinary attention, there are some home remedies that you can try if the dog's nail won't stop bleeding from applying pressure alone.
The method of choice is styptic powder or a styptic pencil.
How to stop a dog's nail from bleeding with styptic powder
Styptic powder or a styptic pencil the method recommended and used by vets to stop minor bleeds. Styptic powder contains an ingredient known as ferric subsulfate, an agent that constricts the blood vessels to stop the bleeding and is also an antiseptic agent.
Different types of styptic powder can be found on the market. A favorite amongst dog owners is Kwik Stop, which can be purchased at most local pet stores.
You can also buy a styptic pencil. Just be aware that although styptic pencils are considered the most user-friendly, they do contain silver nitrate. Silver nitrate is acidic and can sting when you apply it to the wound causing your pup further pain.
With styptic powder you can pour some in your hand, dampen it, and dip the nail into it. You can also use the powder on a damp cloth or q-tip – putting pressure on while at the same time applying the powder.
With a styptic pencil you should wet it first and then hold the black end of the stick against the bleeding wound and roll it around gently until the bleeding stops.
No styptic powder of pencil at home? There are other common household products that you can use as an alternative.
How to stop a dog's nail from bleeding with household items
You can use one of three products found in your kitchen as substitutes of styptic powder – either cornstarch, baking soda, or baking flour. You should however note that they don't work as fast.
Pour a small amount of the product into your palm and add a bit of water to make a paste. Compress the paste and then gently press it onto the broken and bleeding nail on your dog's paw.
Whether you've used styptic powder or cooking powder paste, continue applying pressure for several minutes. If the bleeding still hasn't stopped you can repeat the process.
Any blood dripping from the broken nail as you dip your dog's paw into the powder or paste is totally fine – you don't need to wipe it away. In fact, the blood may even mix with the powder solution and help coagulation.
Soap is another household product you can use – especially useful if you're not at home.
How to stop a dog's nail from bleeding using unscented soap
Even an unscented bar of soap can aid in stopping the blood flow caused by a broken nail, but only in the case of minor bleeding.
Soap can also help to clean the wound and prevent infection.
If you wet the bar of soap and carefully drag it along the edge of the broken nail, minor bleeding should stop straight away. Or you can press the nail gently into the soap bar, which applies pressure at the same time.
If the dog's nail won't stop bleeding after about 20 minutes of using the suggested home remedies you should take your dog to the vet. This might be an indication that your pup has a blood clotting disorder.
If you need to take your dog with a bleeding and broken nail to the vet your should bandage your pup's paw first. Also if the injury was quite severe and you're worried the bleeding might start again after you managed to stop it.
How to control dog nail bleeding with a bandage
Bandaging your dog's paw provides consistent pressure to the bleeding nail. If you've managed to stop the bleeding it helps to prevent it from starting up again.
A bandage can also prevent infection and stop your pup from injuring the nail again. Always be aware of how tightly you bandage your dog's paw because you don't want to risk cutting off their circulation.
To keep infection at bay, be sure to change the bandage every day and to clean the broken nail with a dog-friendly antiseptic until the bleeding nail is healed.
If you're worried that wrapping your dog's paw could be a problem, another option is using a dog boot until your dog's broken claw has healed. Using a clean sock and tape instead of a bandage is another handy tip.
There are a few more things you should attend to after you've managed to stop the dog nail bleeding.
My dog's nail bleeding has stopped – what now?
Firstly, try to keep your dog from walking around for 30 minutes to an hour. This will ensure that at strong scab has formed, which prevents the nail from being injured and starting to bleed again.
It also stops bacteria from getting into the wound and causing infection. You can also put some antiseptic ointment on the wound as an added precaution against infection.
You then need to keep an eye on you pet for a few days to make sure that the nail doesn't start bleeding again. Also check for any signs of an infection – because a dog's nail is attached to bone an infection can have very serious consequences.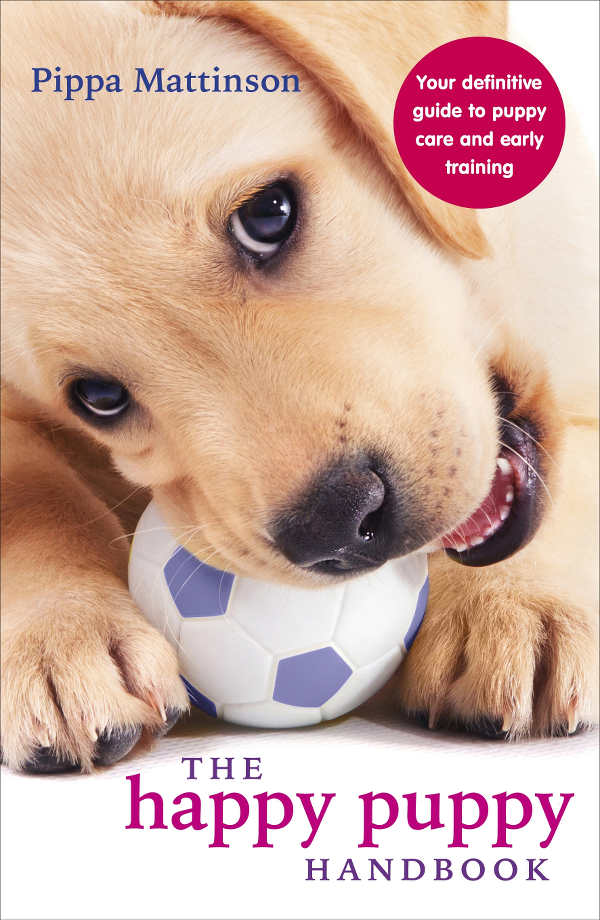 The common signs of infection, include:
redness
swelling
a pussy discharge
heat around the injured area
increasing discomfort such as limping or favoring the injured paw more than usual
excessive licking and nipping at the injured area
If you notice any of these symptoms you should make an appointment to see your vet as soon as possible.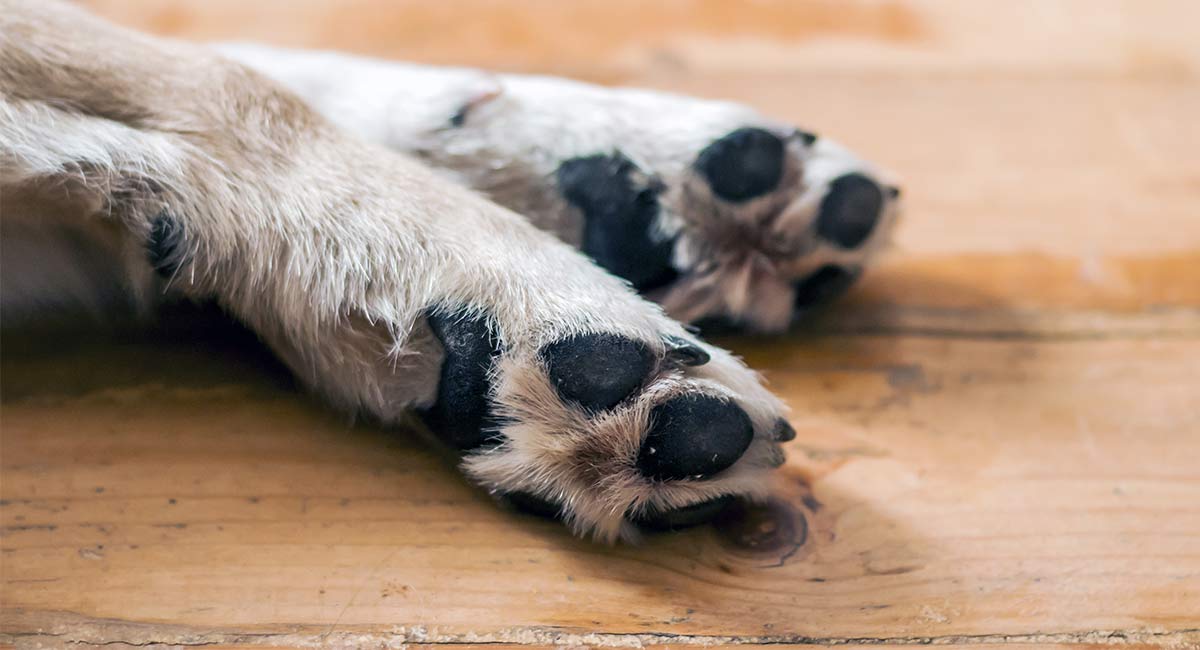 Preventing dog nail bleeding
Not all broken and bleeding nails can be prevented but you can help reduce their occurrence by keeping your dog's nails trimmed – and by trimming them correctly.
Only the tip should be trimmed. Be careful not to trim nails too short since doing so can also cause bleeding and subsequent pain and infection.
It's easy to spot the quick and the blood vessel that runs through the center if your dog has light colored nails.
If your pet has black nails it's much more difficult to know how much to cut off. In this case, trim off small bits at a time and stop when you start seeing the cuticle – a whitish circle in the middle.
The article "Trimming your Labrador's nails" discusses how to trim your dog's nails safely. It also describes how you can teach your dog to accept nail trimming calmly – important training for your young pup that will make your life much simpler in the future.
How to stop a dog's nail from bleeding – Summary
We hope you've found all the answers to your call "My dog's nail is bleeding, what should I do?"
Dog's nails bleed because they're different to ours. Dog nail bleeding is a common problem and happens most often when we accidentally trim their nails too short.
Dogs can also break their nails during normal daily activities and the best way to stop this from happening is to make sure their nails don't get too long.
We've discussed how to stop a dog's nail from bleeding. It requires the basic steps of cleaning the wound and stemming the bleeding with pressure and, if necessary, styptic powder or other common household products.
It's a good idea to make sure that you have some styptic powder in your doggy first aid kit as it can be used for bleeding from minor cuts as well.
You'll have to take your pup to the vet for treatment if the dog's nail won't stop bleeding or if the nail is cracked and broken through to the quick but still firmly attached.
With proper care and cleaning, your dog will be running around without pain within days and a broken nail will regrow itself within a few weeks.
Has your dog ever broken a nail? Did you use any of the above methods? Or do you have another great suggestion? Let us know in the comments below.
This article has been extensively revised and updated for 2019.
References
ASPCA. Dog grooming tips. American Society for the Prevention of Cruelty to Animals.
Bukowski, J.A., & Aiella, S. Description and physical characteristics of dogs. MSD Veterinary Manual.
Kirby, R., et al. Minor injuries and accidents. MSD Veterinary Manual.
Petful Veterinary Team. 2019. 5 Tips for treating your dog's broken nail. Petful.
Pet Health Topics. Clipping your dog's claw. Washington State University.
Vetinfo. Home remedy to stop dog nail bleeding. vetinfo.com.