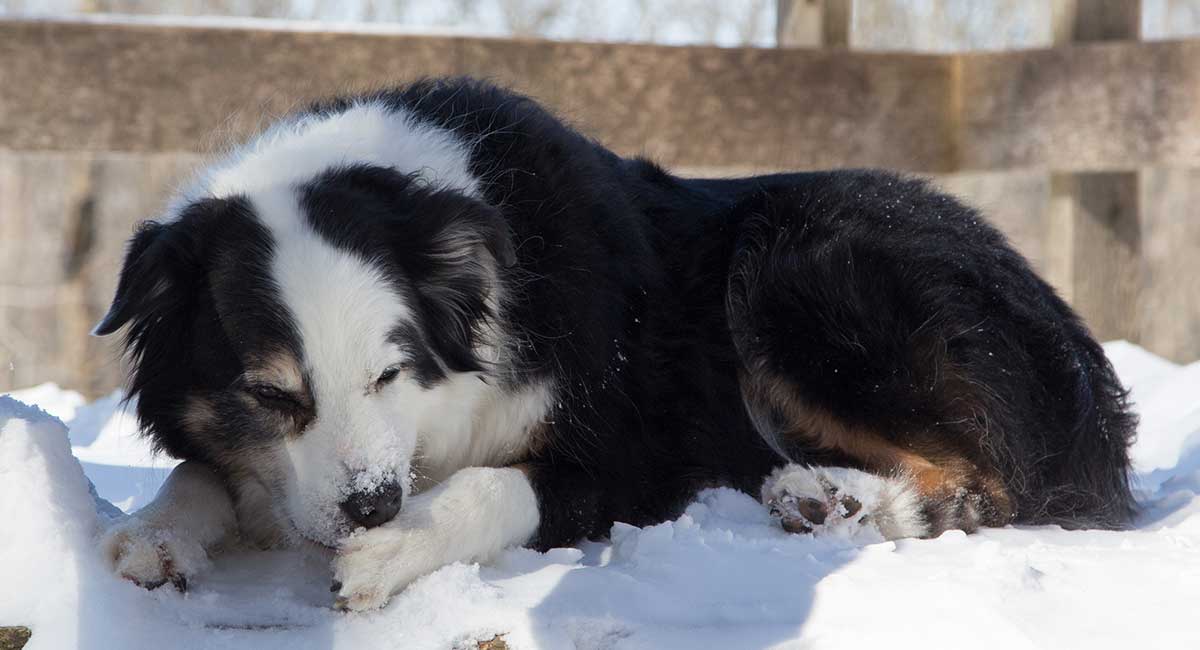 Lately, is your dog chewing paws obsessively? It can be frustrating and even kind of scary when your dog keeps chewing their paws. This is especially stressful when it's your new puppy.
Sometimes this is licking with the occasional bite or two. But other times, it could be a case of your dog chewing paws until they're raw. Why do dogs chew their paws? Also, how do you find out what's causing your dog to chew their paws, and what should you do about it?
This guide will help you to determine the cause of your dog chewing paws and take the right course of action. So let's get started!
Why Do Dogs Chew Their Paws?
A dog licking and chewing their paws can be a symptom of a lot of different things. The bottom line though is that the act of licking feels good to the dog. It may be soothing a painful spot or even be a persistent bad habit long after the spot is healed.
But does saliva do anything for wounds or painful areas? Why do dogs keep licking such areas? Well, you may not know this, but your dog's saliva has powers.
Yes, dog saliva is antibacterial. This is because it contains certain antibacterial chemicals. So when dogs lick wounds, to them, that is a cleansing, antibacterial action to promote the healing of a superficial wound.
But if your dog has begun chewing paws suddenly or is now chewing actively until injury point, there might be a problem. Let's review some reasons why.
Sudden Licking and Chewing
If your dog has suddenly started licking and chewing their paws, it may be the result of a wound or other injury.
Some injuries which could lead to dogs chewing paws include puncture wounds and scratches. Additionally, things like scrapes, burns, corns, and ingrown nails may cause chewing. And don't forget the occasional fractured claws or toes
Sudden chewing can also be due to something lodged between their foot pads. Things like rocks, burrs, or parasites including ticks, fleas, and mites could be very irritating.
In rare but serious cases, your dog may start chewing their feet, either gradually or suddenly, because of an autoimmune disease. It may also be because of cysts, tumors, or other growths which may be cancer-related.
Chronic Licking and Chewing
The most common cause of chronic chewing of paws, however, is dermatitis, or skin inflammation, due to allergies.
Food allergies are particularly likely to cause dog chewing paws, but there are tons of other possible allergens.
Allergens can include things like dust, dander, mold, pollen, fleas or flea treatments. Plus, a variety of household goods such as rubber or plastic can be allergens. Even cleaning supplies and fabrics could trigger a dog allergy.
Dry skin is also a common cause of dogs biting and licking their paws. Dogs may bite or lick to relieve the itchy feeling and any uncomfortable flaking.
Paw biting and licking can also be a sign of mental distress in dogs. Dogs may use it as a method of self-soothing when they experience anxiety, similar to nail biting in humans.
Bored dogs may also bite or chew their paws to soothe feelings of boredom or loneliness.
As you've seen, there are so many potential causes for dog chewing paws. So, it can be difficult to determine exactly what is the exact cause is for your dog.
Therefore, if you can't determine a reason for your dog's licking and chewing paws, it's best to consult your dog's vet.
Signs and Symptoms of Dog Chewing Paws
There's also one important to bear in mind. Just because you don't see your dog chewing or biting their paws doesn't mean they're not doing it.
A dog chewing paws when they're bored or anxious, for instance, may have no desire to do so when you're around.
Plus, dogs who have gotten into trouble for chewing their paws may choose to leave the room to chew. They may also only chew when you aren't around to avoid a repeat.
Therefore, it's extremely important that you keep an eye out for signs that your dog is chewing their paws. This is especially so if your dog is prone to anxiety or boredom or has a history of paw chewing. Look out for the following:
Swollen paws
Paws with red-tinged fur (the stain is caused by the red pigment, porphyrin, in dog tears and saliva.
Unusually smelly paws
Other signs of skin inflammation.
Unusually warm dog paws
Open wounds
Patches of hair missing, especially on the paws
If your dog shows any of these symptoms, you should take them to the vet as soon as possible. Also, watch for signs of a limp, which may indicate a severe health problem.
When to Worry About Dog Chewing Paws
Almost all dogs will bite or lick their paws occasionally. Sometimes dogs, just like humans, itch for no apparent reason so it would be very unusual for a dog to never try to address that itch.
So if your dog only chews or bites their paws once or twice and then stops, you may not need to worry. Or if you're able to immediately address the cause and stop the chewing, there's probably no reason to worry.
On the other hand, if your dog won't stop chewing their paws or appears to have an infection, you may have a problem. The same applies if they're causing sores from biting and chewing. In both cases, take your dog to the vet as soon as possible.
It is important to do this because things can get more complicated. For one, regardless of the initial cause of your dog chewing paws raw, secondary infections from yeast or bacteria can make the problem even worse.
Chronic Biting
Therefore, it's important to address chronic biting quickly. You should try to stop your dog from biting and licking as much as possible.
If it's not resolved quickly, paw biting can also become a self-reinforcing behavior. And chewing and biting will become associated with pain relief and positive feelings. This means your dog will continue to chew or bite simply because they like the way it feels.
At that point, it can be very difficult to get your dog to stop. Even after you resolve the problem that initially caused your dog to start biting their paws, they may keep doing it.
While in most cases paw biting or chewing isn't due to a serious problem, without early intervention it may become one. So, it's always better to be safe than sorry when it comes to your dog's health.
Remedies for Dog Chewing Paws
I have had problems with my dog chewing paws because of his anxiety and skin issues. Like you, it made me wonder how to stop my dog from chewing his paws.
Fortunately, there are plenty of options for treating a dog chewing paws.
Of course, the best method will depend on what's actually causing your dog to chew their paws in the first place.So, seeing your vet first might be helpful.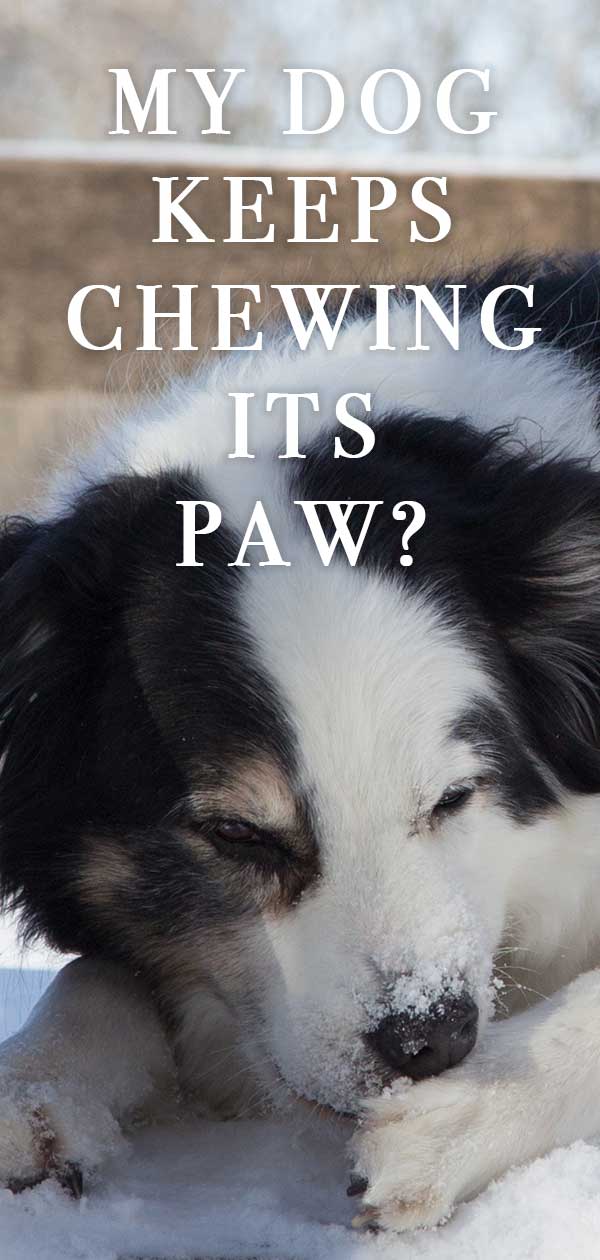 Treatments for Sudden Dog Chewing Paws
In the case of a wound or injury, you'll need to prevent your dog from being able to chew their paw by wrapping it in gauze or, in the case of a fracture, possibly a cast, until it heals.
Also, make sure you give your dog the full course of any topical or oral medications — especially antibiotics — recommended by your dog's vet.
Biting and chewing due to cancer or autoimmune disease will require special treatment by your dog's vet. It could possibly even require surgery.
Chewing due to rocks or burrs can generally be stopped simply by removing the cause of irritation. But be extra careful, as your dog may be wary of you touching their paw when it's sore.
Chewing due to parasites is usually pretty easy to resolve by using a parasite treatment.
In cases of severe parasite infestation, however, don't do it yourself. You should take to your vet about stronger or repeated treatments.
How to Prevent Your Dog Chewing Paws
Regular trimming and maintenance of your dog's nails can prevent chewing that is due to a fractured or ingrown nail.
Trimming any long fur between your dog's pads will minimize the chances of things sticking to it. You could also try having your dog wear booties when on asphalt, concrete, or other terrains that could damage their feet.
Always keep your dog up to date on parasite preventatives to make sure they don't get parasites in the first place. This is important even if their paw chewing isn't related to parasites.
In addition to causing biting and chewing, many parasites carry dangerous diseases. These could make your dog sick or may even be life-threatening. In most cases, your dog's parasite preventative should protect your dog from fleas, ticks, and mites at an absolute minimum.
Protection against other types of parasites is, of course, an advantage.
If your dog's chronic chewing is caused by mental distress, make sure you're playing with your dog regularly. Give them plenty of affection. And make the time to do these things before you leave the house for extended periods, such as for work.
Arranging doggy daycare or a dog walker or pet sitter can work wonders if your dog is anxious or bored when left alone.
For severe cases, your vet may prescribe an anxiety medication, such as clomipramine.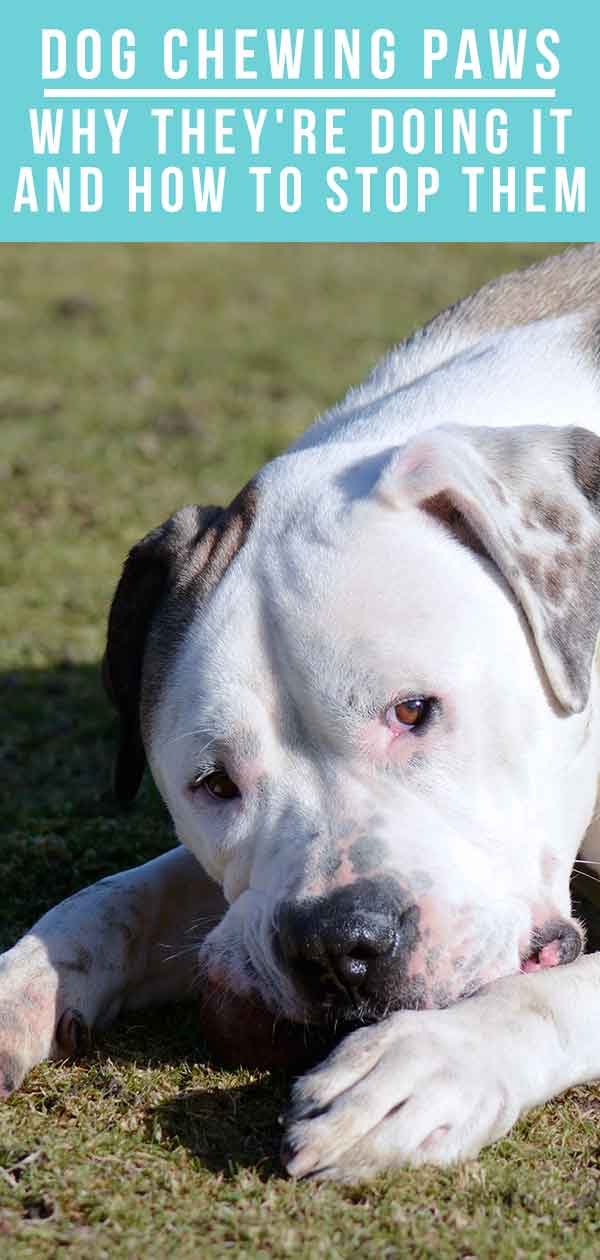 Can I Treat My Dog Chewing Paws with Benadryl?
If your dog is chewing due to an allergic reaction to a particular parasite, they'll most likely continue chewing until the irritation subsides. This may be up to a few weeks.
In the meantime, treat this the same way that you would treat biting due to any other allergic reaction. That is, first, remove the cause of the allergic reaction (consult your vet if you can't determine the cause). Then treat the symptoms.
Your vet may prescribe medication. But you may be wondering whether some over the counter allergy drugs for humans, like Benadryl, are safe for dogs. Yes, diphenhydramine (Benadryl), is also safe for dogs.
It is considered a mild to moderate antihistamine and is best used for chronic allergic reactions. Instead of applying Benadryl topically, it may also be better to give it orally. That way, your dog doesn't lick all the medicine off before it can work.
Talk to your vet to determine what drugs are safe for your dog to take and at what dosage and frequency.
Treatments for Chronic Paw Chewing in Dogs
In cases where chronic chewing is due to dry skin, simply treat the dry skin.
Also, make sure there are plenty of healthy fatty oils in your dog's diet.
Oils are essential for keeping your dog's skin and coat healthy. You may also want to apply a balm or vitamin E oil directly to your dog's skin.
In addition, make sure your dog is getting enough healthy fats. Simply mix a little bit of olive oil, avocado oil, fish oil, or coconut oil into their food a few times a week.
You could also try giving them a supplement. It's also nice to make a treat with one of these oils or buy specially formulated food.
Finally, if your dog chews out of habit or simply because it feels good, getting them to stop this behavior can be very difficult. Talk to your dog's vet about a treatment plan. They can customize one to your dog's particular needs and health history.
Your dog's treatment plan may include distracting them from paw chewing to break the habit. You may also have to teach them to perform healthier alternative behaviors. Your doctor may also offer medication. This can help to control the dog's obsessive impulse to chew their paws.
Ensure your dog has plenty of healthy and safe options to chew on — like toys and bones. This can be helpful for dogs that chew their paws due to anxiety or boredom. It may also help dogs who chew their paws out of habit or because it feels good.
Why Do Dogs Chew Their Paws? — Summary
As a pet owner, it can be frustrating when your dog is showing obvious signs of discomfort. It's even worse when it's caused by their own licking and biting. On top of this frustration, chewing can also be annoying and kind of gross.
So, of course, you want to help your furry friend get back to their healthy happy self.
Occasional biting and licking of paws can be completely normal in dogs and no cause for concern. However, if your dog is obsessively or continuously chewing, you may worry.
Worse still, if the chewing is so severe that they are giving themselves sores or inflammation. In that case, medical intervention is essential.
In most cases, though, the problem will likely be minor. Still, there's no point taking risks since it could be something more serious or become serious if left untreated.
Ultimately, how you treat your dog chewing paws will depend on the cause. However, your vet can help you identify this and create a treatment plan. By taking the right steps, you can get your dog quickly back to feeling their best.
Have you had experience with your dog chewing paws? We'd love to hear your story in the comments below.
If your dog likes to chew on random things in your house as well as his paws, you might also want to take a look at what to do if your dog eats plastic.
References and Further Reading
SouthWest Journal. Hershey, T. VMD. New Options for Managing Pet Allergies
Swaim S and Angarano D. 1990. Chronic problem wounds of dog limbs. Clinics in Dermatology.
Freiman H and Grubelich L. 1994. Diseases of the foot and nails: Humans, cats, and dogs. Clinics in Dermatology.
Hensel P et al. 2015. Canine atopic dermatitis: detailed guidelines for diagnosis and allergen identification. BMC Veterinary Research.
Lund J and Jørgensen M. 1990. Behavior patterns and time course of activity in dogs with separation problems. Applied Animal Behavior Science.
Hubrecht R.1993. A comparison of social and environmental enrichment methods for laboratory housed dogs. Applied Animal Behavior Science.
Campbell B. 2006. Dressings, Bandages, and Splints for Wound Management in Dogs and Cats. Veterinary Clinics: Small Animal Practice.
Bruet V et al. 2012.Characterization of pruritus in canine atopic dermatitis, flea bite hypersensitivity and flea infestation and its role in diagnosis. Veterinary Dermatology.
Olivry T et al. 2015. Treatment of canine atopic dermatitis: 2015 updated guidelines from the International Committee on Allergic Diseases of Animals (ICADA). BMC Veterinary Research.
Logas D and Kunkle GA. 1994. Double‐blinded Crossover Study with Marine Oil Supplementation Containing High‐dose Icosapentaenoic Acid for the Treatment of Canine Pruritic Skin Disease*. Veterinary Dermatology.
Cannas S et al. 2014.Video analysis of dogs suffering from anxiety when left home alone and treated with clomipramine. Journal of Veterinary Behavior: Clinical Applications and Research.