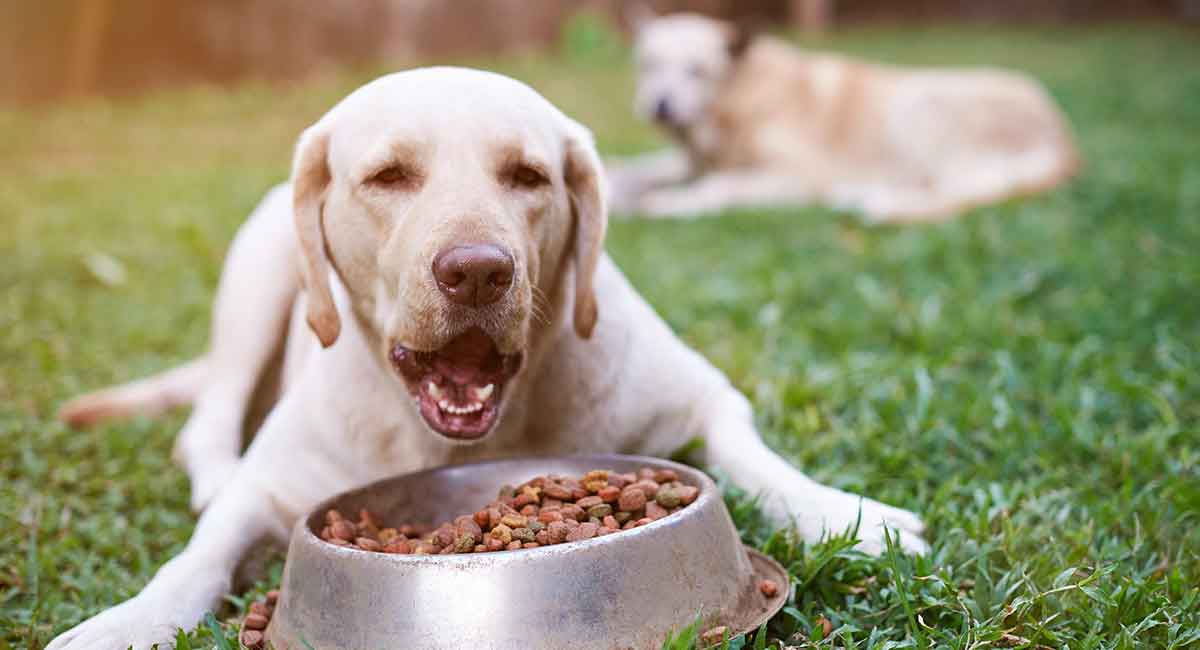 Dogs need to eat two or three times a day on average.
Some dogs thrive on infrequent, large meals like their wolf ancestors, whilst others need regular small dishes to prevent dangerous dips in blood sugar.
Finding the right frequency depends upon age, size, breed, activity levels and body condition.
Doggy Dinner Times
If your dog is anything like mine was, then they are always up for eating!
However, to avoid canine obesity, it's important to monitor when and what your dog eats.
How many times a day should a dog eat? Is it better to feed a few meals throughout the day, or just one?
Read on for information on how often you should feed a dog.
How Many Times a Day Should a Dog Eat?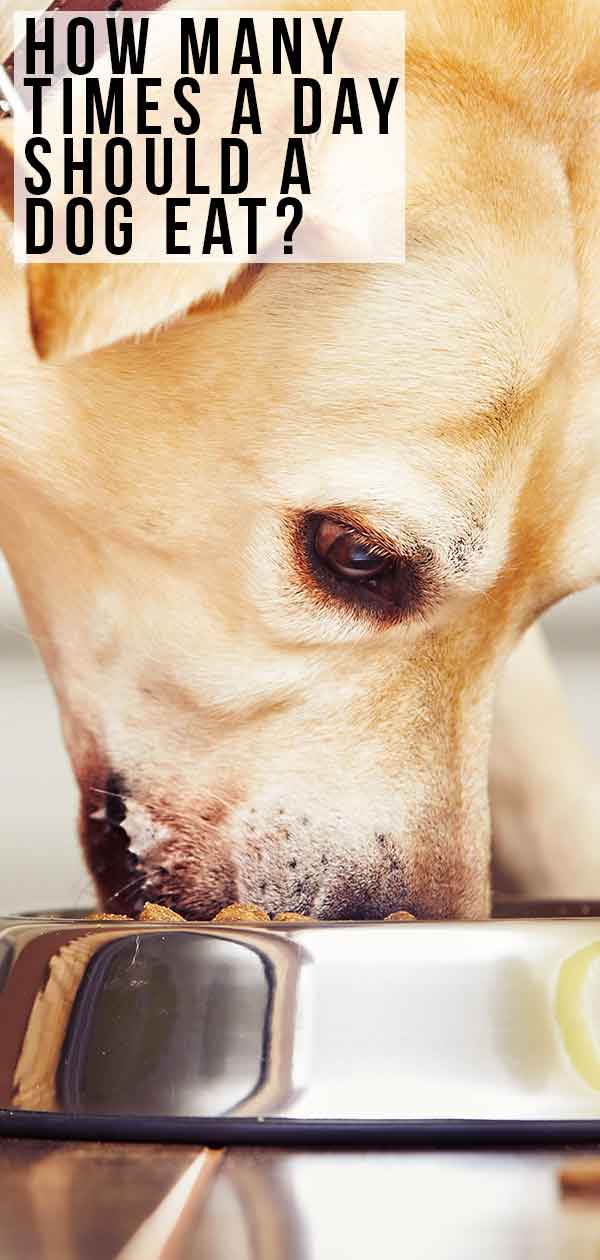 The number of times a day that you feed your dog depends on the individual dog as well as age, size, activity level, and health condition.
Studies suggest that one or two meals a day should be enough to keep an adult dog, under normal circumstances.
This means if they are in good physical condition—you should be able to feel (but not see) their ribs.
However, active or working breeds will require two meals a day – one in the morning and one in the evening.
Similarly, growing puppies will require two or more meals a day, as will pregnant and nursing females.
Read on for a summary of your dog's nutritional needs.
Dietary Needs of Dogs
Dogs need all the typical nutrients that mammals, including humans, need too.
A study that investigated the natural diet of wolves showed that they are more carnivorous than dogs, with most of their diet consisting of meat.
It's tempting therefore to believe that feeding your dog meat alone will fulfill all their nutritional requirements.
However, according to the scientific literature, a meat-only diet may make your dog prone to nutrient deficiency, especially calcium.
So their diet should also include vegetables.
Like their wolf ancestors, modern dogs are surprisingly resilient to famine and can survive for several days without much food.
Then gorge themselves when more food becomes available.
This reflects the wolf's "feast and famine" lifestyle, based on the availability of prey in the natural environment.
If you're thinking of feeding your dog raw meat at home though, be wary. Studies show that raw meat is likely to contain parasites and pathogens that can make your dog ill.
Let's look now at the specific needs of different types of dogs.
Active Dogs
Dogs that take part in sled racing or other athletics require different diets to sedentary dogs.
Studies show that athletic dogs require more fat and more protein than sedentary dogs—in fact, dog muscle is better adapted to utilize fats than human muscle.
How often should you feed your active dog? These dogs will require two meals per day.
Senior Dogs
Most people agree that senior dogs have different nutritional needs compared to younger dogs.
However, there are inconsistencies in the scientific literature as to what those needs might be.
A variety of commercial dog food products are marketed towards senior dogs, but it's important to know your dog's individual needs.
That includes any medical issues.
How often should you feed your senior dog? Calorific needs may be lower in older dogs, so one meal a day may suffice, but check with your vet.
Growing Dogs
Puppies have increased nutrient needs compared to adult dogs. In fact, they need twice as many calories!
How often should you feed your puppy? A puppy will need to be fed two or three times a day.
Average Adult Dogs – Should You Feed Them Once, Twice or More a Day?
So, how may times a day should a dog eat?
Personaly, I used to feed my adult dog twice a day, largely because it "felt right" rather than because I knew that was what he needed.
Some dog owners prefer once a day, and others feed three or more times.
Still, others will leave food out at all times, so the dogs can determine their own feeding schedule.
But, how do these feeding regimes compare to the average adult dog?
A recent study found that adult dogs that were fed twice a day were more likely to be of normal weight.
Whereas those that were fed either once, or three or more times per day were more likely to be obese.
One theory to account for this is that frequent small meals lead to an increased loss of energy. However, if meals are too large this effect is lost.
The same study also found that exercise played a significant role in weight management.
Exercise and Feeding Your Dog
Exercise can play a big part in determining how many times a day should a dog eat.
Dogs less likely to be obese with daily exercise compared to those exercised weekly.
A study in 1977 varied dog feeding frequency between once per 48 hours (all-you-can-eat) and two smaller meals per day, with both groups consuming the same amount of food overall.
Neither feeding frequency was found to have any effect on the dogs' body weight or glucose metabolism.
This suggests that dogs are pretty resilient and efficient at getting what they need out of their meals, irrespective of frequency.
So, if your dog is maintaining good physical condition and ideal weight for their breed, they are probably getting fed at the correct frequency, even if you think they need more/less.
For more in-depth nutritional information check out this useful guide, compiled by the National Academy of Sciences: Your dog's nutritional needs: A science-based guide for pet owners.
What About Treats?!
Treats are an effective part of positive training routines for many dog owners, not to mention their role in human-animal bonding.
However, a study of Australian dog owners found that obese dogs received significantly more treats than normal weight dogs, suggesting too many treats (unsurprisingly) contribute to obesity.
Summary – How Many Times a Day Should a Dog Eat?
There is no easy answer to how many times a day should a dog eat.
Dogs vary in their nutritional needs depending on age, size, activity, and overall condition.
This means that there is no "one-size-fits-all" recommendation for how often you should feed your dog.
Though once or twice a day suits most average adult dogs.
Modify the amount of exercise and treats you give to keep your dog at a healthy weight.
Feeding your dog too often will likely cause them to be overweight. Though, two small meals may help keep a dog's weight in the normal range.
How often do you feed your dog? We'd love to hear your thoughts in the comments below.
References and Further Reading
Bland IM. 2009. Dog obesity: Owner attitudes and behavior. Preventive Veterinary Medicine. DOI: https://doi.org/10.1016/j.prevetmed.2009.08.016
Bosch G, Hagen-Plantinga EA, and Hendriks WH. 2015. Dietary nutrient profiles of wild wolves: Insights for optimal dog nutrition? British Journal of Nutrition. DOI:
https://doi.org/10.1017/S0007114514002311
Hill RC. 1998. The Nutritional Requirements of Exercising Dogs. The Journal of Nutrition. DOI: https://doi.org/10.1093/jn/128.12.2686S
Hutchinson D et al. 2011. Survey of opinions about nutritional requirements of senior dogs and analysis of nutrient profiles of commercially available diets for senior dogs. International Journal of Applied Research in Veterinary Medicine. DOI: https://doi.org/10.1093/jn/128.12.2686S
Laflamme DP et al. 2008. Pet feeding practices of dog and cat owners in the United States and Australia. Journal of the American Veterinary Medical Association. DOI: https://doi.org/10.2460/javma.232.5.687
Romsos DR et al. 1977. Influence of Meal Frequency on Body Weight, Plasma Metabolites, and Glucose and Cholesterol Metabolism in the Dog. Journal of Nutrition. DOI: https://doi.org/10.1093/jn/108.2.238
White GA et al. 2016. "Who's been a good dog?" – Owner perceptions and motivations for treat giving. Preventive Veterinary Medicine. DOI: https://doi.org/10.1016/j.prevetmed.2016.08.002