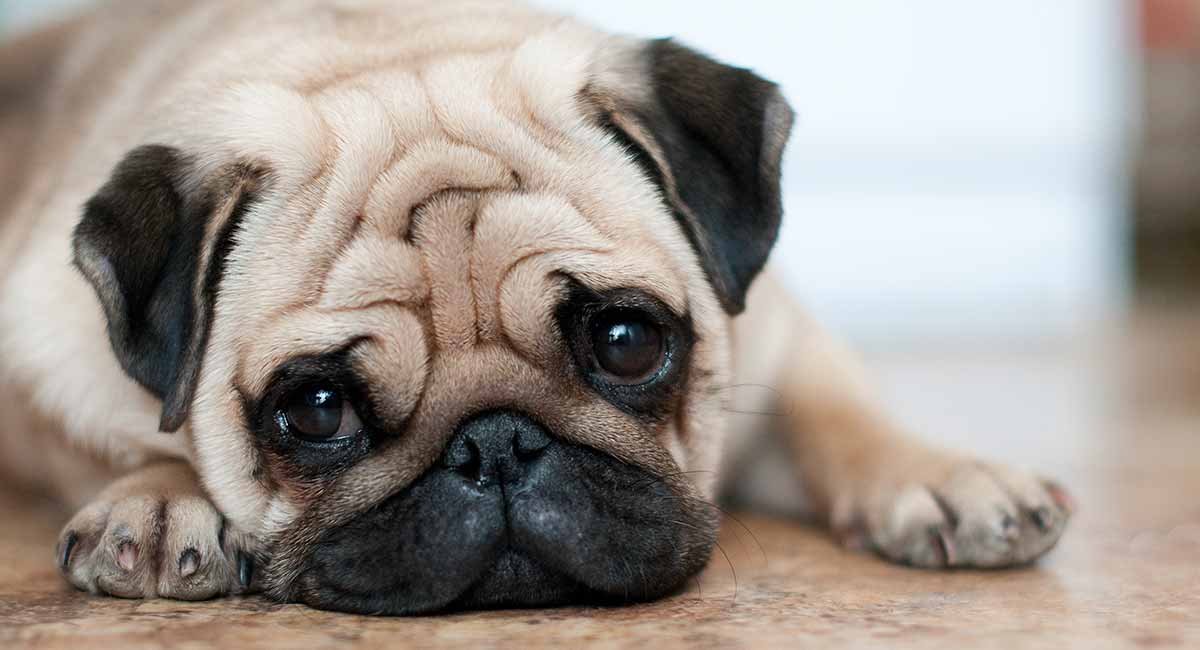 How long do Pugs live? For their size, Pugs have a fairly short lifespan. Small dogs typically outlive big dogs, often lasting well into their teens. But sadly Pugs live for an average of just 11 years. The shape these pups have been bred into might be cute, but it doesn't promote good health. Breathing issues, overheating and obesity are common dangerous complications of just being a purebred Pug. However, there are some things you can do to fight against the odds and help your prized puppy live longer.
Contents
Pug Lifespan Factors
Different dog breeds have varying life spans, ranging from under 6 years to nearly 20 years. Longevity is affected by many things. Factors include the size of the dog (large breed dogs tend to have shorter life spans than small dogs) and the overall genetic health and diversity of the breed.
How long do Pugs live? According to one study of dogs in the U.K. the median life span of Pugs is 11 years. Compared to other purebred dogs, the Pug ranks in the middle to lower middle range. Given that the Pug is a smaller dog, why isn't the lifespan longer? It's all about health.
Pug Health
Unfortunately, the physical features that make the Pug such an appealing dog can lead to chronic health problems. The big, sweet eyes and smushed-in face of the Pug are cute, but they do come with certain health risks.
The Pug's short, compact body, with its wrinkly skin and coiled tail, can also cause problems. What should potential owners know? Let's start with the head and face, and a condition called brachycephaly.
How Long Do Pugs Live With Brachycephaly?
Pugs with mild symptoms of brachycephaly can live a relatively long time. When severe though it can cause breathing problems and drastically limit their lifespan.
The word brachycephaly means that a dog has a flattened muzzle. Dogs with this facial structure can have a condition called brachycephalic obstructive airway syndrome (BOAS). Does BOAS cause premature death in Pugs? Does this issues affect how long do Pugs live?
Problems BOAS Causes
Dogs with BOAS can suffer from a variety of problems related to restricted airflow to the lungs. They include:
Shortness of breath difficulty exercising, including exercise-induced collapse
Overheating, including heatstroke
Low blood oxygen levels
Sleep apnea
Vomiting and gagging
Some of these problems, such as heatstroke and collapse, can be life-threatening and lead to death if a dog does not receive immediate veterinary care.
Brachycephaly is also the cause of several eye problems commonly seen in Pugs. Because they protrude, a Pug's eyes can be vulnerable to certain injuries and diseases. While these eye problems may not be life-threatening, they can lead to pain and loss of vision. They may require surgical treatment.
Other Pug Health Issues
Pugs can also be prone to health problems that affect the vertebrae and spinal column. Some of these diseases, when they impact the spinal column and cause paralysis, can be quite serious. They can also lead to shortened life spans due to poor quality of life and the decision to euthanize.
They can also be prone to a neurological condition of the spine unique to the breed called Pug myelopathy. Like hemivertebrae, it is a compression of the spine caused by irregularities in the vertebrae that can lead to paralysis.
Hip dysplasia and luxating patella, as well as skin problems such as allergies and yeast infections as also commonplace.
Some Pugs can also be prone to certain neurological disorders of the brain. This includes epilepsy and a serious genetic condition unique to the breed called Pug dog encephalitis.
Pug dog encephalitis is inflammation of the brain caused by the immune system, and sadly it is often fatal. It can strike young Pugs and lead to death in a short period of time.
How To Increase Pug Lifespan
The best way to help your Pug to live as long as possible is to keep them cool and skinny. Ask your veterinarian about the potential for surgical interventions too if they are showing signs of respiratory distress. Soft pallets can be operated on, and narrowed nasal pathways can be widened. This hugely improves the dog's quality of life as well as their potential lifespan.
If you are considering buying a puppy then I'd recommend looking for a retro Pug breeder instead of the classic AKC pedigree dogs. They might be less standardised, but they are deliberately bred with longer muzzles and therefore better conformational health.