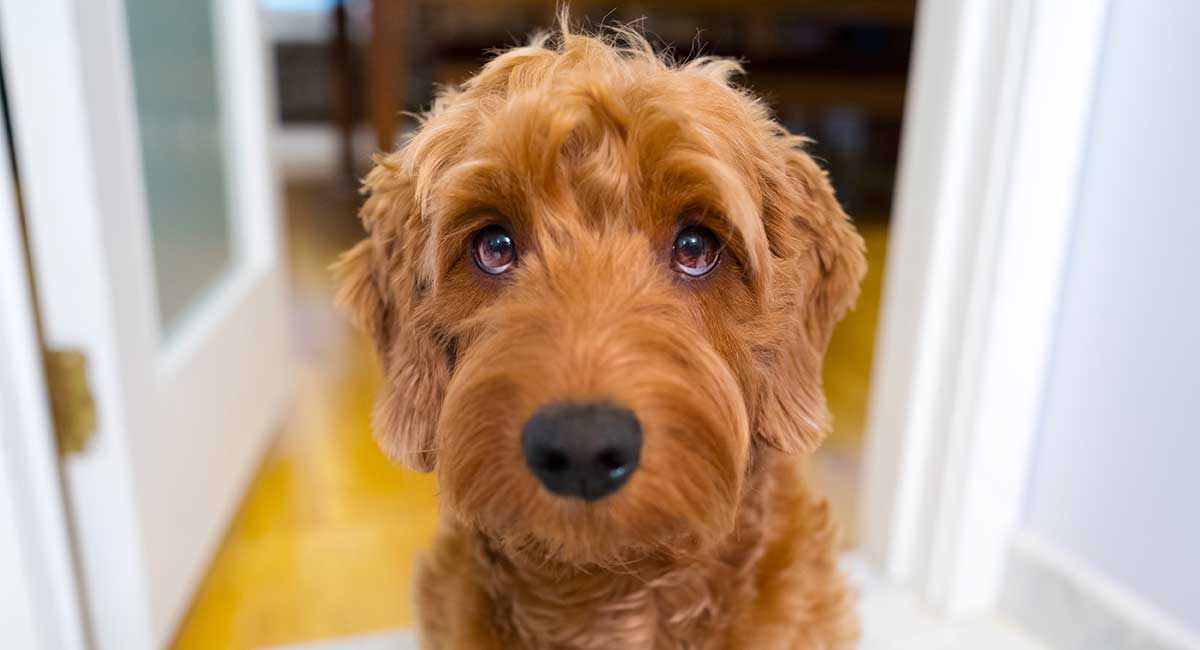 The typical Goldendoodle temperament is very compatible with life as a family pet. Bred from two lines of cooperative, intelligent, sporting companions and working dogs, the Goldendoodle is a Golden Retriever Poodle mix. Although they're a designer dog breed, their ancestors have a lot of personality traits in common. They had to work alongside their human handlers for generations, following cues and happily spending long periods of time patiently waiting by their side. Today we'll look at the behaviors you can expect from a Goldendoodle like loyalty, affection and friendliness, and those you probably won't find, like aggression, guarding instincts and a laid back attitude!
Contents
Goldendoodles were first bred by Monica Dickens in 1969. Popularity grew in the 1990s when breeders in North America and Australia began crossing the two breeds. Goldendoodles are still gaining popularity, especially in Australia. However, there is still no breed club or registry in existence.
The Typical Goldendoodle Temperament
Goldendoodles of every generation are friends of everyone. They're even friendly towards unfamiliar faces. This results in making them a very good candidate as a family companion. Due to their bright, loving temperament and outgoing personality, they are excellent companions for people with disabilities.
They are cheerful, trustworthy, loving, gentle, smart, and highly trainable. This breed does not have a strong prey drive and can be surprisingly friendly towards cats and smaller dogs when introduced.
Goldendoodles are highly sociable dogs and need to be in the presence of people. If they do not get the socialization they need, then they can get into trouble. This lack of socialization is the main cause for behavioral issues like barking, jumping, and fear.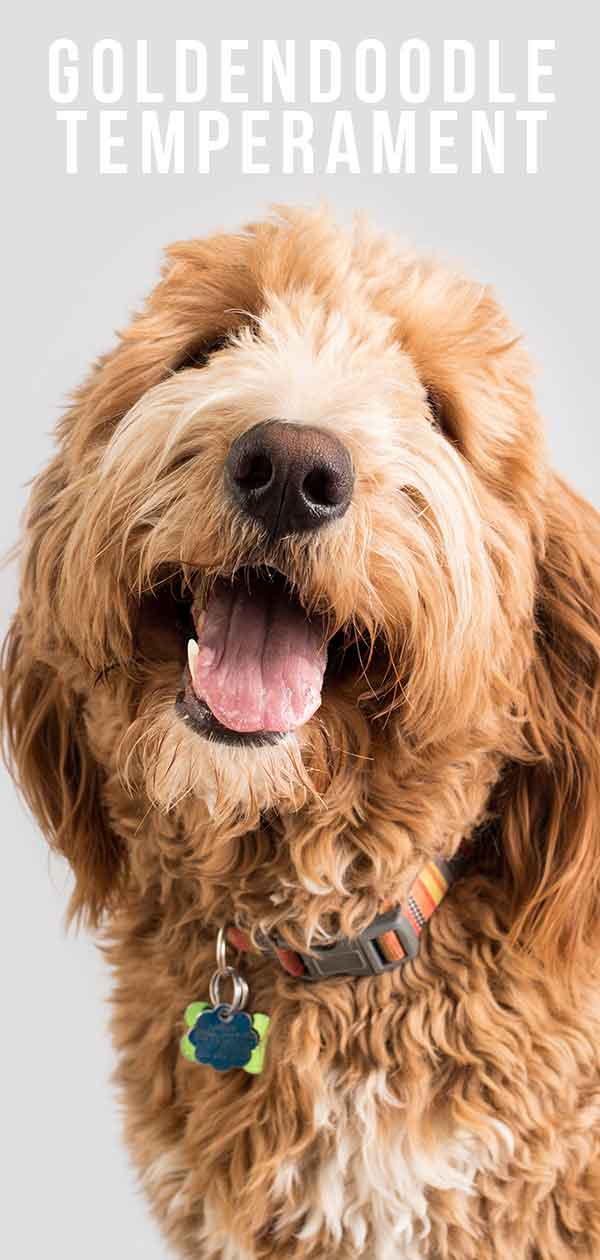 Linking Exercise with Behavior
Another cause for behavioral issues is lack of exercise. Goldendoodles require a moderate amount of exercise and can live happily in urban environments.
This breed is active with a high amount of energy that can keep up with all types of activities and exercise, such as fetch, long walks, running, and outdoor canine sports. Many Goldendoodles are attracted to water and love to swim.
Keeping your Goldendoodle active will keep them mentally healthy and physically fit. In return, they will have a happy, affectionate temperament and significantly reduced aggression.
Is The Goldendoodle Temperament Easy To Train?
Most Goldendoodles are extremely smart and easy to train. This dog is willing to learn and responds best to positive reinforcement and gentleness when training. Harsh, loud correction like yelling or hitting to punish them is not helpful when working with these dogs, or any dog for that matter.
Socialization skills need to be taught at a very young age and continue throughout their life.
A well-trained and highly social Goldendoodle will be a happy companion, with a friendly temperament towards unfamiliar people and other animals. These dogs should be taught gradually to spend time alone to avoid attachment disorder, which can cause behavioral problems.
Are Goldendoodles Friendly?
Goldendoodles are some of the most affectionate dogs when it comes to family. Some breeds are independent and aloof, even if they are raised right. This is not the case for the Goldendoodle. They bond closely with their family, even if "family" is just one person.
This can make them less fond of other people, but usually does not affect them. This breed almost has the perfect temperament when it comes to children. The Goldendoodle is a bigger and sturdier breed, but that does not change the way they treat little ones.
Is Goldendoodle Temperament Good With Kids?
They are naturally kind-hearted and careful around children. However, they may need some training when it comes to playing around kids, because of their large size. Furthermore, this breed does not tend to be aloof, in fact, they usually friends of everyone, even unfamiliar people.
Are Goldendoodles Aggressive?
While it is not common for the Goldendoodle to be aggressive or aloof, there are some instances where they can show these signs of aggression and discomfort around other dogs and people. They can be well behaved and friendly around their family, but when you bring an unfamiliar person or dog into their environment, they may act differently.
One great way to do this is by rewarding them with treats when they behave positively to new people or dogs. They will start to learn that good behavior is rewarded, and the good behavior will become natural.
Guarding Instincts
Since the Goldendoodle is one of the friendliest dog breeds, they do not make good guard dogs. They will most likely just bark and do nothing else to ensure the safety of their family.
Noisy Behavior and Barking
These dogs can be somewhat prone to barking, which can sometimes seem aggressive. If this bothers you, consider training an "off-button" to prevent this dog from barking at your visitors.
Furthermore, this will make them significantly less aggressive and help them become more comfortable around dogs and new people.
Do Goldendoodles Like Other Dogs?
Friendliness towards humans and friendliness towards other dogs are two completely different things. Most Goldendoodles are fine with other dogs, as are their parent breeds.
Almost all Goldendoodles are pretty happy with other dogs, but how they are raised will play a part. It has been found if puppies grow up with their littermates until they are at least eight weeks of age, then they are more likely to be sociable and friendly towards other dogs and animals. They learn canine social skills by being around the other pups.
Socialization Enhances Temperament
To make sure you have a well behaved and sociable Goldendoodle, socialize them at a young age. As they get older, it will become harder for you to train them to be friendly towards dogs and unfamiliar faces.
A few ways you can begin socializing them is by taking them for short or long walks daily. This can be done at the park or around your neighborhood. The purpose of this method is to get them used to unfamiliar environments.
Take them to a one-on-one playdate. This can be done at the park or in any controlled environment. This gives you more control over what they can or can't do.
If after a few minutes they show signs of positive progression and friendly behavior, take them off the leash and see how they behave. Take them to a doggy kindergarten class to socialize and play. Talk to your local vet, and they can point you in the best direction to find a class right for you and your Goldendoodle.
Bad Breeding?
These dogs were never worked independently; this makes them extremely friendly dogs by nature. However, a Goldendoodle bought from a puppy mill or backyard breeder with no regard for the health, disposition, and overall consistency of the breed may have serious behavioral problems.
Some may include aggression, fear-biting, timidity, separation anxiety, digging, destroying furniture, and excessive barking. It is best to get them from a reputable breeder to ensure a happy and healthy Goldendoodle that will live life to the fullest.