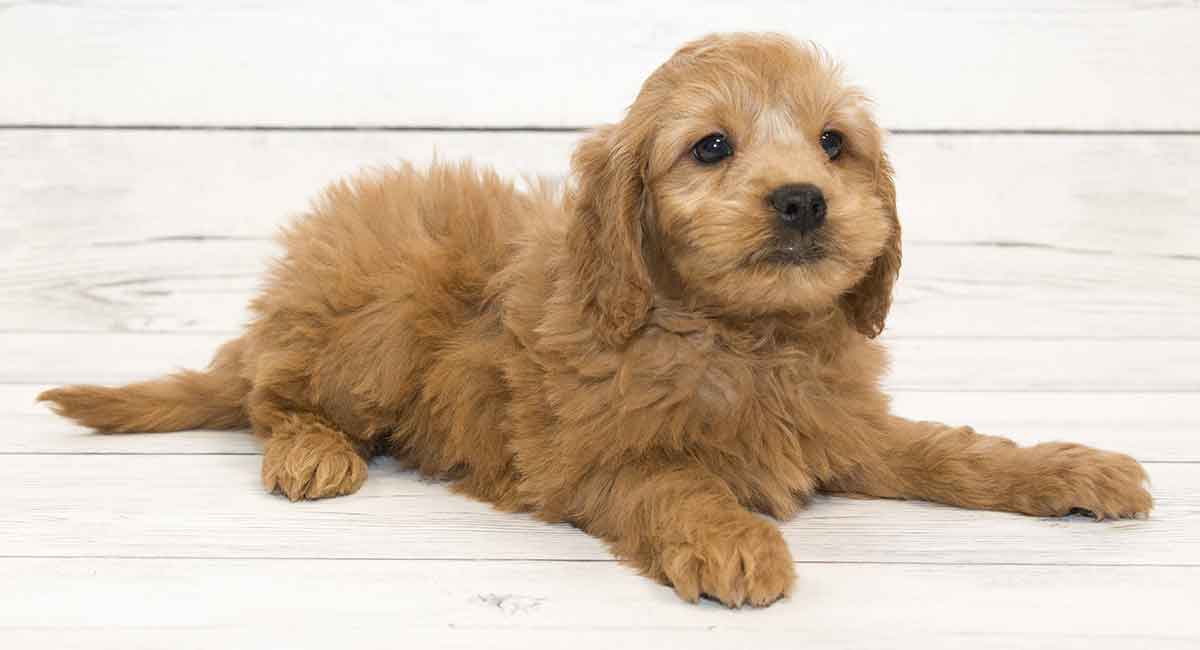 The best Goldendoodle boy names make a statement. They say something about your perfect curly little man, or give a nod towards your favorite trend. Great Goldendoodle boy names are fairly short and don't sound like any other family name or everyday command you might want to teach them as they grow and develop. And naming your dog doesn't have to be a chore, it can even be a fun way to wave the flag for whatever topic or hobby you love!
Contents
Bringing home your new little boy Goldendoodle puppy is an amazing event. And one that can be made even more magical by giving him the perfect name. Today we are going to help you to get inspired to find the perfect male Goldendoodle dog names with this awesome Doodle name list! We give you loads of popular and uncommon options, so there is something to fit every type of Goldendoodle boy and owner.
Goldendoodle Boy Names
Male doodle names can sound particularly dashing when they are based on regular human names. These adorable male names for Goldendoodles are easy to say, don't sound like any of the commands you're likely to teach them, and are cute too!
Arthur
Henry
Freddie
Max
Charlie
Toby
Euan
Archie
Wills
Jake
Magnus
Stephen
Ollie
Chester
Harry
Ned
Oscar
Ethan
Alfie
Baxter
Tommy
Dexter
Rufus
Reggie
Drake
Cute dog names for Goldendoodles
Goldendoodle puppies and adults are universally adorable. These cute Doodle names will make any little boy sound as sweet as he looks. Inspired by the adorable, they will fit your pup perfectly.
Buttons
Goose
Tiny
Pingu
Prince
Sweep
Binky
Titch
Squiggle
Binky
Smudge
Treacle
Bubbles
Trinket
Smokey
Tickles
Bumble
Mr Fluffy
Tufty
Waffle
Womble
Doug
Trouble
Cutie
Benny
Badass Names for Goldendoodle Boys
Is cute not your thing? No problem! Doodles might be total sweeties, but they can also looking pretty alpha due to their size and confident stance. For the more rough and tough pupsters, these Goldendoodle puppy names are for the boys that mean business.
Jagger
Harley
Rex
Bolt
Boomer
Ripper
Gunner
Ninja
Tank
Katana
Kukri
Sharky
Spear
Arrow
Flee
Archer
Target
Hunter
Slasher
Jaws
Ace
Chase
Uncommon Names for Goldendoodles
A great way of finding unique names for dogs is to look back in time. These unusual Goldendoodle names are inspired by Greek mythology! What could be more unusual than that.
Titan
Hercules
Atlas
Eros
Morpheus
Ajax
Icarus
Poseidon
Achilles
Troy
Triton
Pan
Heracles
Adonis
Orion
Hades
Helios
Apollo
Perseus
Eryx
Hermes
Damon
Zeus
Olimpio
Homer
Toolshed Names
Good boy dog names for Goldendoodles can come from even more unusual sources. How about taking a look in the toolshed for inspiration!
Hammer
Mallet
Driver
Wrench
Saw
Chisel
Jigsaw
Drill
Plier
Vice
Clamp
Claw
Hex
Barrow
Nature and the Natural World
Goldendoodle boy puppy names don't have to be stereotypically manly. They can come from somewhere gentle or awe inspiring. How about the wonders of the natural world?
Ripple
Stream
Gully
Heath
Mountain
Fawn
Hawk
Falcon
Moose
Loche
Glenn
Dale
Maple
Plough
Oak
Hawthorn
Shrub
Thicket
Rancher
Redwood
Ox
Doodle Names Inspired by SuperHeroes and Villains
Male Goldendoodle names sound pretty awesome when they come from the super cool world of superheroes! Try these bad boys on for size.
Marvel
DC
Thanos
Tigra
Shredder
Splinter
Gambit
Beast
Wolverine
Cyclops
Colossus
Magnito
Falcon
Panther
Deadpool
Hawkeye
Out of this World Goldendoodle Boy Names
How about something a bit further afield? Like, I don't know, the future? Or outer space?
Hover
Electro
Circuit
Proton
Mars
Jupiter
Neptune
Rocket
Fuel
Zoom
Moon
Robot
Cyborg
Apollo
Comet
Asteroid
Astro
Callisto
Thebe
Aries
Orion
Pisces
Puppis
Taurus
Draco
Vehicles the make great names
Another great place to get ideas for Goldendoodle boy names is the mechanical world. Do you have a favorite vehicle, brand or style of car? Why not name your dog after it!
Dodge
Chevy
Bentley
Ford
Jeep
Ram
Viper
Tractor
Digger
Trucker
Tesla
Honda
Tundra
Pilot
Mustang
Accord
Impala
Challenger
Charger
Journey
Durango
McLaren
Corvette
Mini Goldendoodle Boy Names
If your Goldendoodle puppy has a Miniature Poodle parent then they are a Miniature Goldendoodle. Smaller than the standard Doodle these little cuties suit some slightly more slight names!
Binky
Titch
Pocket
Pupster
Ping Pong
Snooker
Puddles
Muffles
Cheerio
Cheetoh
Wiggles
Dinky
Pup Pup
Banjo
Beany
Boo Boo
Teddy Bear
Plushie
Ringo
Pee Wee
Pinocchio
Boots
Dipper
Male Teacup Goldendoodle Names
And for the even tinier Goldendoodles, you'll need the smallest names of all!
Nano
Echo
Dime
Cent
Penny
Atom
Ant
Beetle
Dot
Bug
Weevil
Roach
Proton
Pint
Litre
Peanut
Walnut
Berry
Cashew
Pistachio
Bumble
Red or Apricot Goldendoodle Names
A fun way to name your Goldendoodle puppy can be to look at their coat color. The darkest to the lightest Goldendoodles have quite a range of shades. Here are some glorious ideas for those red and apricot Goldendoodle pups.
Rufus
Rusty
Red
Redford
Redmond
Reddington
Rex
Russet
Russ
Tango
Goldy
Wheato
Grain
Cobber
Flax
Coper
Tanner