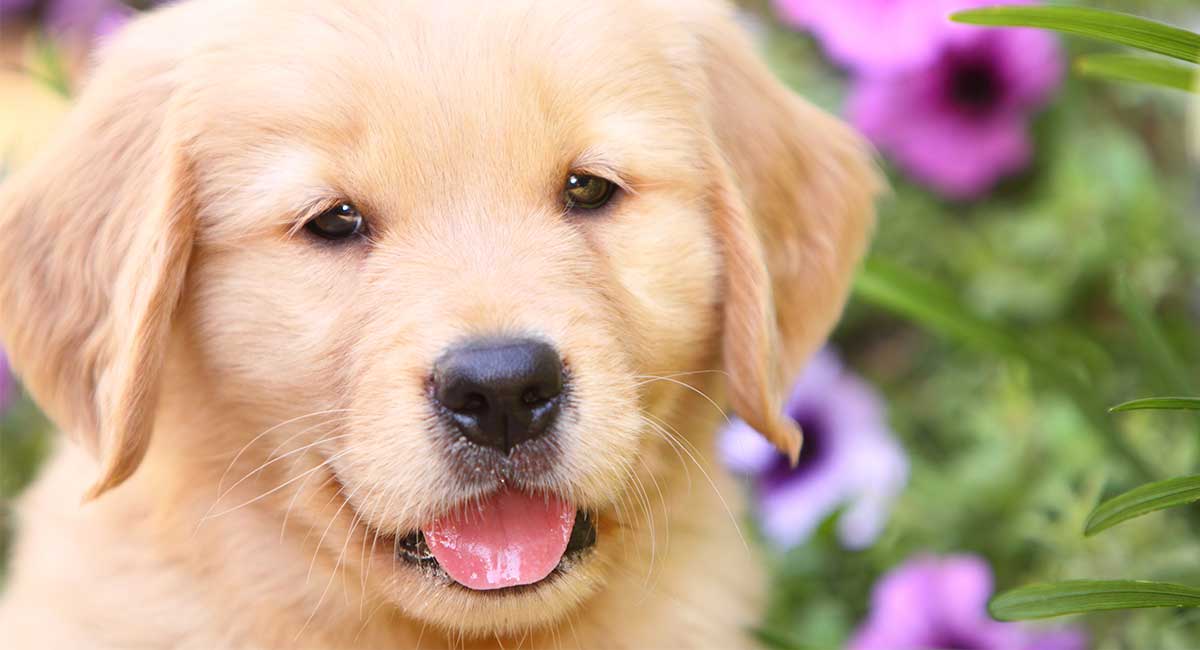 Today we share 40 unbelievable Golden Retriever facts! Are you a Golden Retriever whizz? Can you bore your friends tirelessly with information about their colors, behavior, temperament, traits, history and characteristics? Well we reckon that we'll have even you stumped with these fascinating Golden Retriever facts!
Contents
We've got 40 amazing Goldie nuggets of information right here for you. By the time you've flicked through this awesome list, you'll be stunning your friends with some seriously cool facts. Including a fabulous Fact vs Fiction bonus section at the end! From the side-splitting to the deadly serious, let's take a plunge into the wonderful world of the gorgeous Golden Retriever.
Golden Retriever History Facts
Although the Golden Retriever is now most common seen as a floppy family pet, they actually have an amazing history as a working breed.
1. Golden Retrievers were sporting dogs
Sometimes known as gundogs or hunting dogs, this breed group was created to work cooperatively with their human handlers to bring home food.
2. A Baron had a hand in creating the breed
Although it's hard to pin down their history to one single person, lots of sources suggest a main player in their creation was the 1st Baron Tweedmouth, Dudley Marjoribanks.
3. Golden Retrievers were originally from Scotland
Lord Tweedmouth was Scottish, and that's where the first Goldens came about. Bred from several different sporting dogs to achieve an all round great land and water retriever.
4. Golden Retrievers were bred from Spaniels
It's thought the main historical players in creating the new Golden Retriever breed were Tweed Spaniels, as well as Flat Coated and Wavy Coated Retrievers.
5. Golden Retrievers are still sporting dogs today
Although widely regarded as family pets, the glorious Golden Retriever is still a great hunting companion. Most widely used to fetch shot game, including rabbits and pheasants.
6. Golden Retrievers love to play fetch
Due to the retrieving history, your average Golden will go nuts for a game of fetch. It's not just a great way to exercise them, but also to strengthen your bond and even reward them during your obedience training!
7. There are three types of Golden Retriever
Golden Retrievers today can be divided into three types – English, American and Canadian!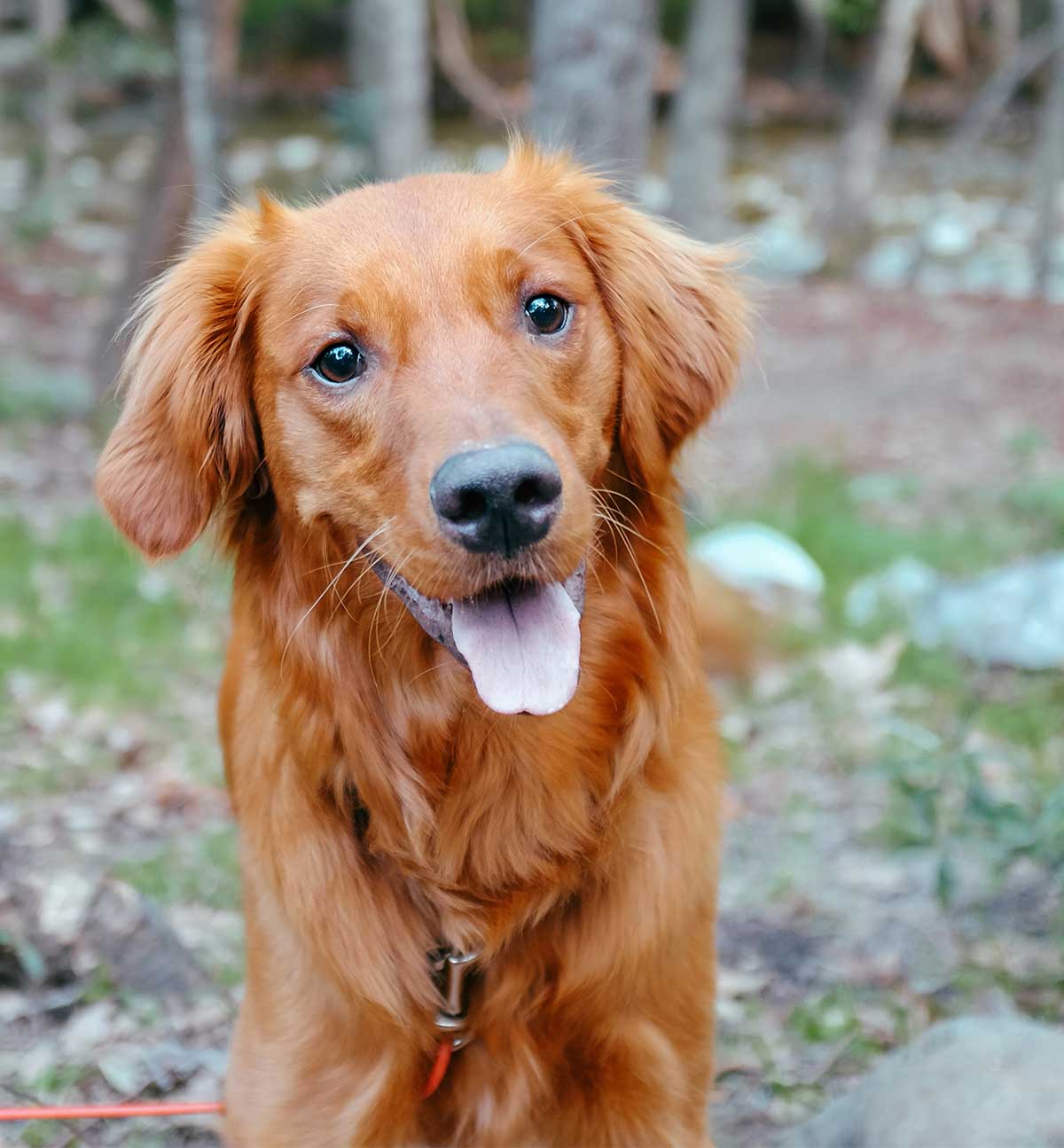 Golden Retriever Characteristics Facts
Not only are Goldies a lovely breed with a fascinating history, they have some pretty special characteristics and talents too.
8. Golden Retrievers are generally a friendly breed
In fact, one study that looked at over 30 breeds of dog found that Goldies were among the six least likely to show aggression. This doesn't mean it can't happen, but the odds are seriously in your favour.
9. Golden Retrievers have webbed toes
That's right, webbed! The toes on their paws are joined together by thin webs of skin. These webbed paws don't have a lot of everyday uses, but they can be beneficial in the water.
10. Golden Retrievers are great swimmers
Harking back to their history as retrievers, Goldens are great in the water. Their webbed feet help, and so does their thick coat of fur.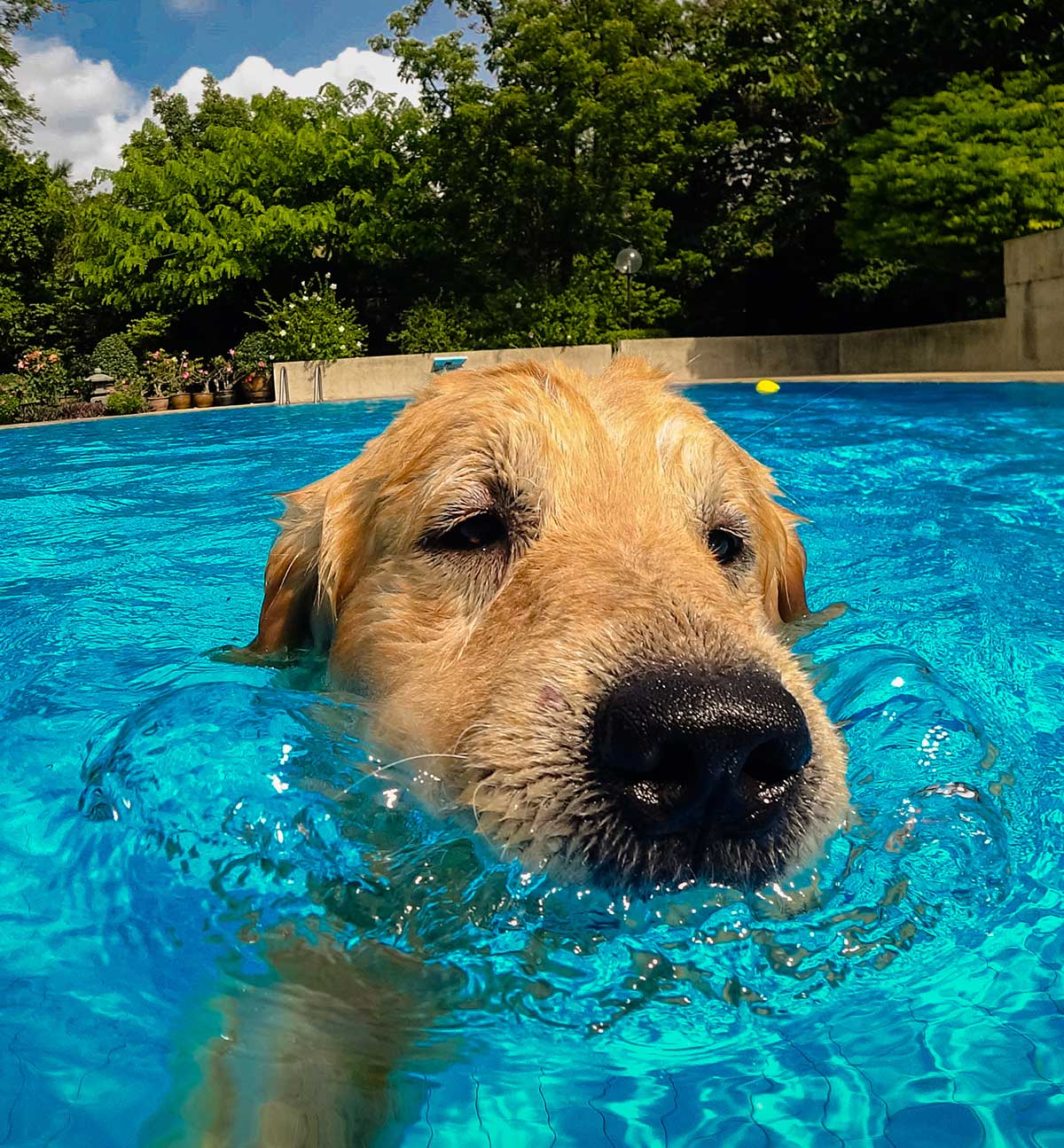 11. Golden Retrievers have a double coat
Push your fingers gently through your Golden Retriever's fur and down to the skin, you'll feel two distinct layers of fur. This is known as a double coat, which consists of a thick undercoat and long fine top coat. This helps to keep them warm in the water, but also contributes to their rather dramatic shedding!
12. Goldens shed a lot
Although might be lucky and have a Goldie that blows his coat once or twice a year in moulting season, you will probably find a layer of fur follows in his path on a regular basis. But don't worry, a good animal hair hoover and cleaning routine will keep the majority of it at bay. Regular grooming will help too.
13. Golden Retrievers need regular grooming
Long coats need a lot of attention. But if you get your pup used to being brushed from a young age this is something that can be a relaxing and bonding time for you both. A minimum of twice a week is a good idea for your fabulously furry friend.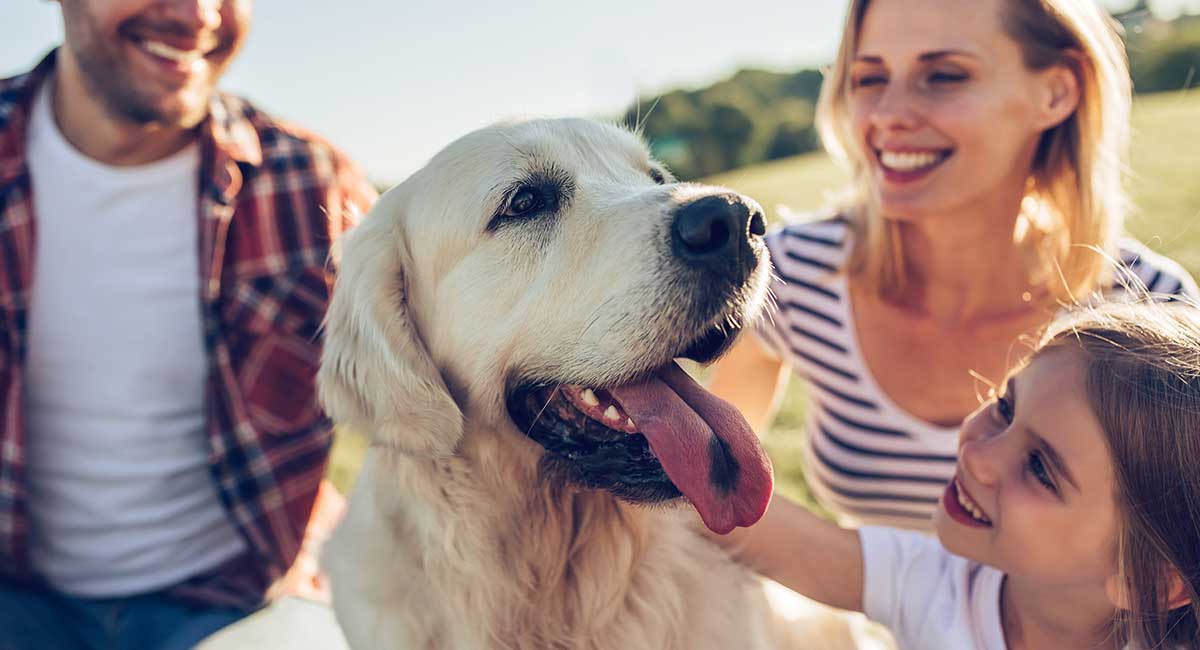 Smart Golden Retriever Facts
Any Golden Retriever owner will tell you their dog is intelligent, but just how brainy is this brilliant breed?
14. Golden Retrievers are the 4th most intelligent dog breed
Golden Retrievers are known for their smarts, and in fact according to one study are the fourth most intelligent breed of dog, with just the Border Collie, Poodle and German Shepherd beating them to the top spots.
15. Golden Retrievers are easy to train
Hunting dogs like the Golden Retriever tend to be easier to train than some other breeds, because they have been bred for generations to work cooperatively with their owners.
16. Positive reinforcement training is best for Golden Retrievers
Golden Retrievers do particularly well with modern positive reinforcement techniques, as they love spending time together and are very motivated by food and games.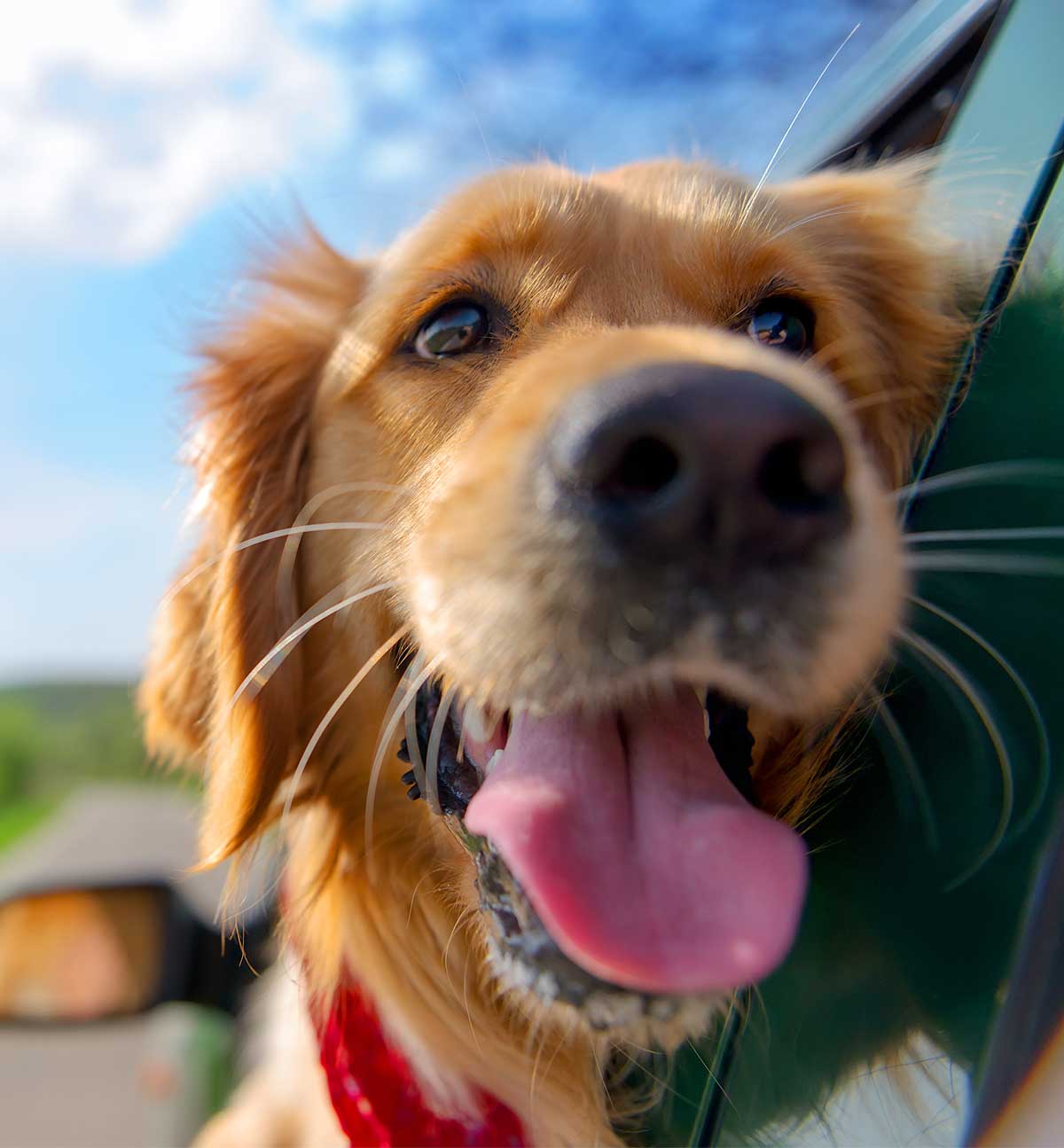 Working Golden Retriever Facts
The world of dog training has changed a lot in the last twenty years, with positive reinforcement taking over from more traditional punishment based methods. With this change in technique and attitude, the range of jobs that our dogs can do has evolved rapidly. And a lot of them heavily involve the Golden Retriever.
17. Golden Retrievers make great seeing eye dogs
Seeing eye dogs are often Golden Retrievers or Golden Retriever mixes.
18. They rock as service dogs in general
They have also secured important roles as service dogs for people with mobility issues.
19. Golden Retrievers are wonderful support dogs for kids
Goldens help children with additional needs to cope with their daily life, from support for kids with autism to helping anxious children stay calm when learning to read.
20. Golden Retrievers help in the military and police!
Not only great in supportive roles in the community, Golden Retrievers can have serious roles with the police and military too.
Golden Retriever Facts For Kids
Looking for some kid-friendly Golden Retriever facts, that they can rattle off at school or in the playground?
Try these on for size!
21. Golden Retriever fur darkens with age
When you bring home your very blonde Golden Retriever puppy he might not stay that way, as fur can darken up as the puppy ages.
22. Golden Retrievers come in lots of shades
From the white Golden Retriever , through the English Cream and all the way to the dark red Golden Retriever. This a pup with a serious range of hues!
23. Presidents have loved Golden Retrievers too
Both Ford and Reagan had Golden Retrievers as pets. Now there are some dogs worthy of a place in the White House!
24. Golden Retrievers love company
A loving companion, these dogs do best in a home where they get a lot of attention and time from their families. Whether it's running in the dog park, training in the back yard or snuggling up on the couch.
25. Golden Retrievers can suffer from separation anxiety
One potential downside of such a social dog, is that they can struggle when kept apart from their owners. In some Golden Retrievers this goes even further into a condition known as separation anxiety, where the dog becomes distressed when being left.
26. Golden Retrievers really are brainier than cats…
Golden Retrievers have more neurons in their brain for it's relative size than cats do. Neurons are the pathways through which information travels, so scientists believe this is conclusive proof of their superior mental acuity!
Record Breaking Golden Retriever Facts
Golden Retrievers aren't just great family pets, they are record breakers too!
27. First 3 AKC obedience champs were Golden Retrievers
The American Kennel Club have been holding obedience tests for many years now, but the winner of the first three of these were all gorgeous Golden Retrievers.
28. A Golden Retriever broke the ground for Instagram
The first image ever uploaded to Instagram was a picture of a Golden Retriever in 2010!
29. A Golden holds the record for the loudest bark
At an incredible 113.1 decibels, the loudest barker in the canine bunch is Charlie the Australian Golden Retriever.
30. A Golden Retriever can hold five tennis balls
Or at least one special Golden, Augie, certainly can. His record is perhaps not so surprising given the Golden Retriever's history as a dog bred to pick up and carry.
31. The longest ever book title contains the 'Golden Retriever'
The world record for the longest ever book title is 11,284 characters long, and contains our favorite breed of dog.
Healthy Golden Retriever Facts
Although Golden Retrievers are by no means the least healthy dogs around, they do have some problems that owners need to be aware of.
32. Golden Retriever lifespan is 10 to 12 years
Although some Golden Retrievers can exceed this estimate and sadly some never meet it, the average Golden Retriever will spend between ten and twelve years with their family.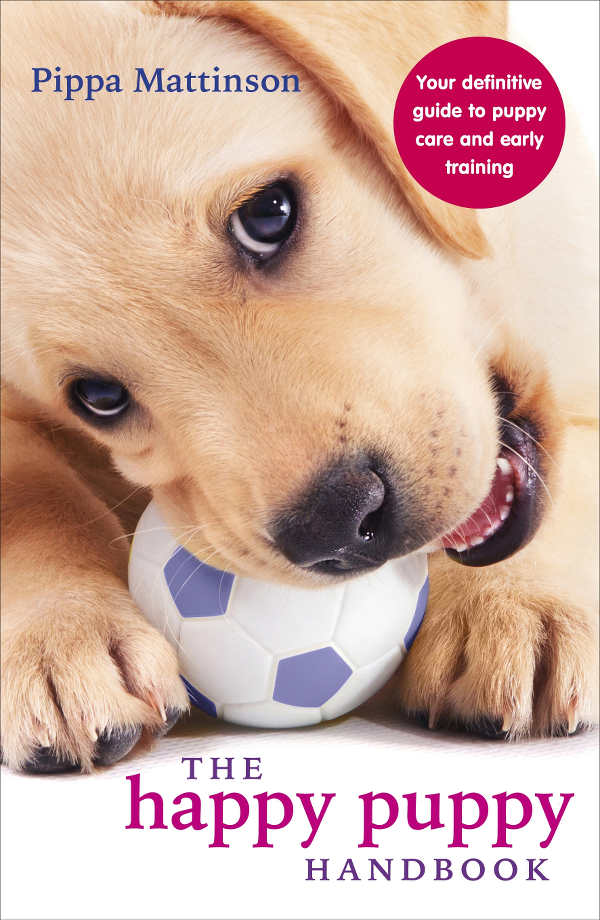 33. Golden Retrievers are prone to cancer
Cancer in Goldies is sadly a very common problem, and one of the reasons that their average lifespan is lower than you might expect. A Golden Retriever that avoids the cancer gene will have a much longer life expectancy.
34. Golden Retrievers have a high risk of joint problems
Goldies have three main potential contenders when it comes to joint problems. Hip dysplasia, elbow dysplasia and cranial cruciate ligament disease. Before picking your puppy you can improve his odds of good joint health by getting him from parents with excellent hip and elbow scores.
35. Goldens can have eye problems too
Progressive Retinal Atrophy (PRA) is a common problem with Goldens, but fortunately can be avoided through DNA testing parents before mating. If you are looking for a puppy make sure both the parents are PRA clear to avoid this potentially blinding condition.
36. Lots of Golden Retrievers are overweight
Sadly, due to inappropriate diets many Goldies weigh more than they should, which can adversely affect their health. One study found more than half of the Golden Retrievers seen in a veterinary clinic were significantly overweight.
37. Good diets help keep Golden Retrievers healthy
Dogs are at their fittest when they are the right weight. Keeping to a lower weight can even help improve the risk of cranial cruciate ligament disease.
Golden Retriever Facts vs Fiction
If we are missing some of your favorite Golden Retriever facts, it might be because they aren't really facts at all! Here are some common Golden Retriever facts that in reality are just plain fiction.
38. Black Golden Retrievers – Myth
Black Golden Retrievers might sound adorable, but they don't really exist. What is being described is usually a mixed breed with one Golden Retriever parent, and another of a breed that carries the gene for black fur.
39. Miniature Golden Retrievers – Myth
An adorable Goldie at half the size? There is certainly appeal in that cute little package. But unfortunately, once again there isn't really such a thing as a miniature Golden Retriever. At least not in the purebred dog world. Mini Goldens are either a Golden mix where one parent is from a smaller breed. Or occasionally one with the gene for dwarfism or bred from runts of the litter. In these last two examples you are best off avoiding them for health reasons.
40. Golden Retrievers make great pets – Fact!
For the right, active home, Golden Retrievers can make amazing pets. If you are thinking of bringing home a Golden Retriever puppy soon, then check out our helpful Goldie Puppy Guide here.
Golden Retriever Facts and Fun
Did you know them all already, or have you learned something new to share with your friends? Let us know if we've missed your favorite furry fact in the comments section below and we might just add it in!
References
Guinness World Records Book, 2018
Raffan et al, 2016. A deletion of the canine pomc gene is associated with weight and appetite in obesity prone labrador retriever dogs. Cell metabolism.