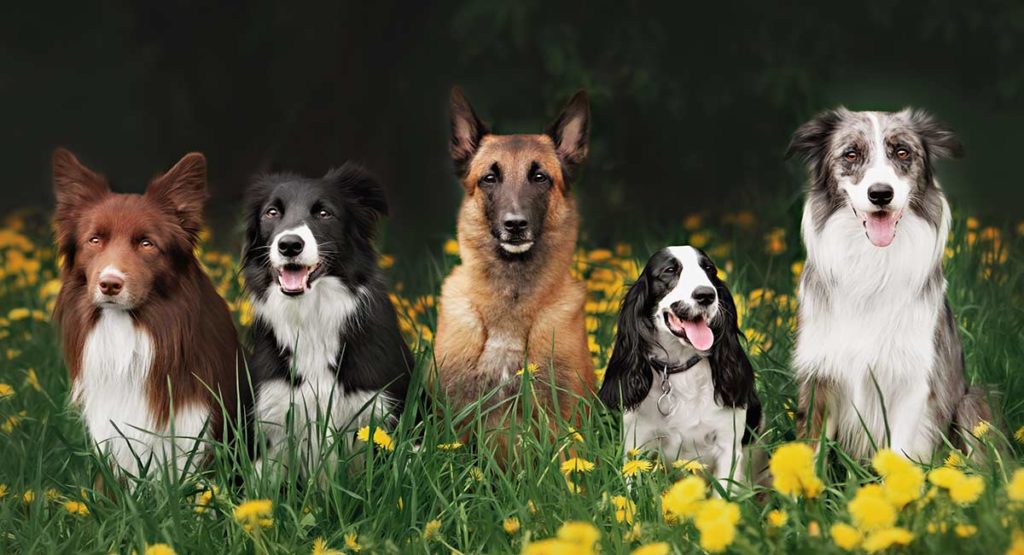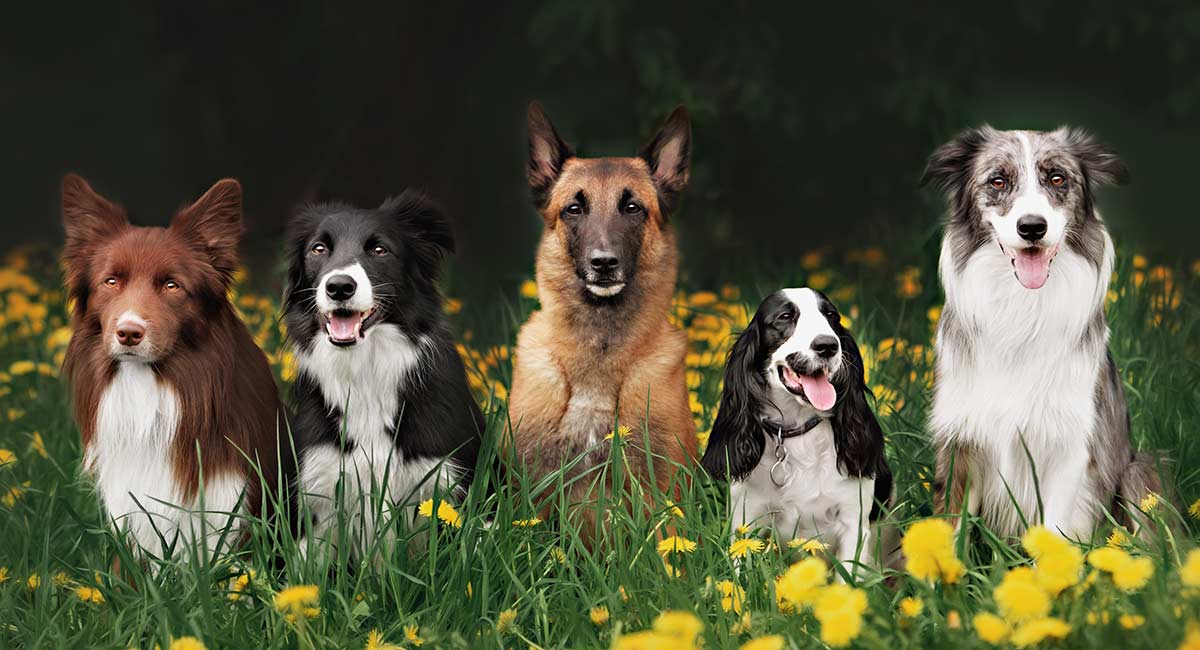 Are you considering enrolling your pooch in doggy daycare? If so, you're not alone. Many busy dog owners are choosing this option as opposed to leaving their beloved fur child home alone all day.
But how do you choose a doggy daycare, and how do you know if your dog is even a good candidate for something like that?
When you become a dog parent, you are faced with many responsibilities you might never have seen coming.
Doggy daycare is just one of those things.
But don't worry. We're here to help with an article to help you decide whether or not it's the right choice for you and your pup!
What Is Doggy Daycare?
Doggy daycare is pretty much exactly what it sounds like—daycare for dogs! And just like daycare for kids, there seem to be some similar rules.
It's important to make sure your dog is socially well-behaved. Also, make sure he's up to date on his vaccinations and has been screened for any contagious health issues.
Perhaps most importantly, make sure the doggy daycare you've chosen is a safe and fun place for your dog to be while you're away.
Since there are several types of doggy daycares, we recommend going through reputable sources or people you trust when deciding on where to send your dog.
For example, there are smaller, in-home doggy daycares run by animal lovers who promise to walk and care for your dog as well as other dogs during the week.
Then there are larger companies complete with staff who have been professionally trained.
Where you choose will be based on your needs and your budget, as well as what is best for your unique dog. The most important thing is to do your research.
But are you sure you need doggy daycare? Keep reading.
How Long Is Too Long to Leave My Dog Home Alone?
Some dogs do not tolerate being alone and will become anxious, bored, and even destructive in a matter of minutes.
Other dogs will do just fine home alone for hours on end.
But how long is too long to leave your dog home alone?
Like people, dogs are very social creatures and they become extremely bonded to us.
Even if you have your dog trained to go on a puppy pad or go out through the doggy door while you are away, you still shouldn't regularly leave him alone for longer than six hours.
Even a good dog who is left alone for too long can become depressed, bored, and destructive over time.
If you own a dog and have to be away from home more than you wish, then doggy daycare, a pet sitter, or a dog walker could be some good options for you.
What Are Some Pros of Doggy Daycare?
Doggy daycare is a great option for well-socialized dogs who either need stimulation throughout the day or whose owners need to leave them for an extended period of time.
However, doggy daycare still has its pros and cons.
A few pros of doggy daycare could include:
 Socialization. It is good for all dogs to be well socialized, so they are happy and well-rounded in all kinds of environments. Doggy daycare is a fun and safe way to introduce your dog to other dogs, people, and situations.
A safe place to stay while you're away. Doggy daycare offers dog parents peace of mind while they are away from their beloved pooch that their dog is being cared for, played with, and loved on.
Mental and physical stimulation. For high-energy dogs or dogs who are prone to boredom, doggy daycare offers a place to play and interact, providing a productive way to release all that doggy energy so that by the time you get home, your pup is calm and sweet!
What Are Some Cons of Doggy Daycare?
A few cons of doggy daycare include:
Your dog may develop undesirable habits. Just as there are bad influences in the human world, there are bad influences in the doggy world. Dogs can sometimes be prone to developing "bad habits" such as dominant behaviors or territory marking when around a group of other canines.
More exposure to illness and diseases. Although health screening and updated vaccines are required by most reputable doggy daycare businesses, your dog is still being exposed to much more than he would be if he was simply left at home. If you're considering sending your dog to doggy daycare, make sure he is up to date on all recommended vaccinations and that he sees a veterinarian for regular checkups.
Possible doggy disagreements or injuries. Just as humans don't like everyone they come across, dogs may not get along with every other pet at doggy daycare. Sometimes fights happen. It is important you feel that the staff of your doggy daycare is educated on what to do if a fight breaks out and how to stop it.
We also recommend picking a doggy daycare that separates dogs based on size, age, and temperament. Even a very sweet large dog can accidentally injure a very small dog just by playing too roughly.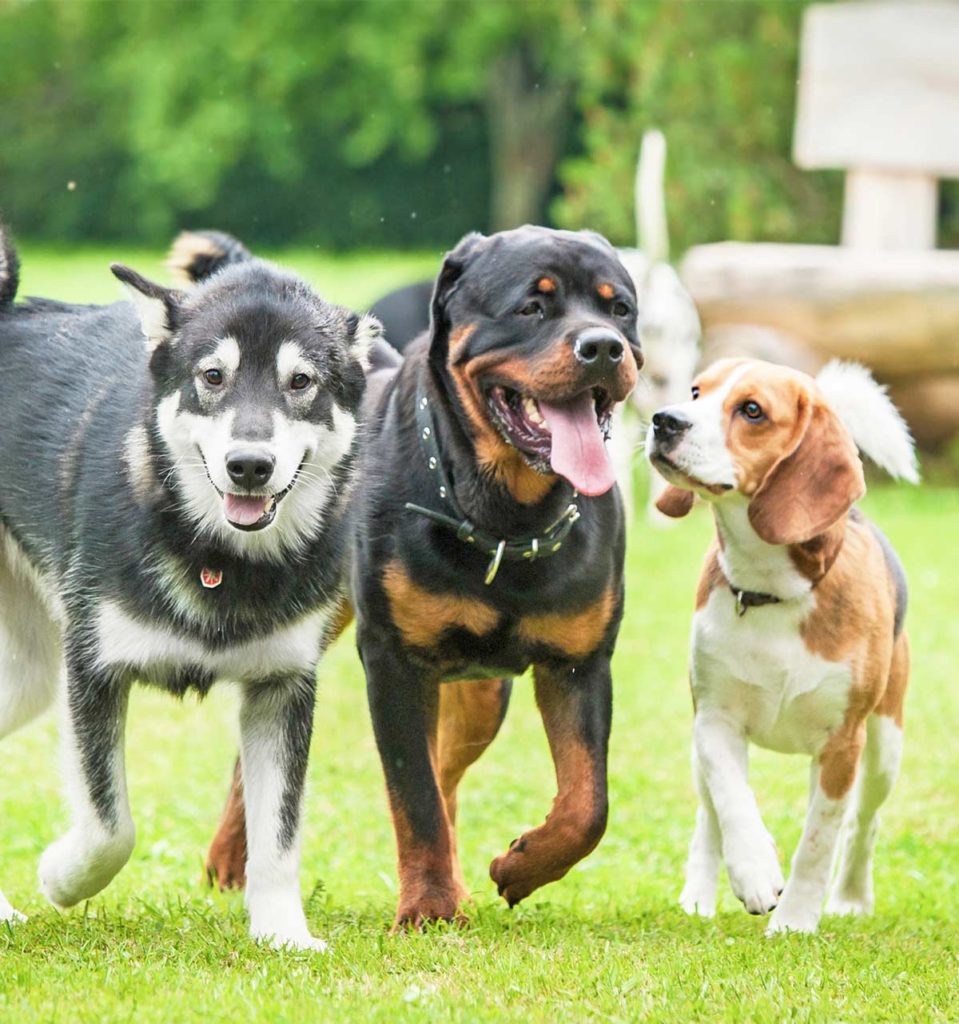 How Much is Doggy Daycare?
Doggy daycare cost will vary depending on the daycare you choose. So, how much is doggy daycare on average?
Doggy daycare could cost anywhere between $12 and $38 a day to monthly package deals that range from $240 to $550 a month.
If you need to leave your dog overnight, keep in mind that doggy daycare and doggy boarding are two different things. Doggy daycare overnight isn't really an option.
Doggy daycare is day care, while boarding your dog is an option you have if you need a place for your dog to stay overnight or for an extended period of time.
Which Type of Dogs Do Best in Doggy Daycare?
Many dogs thrive in doggy daycare! Some great candidates for doggy daycare are:
Puppies. Puppies should be socialized as early as possible, and doggy daycare is a great way to go about doing this! Early socialization helps to prevent anxiety and aggressive behaviors in dogs later on. It will also help to ensure you and your puppy have positive experiences outside the home as he grows up.
Young dogs. Boredom in young or adolescent dogs can result in damaged furniture, flooring, and belongings. Just like puppies, young dogs love to play, they love attention, and they need constant stimulation to stay out of trouble.
Hyperactive dogs. There are a lot of dogs who are used to the great open spaces and just love to play all day, every day.
Dogs who mature slowly, like Labs, or dogs who just naturally have tons of energy like Pit Bulls or German Shepherds, could do great in doggy daycare environments.
Dogs bred to work. Certain breeds, such as herding breeds, were bred to do a job and are simply not satisfied with lazing around the house. Working dog breeds will certainly do well in environments where there is a lot of stimulation and they can play and utilize their active brains.
What Kind of Dogs Should Stay Away from Doggy Daycare?
Doggy daycare is not right for every dog. Some types of dogs who should not go to doggy daycare are:
Fearful dogs and puppies. Forcing a fearful dog into a situation they are not ready for, socially or otherwise, could truly backfire. You could harm the dog emotionally and cause it to act aggressively simply out of fear. While it is normal for many dogs to behave nervously or be hesitant on their first few trips to doggy daycare, you'll know if your dog is terrified. If your dog is clearly not feeling doggy daycare, don't push it.
Dogs aggressive to people or other dogs. If you have an aggressive dog who does not get along well with most other dogs, he is not a good candidate for doggy daycare. Likewise, he is also not a good candidate if he is wary of strangers and behaves aggressively towards people.
Tips on Picking the Right Doggy Daycare for Your Dog
When deciding on the right doggy daycare for your dog, keep in mind what type of dog he is and if doggy daycare will be suitable for him and his unique personality.
If you think he is a good candidate for doggy daycare, then we recommend you do plenty of research on the different doggy daycare options in your area before deciding where to send him.
For your peace of mind, you can always visit the daycares and do a tour. Take a close look at the upkeep of the doggy daycare and remember, the aesthetics of the place are less important than safety, staff, and protocol.
Dogs are all about fun and play. They don't care what colors the floors are or the art hanging on the walls! They just want lots of toys and friendly people and dogs to interact with.
Things To Look For
When looking online, make sure you read the reviews. When visiting an area, don't be shy about talking to other clients of the doggy daycare.
Ask them questions, see how long they have been there. Ask if there have been any issues with staff or other dogs in the past.
Also, talk to the staff and owners. Do they seem vigilant and well trained?
Pay attention to how the dogs are grouped. As previously mentioned, we think it is best if dogs are grouped based on size, age, and temperament.
And if you're worried about how your dog will be treated while you are away, you may want to pick a doggy daycare that provides cameras you can connect to via phone or computer.
That way you can check in on your furbaby throughout the day!
Hey, from one doggy parent to another, we know how hard it can be to leave your precious pup! Hopefully, this article has helped you decide whether doggy daycare is the right choice for you both. Let us know how it goes!
References
Tiffani J Howell, Tammie King, Pauleen C Bennett, "Puppy Parties and Beyond: the role of early age socialization practices on adult dog behavior" Volume 6, pages 143-153
John Paul Scott, John L. Fuller, Genetics and the Social Behavior of the Dog, Part 2, Page 194, Emotional Reactivity
Brian Hare, Michael Tomasello, "Human-Like Social Skills in Dogs?" Trends in Cognitive Sciences, Volume 9, Issue 9, Pages 439-444
Emanuela Prato-Previde, Deborah Mary Custance, Catrina Spiezio, Francesca Sabatini, "Is the Dog-Human Relationship an Attachment Bond? An Observational Study Using Ainsworth's Strange Situation" Behavior, Volume 140, Pages 225-254
J. Topal, A. Miklosi, V Csanyi, "Dog-Human Relationship Affects Problem Solving Behavior in the Dog" Anthrozoos, Volume 10, Pages 214-224
J.S.J Odendaal, R.A.Meintjes, "Neurophysiological Correlates of Affiliative Behavior Between Humans and Dogs" The Veterinary Journal