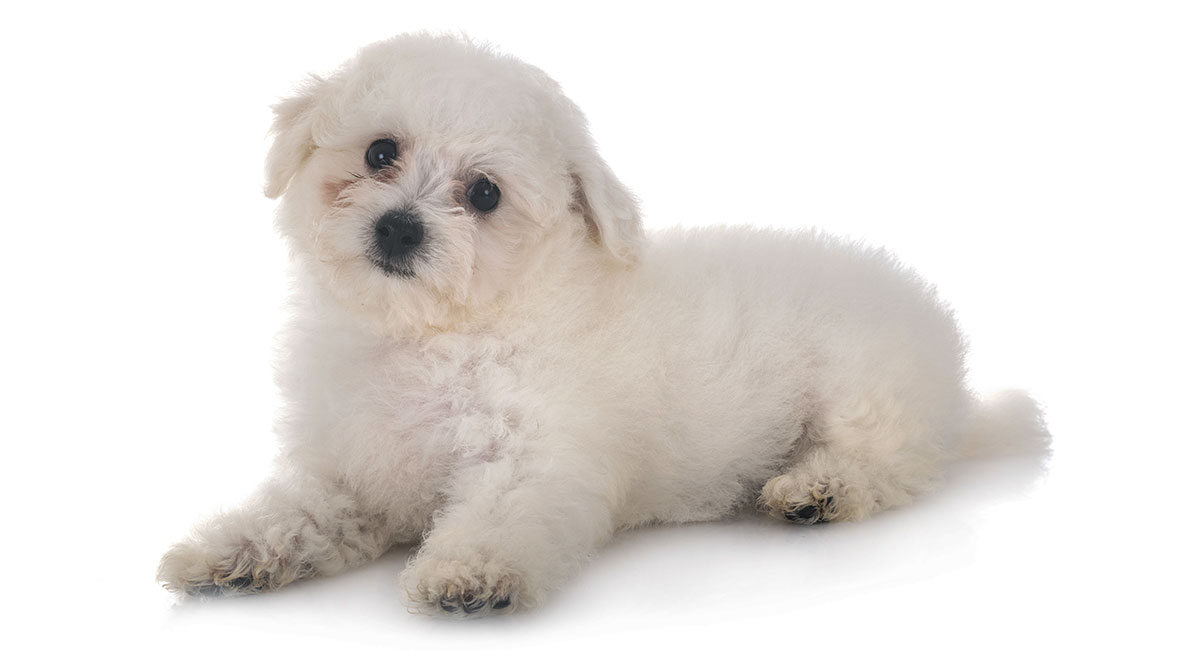 Dog tear stains are the dark streaks or marks that can appear under your dog's eyes. They will be dark red, or brown in color.
Dog tear stains are often easy to see on dogs with light, or white fur. But they can be much harder to see on pups with darker hair.
Some of the causes of tear stains on dogs include blocked tear ducts, health issues, and allergies, among others. The best way to diagnose the cause of your dog's tear stains, is to take them to the vet.
Let's find out about this problem in more detail.
Contents
Click the links above to jump to each section, or keep reading to find out everything.
What Causes Dog Tear Stains?
While tear stains themselves aren't painful or dangerous to dogs, they can be quite ugly. This even leads some people to search for dog tear stain remover.
Excessive tearing in dogs can be a sign of a health issue, or irritant. But not all dogs who have tear stains suffer from excessive tearing.
No two dogs are the same. So, it's important to take your dog to the vet if you think there are any problems. Your vet can help you eliminate any potential causes of your dog's tear stains.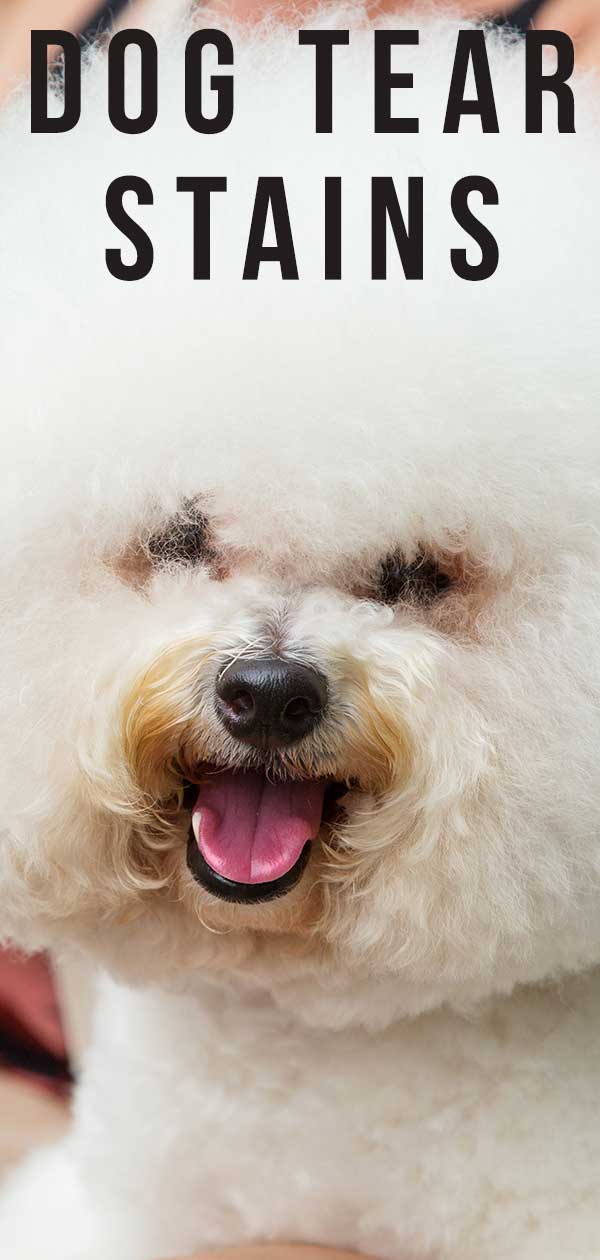 Let's take a look at some of the most common causes of dog tear stains that your vet may identify.
Porphyrin
Porphyrin is a pigment that is found within cells in your dog's eye, as well as in their saliva and urine.
This pigment is produced when the body breaks down iron, and has a photoprotective role in your dog's eye.
Every dog will have porphyrin in their tears. But, staining from this pigment is much more noticeable in white dogs.
When tears collect under your dog's eye, it is more likely that they will experience staining from porphyrin in their tears. So, problems that cause excessive tearing may be worsening the markings.
But, it is this pigment rather than the actual tears that can cause dog tear stains.
Allergies
One of the things that can cause your dog to produce more tears than normal is allergies. Although more tears doesn't automatically mean tear stains, the buildup of fluid containing porphyrin makes it more likely.
Allergies stem from an irritant in your dog's environment. So, if this is the cause of your dog's tear stains, there's a good chance you can remove the problem.
It could be something in your dog's food, something in your home, or even bacteria that develops in a cracked plastic food bowl!
Allergies can also cause symptoms that look very similar to tear stains in your dog, such as redness and inflammation around your dog's muzzle and eyes.
Check with your vet to see if allergies could be the cause of redness on your dog's face.
Look at Their Diet
Your dog's diet and food is always a good first place to look if you think any redness on his face is caused by an allergy.
You should always use food with high quality ingredients, and a complete balance of nutrients.
If you're struggling to identify what your dog is allergic to, your vet may suggest moving them to a grain free dog food, or a limited ingredient diet.
Infections
Like allergies, infections can produce excess tears and other symptoms that look similar to dog tear stains.
Types of infections that your dog could be suffering from includes yeast and bacterial. Infections can often cause other symptoms, such as irritation and itchiness.
Take your dog to the vet if you are concerned he has an infection. Your vet can help you deal with this problem quickly to keep your dog healthy and happy. They will often use antibiotics to get rid of any infection.
If redness and tear stains remain after this, you can start to look at other possibilities.
Entropion
Entropion is a condition where your dog's eyelids can grow inwards. This will cause irritation, particularly from eyelashes scratching the surface of your dog's eye.
Entropion is another health issue that can cause excess tears.
If you suspect your dog is suffering from entropion, you need to consult your vet. This problem may need surgery to fix.
Other Medical Reasons
We've looked at a few common medical reasons that dogs can develop tear stains, or symptoms that look similar to tear stains. But we haven't looked at every possible cause.
There are plenty of other medical issues that can produce redness, tear stains, or excessive tears.
Some of these include:
abnormal tear glands
ingrown eyelashes
conjunctivitis
and glaucoma.
If you're concerned about dog tear stains on your pup, make sure to take them to the vet. Your vet can help to narrow down the possible causes of your dog's tear stains, and make sure they don't need further help.
Environmental Factors
As we've mentioned earlier, allergies can cause symptoms similar to dog tear stains. Solving this issue often involves a change in your dog's environment.
However there are other environmental factors that can cause these markings on your pooch.
For instance, your water. If your water has a high mineral, or iron content, your dog may experience tear staining.
If your vet thinks this is the problem, you can try switching to bottled, or distilled water.
Which Breeds are Prone to Dog Tear Stains?
We've seen there are quite a lot of causes for dog tear stains, and other problems that cause similar symptoms. These are not restricted to any one dog breed.
Dog tear production is actually affected by breed, age, weight, and even gender.
Unfortunately, it is something every dog can experience.
However, stains and markings are more likely to show up on dogs with light fur. Some breeds you might commonly see with dog tear stains includes:
Brachycephalic Dogs
Flat faced, or brachycephalic, dogs are also more prone to tear stains. This is because of the shape of their skull.
Since their skulls are so much flatter than a normal dog's, their eye sockets are a lot more shallow.
This makes their eyes bulge out, but will also affect the way that your dog's tears ducts drain. Sometimes their flattened facial structure is so extreme that the dogs can't even fully close their eyes.
Of course, this makes their eyes very vulnerable to scratches, irritants, dryness, and more. These issues can lead to excess tears and tear staining, or similar symptoms.
Which Breeds are Brachycephalic?
Here are some brachycephalic dogs that are more likely to suffer from dog tear staining due to their face shape:
Dog Tear Stain Remover
If your dog suffers from this issue, you're probably wondering how to get rid of dog tear stains.
Your first step should always be to talk to your vet when you're looking at how to get rid of tear stains on dogs.
Never use a new product without checking with your vet. Your vet can analyse the ingredients to make sure it is safe for use. Or, they can suggest a safer alternative.
You should never use something to clean dog tear stains if it isn't approved by your vet. Using dangerous, unsafe products so close to your dog's eyes could be a disaster that leaves your dog in a lot of pain.
You can see some of the dog tear stain remover products they might recommend over here.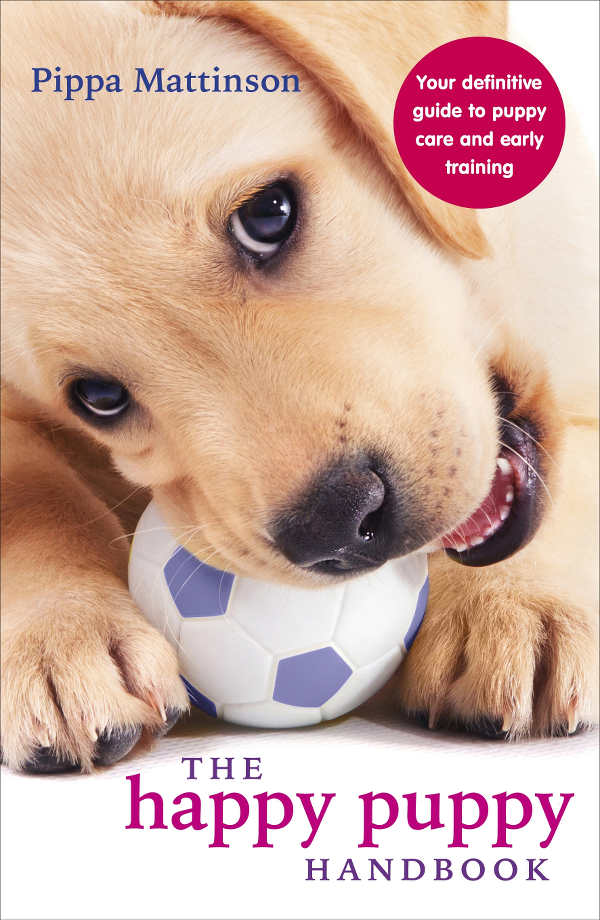 Your vet will also be best equipped to help you identify the cause of your dog's tear stains. This can prevent them from coming back any worse in the future.
Preventing Dog Tear Stains
We've looked earlier at some of the ways each cause can be treated to remove the cause of these markings. But are there any changes you can make to prevent tear stains?
If your dog is prone to tear stains, there is something you can do! You don't need to feel helpless.
You just need to learn how to clean dog tear stains.
Cleaning your dog's face regularly will help to get rid of these markings, by ridding your dog of tear buildups.
How to Clean Your Dog's Face
You can ask a groomer to keep the hair on your dog's face short and manageable. This makes it easier to wash, but also stops long hair from irritating your dog's eyes.
Comb through the fur on your dog's face to get rid of any tangles, or anything caught in his fur.
Then, wash your dog's face gently with a cotton ball and eye cleaning solution approved by your vet.
Make sure that your dog's fur dries properly after you wash it each day to ensure his hair stays clean and healthy.
Dog Tear Stains
Does your dog suffer from dog tear stains? Tell us about your experiences in the comments.
What was the cause of your dog's tear stains, and how did you get rid of the marks?
Remember, if you are ever in doubt about your dog's health, speak to your vet first!
References and Resources
The American Kennel Club
Heidi Featherstone, 'Common Eyelid Anomalies', Ophthalmology, 2017
Nesma I. El-naseery (et al), 'The Structural Characterization of the Lacrimal Gland in the Adult Dog', Benha Veterinary Journal, 2016
Sheryl G. Krohne, 'Medial Canthus Syndrome in Dogs – Chronic Tearing, Pigment, Medial Entropion, and Trichiasis', Chronic Diseases, 2008
Marnie Brennan (et al), 'Variation in the Treatment of Canine Acute Glaucoma', BSAVA Congress Proceedings, 2016
Joshua J. Broadwater (et al), 'Tear Production in Normal Juvenile Dogs', Veterinary Ophthalmology, 2010