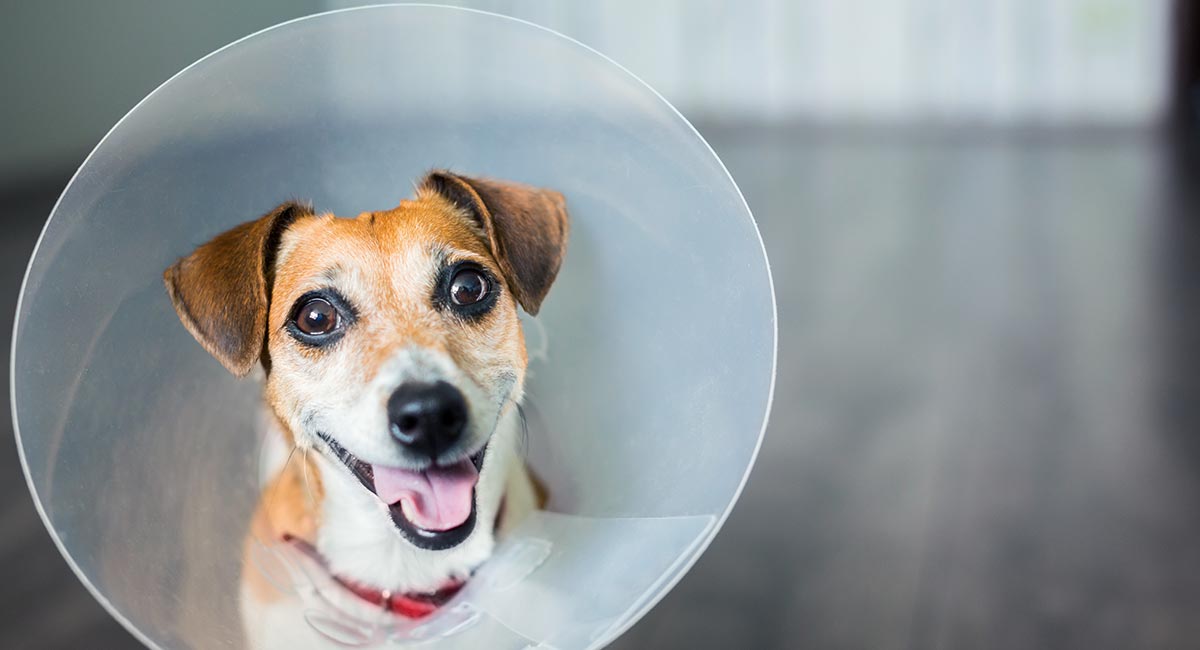 A dog cone around your pet's neck can look funny, but unfortunately, it has a more serious purpose.
You'll be advised to fit your dog with some kind of cone if the poor pooch needs to be kept from chewing or licking a wound or surgery site.
Dog neck cones vary in size, material, and durability.
Veterinarians often send dogs that have had surgery home in a traditional Elizabethan collar, better known as the "e-cone," which is generally made of plastic. It looks a bit like a bucket.
Some vets call them 'buster' collars. And some owners prefer to use their own cone, rather than the one provided for them when their dog is discharged
In this article, we'll talk more about what a dog cone collar is, and why one would be important for a dog with a wound or stitches.
We'll look at the various types of dog cones that are available in addition to the e-cone, and a few alternatives, should your pooch not be able or willing to wear a dog collar cone.
All of these products were carefully and independently selected by the Happy Puppy Site team. If you decide to make a purchase from one of the links marked by an asterisk, we may earn a small commission on that sale. This is at no extra cost to you.
Our Favorite 3 Dog Cones
ZenPet ProCone Pet E-Collar
This comfy headcone is a great alternative to plastic models for your dog. It has a soft design but also has see-through panels. Your pooch will still be able to see the world around him.
Bencmate Protective Inflatable Collar
The Bencmate Collar works just like a travel pillow. It gives comfortable cushioning and features a bite and scratch-proof design.
Alfie Pet by Petoga Couture
There's no reason a dog cone can't be cute, and the Alfie Pet by Petoga Couture proves this. As well as being very cute, it is soft and comfortable for smaller dogs recovering from surgery.
Jump Straight to The Dog Cone Info You Need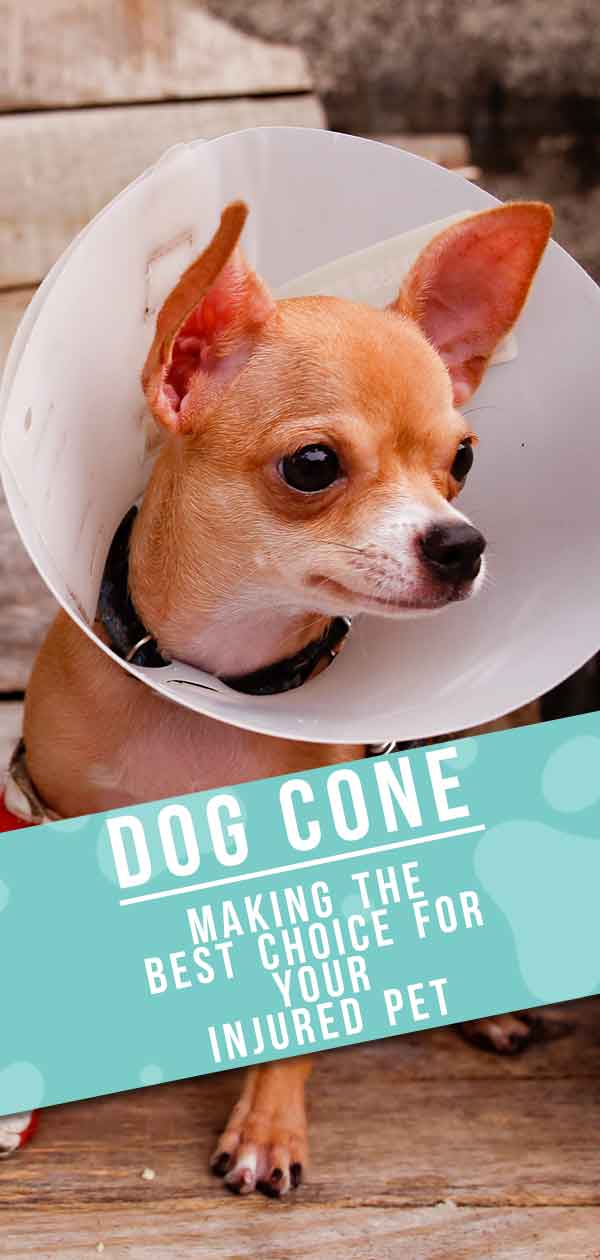 Why Should I Get A Dog Cone?
What is a cone collar for dogs?
The "cone of shame," as cone dog collars are often referred to, is a cone-shaped contraption that fits around a dog's neck (either fastened around his neck with ties or Velcro, or fastened to his regular collar).
The dog cone usually extends past your pet's mouth, preventing them from reaching around and licking or chewing any part of their body.
Cone collars can be hard (plastic) or soft (fabric or other material).
Some come in a simple cone style, but some are shaped like a donut neck pillow for your pet's comfort and ease with wearing it for extended periods of time. We'll give you some examples of each later in this article.
Why do dogs need dog neck cones?
Neck cones are often employed after a dog has surgery so that he doesn't lick or chew at the resulting wound and/or stitches.
We'll discuss why licking wounds is actually not good for your dog in the next section.
Dog cones are also used to prevent dogs from nibbling at inflamed areas of skin that can arise as a result of food allergies or an insect bite allergy.
Cones for dogs after surgery
Putting a dog in cone may seem cruel, especially if your dog is afraid because he can't see around it.
However, any discomfort that he may endure will be far less than the pain he'll be in if and when he opens up stitches or licks a wound into a festering infection.
Contrary to what some may think, dog saliva is not good for wounds. It doesn't remove all forms of bacteria and other infectious agents from an open wound.
Dog saliva will be no match for certain disease-causing bacteria. For instance, the bacteria which causes staph infections.
In fact, according to Walkerville Vet, your dog may very well introduce germs from his mouth to an otherwise clean wound, should he be allowed to lick it.
This can and often does lead to an ugly, painful infection.
Additionally, a dog being allowed to continuously lick a surgical site will also prevent the stitched area from closing properly.
Therefore, a cone dog collar is often warranted. Some situations mean a dog may be inclined to lick at a wound or bite at stitches. This is especially true once the area is healing and is thus becoming itchy.
Choosing the Best Dog Cone
How can you ensure you get the best dog cone collar? What are the key features to look out for? These are relatively simple products, a few simple considerations should help you a great deal.
Durability and Sturdiness
Although the standard e-cone that veterinarians generally use works fine for most dogs, large strong dogs may manage to remove a lightweight cone. So depending on your dog, you may need to purchase something more robust. If you think your dog is likely to have the power to remove a standard dog cone, go for something with a bit more sturdy design.
Visibility and Comfort
Some dogs are panicked by the lack of vision if they can't see through the neck cone, in which case they may be happier in a transparent one. Some vets don't provide these. Naturally, if your dog suddenly can't see, they might get freaked out.
Furthermore, some dogs simply do not find the standard e-collar very comfortable. They may sleep better and be more relaxed in a more cushioned cone. This is where soft and inflatable cones may prove to be helpful (assuming that your dog doesn't try to claw at them).
To ensure that your dog can't get a neck cone off or damage it and to make sure that he's not stressed throughout his time in it, you may wish to purchase a "non-standard" neck cone. Usually, comfort is the main reason people invest in a dog cone.
We'll get into several different types and styles of dog neck cones in the following sections.
Best Comfortable Dog Cones
Not all dog cones are hard and made of plastic, thank goodness!
Some dog cones are made of extra cushy material, such as canvas or nylon, and feel plush instead of hard to the touch. This makes them feel almost pillow-like when your Lab needs to take a rest. Some also come with a removable piece of plastic that allows the collar to keep its cone shape if needed.
We like the following comfortable dog cones, especially since they are veterinarian-recommended:
UsefulThingy Dog Recovery Collar
This recovery collar has a firm foam which is very comfortable for the dog, and doesn't impede on their vision, or their ability to eat and drink.
The UsefulThingy* collar is perfect for lots of dogs in all different shapes and sizes due to the fact that it comes in five different neck sizes.
Just measure your dog's neck and match up the size.
ZenPet ProCone Pet E-Collar

This adjustable collar cone is made of canvas with no plastic attributes, making it extra cushy for your pooch.
As an added bonus, the cone also has multiple windows to make your dog feel more at ease while he's wearing it.
Velcro straps make the ZenPet ProCone* a cinch to tighten and loosen the cone if it's being worn without a regular collar.
Be sure to measure your dog's neck circumference before purchasing a cone to ensure an adequate fit, as reviews suggest that it runs small.
All Four Paw Comfy Cone Pet Recovery Collar

This is a similar shape to a basic plastic cone, but it's lined with soft padded fabric.
The Comfy Cone* comes in lots of different sizes and two colors.
Best Soft Dog Cones
As you can see, not all dog cones or neck collars are solid plastic tools of shame (although hard cones do have their merits)!
And not every dog cone is bucket or cone-shaped. In addition to being composed of a softer material, some dog cones are made to feel more like neck pillows than cones.
Some soft dog cones are inflatable (more on those in the next section) or made of a foam that retains the cone shape, but feels squishy to the touch.
Here are a couple of soft dog neck cones to consider.
Bencmate Protective Inflatable Collar
If you're like us, then you may have to do a double-take of this collar to make sure that it's indeed a dog neck cone and not a human travel pillow!


A soft, yet bite- and scratch-proof outer material encases an inflatable collar, which does not extend past the dog's head.
Your pooch will be happy to be able to not have his vision impended while he's wearing the Protective Inflatable Collar*.
The largest size fits a neck circumference of 18+ inches, making this collar an excellent option for larger dogs
Inflatable dog cones
Blow-up dog cone collars? Is that really a thing?
You may have read "inflatable dog cones" and thought of some kind of swimming flotation device.
But yes, there are such things as inflatable dog neck cones. In case you missed it in the previous section, Bencmate makes a lovely one that's encased in a super soft fabric. We also like these next two air-filled options:
Remedy + Recovery Stay Rite Xtra Strong Inflatable Recovery Dog Collar
If the idea of a balloon-type structure encasing your dog's neck sounds like a chew toy waiting to happen, this inflatable recovery collar may change your mind.


The Stay Rite Recovery Collar's* puncture-proof material is strong and resistant to teeth (should your dog somehow manage to get a hold of it) and claws, and double-welded seams aid in durability.
Velcro straps allow you to attach the cone to your dog's usual collar.
Total Pet Health Inflatable Dog Collar

The Total Health Inflatable Collar* is approved by veterinarians and is comfortable for the dog to wear. The outer protective cover is washable

Plastic dog cones
Sometimes, you just need the durability and solid structure that only a plastic dog cone can provide. You can still get a relatively comfy cone for dogs with a plastic design.
Basic cones have hard scratchy edges that can scuff up your walls and furniture.
Plus they really hurt if your dog bumps into your legs while wearing one.
Bumping is something you'll see a lot of for the first couple of days. Your dog will adjust to the new size of his 'head'!
So you may wish to purchase a dog cone with some kind of soft lining along the outer rim
Here are some highly rated puppy/dog cones that are meant for home use and of which are available on Amazon.com:
Vivifying Dog Cone
This is a really simple design of pet cone*. It snaps to size with ease and is super simple to take off and put on.
Also, though this is a PVC cone, it has a felt coating to stop it from irritating your dog.
As it has many different places where you can snap the cone together, you can adjust it to the size of your pet, though it is far better for smaller dogs.
Remedy + Recovery E-Collar
Here is a nice lightweight, but sturdy traditional e-collar.
The transparent plastic lets your dog see where he's going. Also, the padded edge will help protect your home for as long as your dog is laid up.
If your dog has a neck circumference that's larger than 15 inches (the maximum for a size Large), the size X-Large fits neck circumferences of up to 21 inches, but if you have an even larger dog, the XX-Large provides an additional four inches of room.
The Remedy + Recovery E-Collar* also comes in several fun colors. Choose from – blue, green, yellow, or pink!
KONG E-Collar for Dogs

Another lightweight option, the KONG e-collar* is also a good option.
Although it doesn't come in any exciting colors, the cone is transparent. It allows your dog to be able to see around him.
One thing to note is that this option does not have padding on the outer edge, but it does have extra neck padding for your pooch's comfort. Velcro straps make it easy to put on and remove.
Fabric dog cones
Fabric dog neck cones work well for dogs that aren't as likely to test the limits of the cone. Soft sides may tear more easily than hard sides.
They're also good for dogs that won't settle down if they wear a hard cone. There are numerous models of comfy cone for dogs.
Some fabric neck cones are not only useful, but also super cute (think of a cone that looks like a lion's mane) – there's nothing wrong with taking advantage of an otherwise sorry situation, right?
Here are two highly rated fabric neck cones that we found on Amazon:
Contech ProCone Recovery Collar

The soft, yet flexible material of the Contech Recovery Collar* will keep your pet as comfortable as possible while they are healing from an injury or surgery.
It's bacteria- and odor-resistant, making it an excellent option for dogs who are prone to creating messes no matter what they're doing.
Even if your dog manages to make a mess while eating, this collar is easy to wipe down. It is also machine-washable!
Alfie Pet by Petoga Couture – Noah Recovery Collar

When you think of "dog neck collar," you probably don't think of something cute and cuddly, but we're pretty certain that there's no other dog collar that's as adorable as this one!
This fabric collar* is meant to make your friend look adorable…and we're willing to be that he'll appreciate the ego boost while he's forced to wear the "collar of shame"!
Note – these collars come up quite small. The size XXL only fits neck sizes of up to 13.5 inches, so you may not be able to dress up a larger dog.
Donut dog cones
As you've discovered by now, not all dog cones are shaped like cones.
In fact, many cones are shaped more ergonomically to support the wearer's neck, much like a human neck brace.
We've shared a few neck cones that fall within the donut category, but here's another one that comes highly recommended by multiple doggie owners:
KONG Cloud E-Collar

This is a very soft, plush collar. And like other donut recovery collars doesn't interfere with your dog's vision
The Kong Cloud Collar* comes in five different sizes – the large is suitable for a Lab or Golden Retriever, and there is an even larger version too.
Homemade dog cones – how to make a dog cone
Has your dog injured himself and you can't get him to the vet right away? Homemade dog cones might be the answer
If so, you may wish to make a do-it-yourself DIY dog cone to keep him from licking or chewing the injured area until you can get something more permanent.
Here are a few tips that can show you how to make a dog cone in an emergency:
Towel and duct tape – Take a bath towel or other oversized towel and wrap it firmly around the dog's neck, then secure with duct tape. You'll want to make it tight enough that it provides resistance, but not so loose that the dog can reach freely around.
Sturdy paper – Fold a really hefty and large piece of paper (we're talking poster-board thickness or better, almost as stiff as cardboard) around your dog's neck and secure with duct tape. Voila, a homemade dog cone.
There are a number of YouTube videos that detail how to do make a homemade dog cone – and also demonstrating how to fit a standard e-cone to your dog. DIY dog cones are not a long-term solution, but they have the ability to help you out in the short term.
Which type of dog cone is right for my dog?
It depends to some extent on where your dog's injury is located. Some of the softer, comfier cones won't prevent a dog chewing his paws for example, but will work well to protect wounds on the dog's flanks or belly
For a dog that has an uncanny ability to chew through just about anything, though, your best bet is to use a traditional e-collar or one of the alternatives to the neck cone in the next section.
Talk to your vet about the type of alternative collar you'd like to try. Get your pet to a vet as soon as possible when he's injured.
Alternative to cone for dogs
Did you know that doggie recovery suits can be also used as an alternative to dog cones?
That's right – if your pet has somehow managed to get past a neck cone in an attempt to get at his wound or surgical site, then your next best bet may be to cover the wound site.
Sometimes an old t-shirt will do the trick.


Or you can buy a surgical recovery suit like this one*:
Recovery Suits come in loads of sizes so you'll need to measure your dog carefully


The Suitical comes in a fun camo pattern*. This stretchy and breathable recovery suit provides a great alternative to the neck cone. You can cover a wound, surgical site, or area that your dog has been chewing or licking compulsively.
Not only will it prevent your dog from licking and chewing, but it will also prevent blood from getting on your furniture, in case the wound or sutures open. Select a size by measuring your dog from the nape of her neck to the base of her tail.
What is the Best Dog Cone?
The type of dog cone that you purchase depends on whether or not your dog will wear a standard Elizabethan collar.
If your dog will tolerate an e-collar, then you'll want to select a lightweight option that has a padded outer edge. And if the entire collar isn't transparent, look for ones with windows.
If your dog isn't a fan of the e-collar, then you can find softer dog head cones in various shapes and designs, all of which provide a more comfortable place to lay their heads than plastic. However, some soft dog cones may not be best for very avid chewers or scratchers.
Homemade dog cones or DIY dog cone collars are also an option, but they should probably be used only when you're in a pinch. If your dog simply won't or can't wear a neck cone, then you might try an alternative. Something like a recovery suit.
Whatever you are considering, do consult with your vet. They will have plenty of experience of dogs with wounds in the exact position that your dog has. And will know the very best option for keeping that wound safe until it heals
Affiliate link disclosure: Links in this article marked with an * are affiliate links, and we may receive a small commission if you purchase these products. However, we selected them for inclusion independently, and all of the views expressed in this article are our own.
References and Resources