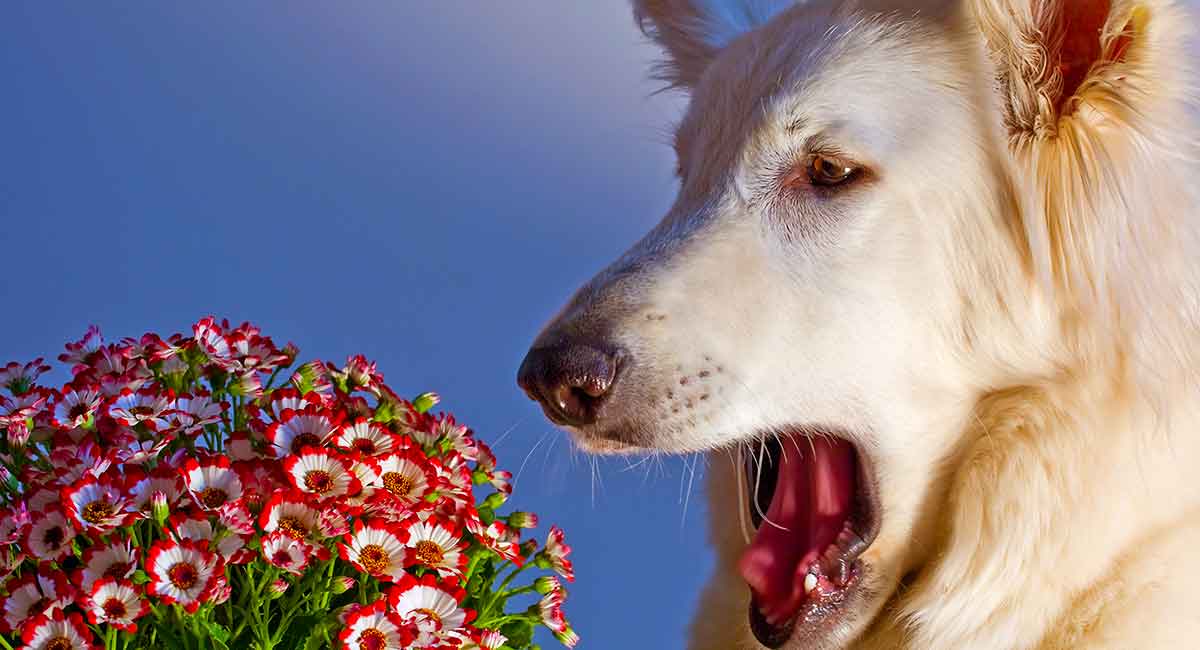 Can dogs get hayfever?
Yes and no.
Yes, dogs do suffer from hayfever, but the symptoms are different in dogs than people.
Whereas we get hot scratchy eyes, a runny nose, and can't stop sneezing, dogs get itchy skin—really itchy skin.
This article explains the causes of dog hayfever, the symptoms, and how to manage this itchy and scratchy condition.
Dogs and Hayfever
Can dogs get hayfever?
Yes, like human hayfever it's an overreaction of the immune system to allergens in the environment.
But instead of sneezing, dogs scratch… and chew… and lick.
Indeed, it's a neat party trick, but you can often spot fur-friends with dog hayfever from across the room.
Their fur is stained rust-colored, especially on the paws, from a natural dye in their saliva.
Dog hayfever has a special name: atopy.
This is an inherited condition, passed down from parent dog to pup.
And just like human hayfever, it can be controlled but not cured.
But don't despair.
You can help your pet pal with dog hayfever medication, special shampoos, yeast control, and nutraceuticals.
Can Dogs Get Hayfever?
Firstly, if you're reading this article because your dog has a runny nose, sore eyes, or is sneezing, then have them checked by a vet.
Your pet pal is more likely to have a bug, than an allergic reaction.
Can dogs get hayfever?
Yes, dog hayfever or atopy affects one in ten dogs, and is very common.
But remember the signs are usually related to the skin, rather than respiratory tract.
Most dogs first show signs between one to three years of age, with some pups becoming itchy at just six months.
If your dog is constantly licking and won't stop, then think about atopy as a possible cause.
Indeed, some breeds are more likely to get atopy than others, such as:
West Highland White Terrier
Cairn Terrier
German Shepherd
Labrador Retriever
Miniature Schnauzer
Cocker Spaniel
Yorkshire Terrier
This is an inherited condition, so if the parents had dog hayfever, then the pups are likely to have it too.
So now that we know the answer to, "Can dogs get hayfever?" what does it look like in canines?
The Symptoms of Hayfever in Dogs
The most common symptoms of hayfever in dogs are those linked to skin irritation.
The dog is most bothered by the face, ears, paws, and tummy.
And they may lick, scratch, rub, and bite at these areas.
Over time, the constant rubbing leads to other problems such as hair loss, thickened skin, scabs, and sores.
Taken to the extreme, a dog with hayfever can look more like a rhino than a fur-friend, with bald, discolored skin that feels greasy to the touch.
Sadly, signs of hayfever can develop when the pup is young.
And the symptoms get worse, year after year.
Of course, there are many other causes of skin irritation in dogs, so a vet check is essential to a correct diagnosis.
Other less common symptoms of hayfever in dogs do indeed include sore eyes.
Dog hayfever eyes are red and sore, but any discharge should be clear.
A yellow-green discharge can mean infection, so if in doubt, see a vet.
What are the Causes of Dog Hayfever?
Can dogs get hayfever?
Yes, and it's an allergic reaction.
These dogs have an oversensitive immune system.
It overreacts to common allergens, such as pollen, molds, or dust mites, which are a normal part of the environment.
Once activated, the immune system triggers the release of natural chemicals in the skin, such as histamine.
Unfortunately, most of these chemicals also cause itchiness, hence symptoms such as scratching, biting, and licking.
Literally anything has the potential to trigger dog hayfever, although sensitivity varies between dogs.
For example, one dog may be allergic to a particular grass, while another dog may react to tree pollen.
Actually, dog hayfever isn't caused by breathing in the allergen, as happens with human hayfever.
Instead, the pollen settles on the skin, where it triggers the immune system.
Some unlucky dogs react to a wide variety of allergens, which makes them very uncomfortable indeed.
Diagnosing Hayfever in Dogs
Can dogs get hayfever?
Yes, but making a diagnosis isn't always straightforward.
Making a diagnosis is tricky, because many of the lab tests used in people give unreliable results in dogs.
The vet starts with a physical exam of the patient, being especially alert for parasites.
If fleas are found, the vet won't do any further tests until the dog is treated with an effective flea product.
If the dog remains itchy, despite being parasite free, then a variety of tests are necessary.
These can include skin scrapes, skin biopsies, blood tests, or intradermal allergy testing.
If no other cause of itchiness is found, and test results point towards an allergic reaction, a diagnosis of dog hayfever is made.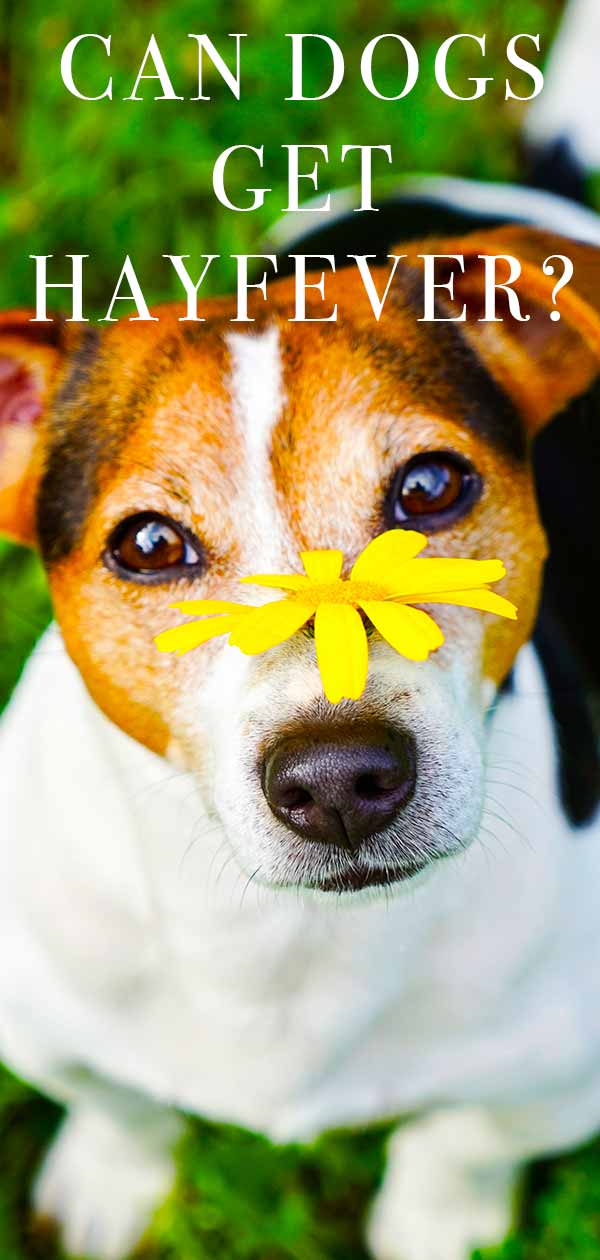 Treating Dog Hayfever
Can dogs get hayfever?
Yes, but sadly they respond poorly to human medications.
Can I give my dog hayfever tablets?
Wouldn't it be great if antihistamines worked for dogs, like they do for people?
Hayfever tablets for dogs give disappointing results and the dog carries on itching regardless.
Whilst most antihistamines aren't dangerous to dogs, neither do they work well.
There's no easy way to fix dog hayfever.
Instead, expect to attack the problem with a variety of different approaches.
These include avoiding allergens, washing the dog, giving food supplements, using prescription medications, and immunotherapy injections.
Prescription Medications
Corticosteroids such as prednisolone are powerful anti-inflammatories.
This can sit on the itch and make the dog more comfortable.
Steroids are cheap, which is good, but also have side effects, which is bad.
Those side effects include increased appetite leading to weight gain, thinning skin, and a risk of diabetes or Cushing's disease.
Happily, there are a raft of newer and safer drugs available.
These include oclanitib (Apoquel) and cyclosporine (Atopica).
These sophisticated medications target inflammation but with a much lower risk of complications.
The big disadvantage is cost, as they are expensive.
Recently a non-drug, biological treatment has become available.
A one-to-two month regular injection of Cytopoint targets the protein that tells the brain the dog is itchy.
Without the message being sent, the dog doesn't scratch.
Another option is to have a bespoke immunotherapy vaccine developed for your dog.
This contains minute quantities of the allergens you dog reacts to.
Giving these small doses helps train the immune system not to overreact.
Preventing Dog Hayfever
But not everything is about drugs.
You can help at home by reducing exposure to allergens and taking care of skin health.
Washing the Dog
This physically rinses allergens off the skin's surface.
Doing this reduces the contact time, limits exposure to the allergen, and limits the immune response.
Wash the whole dog every two to three days, but be careful not to strip the skin of its natural oils.
Your vet may prescribe a medicated shampoo to soothe the skin, or use a mild moisturizing shampoo such as oatmeal.
It also helps to wipe the dog's paws and stomach after every walk, to wash away the allergens.
Food Supplements
Omega-3 and -6 fatty acids have natural anti-inflammatory properties to help soothe that itch.
This takes time to build up, so expect to give a supplement daily for 4–6 weeks before any improvement.
These oils also improve skin resilience, making it a better barrier to those pesky allergens.
A Healthy Skin
When skin is out of condition, it becomes vulnerable to infection.
All dogs have a population of yeast on the surface, which is held in check by the immune system.
When the skin's health is poor, those yeast breed out of control.
This leads to the doggy equivalent of athlete's foot, which is very itchy!
Controlling a complication such as a yeast overgrowth makes a big difference.
This can be done using medicated wipes or a special shampoo.
Allergen Avoidance
Your vet may run tests to find out what it is your dog reacts to.
This is helpful because then you can swerve certain situations.
For example, a dog that's allergic to grass sap should avoid running on a freshly cut lawn.
Can Dog Hayfever Be Cured?
While dog hayfever can't be cured, it can be controlled.
There are lots of options that make a small difference, which when added together make for a big improvement.
Prescription medications are important, but they're not the only answer.
Don't be afraid to try lots of things at once, such as a food supplement, bathing, and medication, in order to help your fur-friend feel less itchy.
Oh, and helping a dog with hayfever means regular use of an effective parasite products.
After all, if the dog is allergic to pollen, they're probably going to be allergic to flea bites.
Are you itching yet?
References
A prospective study on the clinical features of chronic canine atopic dermatitis and its diagnosis. Veterinary Dermatology. Vol 21 Issue 1, Feb 2010
Evidence‐based veterinary dermatology: a systematic review of the pharmacotherapy of canine atopic dermatitis. Veterinary Dermatology. Vol 14, Issue 3
Zoetis receives USDA license for Cytopoint
The ACVD task force on canine atopic dermatitis (XV): fundamental concepts in clinical diagnosis
Veterinary Immunology and Immunotherapy
Canine Atopic Dermatitis Companion Animal, UK Vet. Vol 15, issue 1