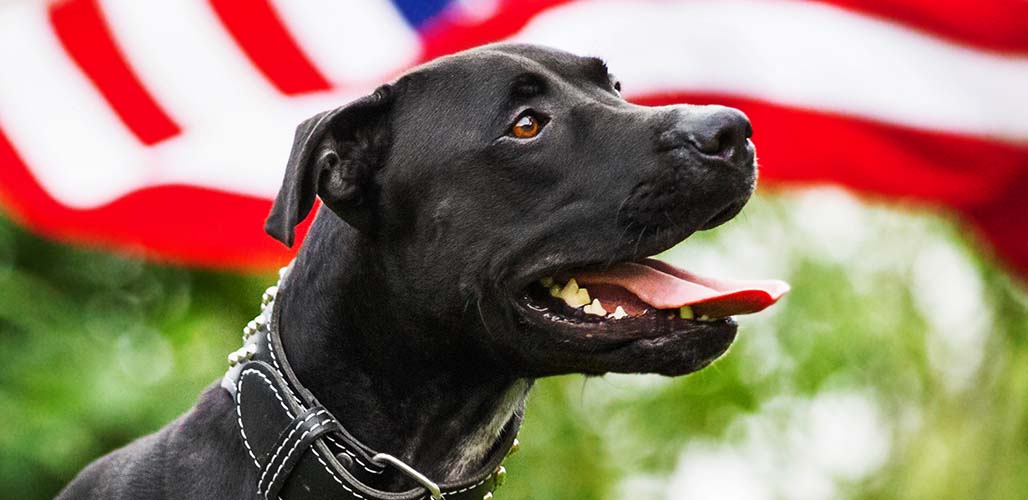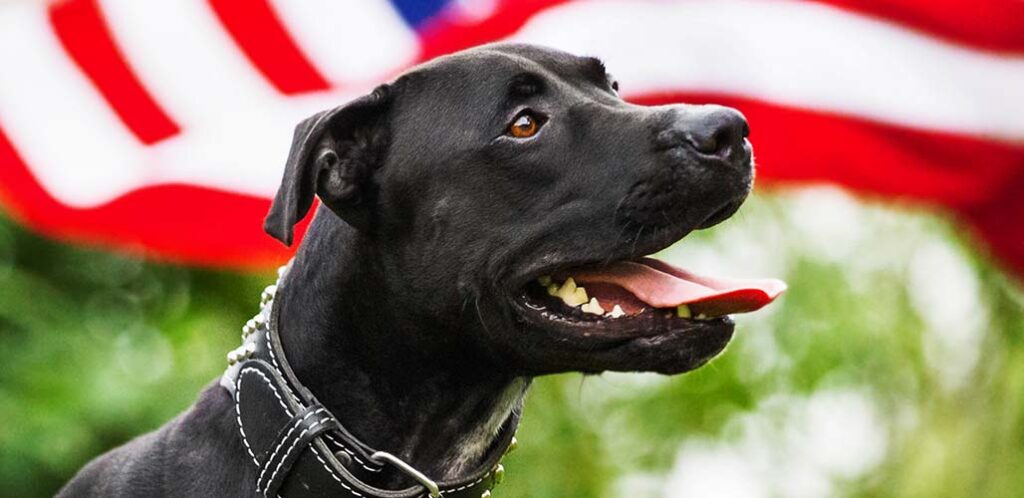 The black Pitbull might not be right for every home. But, we're going to take a closer look at temperament, health, and care needs to see if this popular pup would suit your family!
A black Pitbull is simply a Pitbull breed that has black fur! So, these dogs can look quite different to one another. However, most people are referring to an American Pitbull Terrier when they say black Pitbull. Some Pitbulls will have all black fur, but others may have a combination of shades, such as black and white.
What is a Black Pitbull?
Despite popular belief, there is actually not a specific Pitbull breed. In fact, Pitbull is a type of dog. There are five generally accepted Pitbull or Bully breeds, and all of them can have black fur. Sometimes Pitbull breeds can be mislabelled as other dogs, and non-Pitbull breeds can be called Pitbulls, simply for having similar traits. So, it's a good idea to know the specific breed you're interested in. The five Pitbull breeds are:
American Pitbull Terrier
American Staffordshire Terrier
Staffordshire Bull Terrier
Bull Terrier
Miniature Bull Terrier
And, despite falling into the same breed category, these five Pitbull breeds won't all suit the same home. So, it's important to do plenty of research when choosing one to bring into your family. If any of these five breeds have black fur, they can be called a black Pitbull. However, most people are referring to the American Pitbull Terrier when they say 'Pitbull'. So, this is the breed we will concentrate the most on in today's guide.
What Do Black Pitbulls Look Like?
Not all black Pitbulls will look the same, since there are 5 different Pitbull breeds. As a general rule, all Pitbull breeds are stocky, muscular dogs that range from small to large in size. But, for a better idea of your black Pitbull's appearance, take a closer look at their breed as a whole.
The genes that cause black fur are dominant, so it's possible to get Pitbull dogs that have entirely black fur, all over their bodies. But, other genes can alter your dog's pigmentation to create patterns that include black. For instance, you might find black and white Pitbulls! It's common to see a small white patch on a black Pitbull's chest. Or, you might see merle Pitbulls that have some black fur amongst their coloring. It will vary depending on the genes your dog inherits and the breed you choose! So, two black Pitbulls can look very different.
Can Black Pitbulls Have Blue Eyes?
One popular trait in black Pitbulls is blue eyes. After all, blue eyes can look quite striking when surrounded by darker fur! Blue eyes are possible in Pitbulls with black fur, but are not as common as brown eyes. Blue eyes can also be present in Pitbulls with only partially black fur, such as merle Pitbulls.
But, it's important to note that blue eyes in dogs can be linked to problems like deafness and other hearing issues. So, it's important to fully consider the implication of blue eyes and the associated care needs if your black Pitbull with blue eyes has hearing issues.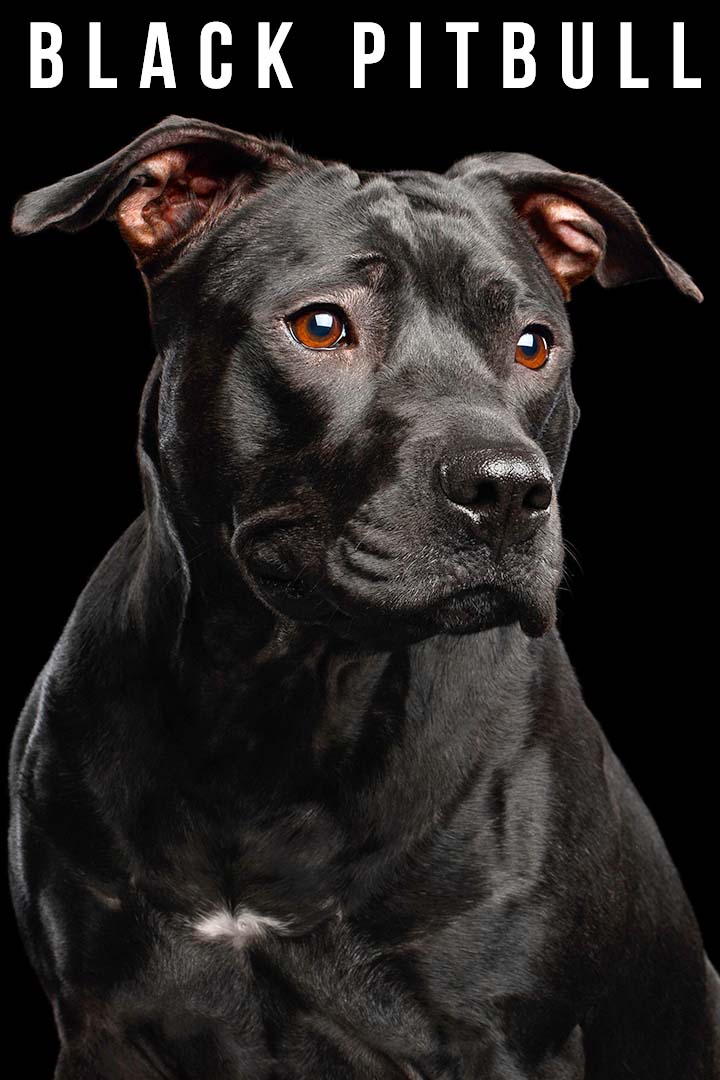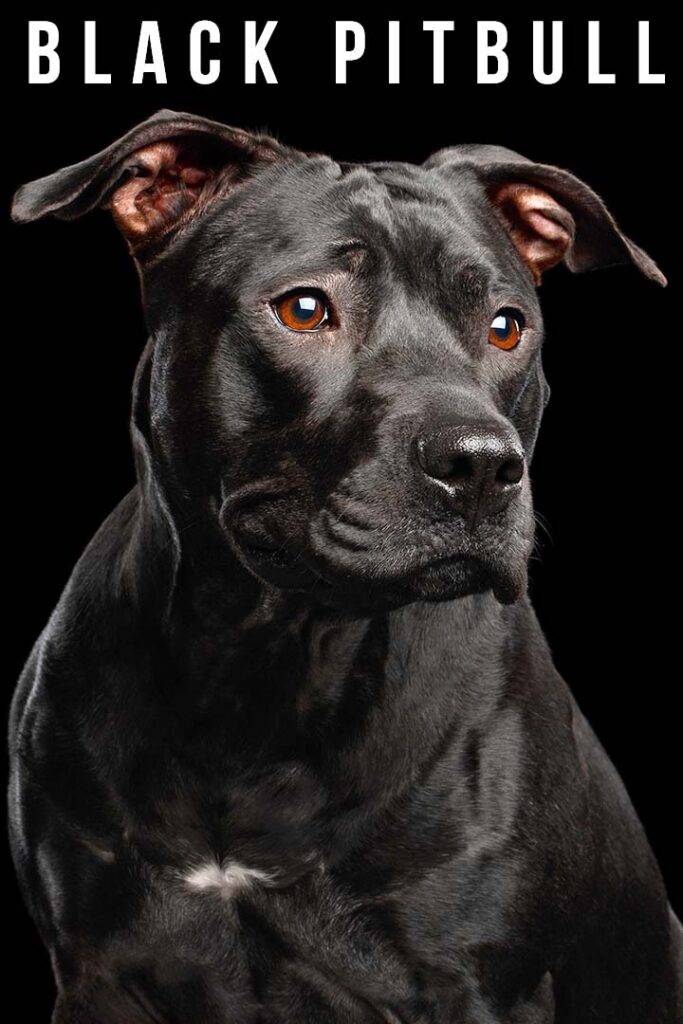 Are Black Pitbulls Rare?
The American Pitbull Terrier (APBT) is the most common Pitbull breed people refer to when they speak of the Pitbull dog. APBTs are available in a huge range of colors, from light shades like white and fawn, to darker tones like brindle and black! The genes that cause black fur – whether solid or with some markings – are also dominant. So, black is a more common color than recessive shades like brown or blue.
However, black Pitbulls are also very popular dogs. So, it can be hard to find puppies. This doesn't necessarily mean that they are rare, but they often have long waiting lists, and plenty of potential new owners queuing up for a puppy! The frequency and availability of black Pitbull puppies near you will usually depend on demand, local legislation against Pitbull breeds, and more.
Are Black Pitbulls Friendly?
A black Pitbull's fur color won't impact their personality. But, their fur color can impact a person's perception of their personality. For instance, studies have shown that people generally rate dogs with light colored fur as more stable and agreeable than dogs with black fur. In reality, a dog's temperament will be more related to their breeding and upbringing, which is why it's so important to choose a good breeder and enforce a good socialization program.
Pitbull breeds are not necessarily aggressive. But, they have very powerful jaws that can do a lot of damage, especially when compared to the bite of a toy dog breed. Studies into canine aggression and biting often group multiple breeds together under the label 'Pitbull', so it's important to check that these results are not misleading.
Aggressive Behavior in Pitbulls
Throughout their history, Pitbull breeds have been used as fighting dogs, guard dogs, and more. They were bred to be protective and loyal to their owners, but can also be dog-aggressive due to their history in dog fighting and bear-baiting. However, these practices have long been illegal, and many reputable breeders have worked hard to eliminate these tendencies.
The best way to encourage a friendly temperament in your black Pittie is to choose a good breeder and to socialize your puppy well. Socialization should happen before your puppy is 12 weeks of age, but can continue throughout your dog's entire life! It involves introducing your puppy to new things, and giving them plenty of positive experiences, to reduce their fear response as an adult. A well socialized Pittie will be more confident and happier in new situations than one who has not been socialized to people, animals, and sounds.
Black Pitbull Health
All dog breeds are prone to certain hereditary health issues. And, since the term black Pitbull can refer to a number of different breeds, you'll get a better idea of health if you look at a specific Pitbull breed, such as the American Pit Bull Terrier. So, to get you started, here are a number of common health issues for the APBT:
Hip and elbow dysplasia
Degenerative myelopathy
Skin issues
Allergies
Hypothyroidism
Heart disease
Retinal dysplasia
Reputable breeders will only breed from the healthiest dogs, and will perform all necessary health checks before doing so.
How Much Do Black Pitbulls Cost?
There are several factors that can influence how much a Pitbull puppy costs. Just a few of these factors include your location, demand for puppies, the breed of Pitbull, legislation on Pitbull breeds near you, and more. Prices can range from a few hundred dollars to several thousand dollars. And, since black Pitbulls are very popular, their price tends to lean towards the higher limits. A black Pitbull puppy will usually cost a minimum of $1000, but again this price may be lower depending on the factors listed above.
Price isn't always an indicator of quality – just because a puppy costs thousands doesn't mean they will be better than a cheaper one. So, you must put in plenty of research when searching for a good breeder. Let's take a closer look at that now.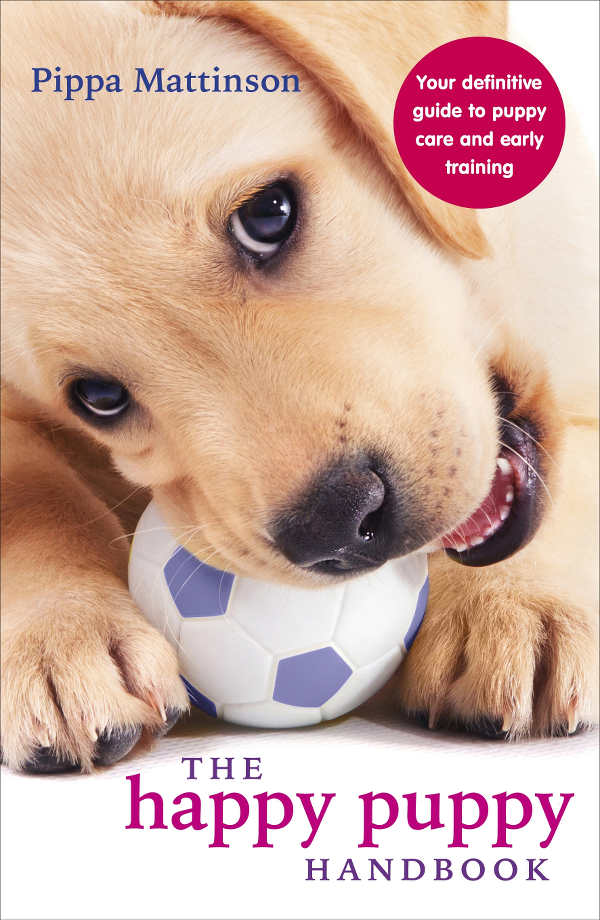 Finding Black Pitbull Puppies
Your first step in finding black Pitbull puppies is to choose the Pitbull breed you would like. Then, you can start searching for a breeder. You should avoid puppy mills and backyard breeders, as dogs and puppies here are often not properly looked after. They can also experience more health and behavioral issues than puppies from a reputable breeder.
Reputable breeders will health test their dogs before breeding to limit any hereditary problems from passing to their puppies. They will also work on socializing puppies at home, and will be keen to make sure their puppies all go to the best possible homes.
Since black Pitbull puppies are so popular, you may find that most reputable breeders have waiting lists. But, to help with your search, search for the specific Pitbull breed you want, rather than the breed category as a home.
Do You Have a Black Pitbull?
Black Pitbulls are lovable dogs with striking dark fur! Do you have one of the popular Pitbull breeds at home? We would love to hear about them in the comments! Which Pitbull breed is your favorite?
Readers Also Liked
References and Resources