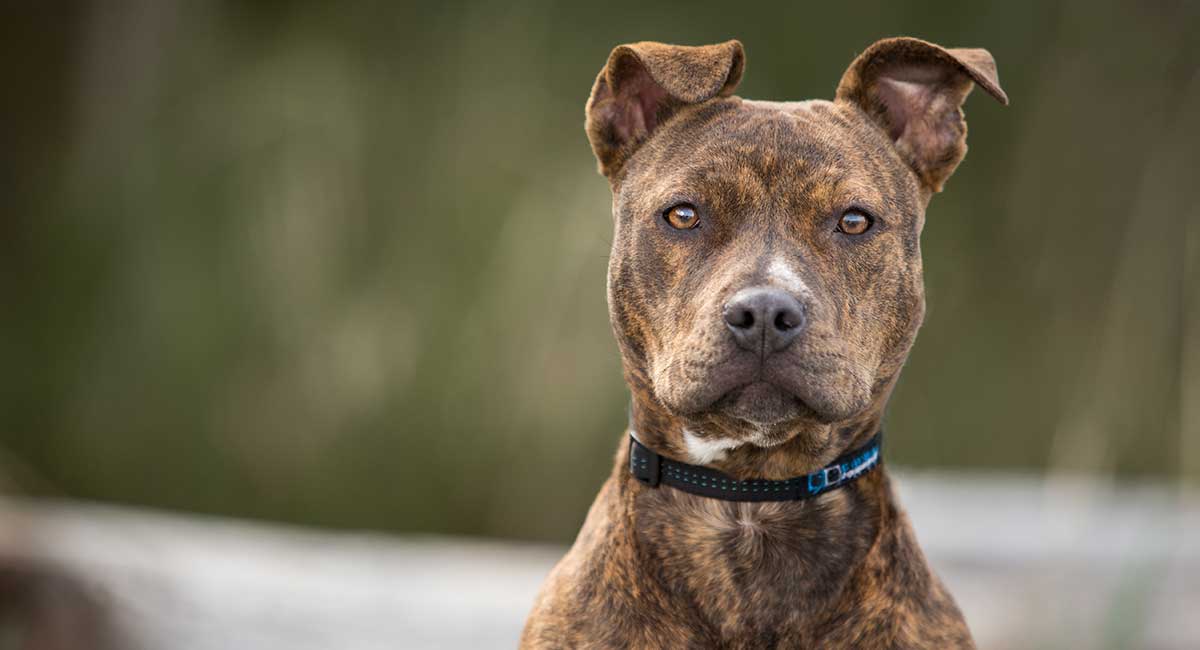 Life hasn't been easy for Pitbull breeds.
Misunderstood, maligned, and mistreated, these dogs have had more than their share of misery.
First of all, let's be clear that a Pitbull is not a breed in and of itself.
However, any dog that's considered to be a bully breed can be classified as a Pitbull.
These dogs share similar ancestors, history, and characteristics.
This article will focus on the dogs that are most commonly considered to be Pitbull breeds.
We'll take a look at the differences in appearance, health, temperament, and suitability as a family pet.
Different Types of Pitbull Breeds
How many Pitbull breeds are there?
There are five dogs that are widely recognized as being Pitbull breeds:
American Staffordshire Terrier
Each of these dogs is distinctive in their own way.
A Rough Past
However, all of the different Pitbull breeds are descended from Olde English Bulldogs and terrier breeds. These were dogs with a violent history that dates back to 18th and 19th century England.
Bear in mind that the Olde English Bulldog was a far more ferocious dog than the friendly sourpuss we know and love today.
The punishing jaws of the Bulldog were combined with the tenacious terrier to create the ultimate fighter. These dogs were bred to excel in blood sports.
One such sport was bull baiting. This is where dogs were turned against a staked bear or bull as spectators bet on the outcome.
This horrendous pastime was banned in 1835. However, these dogs were then forced to fight each other or participate in a sport known as ratting.
Large numbers of rodents would be put in a pit. People would bet on which Pitbull would kill the most in the least amount of time
This is where the "pit" in Pitbull comes from.
Are Pitbull Breeds Dangerous?
When you look at their origins you can understand why all Pitbull breeds have gotten a bad name. However, this is only part of their history.
As these dogs moved to America, many were bred to be working and companion dogs.
Pitbull breeds, like any dog, should be looked at on an individual basis.
This study found them to be no more aggressive than many other breeds.
When Pitbull breeds do show signs of aggression, it is most often directed towards other dogs.
According to the ASPCA, research on pet dogs found that "dog aggressive dogs are no more likely to direct aggression toward people than dogs that aren't aggressive to other dogs".
Although a dog's genetics may predispose him to certain behaviors, the environment he's brought into plays a huge role.
Early socialization is key to ensuring all types of Pitbull breeds grow to be well-adjusted canines.

American Pitbull Terrier
When people talk about Pitbulls, the American Pitbull Terrier is most likely the dog they're referring to.
Of all the Pitbull breeds they're the most popular.
The American Kennel Club (AKC) does not recognize this breed. It's the only dog on our Pitbull breeds list who is not recognized by the AKC.
The United Kennel Club (UKC) however, do recognize them.
Appearance
Males stand from 18 to 21 inches and weigh between 35 and 60 pounds.
Females are 17 to 20 inches and weigh from 30 to 50 pounds.
This medium-sized dog is compact, with a body that's slightly longer than it is tall.
They exude powerful athleticism, but also grace and agility.
Their large head is viewed head-on, it's shaped like a broad, blunt wedge.
The short, shiny coat comes in all colors and color patterns, except merle.
Blue Nose Pitbulls and Red Nose Pitbulls  are both variations of the American Pitbull Terrier.
Temperament and Suitability as Family Pets
Many countries have banned this Pitbull breed.
However, if you talk to American Pitbull Terrier owners, they'll give you an entirely different picture of their dogs.
You'll hear that they are incredibly friendly, highly affectionate, and fantastic family companions.
These dogs are extremely active. If that energy doesn't have an outlet, there can be destructive outcomes.
They love humans and are known to be great with kids.
However, always keep in mind that this is a powerful dog who needs to be properly trained.
An American Pitbull Terrier may have a short attention span. So, training is best done in short bursts.
All in all these dogs love humans. They want to comply with the tasks they've been assigned. But even more, they'll want attention and lots of cuddles.
Health
American Pitbull Terriers have an average lifespan of 12 to 14 years.
Common genetic problems include hip dysplasia, allergies, hypothyroidism, heart disease, and retinal dysplasia.
American Staffordshire Terrier
Affectionately known as Amstaffs, the American Staffordshire Terrier is nearly the same breed as the American Pit Bull Terrier.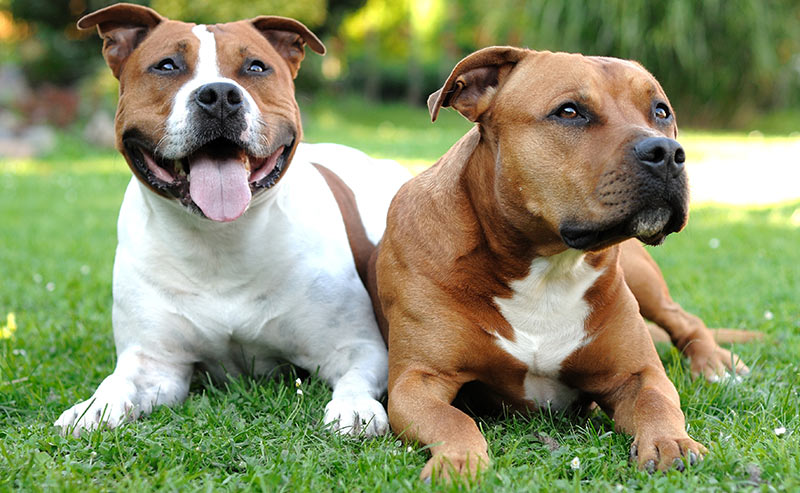 In fact, at one time they were considered to be the same dog.
Appearance
If you have a hard time telling the difference between the American Staffordshire Terrier and the American Pitbull Terrier, you're not alone.
Even experts have a hard time telling these two dogs apart. Their appearance is the same in almost every way except size.
That's because American breeders desired a heavier dog than the English version.
The male Amstaff stands from 18 to 19 inches and the female from 17 to 18 inches. This makes them slightly shorter than the American Pitbull Terrier.
However, these dogs have a heavier bone structure and weigh slightly more.
The male averages a weight of 55 to 70 pounds and the female 40 to 55 pounds.
These dogs have a marginally squarer build and smaller head than the American Pitbull Terrier.
Temperament and Suitability as Family Pets
In the 1930s the AKC called these dogs the American Staffordshire Terrier to get Pitbull out of their name.
These dogs were bred as companions for their good-nature, loyalty and trustworthiness.
The overall temperament of a well-bred Amstaff is similar to that of the American Pitbull Terrier.
Health
Not surprisingly they're prone to the same health concerns as American Pitbull Terrier. These include: hip dysplasia, cardiac disease, and skin and coat allergies.
The American Staffordshire Terrier should also be tested for a genetic brain disorder called cerebellar ataxia.
It causes a progressive decline in muscle coordination and voluntary movement. This can appears between the ages of three and five.
American Staffordshire Terriers have a lifespan of 12 to 16 years.
Staffordshire Bull Terrier
Affectionately, the Staffordshire Bull Terrier is known as the Staffy or Staffie. This is one of the smaller Pitbull breeds.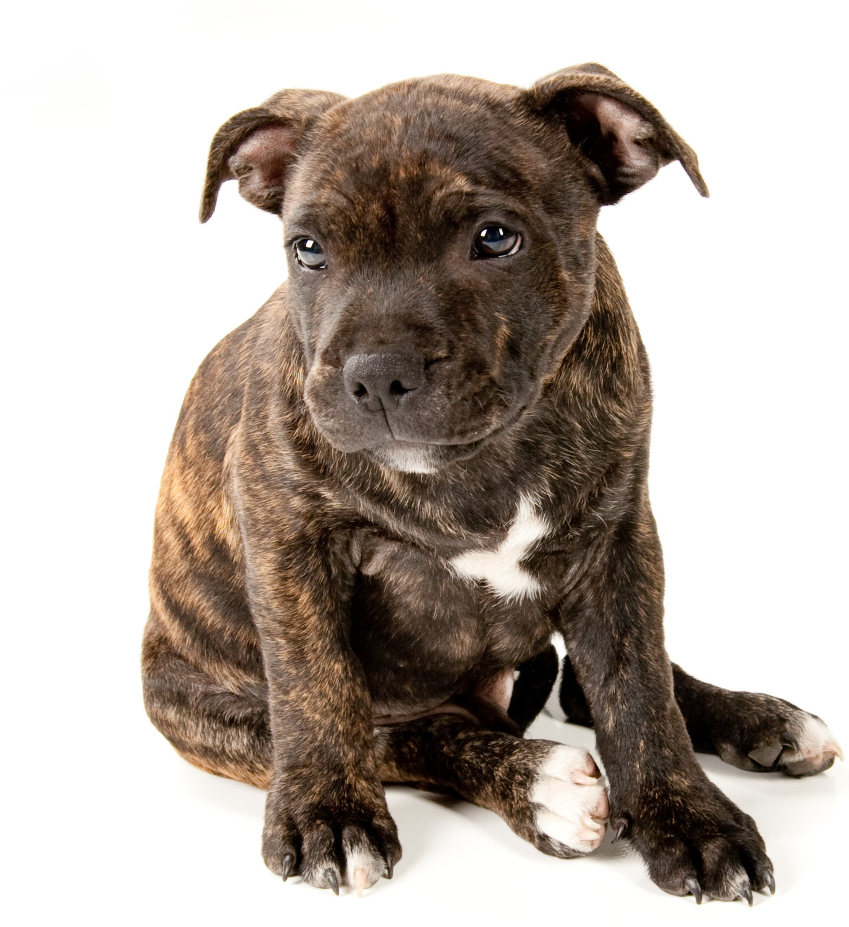 Appearance
Although similar in appearance to the American Pit Bull Terrier and the American Staffordshire Terrier, the Staffordshire Bull Terrier is considerably smaller.
They stand 14 to 16 inches, with females weighing from 24 to 34 pounds and males from 28 to 38 pounds.
The head is short and broad, but with a slightly longer muzzle and more pronounced cheekbones.
Temperament and Suitability as Family Pets
The Staffie is a tough little dog, there's no doubt about it.
However, they are good natured dogs. Add to that, they're patient with children.
Needless to say, it is not a good idea to leave your young children along with a dog. This is especially the case with a powerful breed like a Pitbull.
Despite his smaller size, he still requires plenty of rigorous exercise to keep him physically and mentally occupied.
It's imperative that you train and socialize him well. Also, it's important he gets enough exercise and attention. Tick those boxes and the Staffordshire Bull Terrier will happily snuggle up on the sofa with you at the end of the day.
These people pleasing pups will do well with active families that have older children.
Health
Responsible breeders will screen their breeding stock for elbow and hip dysplasia, patellar luxation, and eye diseases.
Skin conditions are also a common health concern.
Unique to the Staffordshire Bull Terrier is a hereditary metabolic disorder known as L‐2‐Hydroxyglutaric Aciduria that causes seizures, ataxia, dementia, and tremors.
The Staffordshire Bull Terrier has a lifespan of 12 to 14 years.
Bull Terrier
If you put the different kinds of Pitbull breeds in a lineup, the Bull Terrier would be the one who looked the most distinctive.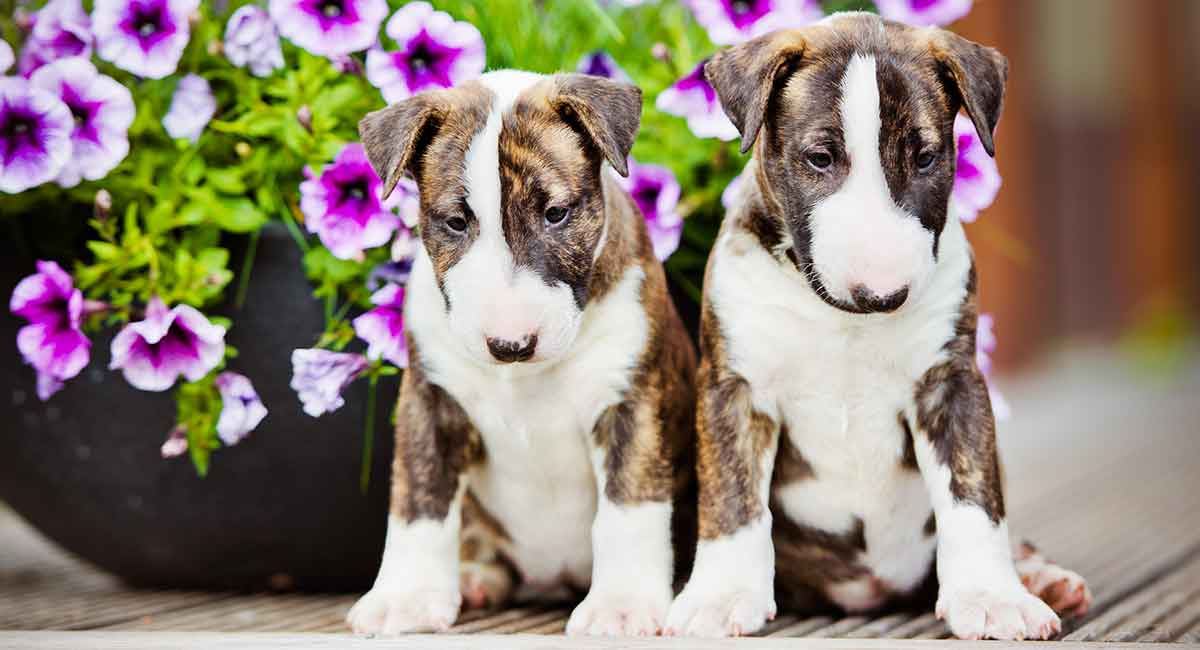 Despite their early days as a fighting dog, they became known as a "gentleman's companion."
Appearance
With their very large egg-shaped head, these dogs are unusual looking to say the least.
In profile their muzzle curves downwards from the top of the head to the end of the nose.
Small, erect ears that stand close together and triangular-shaped eyes displaying a determined, yet playful expression, are their other notable features.
While they come in many colors, you'll most commonly see them in white.
Bull Terriers stand from 21 to 22 inches and weigh from 50 to 70 pounds.
Strong and extremely muscular, they're compact and symmetrically built.
Another unique feature of this dog is their paws, which are round and arched like a cat's toes.
Temperament and Suitability as Family Pets
Clownish is a word you'll hear associated with the Bull Terrier who's as packed with personality as he is with muscle.
However, this dog is known for his playful antics. He can become downright mischievous if he doesn't get the exercise and attention he needs.
These dogs can be quite bouncy and have a tendency to jump up on people in their excitement.
They can become rowdy and play rough, which can be a problem if there are elderly people or young children in your home.
They have a fun-loving reputation, but don't let that fool you. Bull Terriers can have a strong will, not to mention a mind of their own!
Early socialization, positive training, ample exercise are all important. As is spending plenty of time with their beloved humans. All of this should result in a faithful, loving, and charming companion.
Health
Unfortunately, the Bull Terrier can be susceptible to some serious health issues in addition to those mentioned for Pitbull breeds.
They can suffer from a zinc deficiency. This results in skin lesions that particularly affect the feet and head in puppies as young as one to two months old.
Deafness, especially in white Bull Terriers, is a problem.
Bull Terrier hereditary nephritis is inherited and causes renal failure in affected dogs.
The average lifespan of the Bull Terrier ranges from 12 to 13 years.
Miniature Bull Terrier
As the name suggests, this is a smaller version of the Bull Terrier.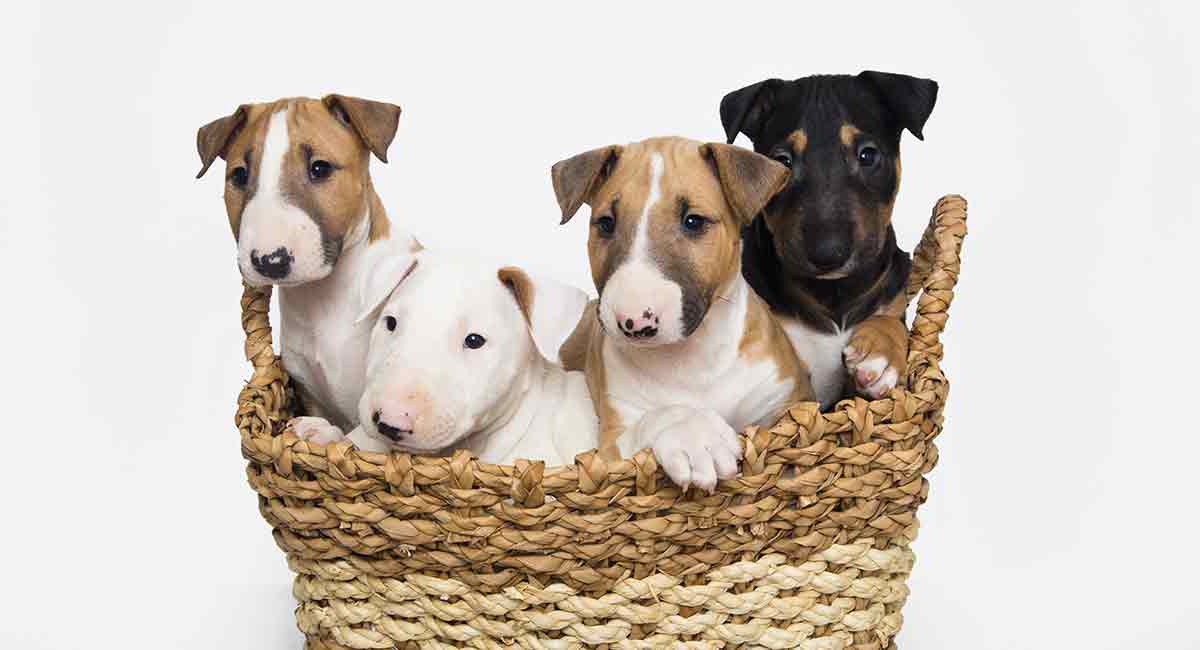 In fact, until 1991 the AKC classified these two dogs as varieties of the same breed.
Appearance
The Miniature Bull Terrier stands from 10 to 14 inches and weighs between 18 and 28 pounds.
Their egg-shaped head is something of a trademark. In addition they are square with muscular physique. Their triangular eyes sparkle with good humor. They resemble the larger variety in every way except size.
Temperament and Suitability as Family Pets
If you're a fan of the Bull Terrier and want a smaller dog who requires less exercise, this is not the dog for you.
Despite being considerably smaller, the Miniature Bull Terrier still needs to be very active on a daily basis once they're adults.
As puppies they can be prone to sudden lameness. This is due to a combination of weight muscle density, rapid growth rate, and their innate energy.
It's quite possible that these dogs have no idea they're a smaller size.
Their protective temperament is typical of the Pitbull breeds.
Health
Miniature Bull Terriers have a lifespan of 11 to 13 years.
This Pitbull breed is susceptible to the same health conditions as the Bull Terrier.
Pitbull Breeds – Summary
Several studies have shown no signs that specific breeds are more dangerous than others. Regardless, the negative perception that surrounds Pitbull breeds continues to exist.
Remember! Early socialization, proper training, and sufficient exercise are essential. This is important for any dog (and dog owner!).
There are many factors that can influence a dog's behavior. By and large Pitbull breeds are friendly, affectionate, and loyal.
When choosing a dog, remember that each dog is an individual and this is the best way to approach finding the right one for you.
Do you have a precious Pittie at home? Tell us about them in the comments below!
References and Resources
ASPCA Policy and Position Statements – Position Statement on Pit Bulls
MacNeil-Allcock A, et al., "Aggression, behaviour, and animal care among pit bulls and other dogs adopted from an animal shelter,"  Universities Federation for Animal Welfare, 2011
Duffy, DL, et al., "Breed differences in canine aggression,"  Applied Animal Behaviour Science, Volume 114, Issues 3–4, 2008
Rodarte-Almeida, ACV, et al., "Retinal dysplasia in American pit bull terriers – phenotypic characterization and breeding study," Veterinary Ophthalmology, 2014
Olby, N., et al., "Cerebellar Cortical Degeneration in Adult American Staffordshire Terriers," Journal of Veterinary Internal Medicine, 2008
Abramson, CJ, et al., "L‐2‐Hydroxyglutaric Aciduria in Staffordshire Bull Terriers," Journal of Veterinary Internal Medicine, 2008
Smits, B., et al., "Lethal Acrodermatitis in Bull Terriers: A Problem of Defective Zinc Metabolism," Veterinary Dermatology, 1991
Strain, GM, "Deafness prevalence and pigmentation and gender associations in dog breeds at risk," The Veterinary Journal, 2004
Hood, JC, et al., "Bull terrier hereditary nephritis: A model for autosomal dominant Alport syndrome," Kidney International, 1995
Schalke E., et al., "Is breed-specific legislation justified? Study of the results of the temperament test of Lower Saxony," Journal of Veterinary Behavior, 2008