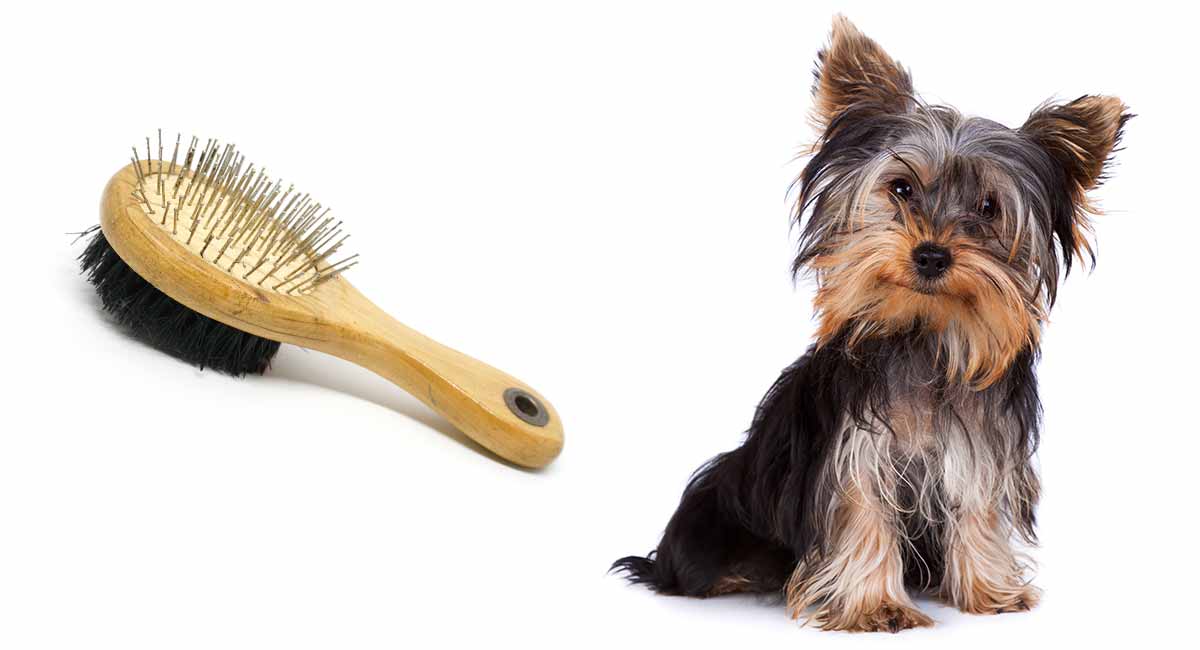 The best brush for Yorkie dogs is gentle but effective on their delicate coat. It reduces the change of hair breakage, and protects their sensitive skin. Yorkshire Terriers can have three different coat types: silky, soft, and wire. Each of these types will need to be groomed with a combination of a comb, slicker and pin brush. But the longer your dog's hair, the more you must be on your guard against snapping hairs, tangles and mats.
Contents
Fur Types
A silky coat is considered show-quality and eligible for the show ring. In silk coat Yorkies, the long and luxurious coat is actually considered to be "hair" rather than "fur" because of the fine, soft quality it has. It is also only a single layer and lacks an insulating undercoat.
Soft and wire-coated Yorkies may have shorter or longer hair, and the hair is coarser and denser. These Yorkies may also have a partial or full undercoat.
If you plan to show your Yorkie, you may want to keep your pup in a full long coat. This is the most maintenance-intensive clip but is perfect for the show ring. However, if your Yorkie is destined for the pampered pet life, a short puppy clip may be easier to maintain.
What coat type your Yorkie inherits and which hair clip you select can influence the best brush for Yorkie hair brushing and grooming.
Choosing the Best Brush for Yorkie Hair
The best dog brush for Yorkies will always reflect the uniqueness of the Yorkshire Terrier breed's show-stopping coat. A Yorkie's true coat is single-layer, long and fine – more like human hair than dog hair! The Yorkie's coat needs special handling to avoid hair breakage and skin abrasion. Choosing the best brush for Yorkie coats will help protect and preserve the beauty of your dog's coat.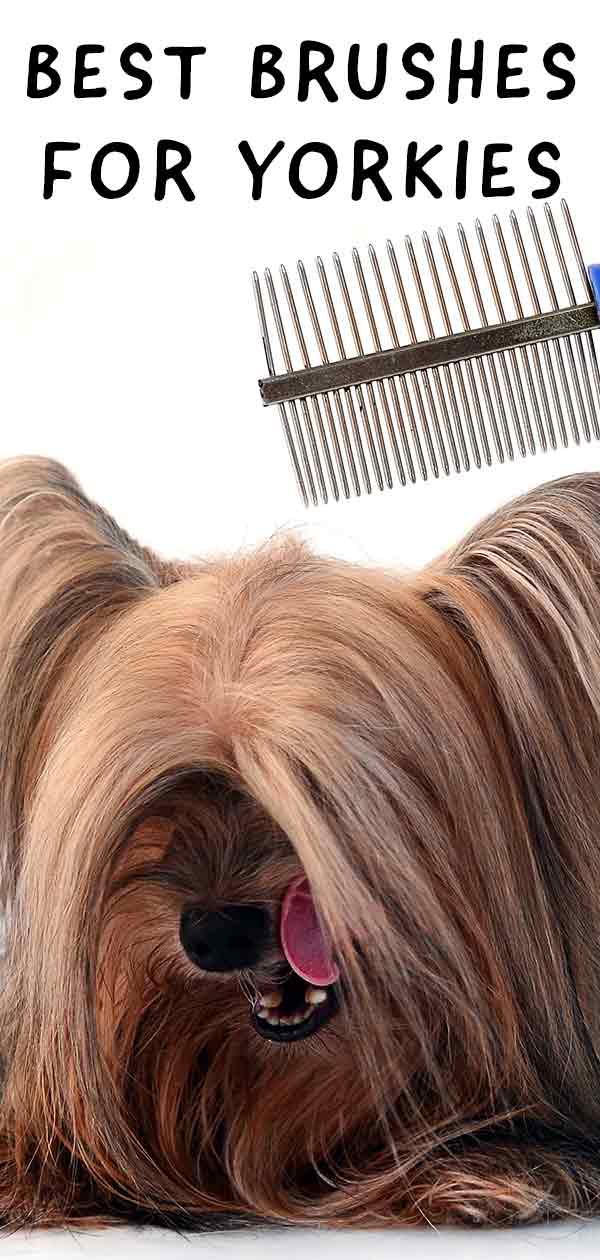 Best Brush for Yorkie Puppy
The best brush for Yorkie puppy dogs will be one that is made just for puppies. All puppies have more sensitive, delicate skin.
Puppy coats are generally softer and more sparse than they will be in adulthood. You want your Yorkie puppy to have a great experience being brushed during puppyhood. These gentle puppy brushes will help make that happen! This brush by Lilpals*(paid link) is specifically designed for toy breed puppies.
It has very gentle, soft, short bristles. They will add shine and help massage your puppy's skin and distribute the natural skin oils.
This gentle small-size pin brush*(paid link) with rounded ends is by Safari. It will help lift and separate the hair and identify mats. It won't pull or tug or abrade your puppy's delicate skin.
Best Brush for Yorkie Adult Dog
As with all things related to dog care, groomers, breeders, and Yorkie owners have some differences of opinion about which brush is truly the best grooming brush for Yorkies. Some people prefer a pin and bristle brush. Others think the all-around best brush for a Yorkie is a soft slicker brush.
In this section, we feature our top slicker brush picks for the best brush for Yorkie dogs. This soft, small slicker brush with short round-tip pins*(paid link) by Glendan is a perfect choice for working out mats and tangles on a Yorkie adult dog. The pins are sufficiently well-spaced to lift and smooth each hair without abrading the sensitive skin. Choose from blue or pink
This soft, small slicker brush by Miracle Care contender*(paid link) in the running for the best brush for Yorkie dogs overall. This brush features unique angled pins that move with the contours of your dog's skin to lift and groom each fine and delicate hair.
This brush by lilpals*(paid link) is great for Yorkie puppies and adult dogs. The bristles are angled and ball-tipped to make sure no skin abrasion occurs as your puppy's coat is transitioning from puppyhood to adulthood.
Best Pin Brush for Yorkie
For some professional groomers and breeders, the hands-down best brush for Yorkie dogs is a pin brush. Sometimes these are also called a pin and bristle brush.
This brush has thin rounded-tip pin tines on one side and soft bristles on the other side. The benefit of a pin brush is that you can gently work out any tangles with the pin side. Then brush your Yorkie's coat to add shine with the bristle side.
This brush by GoPets*(paid link) is rubber-backed and has a silicone handle. There are gentle bristles on one side and rounded pins on the other side. It is a perfect grooming tool for your Yorkie's long, silky coat.
This small pin brush by Boshel*(paid link) has round-tip pins on one side. There is a rubber back and a special hair removal cleaning tool on the other side.
Best Yorkie Combs
Using a Yorkie brush and comb set will give you the greatest amount of control when grooming such a petite pup! The ideal Yorkie combs will be made of stainless steel (durable and won't bend or warp). They should have narrower tines at one end compared with the other.
Also look for rounded tines – this is to protect your Yorkie's extra-delicate skin from abrasion. We think these are some of the best Yorkie brush-combs combos to consider. This stainless steel comb*(paid link) by Lil Pals is very versatile. You can switch your grip to use the narrower or wider-tined side depending on the area you are working on.
This two-comb set by Hertzko*(paid link) has a small comb with narrow and wide tines and a larger comb with the same. This gives you grooming versatility during puppyhood and when your Yorkie grows up. The handle is a lovely no-slip silicone, and the rounded-tip tines are stainless steel.
This fine-toothed tear stain or flea comb*(paid link) by Mindful Pets is perfect for gently grooming the face, legs, and tail area.
Yorkie Grooming Tips
I advise against using natural or nylon bristle brushes with inflexible handles. These types of brushes may break your Yorkie's delicate hair. This is less of a concern if you keep your Yorkie in a puppy clip than if you are trying to maintain a full long show coat. Choose small-size brushes designed for puppies, cats, or toy and miniature pet breeds.
Don't Brush Dry
Groomers suggest to never brush your Yorkie's coat when it is dry. Rather, always begin by spritzing some kind of conditioning or detangling spray on your Yorkie's coat before starting to brush it. This way, if you do encounter any trapped debris or any tangles or mats, you will have some moisturizer to help work them out of your dog's coat.
Start by Combing
Using a comb first is the best way to avoid pulling on any tangles or mats you encounter. Then you can use a pin brush, bristle brush, or slicker brush depending on your personal preference and the hair type your Yorkie has. Finally, finish up with another comb-through to make sure you have addressed all tangles and mats.
Affiliate link disclosure: Links in this article marked with an * are affiliate links, and we may receive a small commission if you purchase these products. However, we selected them for inclusion independently, and all of the views expressed in this article are our own.